MasterChef winner Irini Tzortzoglou on Crete
MasterChef winner Irini Tzortzoglou on Crete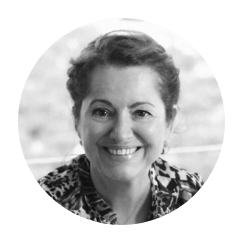 MasterChef champion Irini Tzortzoglou has lived in England for 40 years. She joined us in Crete for a multi-generational break with her family.
 Western Crete has always held a special magic for me, perhaps because coming from Heraklion it seemed (and was) pretty remote until the northern axis road was constructed and transport became more widely available. It appeals for its unique landscape (greener than that of the rest of the island as in the winter months it benefits from more rainfall) and the local produce of chestnuts, oranges and dairy for which it has always been known. For as long as I can remember I have been interested in archaeology and architecture, so the Venetian influences in and around the harbour in Chania also add to the charm. 
Last summer I enjoyed the great pleasure of sharing some of the region's many highlights with my extended family, spending a blissful week in Villa Vereniki. My step-grandchildren, Ava and Noah, soon embraced the Greek way of life, staying up much later than they do at home. The climate draws you outdoors and the best time of the day is arguably the evening, when the extreme heat of the day has passed. They loved the pool and just adored the opportunity to stay out late and play. I kept waiting for them to get bored with jumping in, climbing out and jumping in again – but they seemed to have an inexhaustible appetite. "Just one more time" was their most-used expression! 
The flip side was that they woke relatively late, and as a family we could enjoy a lazy start to the day. I experimented with some baking, perfecting a bread loaf from one of the other islands with the help of the little ones, who were very keen to be involved – on the strict understanding that they were then entitled to eat the results!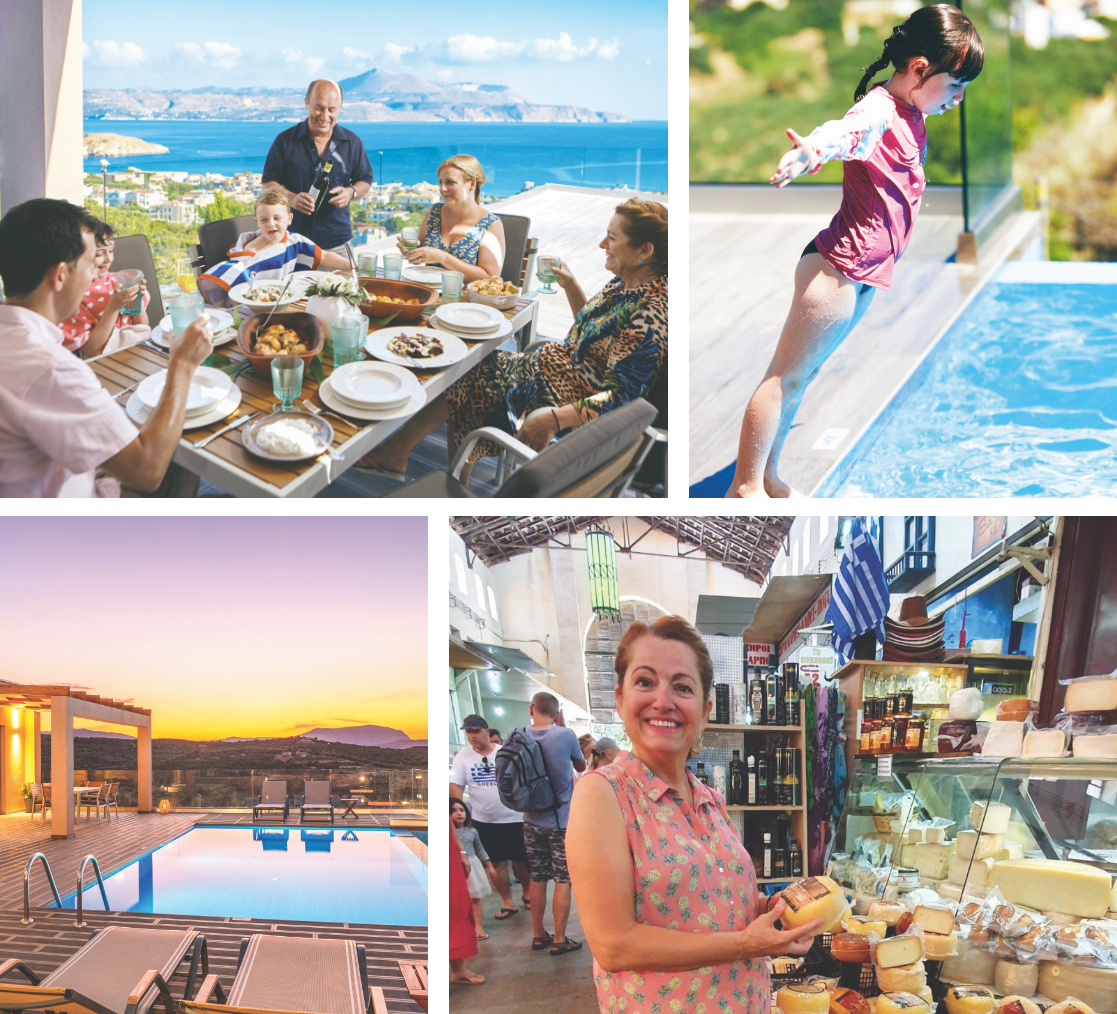 Our villa was less than half-an-hour's drive from Chania and naturally, since food is my passion, I was drawn towards its lively covered market. What I love most is that whilst there are the unavoidable stalls selling the usual tourist tat, there are also people who have been working there for decades, selling their homemade produce and things I remember from my childhood, like salted cod, salted anchovies, wild herbs and snails. It was exciting to see that these things don't change and particularly enchanting, I found the fact that visitors like ourselves were welcomed and served with the same reverence as locals who have clearly been shopping there all their lives. And finally, the romantic in me loves the notion of people finding all their food provisions under one roof and sitting to have a coffee or a bite to eat with friends in a weekly ritual they've had for years. The best kind of psychotherapy there is – and free! We visited Iordanis (established in 1924) for a Greek coffee and their famous Bougatsa, which I have since made with the children; filo filled with fresh sour mizithra cheese, baked and sprinkled with cinnamon and sugar. It's extremely popular with the thousands of people who visit Iordanis every year and now a firm favourite with my family too.
My favourite dish from western Crete though, is the little round flat pitas from Sfakia which can be either savoury (with wild fennel) or sweet (with mizithra cheese) served hot with honey.
I also always buy pichtogalo – a creamy, slightly sour soft cheese used in Greek salad or on dakos instead of feta, utterly delicious! 
We spent many hours in Chania – walking, exploring the shops and enjoying a drink or meal by the seafront as we watched the world go by. One evening, we finished off the day with a visit to a beautiful beach on the Akrotiri Peninsula, just east of Chania.The beach shelves so gently that even 30 metres or so from the shore, the sea is still only knee-deep; Ava and Noah absolutely loved it! They were in the water until it went dark, before we finally persuaded them to go for dinner. We ate in a beautifully situated taverna overlooking the bay and enjoyed fresh octopus and another local favourite, maridoulas, similar to whitebait – fried and eaten whole. Before returning to the villa, we couldn't resist another trip through Chania, which at night is vibrant and buzzing. And, of course, we were home in time for the children to enjoy "just one more" pre-midnight dip in the pool!