A day out in Corfu town
Most people come to Corfu to enjoy its coastline and climate; after all, why go to the trouble of booking a luxurious villa with a pool if you aren't going to allow yourself plenty of time to relax and enjoy it? Once you've eased into the easy rhythm of island life however, you might feel like exploring, and this is where Corfu really comes into its own, with a rich architectural and cultural history, all easily explored on a leisurely stroll around one of the most handsome towns in Greece.
The Grecian Venice
Recognised by UNESCO as a World Heritage site, Old Corfu Town is brimming with picturesque reminders of its colourful cultural past, enriched over the centuries by Venetian, French, and British occupations. Corfu's strategic location made it extremely desirable to foreign occupying forces, and the four centuries of Venetian rule in particular (1386-1797) had a profound impact on the island and its capital.
You don't need to be an expert in architecture to notice the similarity between the old town of Corfu and Venice itself – tall, perfectly proportioned buildings in faded earthy tones, a maze of narrow, cobbled streets, tiny shaded piazzas and not forgetting of course the spectacular waterfront setting. Adding to the town's romantic feel are the two commanding, Venetian-designed forts. These were used to defend the maritime trading interests of the Republic of Venice against the Ottoman Empire and have been maintained to this day; definitely worth a visit for the views alone.
Spianada Square
Near the older of the two forts is Spianada Square, one of the largest in Europe. It was first formed during the Venetian occupation as a military safeguard against Ottoman invasion between the fort and the town. Under French rule it was transformed into a garden and later still, the British added a cricket pitch. Games are still played here, a unique and idiosyncratically Corfiot tradition in Greece. Nearby, the British also built the Palace of St Michael and St George, a large neoclassical residence for their governor, Sir Thomas Maitland. Today, the Palace houses the Museum of Asian Art and hosts various art exhibitions, such as the recent retrospective of Edward Lear's Ionian Islands work.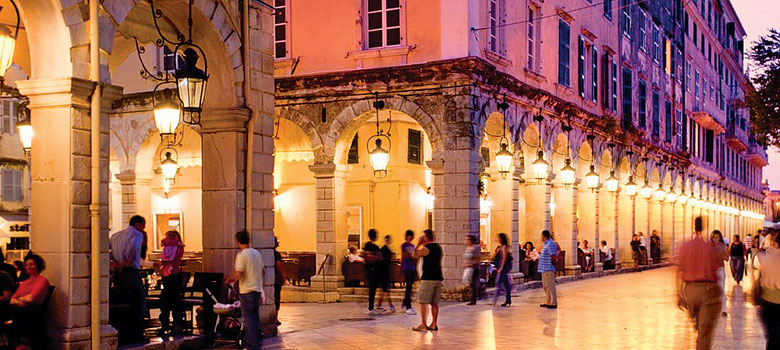 Spianada, along with the broad Champs-Elysées-like Liston promenade, is the social hub of the town. On summer evenings everyone is out and about. Young and old, locals and visitors, it's all about people-watching, strolling along the promenade, having coffee or meze with friends and family. Various religious and national holidays are celebrated with gusto and you'll often stumble across music bands parading through town, with crowds of happy onlookers adding to the party atmosphere. St Spyridon is Corfu's patron and protector and is believed to have saved the town both from the plague and Turkish invasion in the past. His preserved body is marched through town on feast days and believers come from far and wide to pray to him in St Spyridon's Church and kiss his feet (safely encased in ornate slippers).
Corfu Town is famous for its Easter celebrations and on Easter Saturday thousands of visitors arrive to witness the traditional 'pot-smashing'; when the church bells ring to signal the end of morning mass, earthenware pots are thrown from high above out of the many windows to the streets below. It is a raucous and joyous event, with numerous marching bands playing jubilant music through the crowded streets.
The magic of Corfu Town never fails to enchant: its rich mix of history, culture and Mediterranean joie de vivre provides the perfect accompaniment or antidote, however you like to view it, to a lazy holiday in the sun.