The Ocean Brothers: a grand victory
The Ocean Brothers: a grand victory
On Thursday 18 January, half-brothers Greg and Jude, a.k.a.The Ocean Brothers, set off across the Atlantic, unaccompanied, to raise money for the British Skin Foundation. Inspired by their bravery, we were moved to support their fundraising efforts by donating a luxury villa holiday for auction, and adding a further £1 for every booking made whilst they were at sea.
On Sunday 11 March, the pair arrived safe and sound in Barbados, having completed their epic 53-day challenge and secured a new Guinness World Record for Jude as the youngest person ever to complete an ocean crossing in a pair. And thanks to our Simpson Travellers, we raised close to £11,000 towards their impressive grand total of over £100,000. 
Find out what motivated this record-breaking adventure below...
In August 2015, Greg Bailey and Jude Massey lost their father and stepfather after a 16-year battle with skin cancer. In his memory, they rowed across the second largest ocean in the world, covering 25 miles a day and battling 30-foot waves to raise awareness and money for essential research into the disease.
With no back up, they rowed from Gran Canaria to Barbados, all the while focused on their target to raise £100,000 for the BSF. Endorsed by Bear Grylls, Sir Chay Blyth and Sir Ranulph Fiennes, the duo undertook a rigorous training programme to prepare them for the 3,000-mile crossing of continuous, unaccompanied rowing.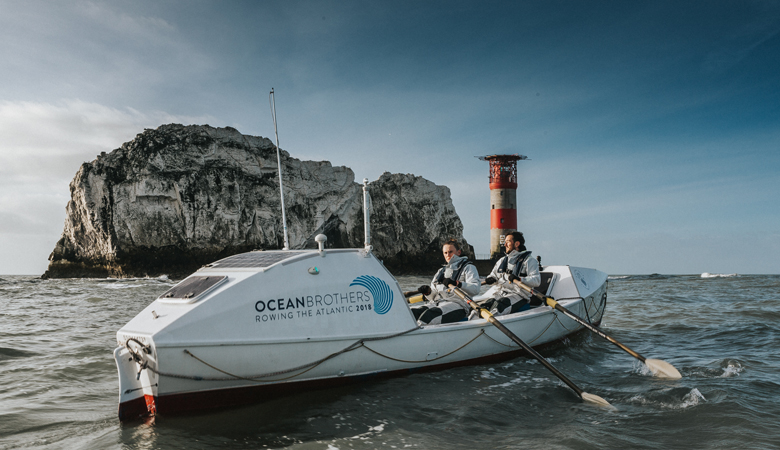 This was no small undertaking, with the risks ranging from sea sickness and equipment breakages to large marine animals and potential hurricanes. We felt the least we could do was sponsor them, so in addition to donating a luxury holiday in Corsica for the Gala Dinner & Charity Auction which took place at Chewton Glen in November, we also boosted funds with £1 for every holiday booking made until they completed their journey.

How three primary schoolers helped create a partnership
In July 2017, Greg and Jude were publicising their good cause at the Hampshire County Show and were noticed by the children and nephew of our Managing Director, David Bence.
George, Millie and Sam, all under ten, were so inspired by what they heard that they decided to take action. They set up a stall on the street selling cakes, sweets and toys to raise money for The Ocean Brothers who heard about their efforts and came down to support them.
This began Simpson Travel's relationship with these two brave young men.

As a company that offers holidays in sunshine destinations across the Mediterranean, the skincare message is particularly pertinent and promoting safe suntanning a cause that's easy for us to get behind.
We also believe in taking the road less travelled – choosing the harder path while others might take shortcuts – and going the extra mile for our guests. The Ocean Brothers have taken that philosophy many steps further, embarking on a courageous, inspirational journey that definitely had no shortcuts. They put heart and soul into a fantastic cause and we couldn't be more delighted that all their efforts paid off in such a spectacular fashion.
To find out more about their incredible journey, visit The Ocean Brothers' website.