Things to do in Puglia: bewitched by the masseria
Things to do in Puglia: bewitched by the masseria
Regular Simpson Traveller Emma Hogan and her partner recently visited Masseria Le Torri in Italy. Here she explains why they didn't venture far afield for their perfect Puglian adventure.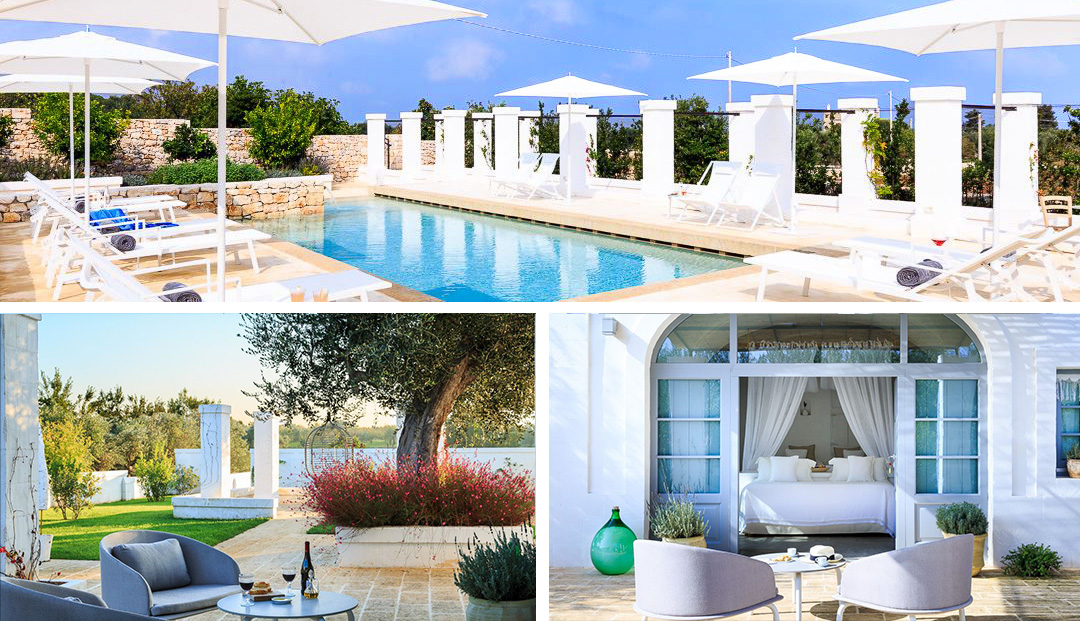 There's an awful lot to see and do in Puglia and if (like us) you are in need of a bit of rest and relaxation too, it's probably sensible to accept that you won't be able to experience it all. Masseria Le Torri is a truly beautiful home from home, owned and expertly managed by Silvana who takes effortless hospitality and quiet sophistication to another level. The warmth of the welcome is such that once you arrive, it really is quite difficult to find the motivation to leave! We did manage to tear ourselves away to explore the Valle d'Itria; visiting the magical trulli of Alberobello and the magnificent white city of Ostuni. We also spent a day at one of the excellent beach clubs south of Monopoli but with just a week at our disposal and a couple of good books on the go, we were looking to keep our focus pretty close to the hotel. And we really didn't need to venture far to uncover some of the region's secrets.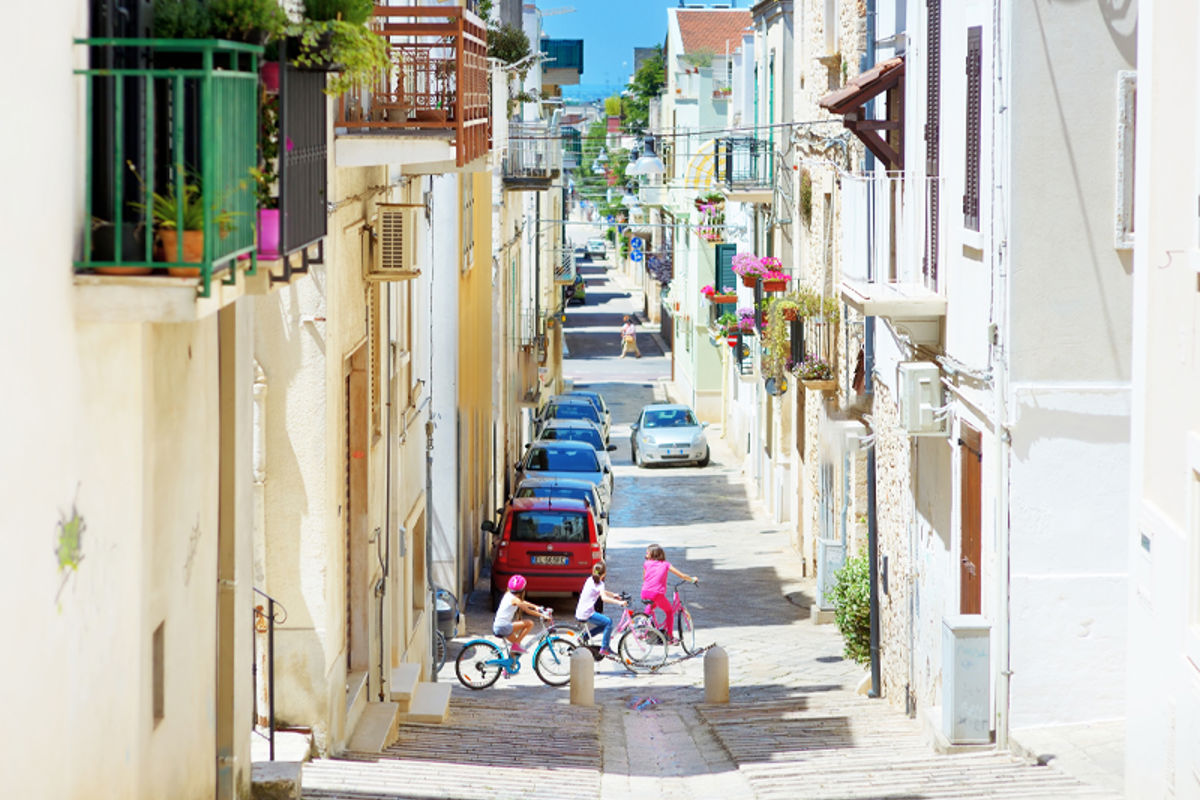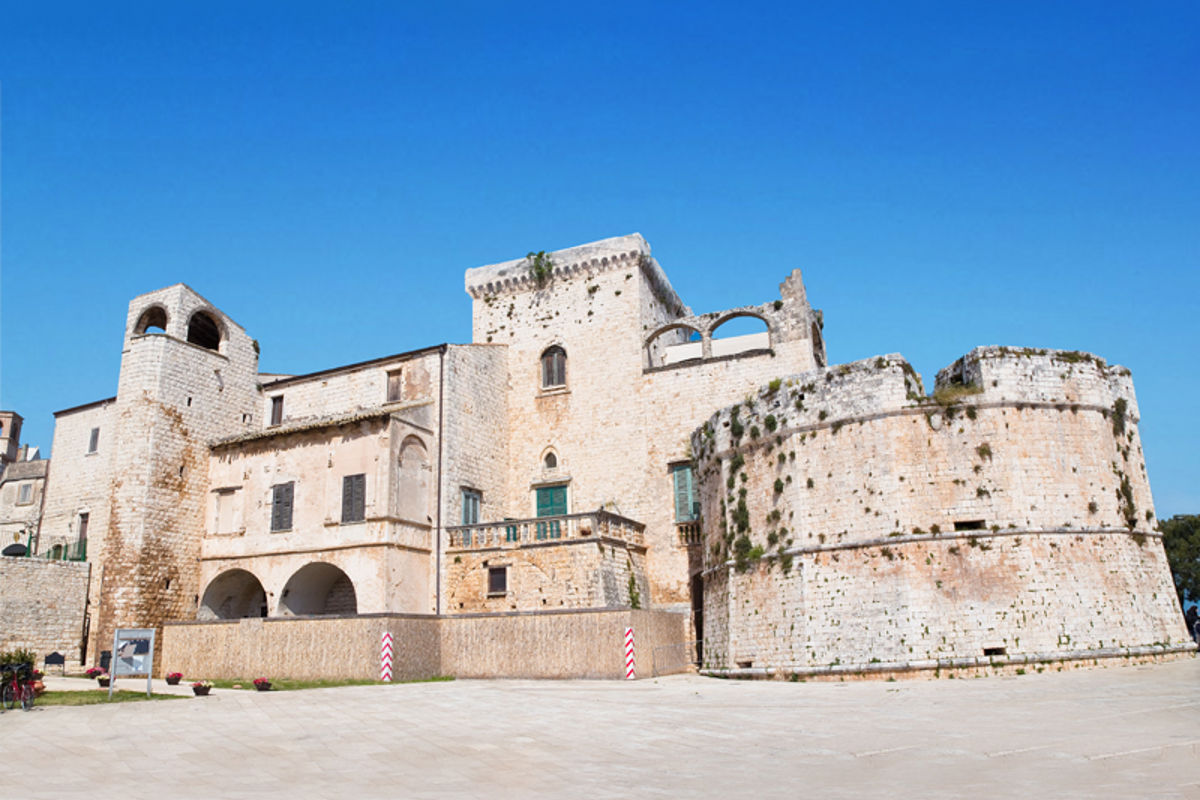 A ten-minute drive west of the masseria lies Conversano, a beautiful old town dominated by an impressive Norman castle with ornate baroque additions and a spectacular Romanesque cathedral. The walls of the historic centre are home to a collection of delightful cafés and trattoria and there's even a celebrated Michelin starred restaurant (Pasha) where we marked a significant birthday on our second night!
Despite its obvious appeal (and special celebrations aside) Conversano feels like a real place, largely unaffected by tourism; by day we explored the sleepy old town in peace, enjoying a coffee in the main square with the locals. Evidence of a settlement in Conversano dates back to pre-historic times. With so many influences over the millennia, the region has had to adapt to numerous changes and the result is a palpable sense of tolerance. Nowhere is this more in evidence than in the extraordinary Centro Librexpression - grandly billed as the Euro-Mediterranean centre for the promotion of freedom of expression, freedom of press and of political satire. We stumbled across this mecca for liberality entirely by accident, thinking we were exploring Conversano's ancient monastery. But the cloisters are home to the most arresting collection of graphic works from students past and present and we discovered that the centre attracts cartoonists from across the globe. With stark, and sometimes bleak, observations about the digital age, terrorism, politics, religion and global warming, the works on display made our own satirical publications look lightweight by comparison - perhaps made all the more powerful by the astonishing setting.

With this in mind, I suppose we should have been less surprised when we returned to have dinner on Friday evening and discovered the beautiful, sleepy Conversano of mid-week had been transformed into the vibrant, energized and relevant place that it is. A seriously right-on crowd were gathering for La Passeggiata, the Italian tradition of an early evening promenade. Some good-natured political rallies were being held in a couple of the town squares and a DJ was setting up on the site of the old Amphitheatre - much to the excitement of the local teenagers. This was not an evening for formality and Michelin stars and in true Puglian style, we ate our evening meal slowly, al fresco and with the sweet smell of jasmine all around.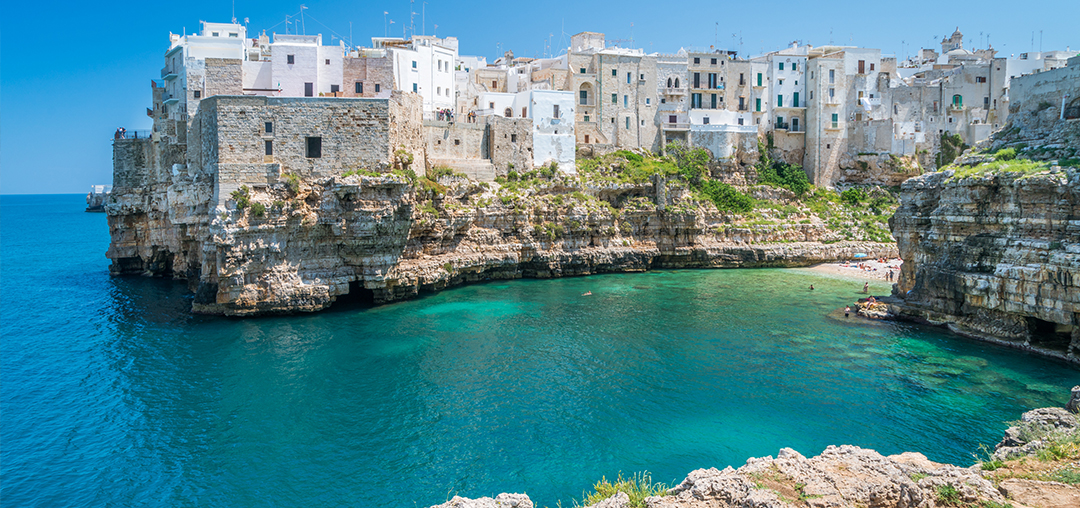 Conversano is hard to beat but Polignano a Mare, just a ten-minute drive from the masseria in the other direction, was our other favourite haunt. It is quite unlike any seafront town we've ever experienced. Hanging high above the turquoise waters of the Adriatic we were immediately bewitched by its tumble of cobbled lanes, relaxed boho vibe, and unique collection of restaurants and bars. I don't know what British building regulators would make of it but beneath the houses and terraces that cling precariously to the cliff edge of the old town, the sea has eroded a series of wide caves and the place looks like it might plummet into the sea at any moment. But it's been that way for hundreds of years and very soon we were peering over the edges and imagining how exciting it must be to come here when they hold the annual Cliff Diving Championships.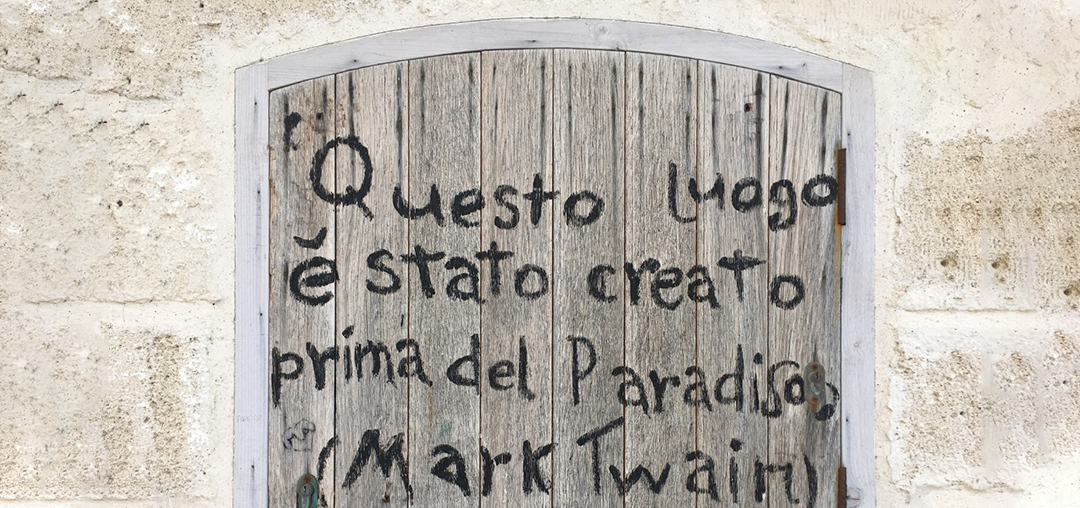 Of course, Polignano a Mare attracts a great deal of tourists but somehow not at the expense of the local crowd. The residents are obviously extremely proud of it and everywhere you look in the pedestrianized old town, flowers cascade from hand-painted pots and urns, there are tubs packed with lavender and herbs and literary snippets from Shakespeare, Emily Dickenson, Bob Dylan and others are chalked up on stairs, doors, plaques and boards. These hand-drawn quotes, lovingly scribed in Italian, celebrate the town and its inhabitants, offering advice on how to live well and enjoy life. After a quick consultation with Google-translate, it was hard to disagree with Mark Twain's; 'Questo luogo è stato creato prima del Paradiso' - 'This place was created before paradise'. And in the spirit of tolerance so evident in Puglia – this from Bob Dylan; 'Non criticare quello che non puoi capire'. 'Don't criticize the things you don't understand.'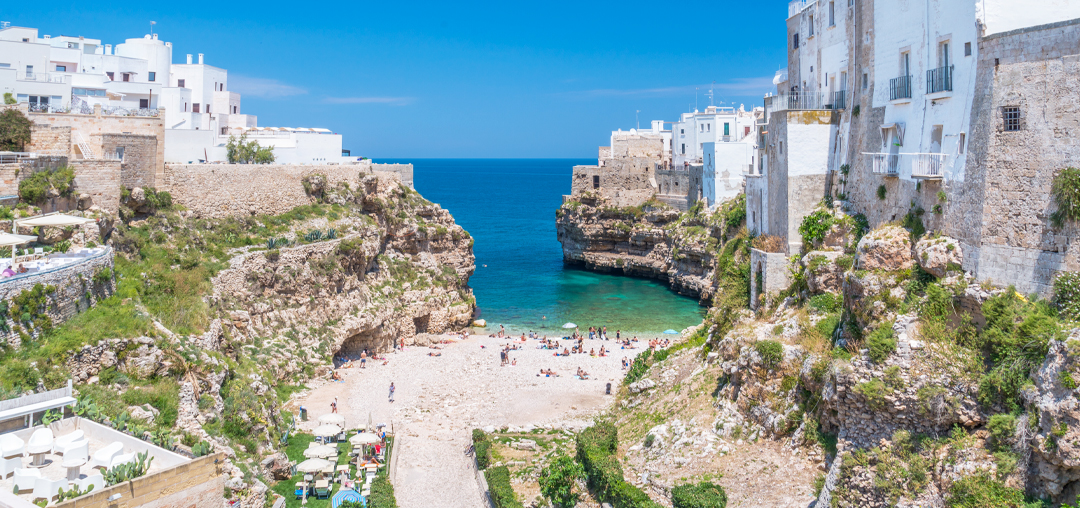 We spent several afternoons and evenings here. In fact, our love of it perhaps prevented us from more extensive explorations. Though there are some extremely sophisticated restaurants in and around Polignano, with stunning sea views, à la carte menus and lofty price-tags, you won't go far wrong enjoying La Passeggiata and diving into any of the little places that take your fancy. If Mohitos are your thing, there is a bar dedicated entirely to them and if it's wine, then the very pretty Enoteca La Cantina del Vino has a huge selection. We have developed quite a passion for the local Primitivo (beware a false translation - it means 'early one' rather that primitive, because of when the grapes ripen) and have been actively seeking it out since we got back. It's a robust red and unlike many holiday wines every bit as sumptuous enjoyed back in the UK.
No visit to Polignano a Mare would be complete without experiencing the incomparable loveliness of Mint Cucina Fresca; but here you will need to book. This beautifully decorated little eatery has only six tables and the chef greets all his diners personally. This is a real one-off. No meat, no pasta, (surely some mistake?!) just an exquisite celebration of fresh, local ingredients, lovingly prepared and exquisitely served. It's always full, the locals love it and the ricotta ice cream with Mugolio (a sweet Italian syrup made from pine buds) will linger long in the memory.
Puglia is hard to define. We will undoubtedly return to see more of it - in particular Lecce, said to be the Florence of southern Italy, but we were having too much fun where we were to venture far afield. Utterly bewitched by Masseria Le Torri and its surroundings, we simply chose to unwind and soak up the magic of the place. And a more romantic, relaxing and arresting place you couldn't hope to find.