Greece – it's great to be back!
Greece – it's great to be back!
Our founder, Graham Simpson, gives a first-hand account of his joyous return to Paxos, with a timely insight into the business of flying in the age of Covid-19. He also describes the warm welcome he received from all (well, almost all) he encountered.
When I left our home here in Greece and returned to the UK in February, I fully expected to be back in Paxos by April. Instead, I faced 16 weeks of lockdown (regarded highly vulnerable because of my asthma and age) and the most intense period of crisis management I have ever known. But finally, I am back – and I have to say, it's heavenly.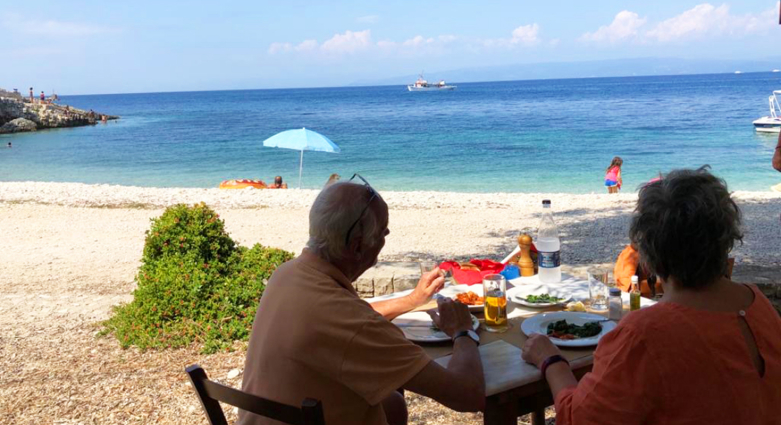 When the news came that the Greek government were welcoming direct flights from the UK on 15 July I heaved a huge sigh of relief. Naturally I was delighted for the hundreds of guests awaiting the go-ahead for their much-needed summer escapes and for our Greek villa owners and partners who are depending on us this year more than ever. But I'll admit my joy, in no small part, was personal. I couldn't wait to get back and, if I'm entirely honest, escape the speculation of the British press, the contradictions and U-turns of the government and return to a country that, it has to be said, has handled the bombshell of Covid-19 better than most. And the first thing to strike me is the wonderful sense of calm, quiet consideration and good humour that pervades in Greece in the wake of the pandemic.
Naturally, I was a little apprehensive about the flight. Back in the 60's and 70's I didn't have the budget to enjoy the golden age of flying; mingling with the glamorous jet-set for champagne and lobster when it was the preserve of the rich and famous. Nevertheless, I have always found air travel thrilling, despite the hurly burly of the airport and the sheer numbers involved. But the thought of wearing a facemask, being temperature checked and continually dousing myself in hand sanitiser made me slightly trepidatious. I did wonder if it might wreck the whole experience but in fact, it was extremely civilised and well-organised, enhanced by the respectful stoicism that seems to pervade amongst this year's resolute travellers. And all this concern in the press about the drama of random testing on arrival in Greece is very much overblown. Being 'wrinklies', my wife Yianna and I were 2 of the 20 passengers selected at the airport for an antigen test. But far from being a tense, protracted affair, it took just 6 minutes for everyone to be tested and consisted of a small tickle at the back of the throat. We were whisked through and ready to collect our luggage long before it arrived and that was it – we were on our way. It's very much a case of 'don't call us, we'll call you' and if you haven't heard anything within 24 hours (which we haven't) you can assume all is well.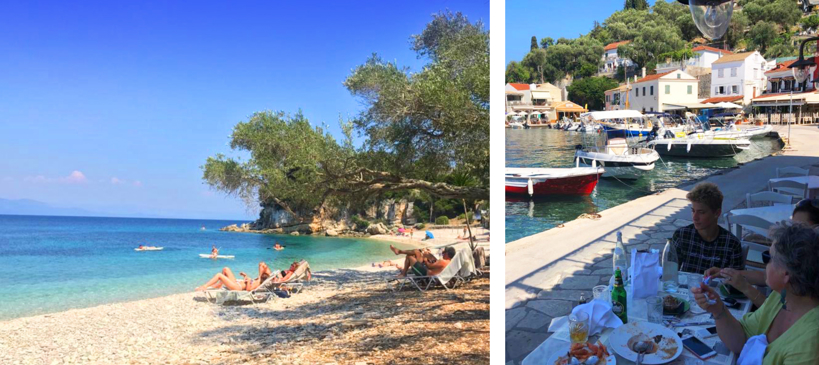 We spent a night in Corfu Town and ate souvlaki outside in the square at our favourite restaurant before crossing to Paxos in the morning where we received the warmest of welcomes. In fact, were it not for the plentiful supply of hand sanitiser wherever you go, the respectful social distancing and the shortage of hugs and kisses (which rather goes against the grain in Greece) you could be forgiven for thinking that life in this part of the world has scarcely been interrupted. The tavernas are open, the beaches are wonderfully empty, and the water is the warmest and clearest I've ever known it. And there's certainly no sense that the Brits are not wanted (as some media reports would have us believe). The Paxiots, like us, want company and to share their beautiful island with visitors who love it as much as they do.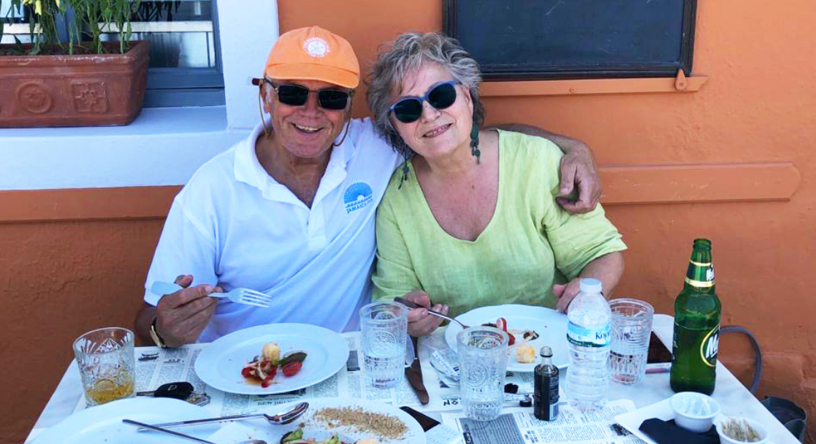 Of course, no homecoming is without its highs and lows and after all the affectionate greetings on arrival I was rather disheartened to find that not everyone was so pleased to see us. We drove home in a newly spruced up Gertie (now in retirement on Paxos, having driven us from the UK to Corfu in 2015) only to find the two feline incumbents who have graciously allowed us to live alongside them for the last 12 years were completely indifferent to our presence. No greetings or brushing of fur against legs – more like, 'And where the hell have you two been?'. No acknowledgement of what we've been through recently in the UK, the hundreds of Simpson clients, villa and hotel owners and agents I've been talking to, who are worried and concerned either for their holidays or their future. Didn't Aspacia, who fed them twice a day while we were away, inform them of what was happening?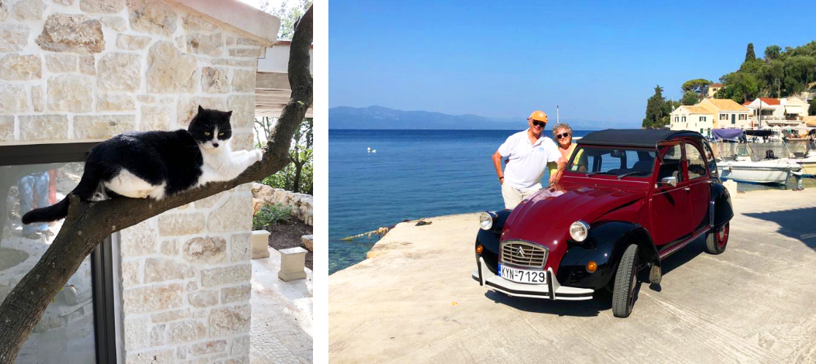 Whatever it was, the thawing of relations started soon enough when they realised at feeding time that Aspacia wasn't coming and they were going to have to rely on us to give them their meal. And my word, didn't their demeanour change – it was as if we'd never left. A great deal of purring and sidling up ensued and any nod they may have made to social distancing drifted off into the golden glow of the sunset – which we enjoyed on our terrace, cold beer in hand, warm cats on laps.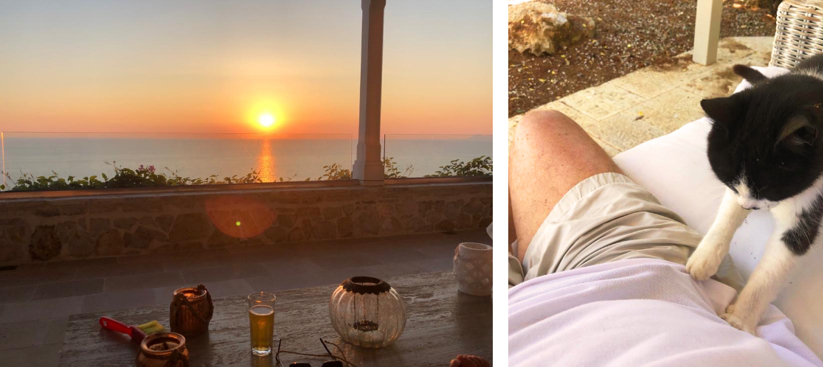 I can't tell you how much I've missed this, how I live for it and how much better I feel in just 24 hours. No daily briefings, no News at 10, no stats, stats and more stats, and no more the horror of seeing thousands of Brits crammed onto beaches and parks in a state of total confusion as to what the government are going to do next. Just total bliss and a return to some sort of normality. Let's face it (and I've always known this) the Greeks are hypochondriacs anyway – that's why they've dealt so well with Covid-19. To tell you the truth, I feel much safer here than I do in Blighty.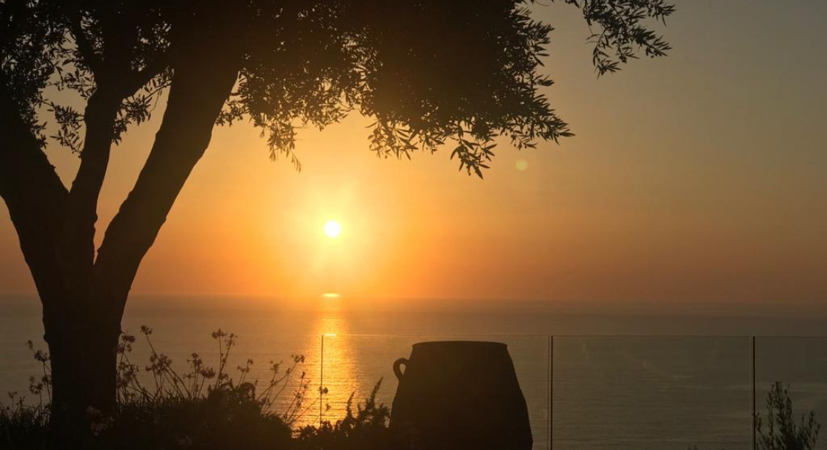 If you're keen to return to travel in 2020, take a look at our idyllic last-minute escapes.