Explore holidays in Pollença & Puerto Pollença
For centuries an inspiration for writers and painters, Pollença continues to capture the imagination and makes the perfect Mallorca holiday destination. The town square, with its array of bars and restaurants, is at the heart of town, while the Calvari Chapel at the top of the famous 365 steps offers stunning panoramic views. Just 7km from the town is Puerto Pollença whose sandy beach boasts crystal clear waters, watersports and the much-loved seafront Pine Walk, perfect for a pre-or post-dinner stroll.
To complete the picture of your luxury holiday in Pollença and Puerto Pollença, we offer a selection of handpicked villas and a delightful agroturisme hotel, an inspiring blend of old and new for families and couples alike.
---

Explore our pre-bookable experiences in Pollença & Puerto Pollença
---
A selection of our holidays in Pollença & Puerto Pollença
* Prices include seven nights' accommodation, flights and transfers/car hire, based on the lowest rate for maximum occupancy.
Our guide to Pollença & Puerto Pollença
Introduction to Pollença & Puerto Pollença
The story of Pollença
This small town was first settled around 2000 BC. There are still echoes of its medieval past and Moorish influences in the labyrinth of narrow streets, but today it's mainly elegant 17th and 18th-century houses that give Pollença its charm.
In recent years, a sophisticated, bohemian air has crept into the backstreets and around the pedestrianised town centre. You'll find galleries, boutiques, pastry shops and stylish little delis, while the Old Town square enjoys a new lease of life with thriving cafés and restaurants, an evening buzz and a lively Sunday morning market.
The beachside pleasures of Puerto Pollença
Just a ten-minute drive from Pollença, this little fishing village has blossomed into a genteel resort, with a marina that now bustles with high-spec yachts. A palm-lined promenade with cafés, bars and restaurants runs alongside the 1,500m soft, sandy beach and then narrows into the famous Pine Walk. This elegant, paved walkway is pushchair-friendly, but also perfect for strolling arm in arm as the sun sets. And, if you're looking for other lovely bays, there are more Blue Flag coastal beauties to explore, all within an easy drive away. 
Lazy days inland
The plains stretching out below Pollença are criss-crossed by a maze of small country lanes and the close proximity of the rugged Tramuntana Mountains, a UNESCO World Heritage Site, opens up a world of exploration, including the ten walking and five cycling trails of the Biodiversity Routes, offering artists, nature lovers and history buffs plenty to write home about.
The rolling countryside in the foothills of the mountains is some of the most unspoilt in Mallorca. Explore traditional 'off the beaten track' villages, including Moscari, Sa Pobla, Campanet, Selva (which has some great restaurants) and Caimari, famous for its olive oil. Hilltop Búger (pronounced boo-hair in Spanish and boo-zhay in Mallorquin) has a thriving Saturday market at its heart, and is surrounded by old windmills and fragments of the ancient oak forests that would once have covered much of the landscape. Today this delightful little town is encircled by almond and carob fields, providing a scenic backdrop for hikes and biking tours. Less than a 20-minute drive from Alcúdia Bay but a complete contrast to the busy seaside resorts, Búger is a place to reconnect with the countryside and slow down to enjoy a really relaxing holiday.
Culture and vultures!
From wine tasting in the bodegas of Inca to Pollença's pristine nine-hole golf course (one of 20 on the island), north Mallorca has perfected the art of versatility. Sunset cruises, guided cycling tours and summer classical music festivals sit shoulder to shoulder with traditional Sunday markets and contemporary art galleries. In the mountains between Sóller and Pollença (Ma10), you'll find the Cuber Reservoir, home to many birds of prey including black vultures. Or you can opt out of 'doing' altogether, and just sit in a square with a glass of something cold and let your holiday unwind around you.
At a glance
Currency

Euros

Flight Time

2 hours

Time difference

+1 hour

Language

Spanish

Visa required

Not for UK citizens
Food & drink
A taste of Pollença & Puerto Pollença
Suckling pig is a local favourite, but otherwise the Pollença region offers a typically Mallorcan melting pot of culinary traditions. The Moors added rice (the essential ingredient of the paella-like arroz brut), as well as citrus fruits, almonds, currants, pine nuts and saffron, creating robust recipes rich in olive oil, spice and sweet-savoury taste combinations. Meaty frit mallorquí, originating from a 14th-century recipe, calls on Arabic and Jewish influences, whilst style, sophistication and New World ingredients came from the Catalans, in the form of pimentón (smoky paprika) and tomatoes. The variety and quality of charcuterie is also superb; peppery bottifaron sausage makes its way into many recipes and Ibérico and Serrano ham top the ever popular pa amb oli and are enjoyed all over the island as tapas to share with friends.
Mallorcan tipples
Local wine production is flourishing, particularly in the Binissalem region and around Inca, whilst the Ca'n Vidalet vineyard near Pollença creates some award-winning vintages. Beer and tapas make the perfect partners, but after a long, lazy meal, sip a Hierbas. This potent anise-based liqueur, originally distilled in homes for its medicinal qualities, contains a vast array of wild herbs.
Eating locally
There's a menu to suit every taste and pocket here, which means satisfaction is never far away. Pollença's pedestrianised squares give children room to run around as parents eat, while the town's narrow, quieter streets provide the perfect setting for dining à deux. There's also a generous helping of patisseries and the local lemon meringue pie should not be missed.
For romantic soirées, Puerto Pollença's genteel promenade is perfectly suited, but the diversity of its restaurants makes it ideal for families looking for child-friendly menus too. However, if you'd like a little history on the side, the walled medieval Old Town of Alcúdia is a must-visit. Along its cobbled streets there are tapas bars and restaurants galore, many within old townhouses – the tables set in central courtyards. Make the short journey to the coast and you can enjoy the views from the picturesque marina in Port d'Alcúdia, along with chillout bars and traditional restaurants – and a walk along the pedestrianised area overlooking the boats will help burn off a few calories.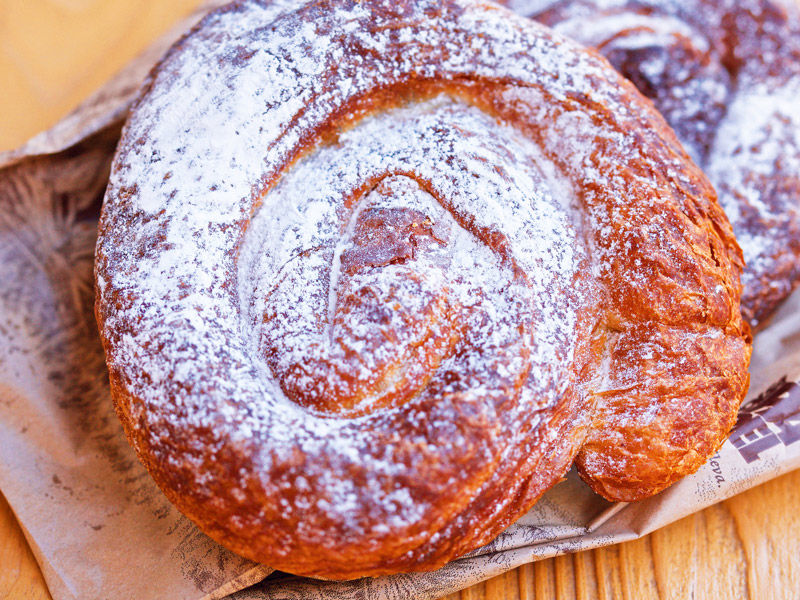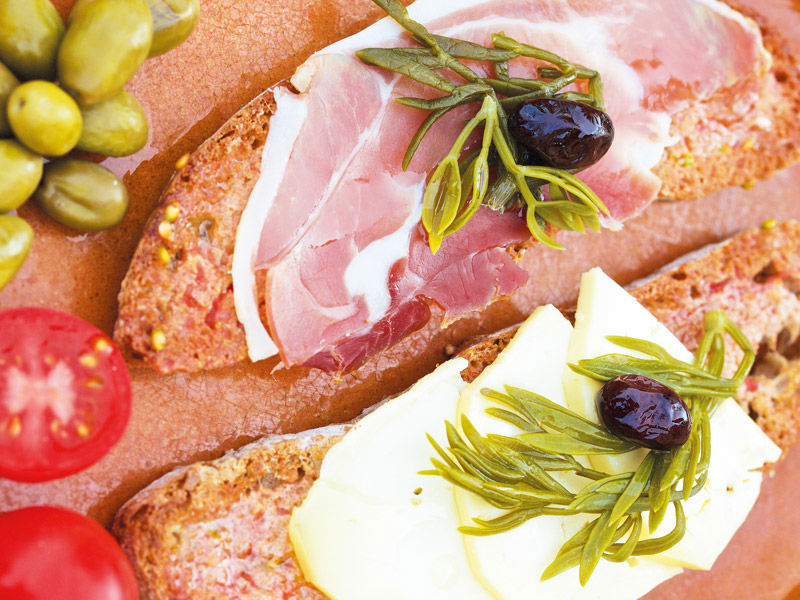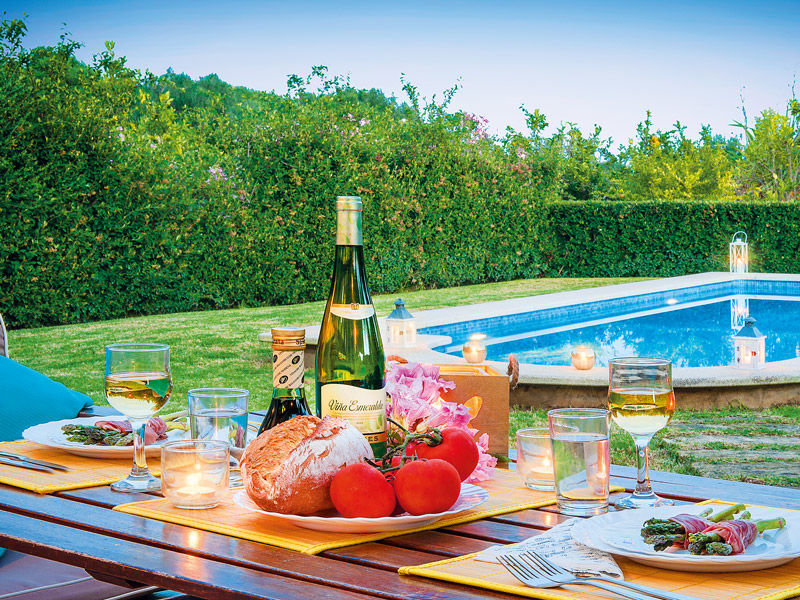 Beaches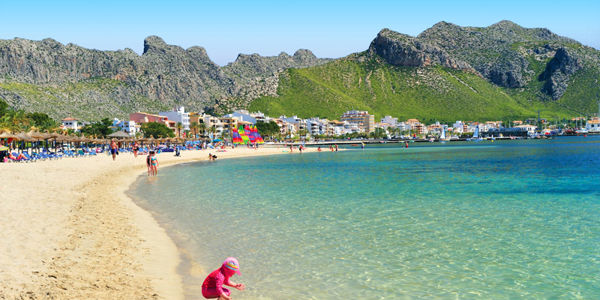 Puerto Pollença
Great for children, this sandy Blue Flag beach has calm waters with sunbeds and parasols for hire, watersports and excellent shops and restaurants along the promenade up to the Pine Walk.
Getting there…
A ten-minute drive from Pollença.
Footnotes…
Look out for elaborate sand sculptures meticulously crafted by entrepreneurial locals and, for quieter stretches of sand, head out in the opposite direction from the main promenade.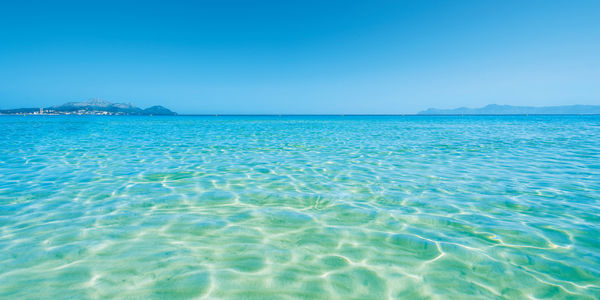 Playa de Muro
Playa de Muro is in fact four different beaches running south for almost six kilometres along Alcúdia bay. The sand is soft and gently shelving, perfectly for paddling in clear aquamarine sea.
Getting there…
It's a half-hour drive from Puerto Pollença.
Footnotes…
Most of the bars and restaurants and watersports are near Alcúdia. For a more natural feel try Sa Comu, part of the S'Albufera Natural Park 
Cala San Vicente
A fishing village resort with four beaches: the first Cala Barques, the largest Cala Molins, the smallest, Cala Clara, and Cala Carbo at the far end – the only one with pebbles not sand.
Getting there…
A 15-minute drive from Pollença or an hour's country walk from Puerto Pollença.
Footnotes…
There are plenty of facilities and restaurants nearby and all the beaches share the same turquoise waters and backdrop of dramatic cliffs. It's a popular spot for divers too.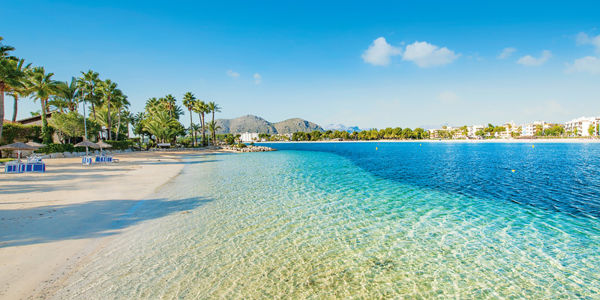 Port d'Alcúdia
Almost five miles of golden sands stretch from the Port of Alcudia to Playa de Muro and warm, shallow waters and watersports make this a popular spot for families.
Getting there…
Two miles away from the original Old Town which is further inland, the coast is just a 20-minute drive from Pollença. 
Footnotes…
There are plenty of beach bars and cafés along the length of the beach, including some excellent fish restaurants around the port.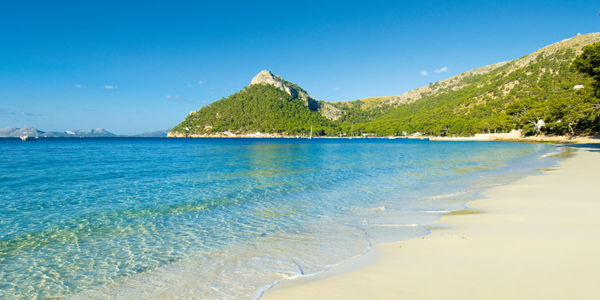 Formentor
A very popular Blue Flag beach, this long, narrow, sandy stretch is lapped by aquamarine water and backed by forests. The facilities are excellent, as are the views over nearby Alcúdia.
Getting there…
Take an excursion boat from Puerto Pollença or drive the 15 minutes from Puerto Pollença through spectacular mountain scenery.
Footnotes…
It's beautiful and therefore busy in high season, so get there early to secure a prime spot.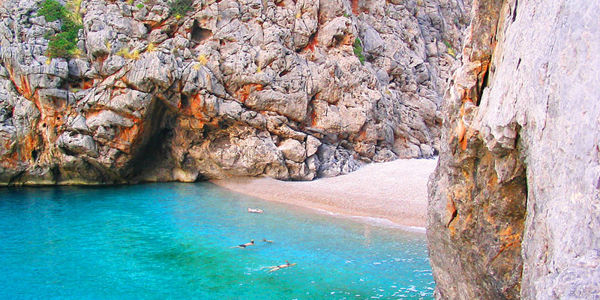 Sa Calobra
There's one beach near the car park and restaurants, but through a tunnel cut into the mountain you'll find another; a small, unspoilt sand and shingle cove with clear waters.
Getting there…
Arrive by boat or drive the breathtakingly winding Sa Calobra road, a journey of about an hour from Pollença.
Footnotes…
The second beach is at the mouth of the gorge, a challenging, five-mile hike that ends in Escorca and takes about four to five hours drive.  
Things to do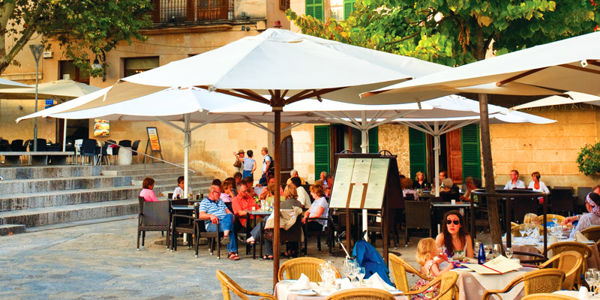 Pollença's old town
Dating back to the 12th-century, the narrow streets are perfect for wandering. Dine in one of the restaurants surrounding the main square while children play nearby or escape to one of the quieter eateries away from the square for a romantic soirée.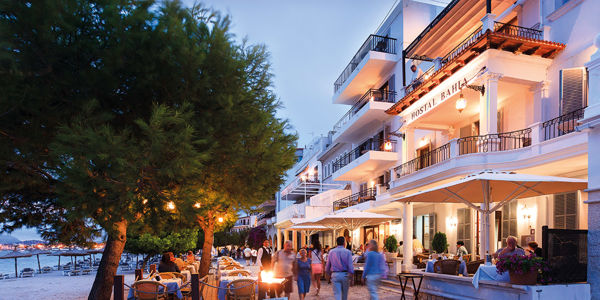 Spend an evening in Puerto Pollença
Take an evening stroll along the Pine Walk before dinner in one of the numerous restaurants along the promenade. There's a wide choice, from tapas to delicious seafood and, cocktail in hand, it's also the perfect spot for people watching.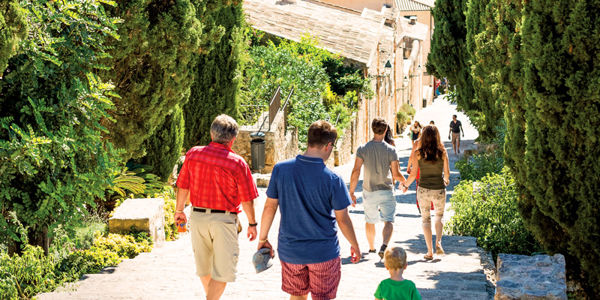 The calvary climb
Pilgrims used to ascend the 365 steps on their knees as a sign of devotion; we suggest a gentle stroll instead, with shopping stops along the way. There's a small café and a (rarely open) chapel at the top, with views across Pollença and the mountains.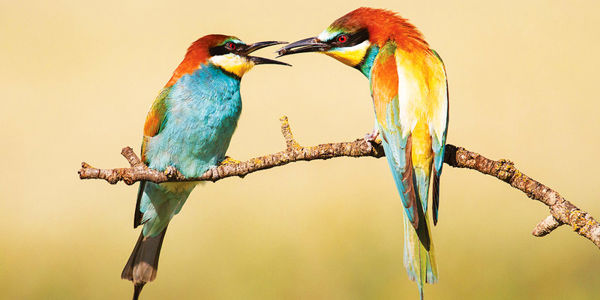 Go back to nature in the Campanet valley
Walk your way into the foothills of the Tramuntana Mountains, south of Pollença, where the countryside will reward your efforts tenfold with an abundance of flowers, ancient trails, almond groves and natural springs. Lunch in Campanet, Caimari or Selva, the neighbouring villages.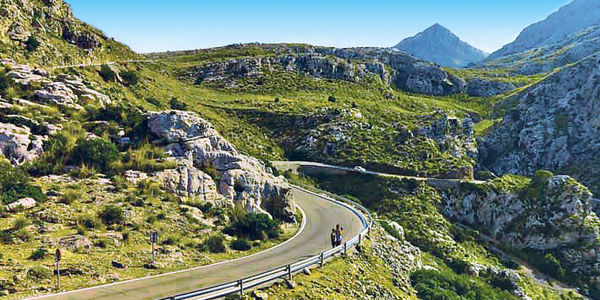 Follow the Pollença-Sóller road
Braving the twists and turns of narrow mountain roads will reward you with the island's most spectacular scenery. There are plenty of places to visit, from the exquisitely pretty hill villages of Sóller, Deià and Fornalutx, to the impressive Lluc Monastery.
Haggle a market bargain
With its 300 stalls, Pollença's Sunday morning market is a colourful display of local produce, including honey, hams, cheese and wine, as well as shoes, traditional baskets, clothes and souvenirs. On Wednesdays, you can stock up in Puerto Pollença's fruit and vegetable market.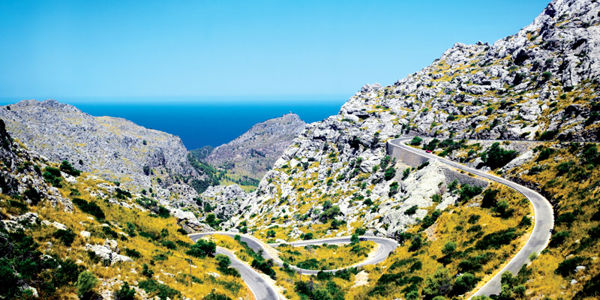 Drive the Carretera de Sa Calobra
One of the most scenic in the world, this winding road of hairpin bends and dramatic precipices is not for the faint hearted and gets busy in summer. Off the Pollença-Sóller road, it leads to the hidden beach and impressive Torrent de Pareis gorge of Sa Calobra.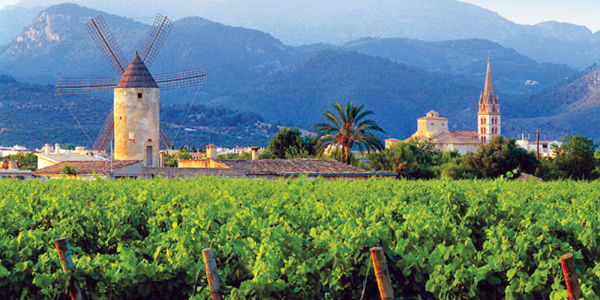 Go wine tasting
Designate a driver and head down to Binissalem, the main wine area. On the road to Palma, take a wine tour around Palma's Old Town or stay closer to home – Pollença's beautiful surrounding countryside also has wineries among its olive groves and almond orchards.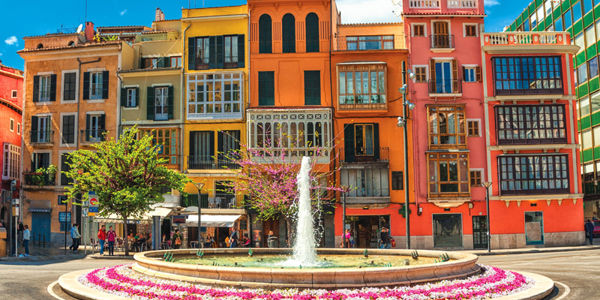 Join the Palma sophisticates
From harbour-side bars overlooking a sparkling array of luxury yachts to fantastic shopping, stylish Palma is a must. There are also countless bars and restaurants, and tapas down one of the Old Town's narrow streets is a great way to end your day.
Events
Puerto Pollença hosts plenty of festivals throughout the year. Many are based around the sea, including regattas and seafood festivals.
At Easter (Semana Santa) there are events and processions throughout the island, including daily processions in Palma the week leading up to Good Friday and a ceremony in Pollença's Old Town involving a statue of Christ being carried down the Calvary Steps and into the main church.
What's on in May
Second Sunday in May
Festa de Nostra Senyora de la Victoria is celebrated with mock pirate battles in Puerto Sóller. It then moves on to Sóller town for celebrations in the main square.
What's on in June
Mid Jun
Corpus Christi is celebrated in Pollença with processions and the Dance of the Eagles performed in the main square.
24 Jun
The Fiesta de la Patrona (Festivity of the Patron Saint San Juan) takes place in various forms across the island and can run for about two weeks. Expect music, theatre, fire and competitions.
End Jun
A big festival with processions and fireworks honouring Sant Pere, patron saint of sailors, in Alcúdia port.
End Jun
Santa Catalina Thomas in Valldemossa is an opportunity for lively feasting and processions of bulls drawing carts through the town.
What's on in July
Mid Jul
The eight-day Festa de la Verge del Carme in Puerto Pollença concludes, usually on 16 July, with Mass, processions, flotillas and fireworks on the beach.
End Jul
The Patrona de Pollença involves daily festivities leading up to the mock Moors versus Christians battle in early August.
Jul/Aug
Summer's International Classical Music Festival, with concerts held in the Sant Domingo Convent in the centre of Pollença.
What's on in August
Early Aug
The Moors versus the Christians re-enactment in Pollença commemorates the 1550 defeat of Moorish pirates by the Christians, led by the hero Joan Mas, guided by a sign from God.
15 Aug
Assumption of the Virgin is an important religious festival and a national holiday celebrated throughout Spain. Shops and businesses close.
What's on in September
First Sunday of Sep
The Processio de la Beata in Santa Margalida village features processions in honour of Sant Catalina and an offering of flowers to the statue of the saint, followed by a party.
First week of Sep
The Fornalutx Festival includes an arts and crafts market, children's games and an evening closing celebration with fireworks.
Last Sunday of Sep
The Festa des Vermar, Binissalem is a lively grape-harvest festival with tastings, concerts and processions.
30 Sep-2 Oct
The Alcúdia Jazz Festival, the best on the island, begins with a free concert in the Passeig Maritim in Port d'Alcúdia.
The Road Less Travelled
We asked our local representatives to share a few of their favourite 'off the beaten track' Pollença and Puerto Pollença experiences. Here are some of their suggestions…
Discover 'secret' works of art
Take the lane behind Alcúdia's golf course to the beautiful white Sa Bassa Blanca, home to the Yannick and Ben Jakober Foundation. Here you'll find a Sculpture Park and Rose Garden with views across the northern coastline and an underground art collection, which includes some wonderful children's portraits. To visit any other day but Tuesday, you'll need to book. Get all the details at fundacionjakober.org
Go vulture spotting
Along the mountain road from Sóller to Pollença (Ma10), you'll find the Cuber Reservoir and a walk around its banks has the potential for far more than a breath of fresh mountain air. The area is rich in plant and animal life and a prime spot for birds of prey, including the black vulture, booted eagle, red kite and peregrine falcon.
From tortoises to tales of the dead
The turning is easy to miss, but Son Real, between Ca'n Picafort and Artà, is a beautiful stretch of wild coastline with three excellent walks. Information boards identify the local flora and fauna, including wild tortoises, and there's a museum of country life in an old restored finca. Opposite the S'Illot des Porros (Leek Island) you'll also find a pre-Talayotic burial ground. There's not much shade, so go early. 
Four villages on two wheels
Experience 'off the beaten track' Mallorca by cycling around the villages just beyond the Campanet Valley. From Moscari, surrounded by olive groves and grazing lifestock, Binibona is the perfect spot for a morning coffee in the square. From there, head to Caimari and the impressive Santuari de Lluc monastery, just a hike away. Your last stop is hilltop Selva for a cold beer in the microbrewery, restaurants and, on Fridays, a spot of traditional music.
Eat cake 1,400 feet above sea level
About 3km after the turn off to Fornalutx on the Sóller-Pollença road, you'll see parking on the left and a sign for the Mirador de ses Barques restaurant. Settle yourself on the terrace with a slice of the speciality almond cake (tarta de almendra) and a café con leche (coffee with milk) and take in the spectacular views down to Sóller.