Beautifully positioned Simpson Hotel
Breathtaking views
Six 1-bedroom suites
Comfortable and welcoming
Breakfast included
Book this charming Simpson Hotel as part of our Tuscan Wandering programme and we'll treat you to a fabulous three-course home cooked dinner, including a bottle of local wine. Find out more about
Tuscan Wandering
.

An invitation to contemplate the finer things in life in a truly stunning location, Mille Desideri is a rare find, offering a magical combination of 17th-century charm, spellbinding views and a private swimming pool.
Whilst the warm colours, beamed ceilings and open fireplaces extend their own welcome, it's the hospitality of your hosts, owners Nicola and Rosa, that makes Mille Desideri such an inviting place to stay. Rosa used to spend every summer here as a child, but when she and her husband bought the property in 2000 it was a ruin. Together, they've brought it back to life with the loving care and attention that give bricks and mortar their heart and soul – and, working alongside the Simpson Travel team, have transformed it into an unmissable addition to our Simpson Hotel collection.
This being Italy, food is integral to the experience and, thanks to Rosa's celebrated culinary talents, the most delicious local dishes come to you. A complimentary light welcome dinner and delicious daily breakfasts are included and for an additional €35 per person per night, you can enjoy up to three four-course dinners on Monday, Wednesday and Friday all payable locally. Walks, wine tasting, horse riding and golf can also be arranged on your behalf and Nicola and Rosa will be happy to guide you towards the best and most authentic local experiences to help you make the most of your stay in this beautiful part of Italy.
During July and August, Mille Desideri can be booked as a villa by a single group of up to 12 guests.
The local area
The charming medieval village of Monterchi is a 15-minute drive away, where you'll find good quality restaurants and all the necessary shops for picking up provisions. In August, it hosts a programme of classical music concerts for a wonderfully atmospheric evening out and, in September, the Polenta Festival gets underway, a three-day foodie celebration, with music, dancing and a craft market thrown in for good measure.
About 35 minutes from Villa Mille Desideri lies Arezzo, used as a location in Roberto Benigni's film La Vita è Bella (Life is Beautiful). As well as being home to such gems as the 12th-century Santa Maria della Pieve and the mighty Gothic Duomo, it hosts a huge 500-exhibitor antique fair in the Piazza Grande on the first weekend of every month and the spirited (and competitive!) Saracen Joust in June and September. 
And if the glorious Renaissance city of Florence is on your wish list, it's just under an hour away by train from Arezzo, or like Pisa and Siena, around 90 minutes by car.
Layout
Rubino
Seating area with French doors opening on to terrace with panoramic view
Mezzanine level with double bed
En-suite shower room off seating area
Topazio
Double bedroom with en-suite shower room
Perla
Twin bedroom (can be configured into a double if required) with en-suite shower room
Smeraldo
Double bedroom with en-suite shower room
Ambra
French sized double bedroom with en-suite shower room
Corallo
Twin bedroom (can be configured into a double if required) with en-suite shower room
Additional information
General
Complimentary WiFi
Breakfast included
Air-conditioned bedrooms
Television room
Hairdryer
Extensive landscaped grounds
Pool towels provided
Large shared swimming pool 7m x 14m (depth 1m – 2.40m)
Villa Mille Desideri is booked as a six-bedroom villa in July and August
The last few hundred metres leading up to the hotel entrance are along a very steep and narrow road
In Italy, a daily tourist tax applies for the first week of your stay only, which means that an average of €1.50 per person (12+ years) may be charged and this should be paid in cash to the owner during your stay.
Due to the cooler temperatures, the swimming pool will be closed from 30 September until the end of the season
Meals
Daily breakfasts and a light welcome dinner on arrival night are included in the price of your holiday
Dinners (4 courses) are available Monday/Wednesday/Friday to guests payable locally (€35/dinner excluding drinks) – see the hotel's sample Menu
Vegetarian options available
Dinners not available on Sunday
WiFi
All properties with WiFi are able to support basic functionality such as web browsing and checking emails*
* We aim to offer an uninterrupted service but sometimes due to factors beyond our control reliability can be affected.
Shops and restaurants 10min drive
Monterchi 15min drive
Arezzo 35min drive
Cortona 50min drive
Perugia 1hr 15min drive
Siena 1hr 30min drive
Florence 1hr 40min drive
Pisa airport 2hr 15min
Although this property is booked on an accommodation-only basis, we can arrange your flights for an extra charge of £25 per person, plus the cost of the flights themselves.
Below are the flight options available, including the most convenient airports in Italy to help you reach your destination as quickly and easily as possible.
Pisa
| | | | |
| --- | --- | --- | --- |
| Departure airport | Airline | Flight days | Seasonality |
| London Heathrow | British Airways | Saturday | All season |
| London Gatwick | easyJet | Saturday | All season |
| London Gatwick | British Airways | Saturday | All season |
| London Stansted | Ryanair | Saturday | All season |
| Luton Airport | easyJet | Saturday | All season |
| Manchester | Jet2 | Saturday | All season |
| Manchester | easyJet | Saturday | All season |
| Bristol | easyJet | Saturday | All season |
Florence
| | | | |
| --- | --- | --- | --- |
| Departure airport | Airline | Flight days | Seasonality |
| London City | British Airways | Saturday | All season |

Rome
| | | | |
| --- | --- | --- | --- |
| Departure airport | Airline | Flight days | Seasonality |
| London Heathrow | British Airways | Saturday | All season |
| London Heathrow | Alitalia | Saturday | All season |
| London Gatwick | British Airways | Saturday | All season |
| London Gatwick | easyJet | Saturday | All season |
| London Gatwick | Vueling | Saturday | All season |
| Manchester | Jet2 | Saturday | All season |
| Birmingham | Monarch | Saturday | All season |
| Bristol | easyJet | Saturday | All season |
Car options
The following hire cars are available to book.
Group C, Lancia Ypsilon or similar*
Group D, Volkswagen Golf or similar*
Group F, Automatic Volvo V40 or similar*
* All our cars include comprehensive insurance with zero excess. For this particular destination, the undercarriage tyres and windscreen are not included in the cover.
Car specifications
Group C – 1.2 litre engine, 2 large suitcases*
Group D – 1.6 litre engine, 4 large suitcases*
Group F – 1.6 litre engine, 2 large and 1 small suitcase*
* Suitcase sizes are based on a large suitcase being approximately 75cm x 41cm x 31cm, a medium suitcase of approximately 65cm x 46cm x 29cm and a small suitcase of 55cm x 40cm x 20cm.
Customer feedback
Thank you for a wonderful week, we have had an amazing and restful time. Thank you for looking after us so well, all the dinners were perfect. In such a beautiful spot we are going home feeling happy and rested. Many thanks.
Kat & Shane – September 2017
Thank you all for a wonderful week. Your generous hospitality and excellent food (big thank you to Rosa) will be sadly missed. We will miss the peace and tranquility of this area which is quite beautiful.
The McCall's – September 2017
Thank you so much for a lovely week here at Mille Desideri. It is a special location and your warmth and hospitality have made our holiday extra special. We have loved exploring the area, and enjoying the peace and tranquility here at the hotel. Our thanks to Nicola, Sara and their family for being super hosts!
Mark & Caroline – September 2017
We have had a wonderful week in this very special place. The peace and quiet has been a welcome break from the hustle and bustle of home. We visited some very pretty places that we hadn't been to before - San Quirco d'Orcia, Pienza, Anghiari to name a few, then all our favourite haunts - Siena, Perugia, Florence, Arezzo. Nicola is adorable and he and Sara could not have been more helpful. Rosa has cooked us many truly delicious meals. Grazie mille to you all.
The Clarke's – September 2017
What a wonderful location and hosts. The welcome was superb and we've loved the atmosphere. This is a special environment to see Eastern and Central Tuscany and even Umbria. We've enjoyed driving out to all the hilltop villages: Anghiari, , Monterchi, Cortona, Castiglione-Fiorentina, Monte San Savino, Lucignano and our favourite, Civitella. We even went out to San Gimignano and Siena. All of which were memorable. Thank you so much Nicola and Sarah. We will remember this holiday with great affection.
Andy & Sarah – September 2017
Stunning location, beautiful accommodation and wonderful hosts. Fabulous week in Tuscany, we have really enjoyed ourselves and look forward to returning.
Wendy & Richard – September 2017
Thank you for a wonderful week - 9 of us have recharged our batteries, swam, eaten well and slept. The house allowed us all our own space and we have all loved water polo in the pool. The set up and views are spectacular and we are sad to be leaving. Thank you for the recommendation of watching the jousting tournament in Arezzo - it was a fantastic spectacle that we all loved.
Hannah, Emily, Tom, James, Clara & Nigel – September 2017
We have absolutely loved staying in your beautiful villa - the kids especially loved the pool! We have had a relaxing break in very tranquil surroundings - just what we needed after a visit to Lake Garda.
The Clark Family – August 2017
Thanks for everything. The place was very comfortable and clean. The host was very helpful and friendly. Thank you very much for everything we really enjoyed.
The Patel Family – August 2017
We have had a wonderful two weeks. Nothing is too much trouble for you and yet you are masterful at allowing us to enjoy : such peace,such quiet, such sun, such heat, your pool at your beautiful property. Almost never a cloud in the sky. What more can one say? Thank you!
Nick & Eddie – August 2017
Grazie mille, it was all so wonderful, we thank you all so much for welcoming us to your hotel. Wonderful surrounding, so relaxing and great views. We all relaxed and recharged our batteries. We will treasure these memories shared here and thank you all for making it such a special holiday.
Helen, Tanya & Malcolm – July 2017
You are the perfect hosts - discreet, fabulous cooks and a host of local knowledge! Your villa is beautiful and we have thoroughly enjoyed our stay. We have had a very relaxing holiday, enjoying the beautiful views and having fun in the pool. We will certainly not forget this beautiful part of the world! Thank you so much.
The Tuck Family – August 2017
Grazie mille for a wonderful week. Our stay here is everything we could have asked for. We loved the peace and quiet, sitting by the pool and enjoying the food. We will be enjoying these memories for a long time to come! thank you for your kindness, hospitality and help when we needed it. We hope to be back one day!
Judith & Ben – June 2017
Nicolas & Sarah could not be more helpful. Mille Desideri is a haven from which to explore this magnificent landscape!
Gary & Karen – June 2017
Thank you for a lovely holiday. Good food, good wine, beautiful surroundings. Relaxed, low key and discreet hospitality which is always our reason to book with Simpson. Lovely people – helpful and friendly!
Russell & Carol – June 2017
Mille Desideri is set in beautiful tranquil surroundings. The meals we had there were some of the best we've ever eaten in Italy. Nicolas, Sara and Rosa could not have done more to look after us and they clearly love what they do!
Mrs Guy – May 2017
Sitting in the sun in perfect quiet, looking over the mountains full of good food - our idea of a perfect holiday! Thank you so much for making a place to rest, east excellent food, drink good wine and totally relax - it was much needed! Rosa's cooking was the best we tasted (and we did a large survey of the surrounding area) the room was beautiful, very comfortable and clean, and we both felt really well looked after. Thank you for a great holiday and we are already thinking about a return visit.
Ann and Chris – May 2017
We had a wonderful time at this beautiful villa. Unforgettable. It was like sitting in heaven. We want to thank Sara, Nicola and Rosa for their wonderful hospitality. You gave us memories we will never forget. The food was great.
Collelious & Ebrahames Families – August 2016
Our family have had a great two weeks at your villa. We had some wonderful trips to Pisa, Firenze, Venezia and Rome also the interesting hill top town of Cortona. The young ones enjoyed the swimming pool for countless hours and the ice cream at the pool. Everyone played table tennis. We thank you and Rosa for the grand and delicious dishes of lunch and dinner. Pizza making night was wonderful and fun for all. 'Old' Michael enjoyed drinking Sambuca and Scotch with Nicola. You are a good, generous and helpful family and we will tell all of our friends about your beautiful villa here in Tuscany. Perhaps someday we will return to your villa to enjoy more wonderful memories of our days under the Tuscan sun. Grazie mille.
Connie, Mike, Sharon, Laura, Molie, Michael, Matt – May 2016
Our group of nine friends recently spent a magical week at the beautiful Villa Mille Desideri. Nicola was the most charming host ever...each day he cheerfully made cappuccinos for all of us...and spent time visiting. During our week, Rosa cooked three delicious dinners for us. (I would stand in a long line to buy her cookbook.) The meals were fantastic...much better than anything you could order at a restaurant. We especially enjoyed the pizza night. Their daughter Sara visited with us a few times to answer questions and give us information. What a comfortable and wonderful villa! Our week in Tuscany will never be forgotten!!
Mr & Mrs Hart – September 2015
100% satisfied. Marvellous location and fantastic owners. Villa beautifully equipped and ideal for a large group. Rosa's cooking is superb. Nicola very kindly makes frequent coffee. Sara very helpful. All my family were very happy.
Mr Pilkington – August 2014
It was beyond our wildest dreams amazing!! The villa was phenomenal!!!!! It was so great to meet the owners – Sara and her father, they are amazing and were wonderful hosts! Everything about the entire experience – the villa, the owners, the meals, everything was better than we could have ever even imagined it to be. Thank you for helping create such a great experience for us!
Ms Cohen – October 2013
We had a super time there and we would go again. The owners certainly were exceptional in their dedication to ensuring that we were ok. When the bill came, there was even no charge for all the various coffees they had made for us at a moment's notice each day. The cooking which was done in-house for us by Rosa, the owner, was without a doubt better (and better value) than anything we had while eating out and that included food from a hotel on the coast that my son visited for three days.
Mr Hunt – August 2013
Our choice of Italian properties is diverse, ranging from simple charm to genuine luxury and style. Much of our portfolio is privately owned, and price alone is therefore not a universal guide. We contract all our accommodation in person, and each property has its individual appeal.
To help you make the right choice based on your own priorities, we have devised a simple grading guide to be considered in conjunction with each individual property description, awarding up to a maximum of five stars for the below categories.
* For further clarification on Facilities and Amenities, please view the 'Details' tab for each property or speak to one of our experienced sales consultants.
Tuscany gives you permission to indulge in life's simple pleasures – world-famous wine, indulgent food and hours consumed by epic histories. Each of Tuscany's ten provinces has its own unique personality, but wherever you stay, you'll find yourself surrounded by a verdant patchwork of olive groves, cypress trees and vineyards. From the birthplace of the Renaissance, Florence, to the narrow streets of hilltop San Gimignano, Tuscany makes for a stunning escape. 
To complete the picture, explore our collection of handpicked villas, boutique Simpson Hotels and charming apartments.
Ambra (small double)
Rubino (double)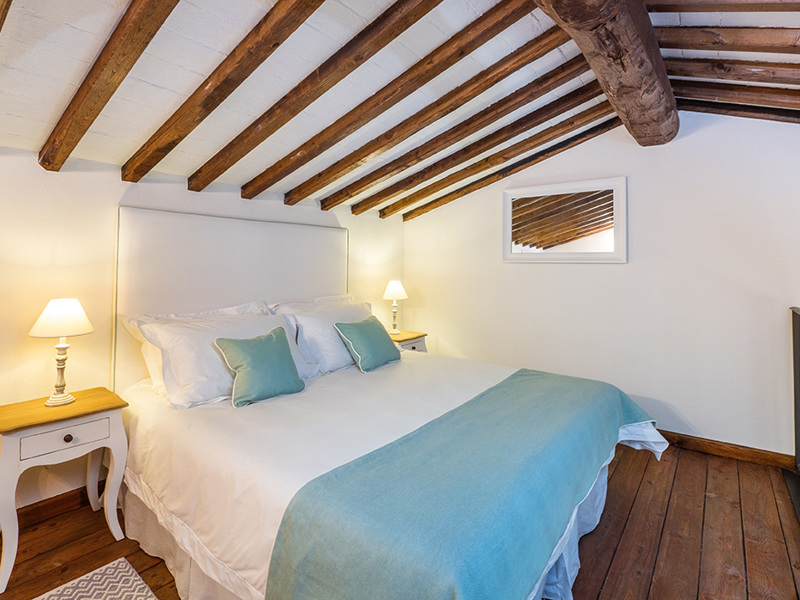 Corallo (twin/double)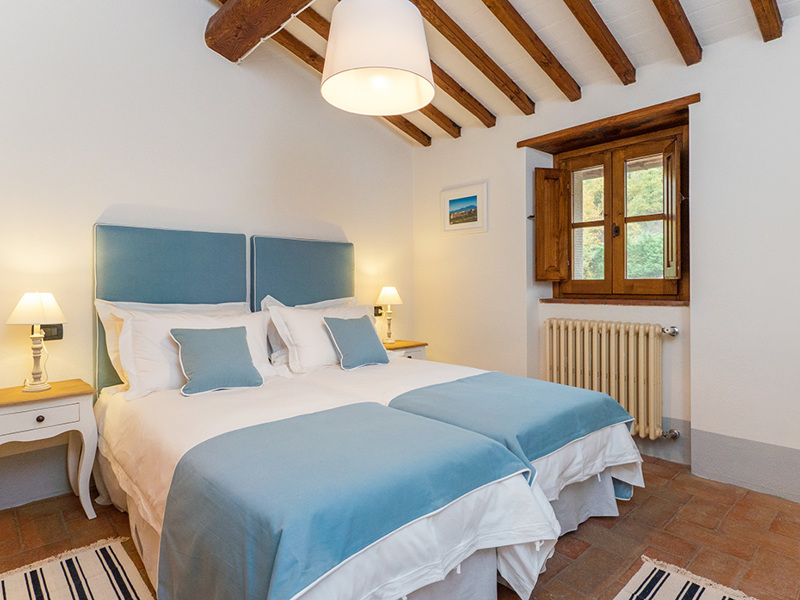 Topazio (double)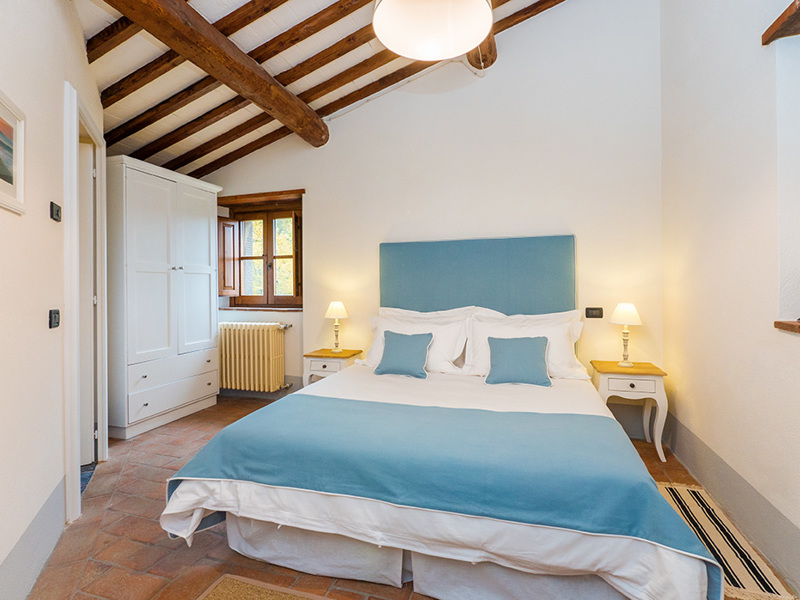 Perla (twin/double)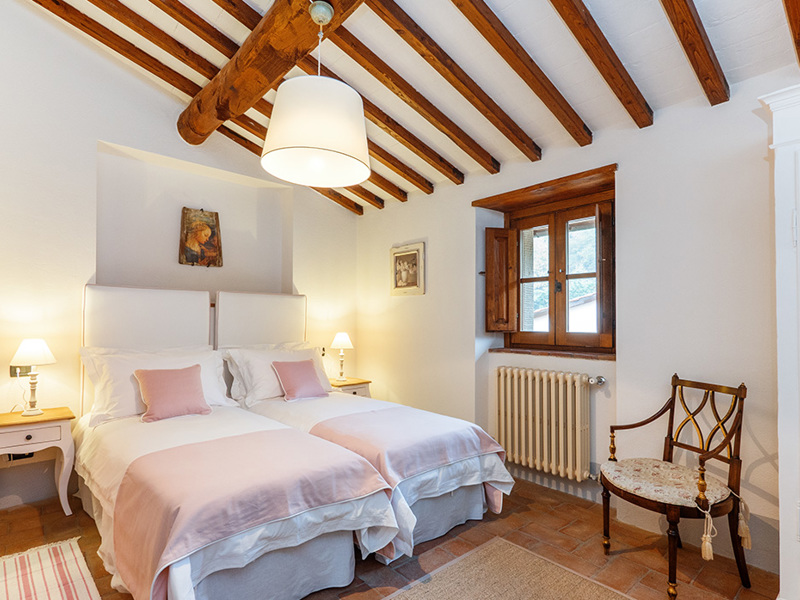 Smeraldo (double)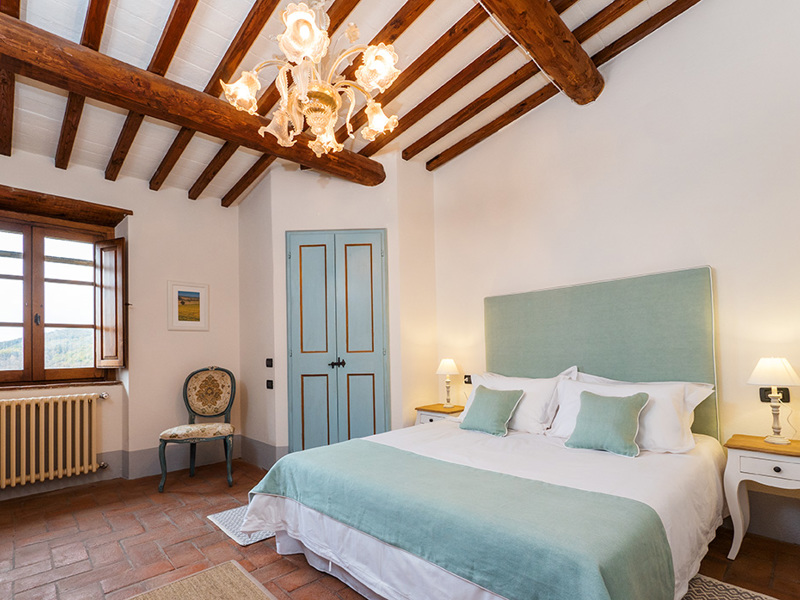 View holiday Booking Conditions