Three beautiful waterside suites
Adults only
Stunning sea and coastline views
Beach 5min walk
Tavernas/shops 10min walk
If you've ever pottered around a Greek island in a motor boat, gazed up at a gorgeous hillside property and thought 'wow, imagine staying there', then you'll understand the full appeal of Bella Vraka Suites.

Situated in a prime position more commonly reserved for individual villas, these adult only apartments combine magnificent sea views with easy access to the tavernas and shops of Sivota harbour, a 10 minute walk away. Each apartment has its own terrace or balcony, with the best views to be had from the top floor suite. There's a large pool, terrace and honesty bar, where you can drowse away the day and then sip a glass of something perfectly chilled as afternoon fades into a spectacular sunset. Bella Vraka beach is less than five minutes away on foot. 
These suites make a great base if you simply want to recharge your batteries in the sunshine and enjoy evenings out without the car, but there is so much variety in the local area that you'll probably want to spend at least a day or two exploring. Hire a small boat from the harbour to discover the coastline and the tiny uninhabited islets just offshore, take a sea taxi across to Paxos or spend a day in sophisticated Corfu Town. The interior of this part of Greece is beautifully wild and undiscovered, so for a complete contrast to the coast, you can easily journey inland to Vikos Gorge (the deepest in the world according to Guinness) or visit the timeless, slate-roofed mountain villages of Zagori.
---

Explore our pre-bookable experiences in Sivota
---
Layout over 3 floors
Three 1-bedroom suites (sleeps 2)
Adults only
Isabella – ground floor suite
Direct sea views
Open-plan living/kitchen/dining area with hob, oven, fridge
TV (English speaking news channels)
Double bedroom (170cm x 200cm bed)
Shower room
Private terrace with direct access to pool terrace
Georgia – first floor suite
Private balcony with sea views
Open-plan living/kitchen/dining area with hob, oven, fridge
TV (English speaking news channels)
Double bedroom (160cm x 200cm bed)
Shower room
Private terrace
Vassos – top floor suite
Kitchenette
Double bedroom (160cm x 200cm bed)
Bathroom

Small private balcony

Large covered outdoor living/dining area with stunning views
General
Air-conditioned bedrooms
Safe in each bedroom
DVD player
Iron, ironing board, hairdryer
Simpson Travel pool towels 
Honesty bar
Shared barbecue
Shared swimming pool 4m x 8m (depth 1.1m – 1.9m)
Supermarket delivery service available
Suites and pool terrace accessed via several sets of steps
There is no access to the sea directly in front of the suites
WiFi
All properties with WiFi are able to support basic functionality such as web browsing and checking emails. We aim to offer an uninterrupted service but sometimes, due to factors beyond our control, reliability can be affected.
National tourist licence (EOT): 0621K134K0208101
Bella Vraka beach (swimming) 5min walk
Karvourno beach 10min walk
Sivota (tavernas, supermarkets) 10min walk (down a steep hill)
Private sea taxi Sivota to Paxos 30min
Preveza airport 1hr 20min drive

Corfu airport transfer to port by taxi (10min), ferry to Igoumenitsa port (approx. 2hrs), collect rental car and drive to Sivota (25min drive)
Car options
Based on the number of people travelling, the following hire car(s) are included in the package price of your holiday:
2 guests – 1 Group B, Fiat Panda or similar*
* All our cars include comprehensive insurance with no excess charge. For this particular destination, the undercarriage, tyres, wing mirrors and windscreen are not included in the cover.
Car specification
Group B – 1.2 litre engine, 1 large suitcase*
The following cars are available as alternatives on request (supplements apply). Please call our travel specialists for details.
Group C – Fiat Tipo or similar, 1.4 litre engine, 2 large suitcases*
Group B1 – Hyundai i20 or similar, 1.3 litre engine, 1 large and 1 medium suitcase*
Group E1 – Automatic Peugeot 208 or similar, 1.3 litre engine, 2 large suitcases*
Group E2 – Automatic Peugeot 301 or similar, 1.6 litre engine, 3 large suitcases & 1 small suitcase
Group G1 – Automatic Jeep Diesel, 1.6 litre engine, 3 large cases & 1 small 
Group I – Fiat Doblo 7 seater or similar, 1.6 litre engine, 2 medium suitcases*
* Suitcase sizes are based on a large suitcase being approximately 75cm x 41cm x 31cm, a medium suitcase of approximately 65cm x 46cm x 29cm and a small suitcase of 55cm x 40cm x 20cm.
Customer feedback
We have booked next year through you again! That says it all.....
Mr Padley – October 2019
All was perfect, but especially the views and the quiet. Quite exceptional in every way.
Mrs Evans – September 2019
Perfect spot for access to the harbour and to local sea swims. The views were outstanding and Bella Vraka is a wonderful spot to relax and chill.
Mrs Tetley – September 2019
Stunning views from an ideal location. Housekeeper was exceptional and rep team delivered all that was asked of them.
Francis – September 2019
Just coming to the end of a fabulous two weeks. Perfect location for a relaxing break. If you can drag yourself away from the pool the Vikos Gorge is spectacular and was so quiet for high season. The Acheron river is also worth the trip – arrive before 11am to miss the bus trips. All in all a wonderful fortnight. Just what we needed.
Andrew & Sarah – Vasso – August 2019
Our first time in Sivota and the Bella Vraka Suites – lovely ground floor suite with a great terrace for breakfast and wonderful views across the bay. The pool was a delight – so warm for an unheated pool – and we were just a 10-minute walk from the town centre, but over a hill, which meant peace and quiet. A different kind of trip to our previous Simpson breaks, but enjoyed very much.
Mr & Mrs Sims – August 2019
This was probably the best holiday we have taken with Simpson, and we have been on quite a few. The location was breathtaking, the apartment very comfortable and we loved Sivota. We came home very relaxed and we are already thinking of a return visit next year!
Mr Bates – July 2019
Thank you for what was a truly wonderful honeymoon experience. We're so glad we booked our holiday with you. There were moments when we felt Simpson went that extra mile to ensure our comfort and enjoyment. We were thrilled to discover a beautiful bunch of flowers and handmade personalised heart shape stone in our room on arrival. Not to mention the fact that Simpson booked us a place at a beautiful restaurant and picked up the bill as a goodwill gesture. Vasso apartment at Bella Vraka was truly beautiful. The best feature for us being the spacious balcony with amazing views. We can truly say that this was a top notch holiday that we will remember forever. Thank you very much for your attention to detail and dedication to ensuring our honeymoon was the best ever holiday!
Louise & Jeremy – June 2019
Perfect. If we could have given Simpson Travel more than 10 we would have done so. We felt very cherished and cared for.
Anthony & Margaret Hawks – June 2019
Although Vassos apartment at the Bella Vraka Suites is described as a studio; the smart and comfortable outside was spacious and private giving a 'villa feel' to the holiday. Everything you needed was there and the cleaning (3 x per week) was a welcome bonus. Thank-you!
C Sims – September 2018
This was our first trip to Sivota despite many holidays to Corfu. We loved it. After a day of stormy weather, it settled down and we had wall-to-wall sunshine. Apart from eating in one evening, we then walked both down and up to Sivota each evening and ate at the Blue Coast – it has a limited menu, but it is all freshly cooked. Sivota is a delightful town. We loved visiting the olive oil museum, we learnt a lot about olives. We also went to the Acheron River – you do need to wade out and swim before you reach the gorge. Thank you to Rania who looked after us so well. Isabella apartment was comfortable – we loved the bed! We hope to be back to Sivota as it has a lot to offer.
Sue & Mike – Isabella Suite – August 2018
We had a wonderful holiday at Bella Vraka Suites with outstanding views of the sea. Sivota is an absolute gem of a resort with a wonderful ambience and excellent restaurants where the food and house wine is excellent, and not expensive. We loved Karvouno beach, which was only a short walk, albeit up a steep hill when returning. Good sunbeds for €13 a pair for the day, which included a drink each, and a great restaurant for lunch and dinner, again not expensive. All in all a very relaxing and extremely enjoyable holiday.
Mr Davies – Georgia Suite – July 2018
We had a wonderful week staying in Georgia. The accommodation was perfect and the view was a joy to wake up to every day. We loved being able to walk to the local harbour for tavernas, bars and amazing sunsets and to the nearby beaches. Bella Vraka Suites are an absolute gem!
Kath & Colin Mutton – July 2018
What can we say? The view is amazing and we have hundreds of photos, each one different. The weather was fabulous the whole time and we enjoyed the 10-minute evening walk into town. After relaxing, we were far too lazy to walk back and for €5 we took a taxi back up the hill. To be honest, we spent most of our time at Bella Vraka Suites – why wouldn't you? We did have an evening trip to Parga – great if you want somewhere busy, but if not, stay in Sivota. The Corfu day trip was also good.
Sharon & Marlon – Georgia – July 2018
We had great plans to do all sorts of exploring, but we were so in love with our panoramic views from Bella Vraka Suites that we didn't go anywhere! We just stayed there and enjoyed the stunning light on the sea, the swallows visiting every day, bathing in the warm bay below and sunning ourselves…we could go on and on...
Paul & Fiona – Vasso Studio – June 2018
Simpson did not disappoint in any way on this holiday to Sivota. Everything went smoothly and the reps and car hire people were all there for us - no queuing or hassle. We're rather independent travelers usually but needed a stress-free holiday this year so chose Simpson for the third time. Accommodation was the best with an extremely well-equipped apartment and views to take your breath away! We shall be back next year for sure.
Mrs Lamb – October 2017
Two very enjoyable weeks, lovely apartment with fantastic views. We spent many evenings with a glass of wine watching the boats coming and going. We enjoyed going to the beach, our favorite was Karavostasi - not crowded with lovely clear water for swimming. Klaudia has been an excellent rep and a real asset to Simpson, with nothing too much trouble for her. We are looking forward to our next Simpson holiday.
Maureen & Richard – September 2017
Bella Vraka suites are in a fabulous location with fantastic views within walking distance of the harbor with it's many tavernas all serving good food. We thoroughly enjoyed our 2 weeks of relaxation and would have no hesitation in recommending this holiday. Klaudia is an excellent ambassador for Simpson Travel who went that extra mile to ensure all was well.
Mr Field – September 2017
Thank you for an amazing time in a fantastic location. We both really loved it here on our super large balcony and an awesome beach on our doorstep. Thank you again.
Paul & Sarah – August 2017
We stayed in the Vasso apartment at Bella Vraka Suites in Sivota. We really can't say enough wonderful things! Easily the most stunning view and peaceful location ever. Klaudia (our rep) was wonderful. Made sure we had all the information we needed. Very knowledgeable about the area and was happy to help with anything we needed. The other 2 couples staying were super company, when catching up around the pool and bar area. We ate in a different place every night and they were all great. Plenty of choice and all serving good wine! And in the day there are lovely places along the front to have coffee and watch the world go by. If you like hiring boats and have a powerboat certificate, take it with you, as you are able to get a boat with a bit more "oomph"! We also enjoyed a day with Sivota Cruises, which went to and around Paxos and Antipaxos. The sea was crystal clear and warm and the beaches clean and safe and generally quiet. We tend not to go to the same place twice, but we may make an exception for Sivota!
Mrs Simpson – September 2017
We've had a wonderfully relaxing week, staying in the beautiful Isabella. The apartment is well equipped, but it is the terrace and these fabulous views that make it so enjoyable here. We loved swimming in the sea and enjoyed our boat trip around Syvota. Klaudia is amazing! She is so friendly and helpful and took immediate action over any issues. Thank you so much.
Paula & Malcolm – August 2017
We've had a wonderful week; we could not stop looking at the view. We have enjoyed watching the boats below. The apartment is great; very well equipped. Thank you for a wonderful, relaxing week.
Jane & Craig – August 2017
Lovely place to stay with fantastic views! We enjoyed watching the boats and water-sports from the seclusion of the pool and gardens. Many thanks to Klaudia, she was so helpful!
Paula & Paul – July 2017
Faultless and seamless. Have used Simpsons twice and on both occasions it has been excellent, the level of service is superb. Would highly recommend, over and over.
Miss Coleman – July 2017
Found Heaven! Thank you Graham Simpson. Normally we are those of independent travelers... your team with special thanks to Klaudia; have made this holiday, a truly wonderful experience. We have been blessed with making new friends with the fellow guests in the apartments which has added to the wonderful experience. As far as views are concerned, this has to be the best so far! Well done Simpson... and to the reader enjoy Heaven!
The Gouldings – June 2017
Another Simpson's winner. The views from the balcony are stunning! We got along with the guests in the other two apartments and had a fabulous week. Plenty of food choices in the town although with the view we enjoyed a couple of home cooked meals. Klaudia was a star and sorted out any problems. Having traveled with Simpsons to Turkey for many years it has been great returning to Greece and we don't want to go back home!
The Shipp's – June 2017
Our 7th Simpson holiday and as good or even better than ever. We enjoyed spending many early evening with the other four guests all had a barbecue one evening which was great fun. Thank you Klaudia for assisting with our adventure to Paxos. 
Elizabeth & Billy – June 2017
The Team at Simpson Travel ensured our holiday experience was seamless from the booking through to arrival at our destination. You certainly lived up to expectations. A professional and friendly team all round, well done! and look forward to travelling with you again very soon. Many thanks.
Mr Goulding – June 2017
Our choice of Greek properties is as diverse as the islands themselves, ranging from simple seaside charm to genuine luxury and style. Much of our portfolio is privately owned, and price alone is therefore not a universal guide. We contract all our accommodation in person, and each property has its individual appeal. To help you make the right choice based on your own priorities, we have devised a simple grading guide to be considered in conjunction with each individual property description, awarding up to a maximum of five stars for the below categories.
* For further clarification on Facilities and Amenities, please view the 'Details' tab for each property or speak to one of our experienced sales consultants
Unspoilt Sivota sits prettily in its own natural harbour just across the water from Corfu. A short walk away you'll find two pristine sand-and-pebble beaches, with more to explore on the uninhabited islands offshore and along the glorious Epiros Coast. Further afield, and perfect for a short countryside break or day trip, is Zagoria, home to timeless slate-built villages, arched stone bridges and the fabled monasteries of Meteora.
To complete the picture, we also offer a selection of handpicked luxury villas, apartments and a stylish Adult Only Hotel to help you make the most of your luxury holiday in Sivota.
---

Explore our pre-bookable experiences in Sivota
---
Georgia – first floor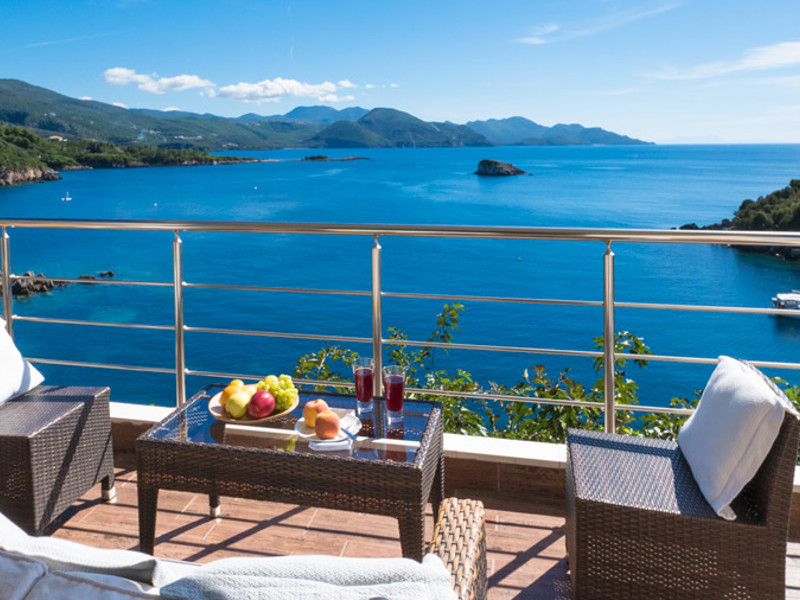 Full details
Accommodation details
Private balcony with sea views
Open-plan living/kitchen/dining area with hob, oven, fridge
TV (English speaking news channels)
Double bedroom (160cm x 200cm bed)
Shower room
Private terrace
---
Isabella – ground floor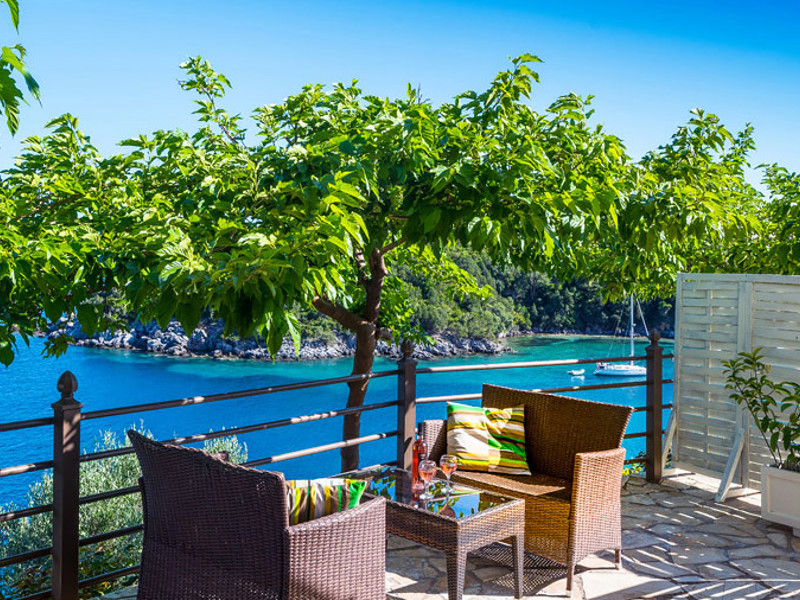 Full details
Accommodation details
Direct sea views
Open-plan living/kitchen/dining area with hob, oven, fridge
TV (English speaking news channels)
Double bedroom (170cm x 200cm bed)
Shower room
Private terrace with direct access to pool terrace
---
Vassos – top floor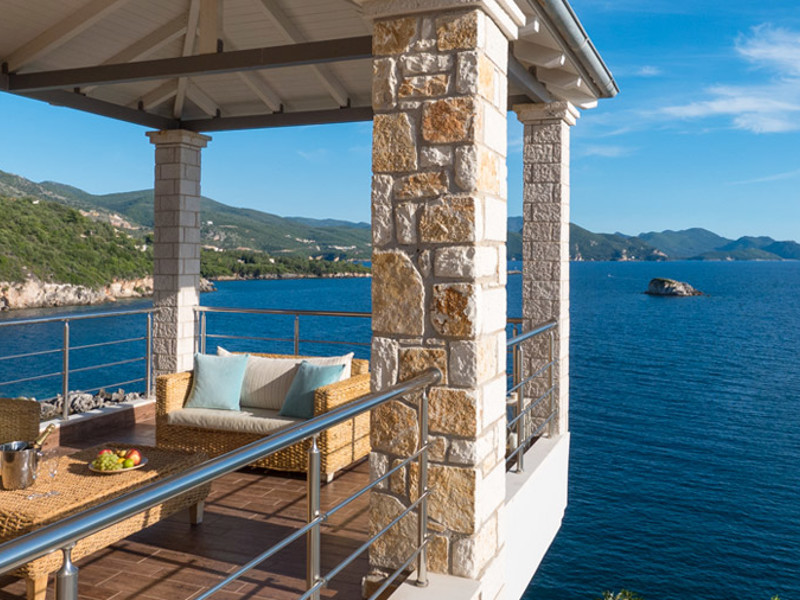 Full details
Accommodation details
Kitchenette
Double bedroom (160cm x 200cm bed)
Bathroom

Small private balcony

Large covered outdoor living/dining area with stunning views
---
View holiday Booking Conditions
Simpson Travel in the press