Explore holidays in Elounda & The Gulf of Mirabello
The beautiful Gulf of Mirabello has both celebrity cachet and traditional charm. Around Elounda, which has the most exclusive hotels of anywhere in Greece, there are Blue Flag beaches and a nightlife that shines. Agios Nikolaos, though less about the jet set, is lovely nonetheless with its lakeside dining and elegant marina. However, for a taste of authentic Greece, visit the beautiful Lasithi Plateau and traditional mountain and fishing communities, where family-run tavernas, tranquil views and ancient myths have a different story to tell. 
And to complete the picture, visit our collection of handpicked, luxury villas in Elounda & The Gulf of Mirabello. 
A selection of our holidays in Elounda & The Gulf of Mirabello
* Prices include seven nights' accommodation, flights and transfers/car hire, based on the lowest rate for maximum occupancy.
Our guide to Elounda & The Gulf of Mirabello
Introduction to Elounda & The Gulf of Mirabello
The lie of the land
Named by the Venetians, who always did have an eye for the finer things in life, Mirabello means 'beautiful view' – and the striking blue of this sheltered bay, presided over by Agios Nikolaos and Elounda, certainly lives up to its name. 
However, years before the Venetians, ancient civilisations, including the Minoans and Dorians, settled in the hilly hinterland overlooking the Gulf. In the ruins of Lato, the most famous, as well as Vrokastro and Gournia near Istron, the past remains stoically present. Visit in spring and you'll see the wild flowers encroaching on ancient history with a riot of colours. 
Elounda, the A-listers' holiday
The secret of the once sleepy fishing village of Elounda is out – yet, while the world now knows where the likes of Leonardo di Caprio and Cristiano Ronaldo stay when they're in Crete, the discretion and unpretentious hospitality of the locals remains unblemished. 
Inevitably, Elounda is more international in outlook, shown with a flourish in its luxury hotels (the highest concentration in Greece), but with its Blue Flag beaches, busy square and waterfront tavernas, its 'Greekness' persists and the influences of history are still found in its architecture and the ancient sunken city of Olous nearby, with ruins you can snorkel over. Elounda also looks out over the atmospheric Spinalonga Island, made famous by the writer Victoria Hislop.  
The many sides to Agios Nikolaos
The birthplace of Cretan tourism, vibrant Agios Nikolaos is well versed in the art of holidaymaking. From laid-back dining beside Voulismeni Lake to a pedestrianized shopping area and a seafront lined with tavernas, it's versatile and welcoming, with a nightlife to cater for all tastes.
A marina was built here in 1994, giving those partaking in the local café culture some luxury yachts to contemplate over their latte. For history buffs, there are the ever-popular museums of archaeology and folklore, but if outside is where you love to be, you can choose a watersport or walking trail and there's also a golf course 10km away. 
Take a detour into village life
The antidote to Elounda's high-society, charming Plaka, loved for its seafood, is just a ten-minute drive away – or a walk along a pretty coastal path. And this is just one of many traditional villages, each with a different story to tell. 
There's Viannos, which has literally risen from the ashes after the German occupation; Sissi, the pleasant surprise at the end of a winding narrow road, and Vrahassi, a few kilometres east of Sissi, which is near the well-preserved Agios Georgios Vrahassiotis Monastery. High up on the Lassithi Plateau, you'll also find, Tzermiado and Katharo, which comes to life when the shepherds arrive in May.
Go back to nature
For a change from the sandy beaches and clear blue seas, The Gulf of Mirabello is threaded with walking trails, including sections of the famous E4 trail, which you can pick up around the Ha Gorge, a climbing experience where equipment and expertise are essential. For the less experienced, Kritsa, 90cm wide at its narrowest, and Havgas Canyon pose less of a challenge – but take good hiking boots.
And don't forget below ground too. There are a number of caves hiding another world within their dark interiors. In the case of Milatos Cave, this includes a little whitewashed church. 
At a glance
Currency

Euros

Flight Time

4 hours

Time difference

+2 hours

Language

Greek

Visa required

Not for UK citizens
Food & drink
A taste of the Mirabello Gulf
There's an eclectic selection of local specialities around the Gulf and further inland, including the soft, white mizithra cheese made by the shepherds of the Katharo Plateau – a good place to try grilled goat and lamb – and the sea urchins that flourish in the clear waters around Mochlos. The roe, served as achinosalata, is a delicacy. Equally there are a plenty of contenders for the best olive oil in the area! 
The international rich-list influence in Elounda's restaurants has lead to more diversified menus, but head away from the busiest tourist regions and the tastes and flavours of authentic Crete are to be found in abundance, particularly in the traditional fishing villages, where the catch of the day takes centre stage, and in the more remote mountain tavernas.   
Cretan tipples
The grape spirit of raki goes hand in hand with a Cretan dining experience, as it does across Greece. It's potent stuff, but usually served with savoury snacks or dessert. Alternatively, a glass of sweet, caramely Metaxa brandy is the perfect way to complete dinner, especially when sipped under a star-filled sky.  
Eating locally
Why have an average fish supper when you can have an excellent one in a lovely setting? The traditional fishing village of Plaka has a host of tavernas, the best known occupying the tiled road along the seafront, but walking the few minutes to the beach means you can dine with the waves almost at your feet and spectacular views of Spinalonga. 
Unpretentious and attractive Mochlos also has an esteemed handful of fish tavernas and a Minoan site as an appetizer or enjoy lunch shaded by ancient plain trees beside the fountains in Krisa's village square. For more hearty Cretan feasts, try the villages of Pacchia Amos and Sissi. The latter has a good taverna overlooking the saltwater river that runs through the village. You'll have views on the side too in authentic Monastiraki village, where ambience and hearty tradition prevails – very different to Elound's more internationally minded, high-profile eateries. 
There are also bars and restaurants in abundance around Lake Voulismeni in Agios Nikolaos, but be circumspect. Take your time to peruse and choose – and don't be persuaded by the waiters encouraging you in from outside.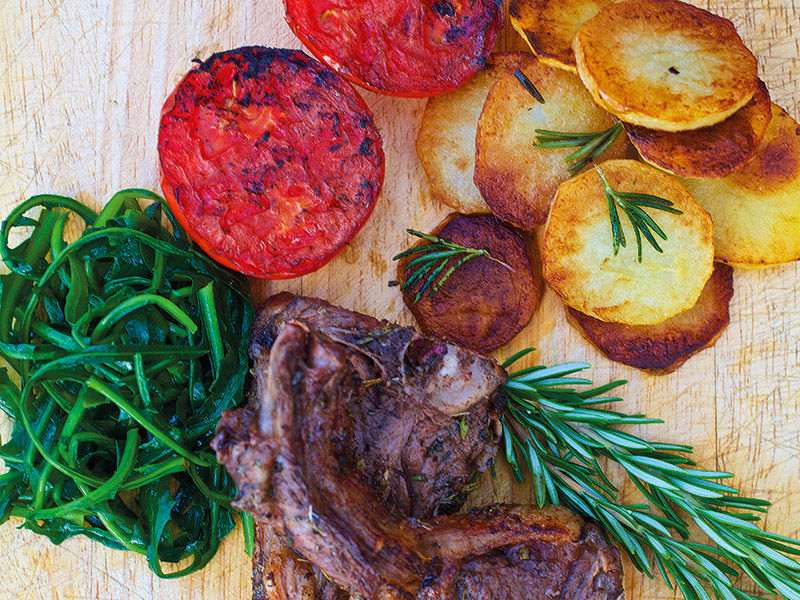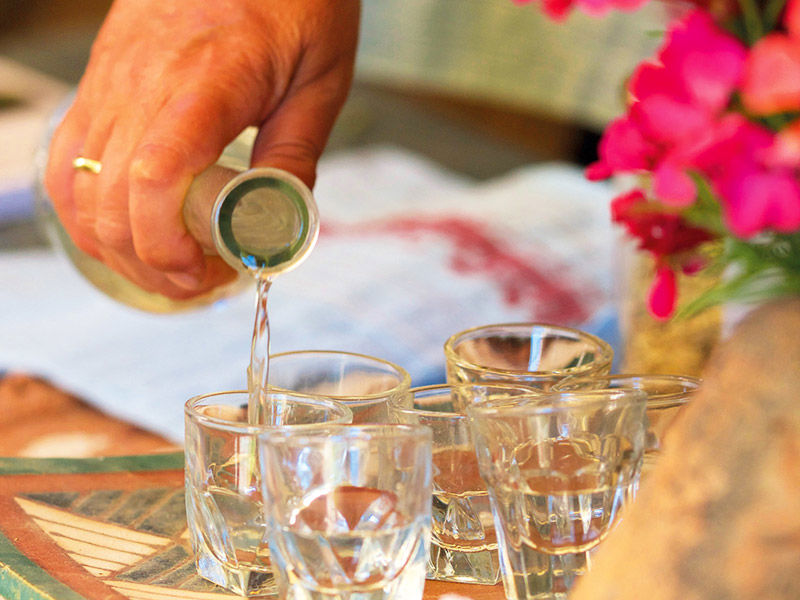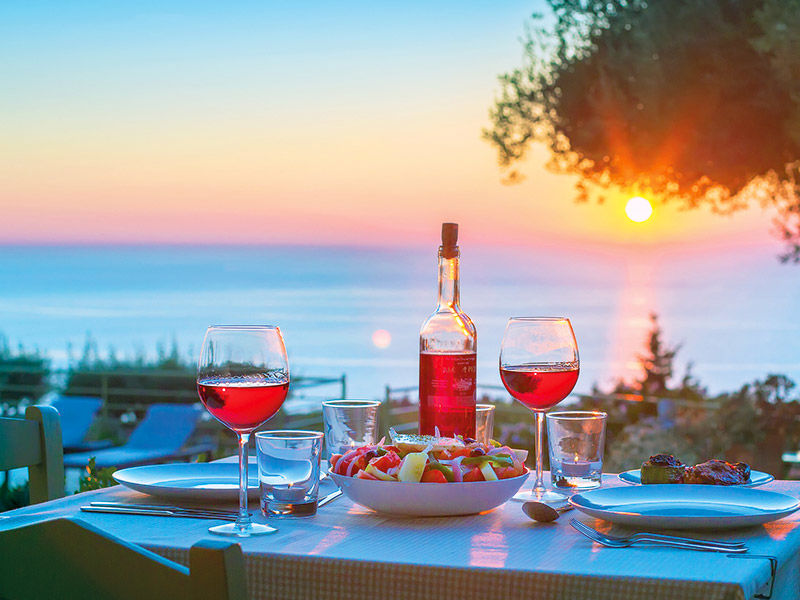 Beaches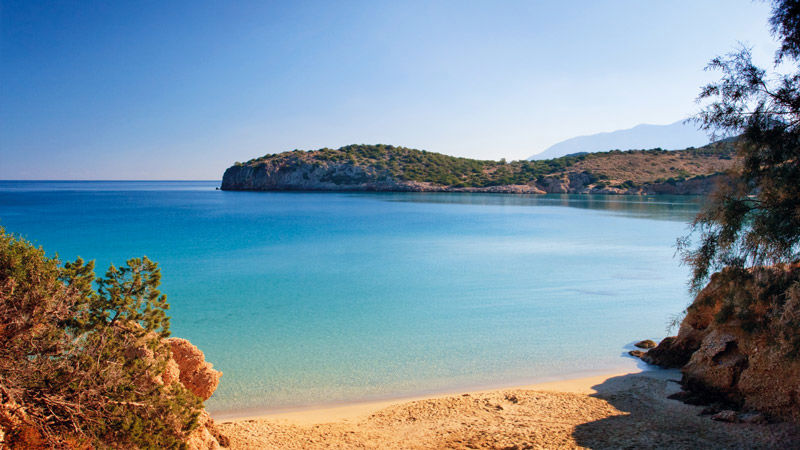 Voulisma (Istron)
A very popular spot for families in July and August, this is the main beach of three in Istron Bay with white sand, clear turquoise waters and great facilities, including kayak and pedalo hire. 
Getting there…
Within easy walking distance of Istron village with its cafés and restaurants, this beach is just 12km south east of Agios Nikolaos.  
Footnotes…
A great snorkelling beach, there are also PADI diving courses on offer at the far end, near the Istron Bay Hotel.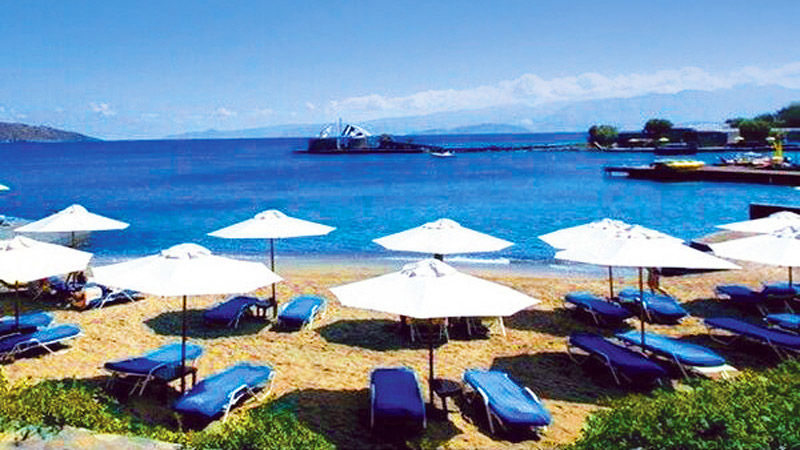 Elounda
The town's main beach is a Blue Flag 200m-stretch of golden sand, with good facilities, upmarket waterfront tavernas nearby and a watersports school for an effortless day by the sea. 
Getting there…
There are buses from Agios Nikolaos every hour, a 20-minute drive away. 
Footnotes…
The beach gets very busy in high season. If you fancy a change of scene, walk 15 minutes south to see the ancient submerged city of Olous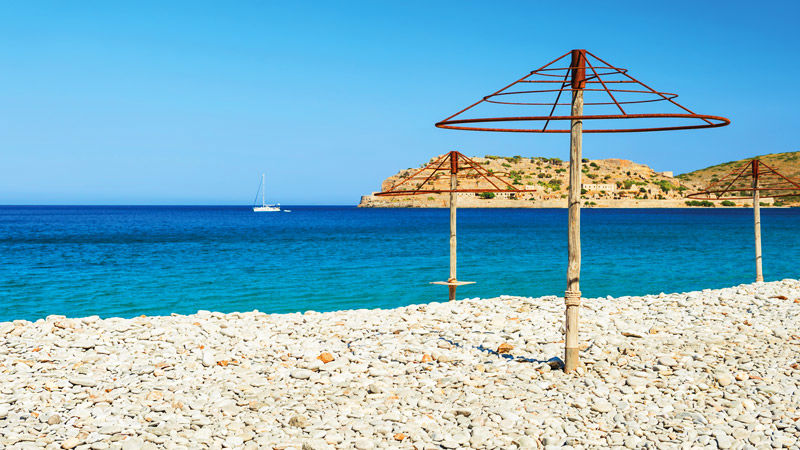 Plaka
Small and pebbly, this unspoilt and relatively quiet bay is situated on the northern coast of Crete, with shade on offer from the surrounding tamarisk trees.
Getting there…
Accessible via a coastal road, Plaka's beach lies to its west, 5km from the more cosmopolitan and busier Elounda. 
Footnotes…
Watersports can be enjoyed here (flip flops are useful for sea access at the pebbly end). Or just enjoy the views out to Spinalonga Island – the famed erstwhile leper colony.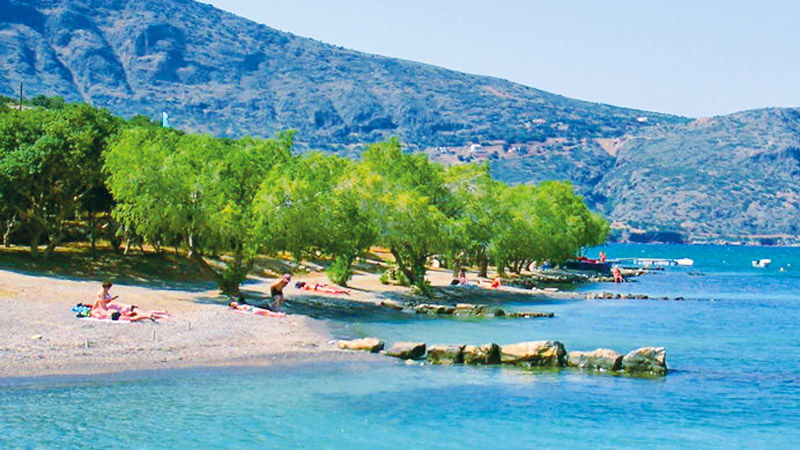 Driros/Dreros
One of the best beaches in the Elounda area, Driros is sandy and pebbly in parts with trees right down to the water, sunbeds and a café with tables out on a jetty.
Getting there…
This beach lies a few kilometres north of Elounda, between Plaka and Schisma.
Footnotes…
There's a windsurfing club here should you feel like taking to the waves.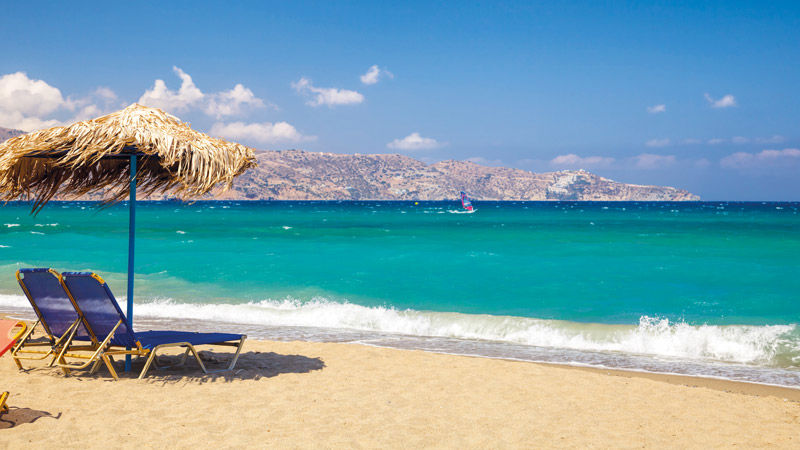 Ammoudara
Being east facing, this small sandy beach has calm seas as winds in Crete generally blow in from the west. It's well equipped with sunbeds and parasols for hire, as well as watersports. 
Getting there…
This beach is on the road between Istron and Agios Nikolaos, just 6km from the latter. 
Footnotes…
There a number of tavernas on the beach and a supermarket over the road. The water is also shallow, making this a good option for young families.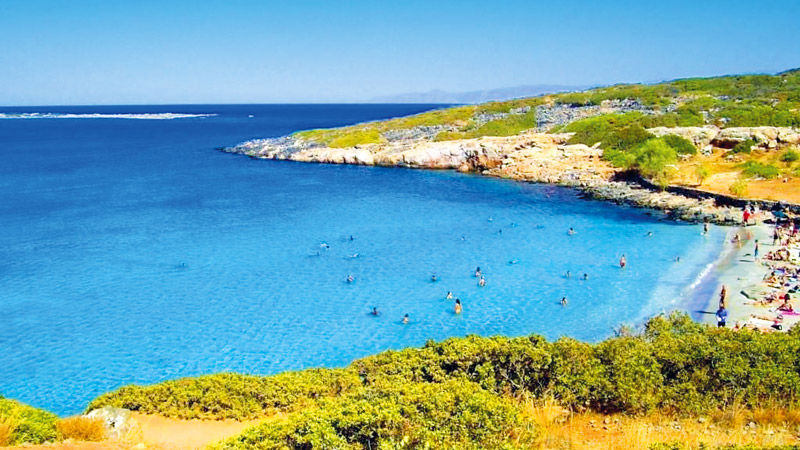 Kolokytha
Opposite the Spinalonga Peninsula is a small islet where you'll find this unspoilt sandy beach in a rugged natural setting.

Getting there…
Beyond Elounda, cross the narrow isthmus with windmills and follow a dirt track to Agios Loukas church, where you can park. From there, it's a short walk down to the beach.
Footnotes…
Get there early and leave when the tourist boats arrive. Flat rocks to the northwest of the beach are popular with nudists.
Things to do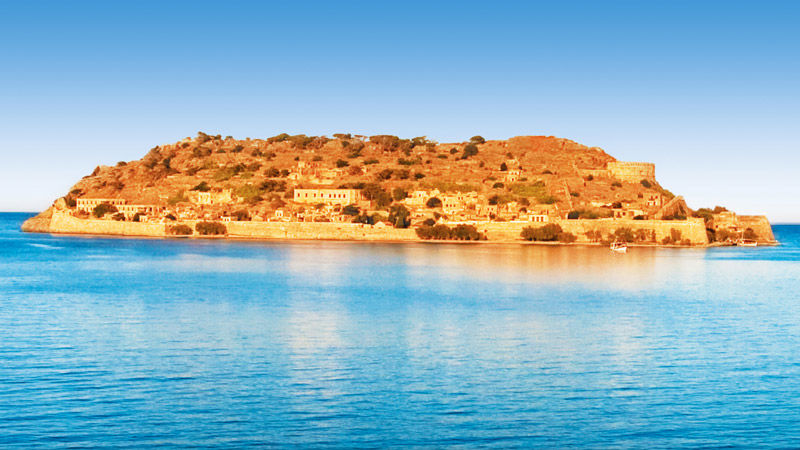 Explore Victoria Hislop's island
Barren and mysterious, Spinalonga was a Venetian stronghold for 150 years. Its ruined buildings are now famous as the leper colony described in Victoria Hislop's book The Island. The popular boat trips from Elounda tend to be crowded. Instead, set off from Plaka.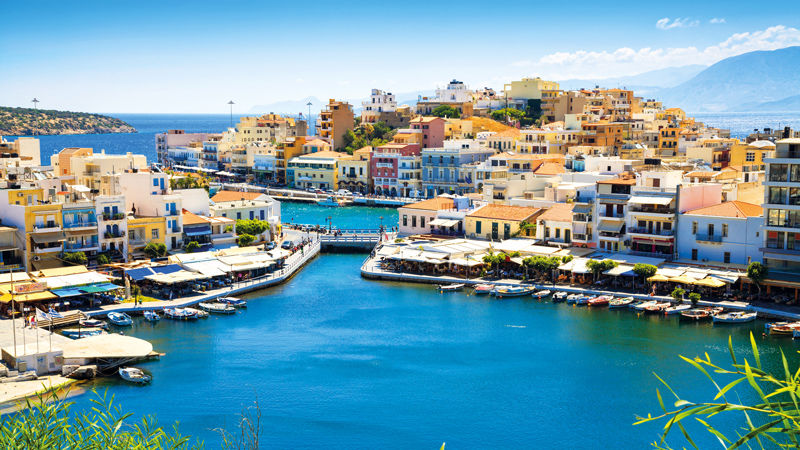 Enjoy a spot of lakeside dining
Once believed to be bottomless, tranquil Lake Voulismeni in Agios Nikolaos' is all about ducks and boats, genteel morning coffees and leisurely dinners in your favourite of the many tavernas surrounding it. You'll find the loveliest lake views from the little park above.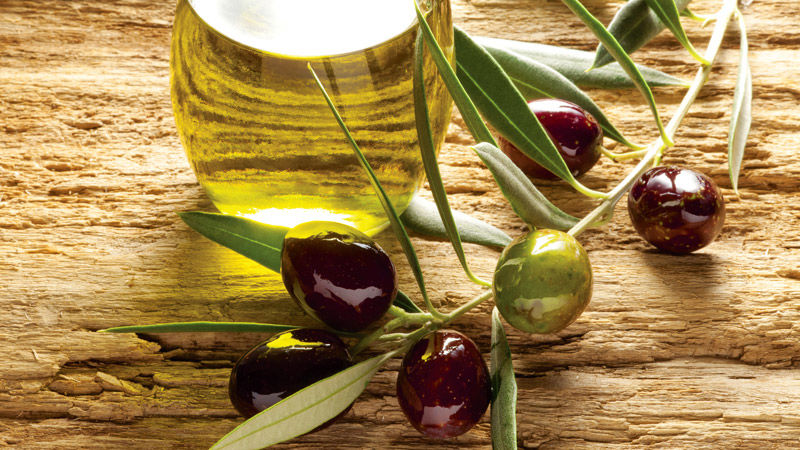 Visit the Cretan Olive Oil Farm
Discover the secrets of Crete's liquid gold and buy a few bottles to take home. There are guided tours, themed meals, a raki distillery and the chance to sign up for a pottery or cookery lesson. A fascinating taste of tradition, just ten-minutes from Agios Nikolaos.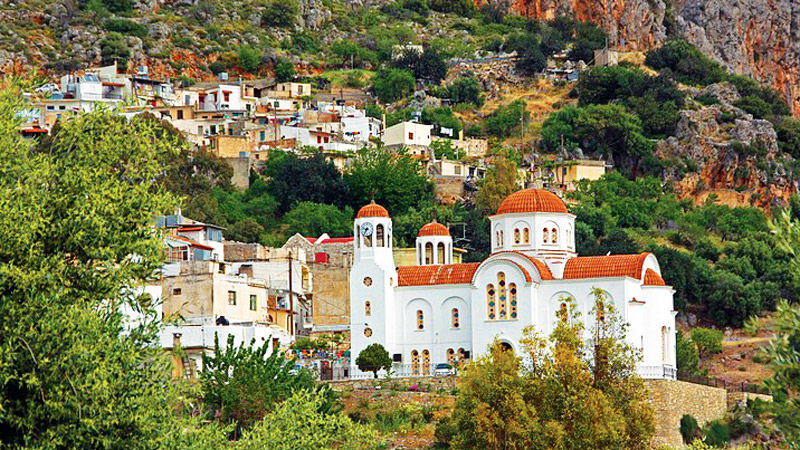 Discover postcard-perfect Kritsa
From summer festivals in the schoolyard to friendly tavernas, this picturesque, white-painted mountain village is alive with traditions. It also produces award-winning olive oil, lace and embroidery and, on its outskirts, the Church of Panagia Kera is full of Byzantine frescoes.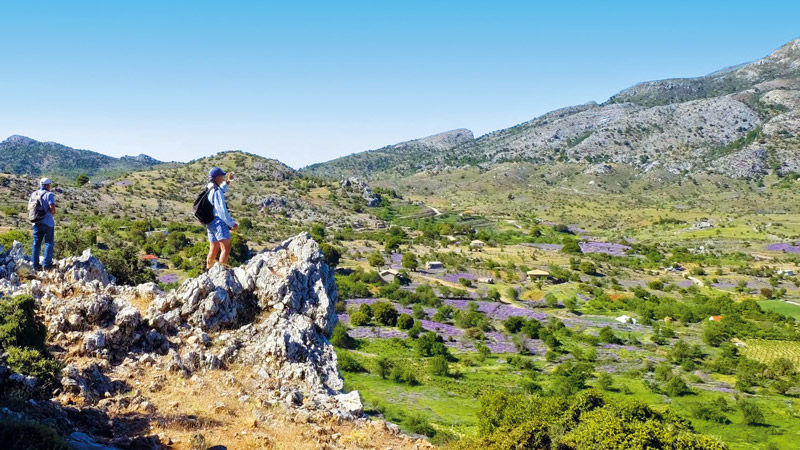 Soak up the view from the Katharo Plateau
From Kritsa, the road winds steeply up to Katharo, Crete's highest plateau, with stunning views across to Agios Nikolaos. There's no permanent community there, but tavernas open in May when shepherds move their flocks up for the summer and there are a number of festivals too.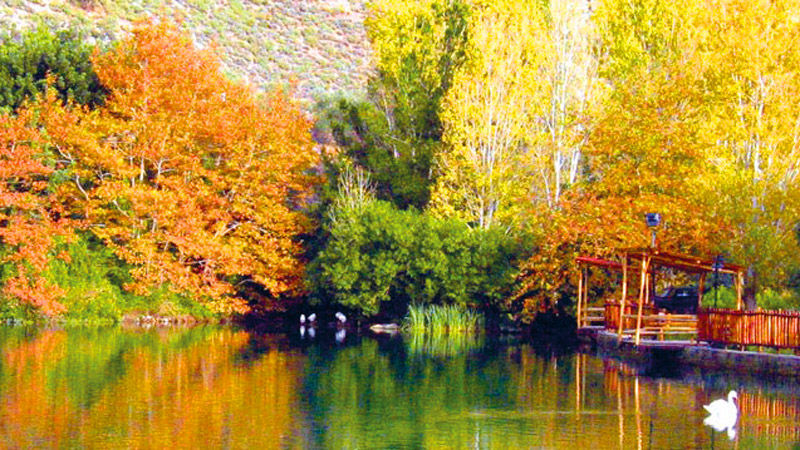 Take a forest wander
Reachable from Katharo along the E4 walking trail, the beautiful Selakano forest is full of flowers in spring, although best avoided from July to September when the flowering pines attract bees. However, below it is Males village with some interesting Byzantine churches nearby.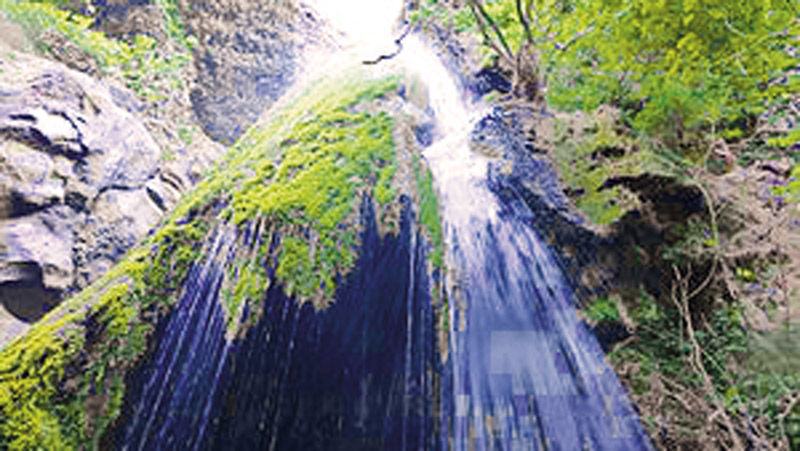 Marvel at Ha Gorge
Near lovely Vassiliki village, this is one of Europe's most beautiful gorges, rich in wildlife and home to Mastoras, Greece's highest waterfall. It's for experienced climbers and canyoners only, but novices can still appreciate the view with a relatively easy climb down to the lower entrance.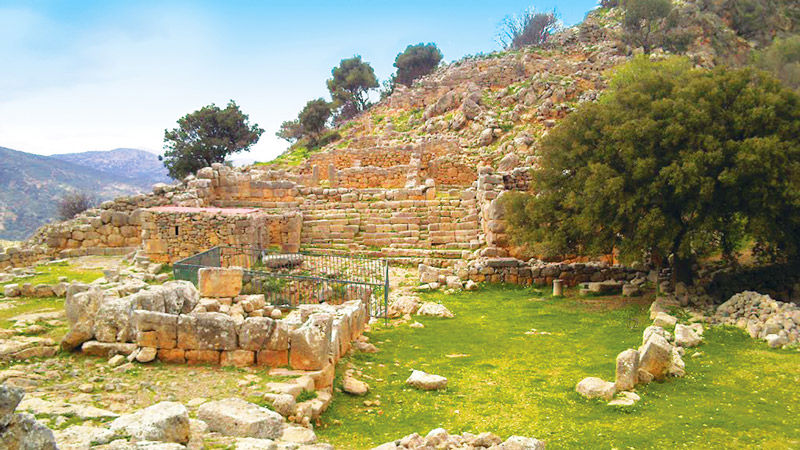 Time slip in ancient Lato
The ancient city of Lato, near Kritsa, dates from 4BC and, among its well-preserved ruins, surrounded by stunning views, a temple, theatre and houses still cling on in memoriam. Take shade and water; it's open every day except Monday and there's a small entrance fee.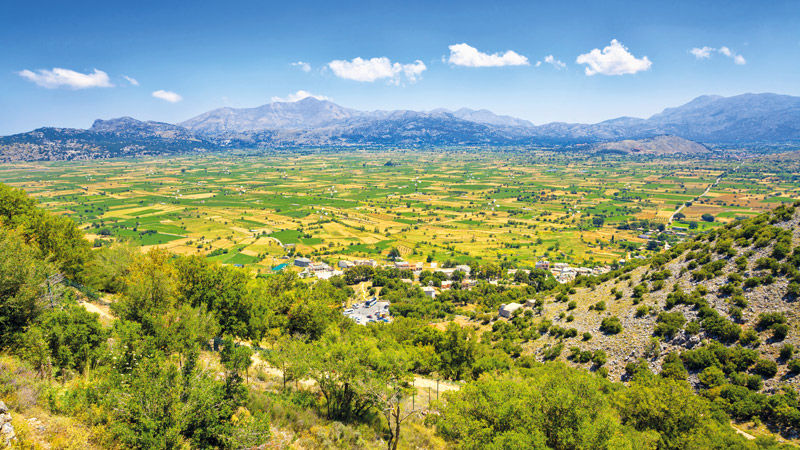 Climb up to the Lasithi Plateau
Surrounded by the Dikti Mountains, the beautiful Lasithi Plateau is a fertile area of some 25km2, famous for its white-sailed windmills and the Diktaion Andron cave, said to be the birthplace of Zeus. Make time for lunch in one of the many traditional villages.
Helpful phrases
| | |
| --- | --- |
| Hello | Γεια σou (Ya soo) Informal, Χαίρετε (He-re-teh) Formal |
| Goodbye | Γεια σου (Ya soo) Informal, Γειά σας (Ya sas) Formal |
| Please | Παpακαλώ (Pa-ra-ka-lo) |
| Thank you | Eυχαpιστώ (Ef-ha-ri-sto) |
| Yes | Ναι (Neh) |
| No | Οχι (o-hee) |
| How are you? | Tι κάvεις; (Tee ka-nis?) Informal, Τι κάνετε; (Τee ka-ne-teh?) Formal |
| I'm fine, thank you | Είμαι καλά, ευχαριστώ. (Ee-meh ka-la, ef-ha-ri-sto) |
| I don't understand | Δεν καταλαβαίνω. (Then ka-ta-la-veh-no) |
| Do you speak English? | Μιλάς αγγλικά; (Mi-las an-glee-ka?) |
| My name is… | To όvoμά μoυ είναι... (To o-no-ma moo ee-neh…) |
| The bill please | Toν λογαριασμό, παρακαλώ. (Ton lo-ga-ree-as-mo, pa-ra-ka-lo) |
| How much is it? | Πόσο κάνει; (Po-so ka-ni?) |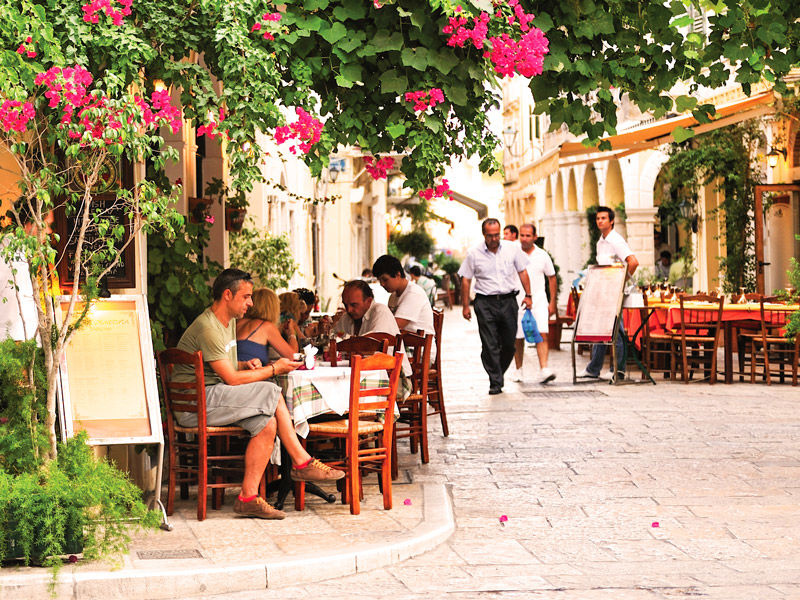 Events
Easter is the biggest event on the Greek calendar, marked by traditional processions, masses and feasting, including the Resurrection celebrations in Agios Nikolaos on Easter Sunday, with the burning of an effigy of Judas and fireworks.
The dates of Greek Easter change every year and are often later than Easter in the UK.
What's on in April
23 Apr
Feast of St George, the patron saint of shepherds and the military, is celebrated with sheep-shearing contests and feasting.
What's on in May
1 May
Labour Day is a public holiday, celebrated with picnics and the gathering of spring flowers. Many shops close but restaurants remain open.
What's on in June
Jun to Sep
Agios Nikolaos' Lato Festival peaks in July and August and offers a series of traditional and modern performances from local and international musicians.
What's on in July
Late Jul
The Mirabello Jazz Festival, held in Elounda, brings together musicians from around the world – perfect for balmy summer evenings.
What's on in August
Aug (dates vary)
In Kritsa village, one willing couple open their traditional marriage celebrations to the public. There's a procession and plenty of singing and dancing.
15 Aug
Assumption of the Virgin Mary (Apo Kimisis tis Panagia). The biggest religious holiday after Easter is celebrated with gusto in almost every town in Greece.
First weekend after 15 Aug
The Celebration of the Shepherd on the Katharo Plateau, with mizithra cheese making and a hearty, meaty lunch with live music. Thousands attend.
Three days at the end of the month: The Potato Festival in Tzermiado aims to promote the quality of local produce with music, dancing, food, wine and an award for the largest potato.
What's on in September
8 Sep
The Virgin Mary's birthday (Genisis tis Panangias) is celebrated throughout Greece with religious services and much feasting.
What's on in October
28 Oct
'Oxi' Day ('No' Day) celebrates the Greek refusal of Italian occupation during WWII with marches, parades and much flag flying.
The Road Less Travelled
We asked our local representatives around Elounda and The Gulf of Mirabello to share a few of their favourite 'off the beaten track' experiences. Here are some of their suggestions…
Taste the best souvlaki in Greece!
There's a canteen on the beach of Agios Panteleimonas that services up such delicious souvlaki that, in spite of its simple wooden benches and general lack of creature comforts, at weekends, the locals wait patiently in long queues to enjoy their share. A truly 'in the know' experience about 2km west of Voulisma.
Explore unspoilt village life in Mochlos
This picturesque fishing village is one of Crete's least developed, but what it lacks in hotel tourism it makes up for in little-known Minoan sites, family-run tavernas and unrivalled sea views. Mochlos is 44km from Agios Nikolaos, down a 5km track off the main coastal road. Go to watch the sunset over the beach or on a night of the full moon. 
Step back in time in Monasteraki
On the road to Ierapetra, you'll discover an ancient village where time appears to stand still. Monasteraki's few houses were originally occupied by monks, but since the 19th century, the number of residents has dwindled; for some years there was only one occupant. Enjoy a leisurely lunch in one of the few tavernas and the peaceful views over the Ha Canyon. 
Enjoy a musical interlude
Near the Lasithi Plateau, Avdou is a very traditional village, holding its own little piece of history – but with a difference. There's a big artistic community here and, as well as giving each of the old buildings a plaque explaining what they were once used for, they host the annual Xanthoudidia Festival, an atmospheric four-day celebration of music and dancing. 
Steal away to the Thief's Beach
About 2km from Keratokambos, Paralia Listis is a small, secluded sand and pebble beach with large rocks lying offshore and clear waters perfect for snorkelling. To get there requires descending a steep slope or walking from Kamboula, a beach nearby, but it's worth the effort. There are caves on the eastern side where, legend has it, an outlaw once lived.