Explore holidays in Kefalonia
Densely forested hills dotted with traditional hamlets and a coastline of small, quiet coves make Kefalonia an unspoilt Greek holiday delight. Its northeastern tip shelters picture-perfect Fiskardo, whose 18th-century houses stand proud with their flower-festooned balconies and carved doors. South Kefalonia hosts Argostoli, the vibrant island capital that still has an active fishing fleet alongside its buzzing cafes and restaurants. Come early and you'll probably spot a loggerhead turtle in the harbour, or stay late and take a stroll down the waterfront promenade. Trapezaki is a little southern secret, with beautiful views over the sea to Zakynthos and up to Mount Ainos, the highest peak on the island. There's an unspoilt sandy beach here with a single taverna, and if you're looking for more choice, try Lourdas, a lovely long sandy/shingle beach lined with waterfront cafes and restaurants.
To complete the picture of your luxury holiday in Kefalonia, explore our private villas and boutique hotel, the perfect base for a stay on this most magical island.
---

Explore our pre-bookable experiences in Kefalonia
---
A selection of our holidays in Kefalonia
* Prices include seven nights' accommodation, flights and transfers/car hire, based on the lowest rate for maximum occupancy.
Our guide to Kefalonia
Introduction to Kefalonia
The largest of the Ionians
The largest of Greece's westerly archipelago, this magical place is also considered the jewel of 'the seven islands'. A place of such beauty was the natural choice to film Captain Corelli's Mandolin, one of the most endearing love stories ever told. The tale is set during the German and Italian occupation of World War II, but these weren't the first invaders to want to Kefalonia as their home. Roman villas, a Venetian fortress and a British-built bridge all serve to recall diverse and distant pasts – their architectural styles a testament to the island's multicultural influences.
North Kefalonia
While its people have left an impression on Kefalonia through the millennia, nature has truly blessed her. Here you'll find lush forests of fir trees cloaking rugged landscapes, glittering, jewel-coloured bays and charming harbour villages. Photogenic Fiskardo is a class act and a honeypot for visiting yacht flotillas, whilst tiny Assos clings to the hillside above perfect, horseshoe shaped bay. 
South Kefalonia
A foil to the serenity of northern Kefalonia, the sandier beaches of the south draw a slightly larger crowd. Argostoli bustles with locals and visitors alike especially in the evenings with a good choice of restaurants, fashionable cafes and cocktail bars. High on a hill between Trapezaki and Argostoli sits St George's castle, former capital of Kefalonia which now boasts three excellent restaurants within the city walls and stunning views over the south. And if you fancy a twin centre break, the ferry to Zakynthos departs twice daily from Pessada during the summer season.
The best beaches in Greece
A crescent of pure white sand hemming dramatic, pine-topped cliffs lends Myrtos beach its reputation for top-flight sun worshipping, and it's also one of the most photographed beaches in the world. Agios Thomas's beach is UNESCO-protected thanks to important fossil finds – snorkelling in the rock pools here is amazing. Trapezaki beach has a popular seasonal taverna whilst family-friendly Lourdas (or Lourdata) has a host of good restaurants plus sun loungers, SUPs and boat hire. Further north on the island you'll find secluded coves, moon-white pebbles and the clearest turquoise waters, ideal for snorkelling and diving.
At a glance
Currency

Euro

Flight Time

3 hours 30 minutes

Time difference

+2 hours

Language

Greek

Visa required

Not for UK citizens
Food & drink
A taste of Kefalonia
As is so happily the case throughout Greece, succulent meat can be found on many a household's table – and many a taverna's menu. But to dine in Kefalonia without indulging in some of her locally born and bred dishes is to overlook a gastronomic treat you'll be glad you tried.
Pies are a speciality here – often filled with cheese or mutton, rice and herbs. And, as you'd expect from a place surrounded on all sides by Mediterranean waters, octopus and fish are popular choices.
Of course, salads are offered wherever you eat – the classic Greek combination of cucumber, tomotoes, onions, feta, olives and oregano elevated somehow to a different level when enjoyed in its country of origin.
None of this, though, should rightly be touched until an appetising selection of divine mezedes dips has first been greedily scooped.
Kefalonian tipples
In strict obedience to common perception, ouzo can be found everywhere. A little less obvious as an island specialty, the Kefalonian dry white wine grown from the Robola grape is a refreshing drop, while the sweet honey notes of muscat provide a fitting end to any meal.
Eating locally
For a perfect view served on the side, the harbour waterfront at Fiskardo truly can't be beaten. Here, numerous fish tavernas nestle up against the water's edge which, beyond the bay, stretches to neighbouring Ithaca.
Eateries in and around Fiskardo's outlying villages offer a convincing counter, tempting potential diners away from the harbour with their traditional Greek music. In the village of Maganos, a little dancing has even been known to erupt between the tables.
In the south Trapezaki beach has a popular taverna open lunchtimes and evenings during the season, and for more choice, Lourdas beach has a string of eateries all along its seafront. The capital Argostoli has come of age gastronomically in recent years, with everything from simple tavernas to sophisticated cocktail bars.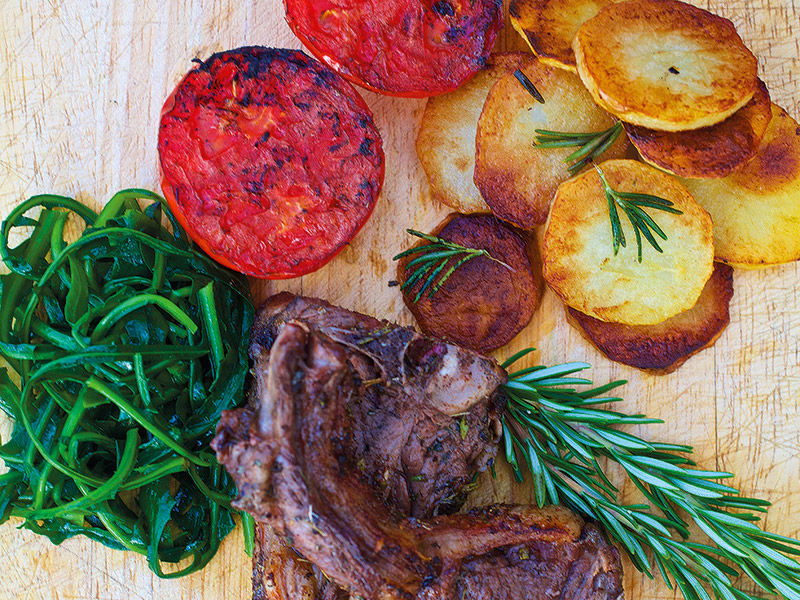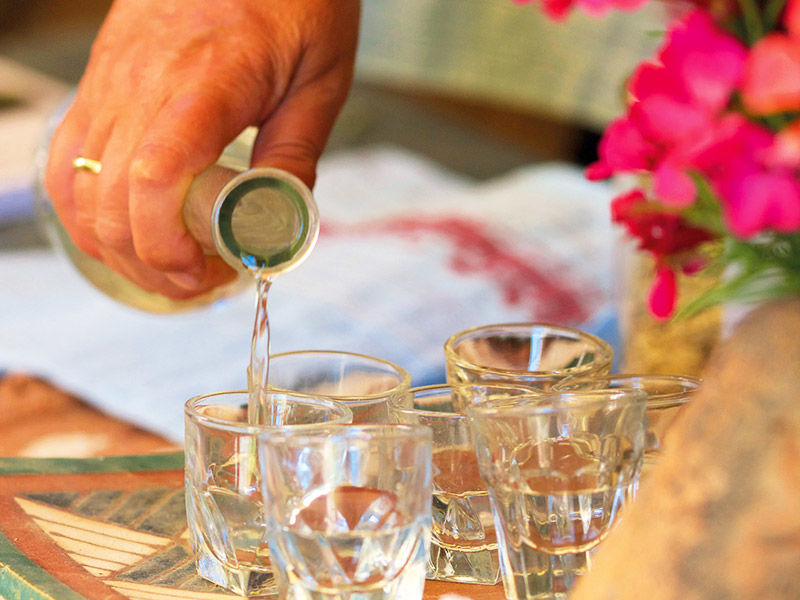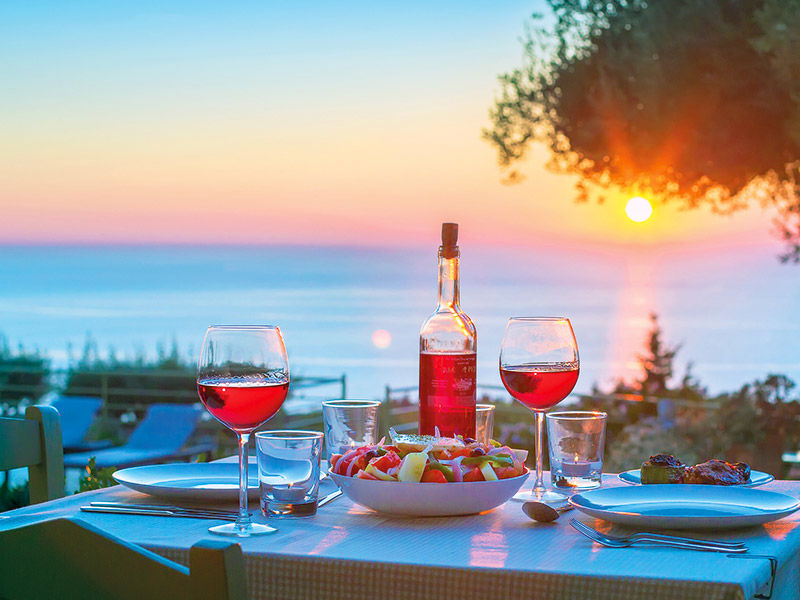 Beaches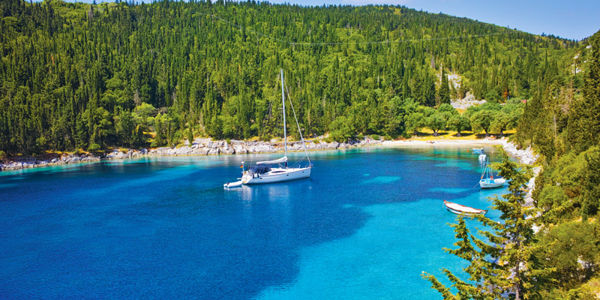 Foki
A picturesque inlet with natural shade and a taverna across the road for traditional local dishes. Greek for 'seal', Foki was once a nesting ground of the monk seal, which is now nudging extinction. 
Getting there…
Roadside parking can be found on the right-hand side as you arrive from Fiskardo.
Footnotes…
There's a very traditional shack for snacks and a traditional local restaurant opposite.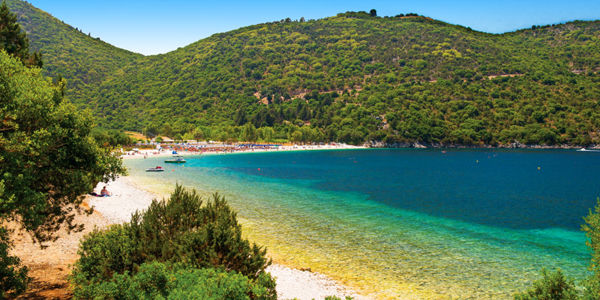 Antisamos
Surrounded by hills, the clear waters of this lovely white pebble beach, as seen in Captain Corelli's Mandolin, are ideal for snorkelling. There are also beach bars, sunbeds and watersports on offer.  
Getting there…
Enjoy a breathtaking drive down past Sami and you'll find this beach easily accessible from the coastal road, about ten minutes away. 
Footnotes…
The 18th-century monastery of Agrillion sits on a hill behind the beach and is worth a visit for its views alone.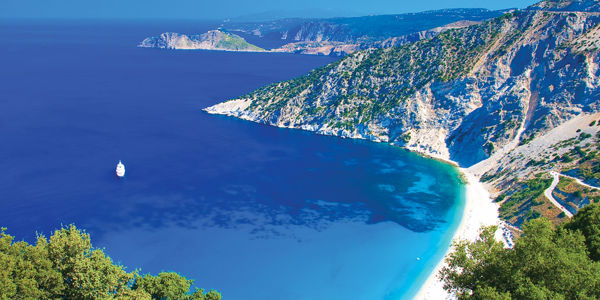 Myrtos
This spectacular, crescent-shaped bay with its dazzling white pebbles and clear waters may look familiar – it's one of the most photographed beaches in the world. 
Getting there…
It's 22km from Fiskardo and a spectacular 30-minute drive along the coast that ends with stunning views down to the beach itself.
Footnotes…
A beach bar, sunbeds and parasols are all here, but the waters are deep, making the beach unsuitable for young children.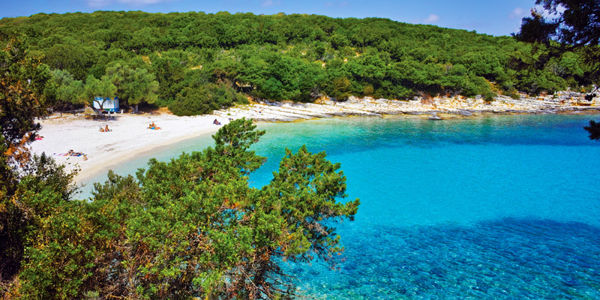 Emblisi
Sheltered and child friendly with welcome shade from the surrounding olive and cypress trees. The beautiful turquoise waters somehow seem warmer here and a beach bar operates from June to September.
Getting there…
Turn right at the Emblisi turning just before Fiskardo and head to the end of the road. You can drive right up to the beach, where parking is available. 
Footnotes…
There are no sunbeds at Emblisi so take an extra towel to lie on.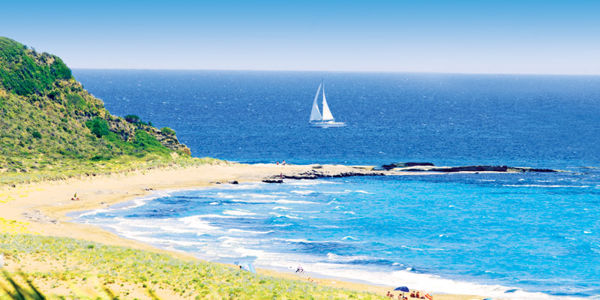 Mounda/Kaminia
A long, gently shelving and naturally beautiful sandy stretch, perfect for swimming and walking, with sunbeds, parasols and a couple of tavernas. The southern end, Mounda, is a naturist beach. 
Getting there…
From Fiskardo, drive to Sami and over the mountain – it's about a five-minute drive west of Skala. From Argostoli, head east towards Skala. 
Footnotes…
Conservationists, the Katelios Group, have marked several loggerhead turtle nests on the beach and erected an illustrated turtle information board, which makes interesting reading.  
Ai Helis
Another secluded bay, sloping gently into clear, shallow waters and surrounded by towering rocks and lush greenery. It's great for families, with sunbeds, a beach bar and, usually, two volleyball courts.
Getting there…
A beautiful ten-minute drive from Avithos, through the traditional village of Svoronata, 12km from Argostoli.
Footnotes…
Parking is difficult. You may have to park a little way away and there are quite a few steps leading down to the beach.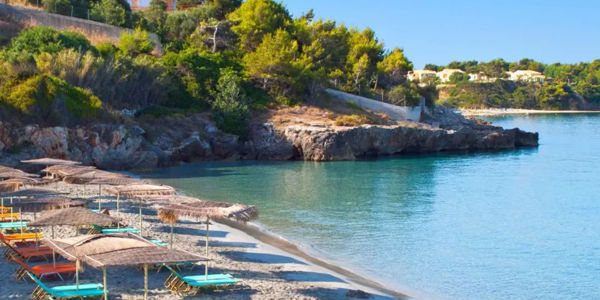 Trapezaki
A narrow beach of sand and fine pebbles, with sun beds and parasols available to hire and clear water for snorkelling.
Getting there…
The beach is about 20 minutes drive from Argostoli, and within walking distance of most of our Trapezaki area villas.
Footnotes…
There's a popular taverna here in the summer time, open both at lunchtimes and in the evenings.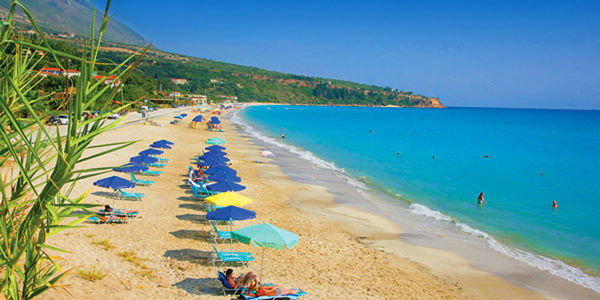 Lourdas
A lovely long sandy/shingle beach with sun loungers SUPs and boats for hire. Popular with families as the sea is relatively shallow close to shore.
Getting there…
The beach is a 5 to 10-minute drive from most of our Trapezaki area villas.
Footnotes…
Lourdas is quite a bustling beach front, with a great choice of cafes and tavernas along the waterfront.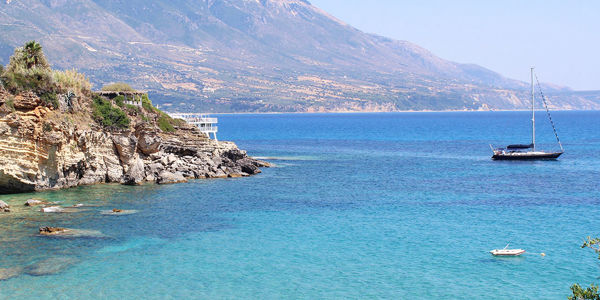 Agios Thomas
A registered UNESCO Eco Park due to the fossils that have been discovered there. The rock pools are wonderful for snorkelling.
Getting there…
The beach is about a mile from Karavados village,  a 5 to 10-minute drive from most of our Trapezaki area villas.
Footnotes…
The beach is actually two small coves, with a handy beach-side cafe and exceptionally clear water.
Things to do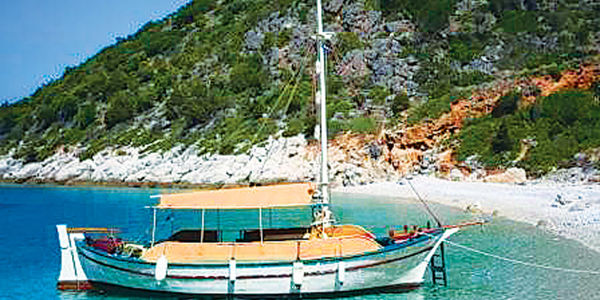 Take to the seas
Cutting through the azure water on a traditional wooden caique makes for an authentic and nostalgic morning. Jumping off to swim and perhaps snorkel around one of the local shipwrecks adds to the experience – which is often followed by a sumptuous lunch.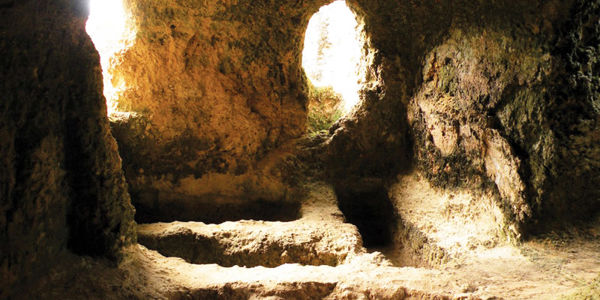 Visit an ancient cemetery
To walk one of the cemeteries of Kefalonia is to glimpse into ancient Greece – when grand places of worship stood protectively over passed souls. Today, the buildings are decaying ruins, yet some of the graves are still mysteriously laid with offerings and lit candles.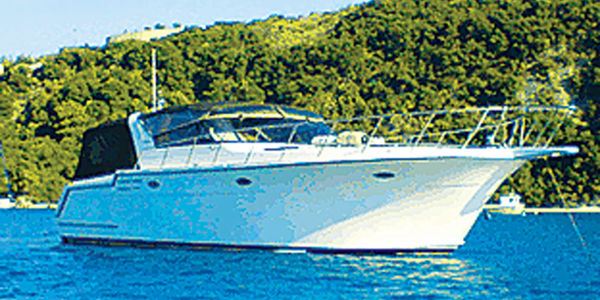 Charter a yacht
Set off with a skipper for a day's adventure, exploring secluded bays and the neighbouring islands. You can also enjoy a lazy lunch at a quayside taverna before Kefalonia – recognisable from afar thanks to Mount Ainos – calls you back to her shores.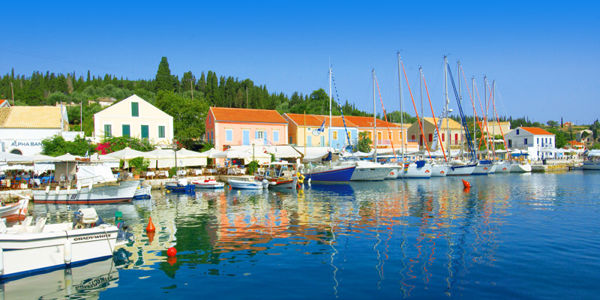 Discover Fiskardo
With charm, good looks and no small measure of sophistication, this beautiful little town springs into life in the summer months, catering in inimitable style to the many yacht crews who chart a course for the harbour's fine tavernas and traditional food.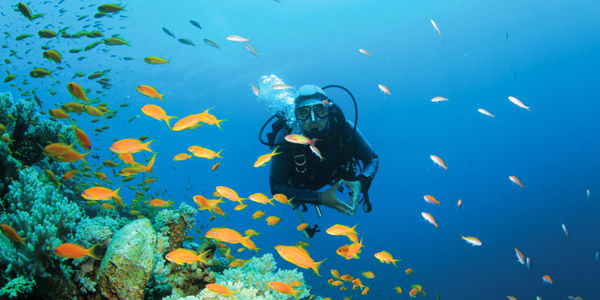 Dive right in
With crystal clear waters, shipwrecks and an abundance of sea life, every one of Kefalonia's bays looks out towards a mesmerising dive. Qualified instructors can be easily tracked down and their unrivalled knowledge will lead you to the very best spots.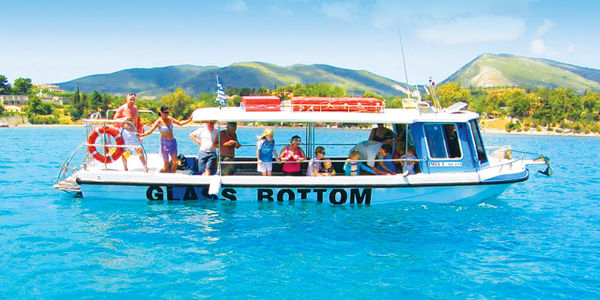 Hop aboard a glass-bottomed boat
Perfect for non-swimmers and relaxation-lovers alike, the island's glass-bottom boats are the perfect way to marvel at aquatic goings on. The chance to see turtles and dolphins in their natural environment adds some extra excitement.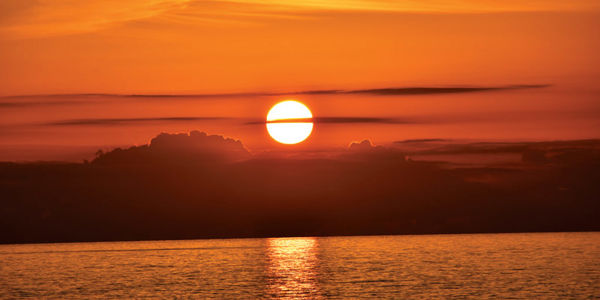 Take it all with a pinch of salt
Just 9km south-west of Fiskardo lies a tiny, rock-pool-strewn beach. The bay of Alaties (Greek for salt) may be small in stature and blissfully free from gaudy tourism, but it's the viewpoint for the most majestic sunset on the island.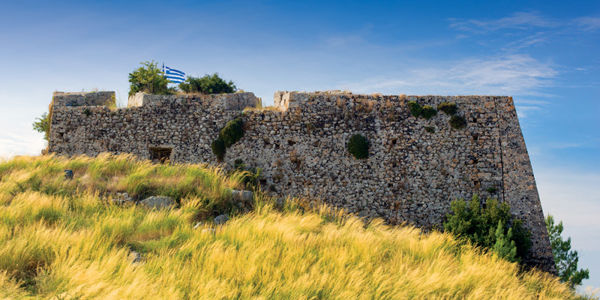 Explore a Venetian fort
Built in the 16th century, the fortress at Assos has an atmosphere all of its own. The views from the top are even more breathtaking than the walk to the fort itself and you can look out over farmland once tended by prisoners who grew grapes for making raisins.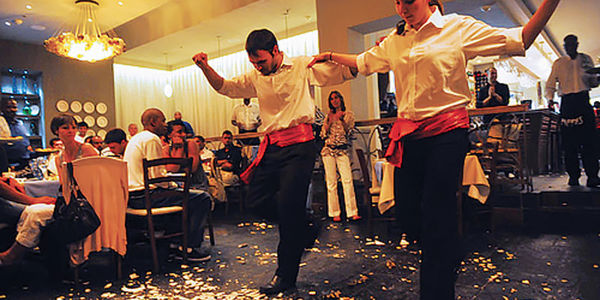 Smash a plate or two
Yes, it does still happen – and you're welcome to try it. For a lighthearted look back to an old tradition, head to the villages of Maganos and Vasilikades. Here, the spirit of Greece is alive and well, as the music plays and the china shatters.
Events
Easter is the biggest event on the Greek calendar, marked by traditional processions, masses and feasting. The date changes each year and is often later than in the UK.
What's on in May
1 May
Labour Day is a public holiday, celebrated with picnics and the gathering of spring flowers. Many shops close, but restaurants remain open, and in Fiskardo there's fun for all the family with Greek dancing around the harbour.
21 May
Unification Day is celebrated across the Ionian Islands with feasts held in many of the villages.
What's on in July
11 Jul
St Efimia Feast day. A procession of the holy icon through Agia Efimia, with music and dancing to follow. 
15 Jul
The Argostoli Theatrical Festival gives rise to many small plays and theatrical productions around the island's capital.   
What's on in August
15 Aug
Assumption of the Virgin Mary (Apo Kimisis tis Panagia). The biggest religious holiday after Easter is celebrated with gusto in almost every town in Greece.
15-16 Aug
Komitata puts on a great party in the evenings which continues until the early hours.
Third weekend in Aug
The Robola Wine Festival is held in the village of Fragata and draws thousands of visitors with its free wine, local produce, dancing and theatre.
16 Aug
St Gerasimos Feast Day. A large bazaar is set up around the monastery in honour of the island's patron saint.
23 Aug
The Feast of Panagia Agrilia in Sami starts with a ceremony at the monastery of Panagia Agrilion in honour of the Virgin Agrilia, which is followed by a barbecue and traditional music with dancing.
24 Aug
Assos Festival takes place in the harbour, with music, dance, a bazaar and a fireworks finale. 
What's on in September
8 Sep
The Virgin Mary's birthday (Genisis tis Panangias) is celebrated throughout Greece with religious services and much feasting.
What's on in October
1 Oct
St Spyridon's Feast Day in Argostoli includes a procession to the church of the Virgin Mary of Thrapano.
19-20 Oct
The Feast of St Gerasimos, the island's patron saint, is celebrated with a large market in the grounds of the eponymous monastery. 
28 Oct
'Oxi' Day ('No' Day) celebrates the Greek refusal of Italian occupation during WWII with marches, parades and much flag flying. 
The Road Less Travelled
We asked our local representatives in Kefalonia to share a few of their favourite 'off the beaten track' experiences. Here are some of their suggestions…
Eat fish fresh from the sea
The 'fish shack' perched above the little harbour in Kiriaki offers the chance to sample fish caught just hours earlier. It's always excellently prepared and somehow made all the tastier for being enjoyed overlooking the very sea from which it was hooked. Take the right turn at Angonas onto the Pali Peninsula and follow the locals, who favour this tasty little secret.
Explore the secret film locations
The winding road to the quaint little village of Komitata on the north-east coast comes complete with breathtaking views, and Agia Sofia and Golgotha Bays – the two private coves at the journey's end – are always well worth the drive. Pack a picnic and some water, and immerse yourself in the beauty of these spots – which were used as secret film locations for the shooting of Captain Corelli's Mandolin.
Hop over to Ithaca
Give in to your adventurous side and take a motor boat over to Polis Bay on Ithaca. The 20-minute chug from Fiskardo harbour is the perfect opportunity to look back for a fantastic view of Kefalonia, and is rewarded with a taste of Ithaca's laid-back lifestyle as you enjoy a coffee in Stavros' pretty town square.
Discover the church of Vari
In the village of Vari, not far from Vasilikades, sit two houses, quite separate from the rest. Opposite, a dilapidated stone building – marked with a small Greek flag by the roadside – invites further investigation. Uncovering the ancient church within, its altar and beautiful frescos still intact, is a moving experience. So easily missed, but so rewarding once discovered.
The sandy haunt of the rich and famous
Set on the southern tip of the Pali Peninsula, Vatsa is a little-known hideaway – a peaceful haven overlooking the Ionian Sea where soft white sand slopes gently into crystal clear waters. Inadvertently blowing the whistle on this hidden corner of the island, the now famous beachside fish taverna serves gorgeous food – and has been known to attract the rich and famous.