Explore holidays in Rethymno & Central Crete
As the birthplace of Zeus, Central Crete carries a certain historic and spiritual gravitas. Knossos, the Minoan Bronze Age palace, steals the show, but there are many other smaller archaeological sites, churches and towns to cast you back in time. However, with harbourside dining, beautiful beaches, mountain villages and vibrant summer festivals, the here and now also has a lot to offer. And Rethymno, which has clung on to much of its authentic beauty and charm, is a welcome addition to your island experience.
Visit our collection of handpicked villas and hotels in Rethymno and Central Crete to create the perfect starting point for your holiday. 
Good to know...
Why not extend your stay and enjoy a few nights in Athens as part of your Greek odyssey? One of the world's most ancient cities, with a vibrant culture and fascinating history, it's the perfect addition to any holiday in Crete. To find out more, please visit our
Short Stays in Athens
page.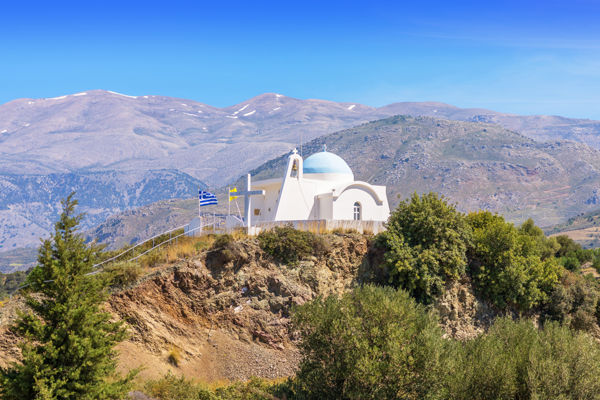 A selection of our holidays in Rethymno & Central Crete
* Prices include seven nights' accommodation, flights and transfers/car hire, based on the lowest rate for maximum occupancy.
Our guide to Rethymno & Central Crete
Introduction to Rethymno & Central Crete
An 'almost deserted' city
Rethymno lies in the very heart of Crete; a beach-fronted city that doesn't feel like a city at all, and enjoys its provincial air every bit as much as capital Heraklion, to the east, does its bustle. The locals call it Pantermo, 'always deserted' – an allusion to the fact it's much less well known than the island's bigger towns.

A stroll through its cobbled streets and fairy-tale archways takes you on a photogenic journey through time, past minarets and domed mosques, quaint Catholic churches, colonial mansions and on to the imposing Venetian citadel and port. 

Explore diverse landscapes – slowly

From the Cretan Sea in the north, to the Libyan Sea in the south, and the island's highest mountain range between, the Central prefectures form a rich microcosm of Crete's varied landscape. There you'll find Mount Psiloritis (Ida), which means 'the tall one', and there are centuries of myths and legends woven around its surrounding gorges, valleys and caves. In particular, the Ideon Andron Cave where, it's said, the god Zeus was hidden from his murdering father Cronus. 

Among the mountain villages, you'll discover some of the best home-cooking on the island and, with shepherds herding their flocks and the reassuring drone of cicadas among the olive groves, you'll receive the gentlest of invitations to slow down.

Come on in, the water's lovely
Both the north and south coasts enjoy an abundance of lovely sandy beaches, well organised and perfect for a traditional family day by the sea. But for those looking for something extra from their coastal adventures, little exploration is required. For a truly invigorating dip in uncharacteristically chilly waters, complete a visit to the nearby Preveli Monastery – a monument to many a Cretan skirmish – with a dip in the estuary at the exotic, palm-shaded beach of the same name. Elsewhere, turquoise waters frame countless remote sandy coves and rocky bays. We suggest packing up the car and heading off in search of your own slice of beach heaven.

Relics of a colourful past

The Palace of Knossos – a sprawling archaeological site considered the oldest city in Europe – may offer the island's most crowd-pleasing historic daytrip. But other, less ostentatious nods to Crete's rich and turbulent history lie around every corner. 

The Amari Valley houses a myriad of whitewashed villages where much pride is taken in preserving ancient churches, many of which are home to stunning 14th and 15th-century frescoes. Often overlooked by Knossos day-trippers, but equally unique, are Gortys and Phaestos, showcasing respectively the earliest examples of engraved Grecian law and an ancient Minoan city. 

Nature's own orchestra

The high peaks and beautiful, flora-carpeted plateaus of Mount Psiloritis are home to dozens of species of birds, which, especially during springtime, busy themselves with putting on free concerts for anyone who hikes by. Huge and majestic vultures take advantage of the strong winds up on high, along with buzzards and kestrels, while turtle doves sing-song between the olives, orange groves and pear trees.

Those not seeking out glimpses of the island's fauna may nevertheless be treated to the sight of loggerhead turtles – these majestic creatures are regular visitors to the beaches around Rethymno, particularly during the egg-laying months of June to August.

At a glance
Currency

Euros

Flight Time

4 hours (to Heraklion)

Time difference

+2 hours

Language

Greek

Visa required

Not for UK citizens
Food & drink
A taste of Central Crete
All the principles of authentic Grecian cuisine – simple yet hearty home-cooked fare relying on local produce, freshly prepared – are very much on the menu in this part of the island. Organic lamb from the region of Sfakia, which borders with the Chania prefecture, is something to look out for on menus – slow cooked in an oven with lots of homegrown herbs and a good glug of olive oil, this melt-in-the-mouth local speciality in one you'll remember. For the sweet-toothed, the region also produces a cheese, which is traditionally deep-fried and baked in a pie with a generous dollop of honey. And you won't have to look far to find traditional favourites like stifado and kleftiko.
Cretan tipples
Ouzo might be Greece's best-known tipple, but you'll almost certainly come across Tsikoudia (or raki) – a potent spirit served in tavernas up and down the region. The rolling hills south of Heraklion, around the villages of Peza and Archanes, is Crete's foremost area for vineyards and food festivals offer wonderful opportunities to taste directly from the barrels of local vintners.
Eating locally
Each of the villages of this region, from those dotted around the coastal town of Rethymno, to those in the mountainous inland's peaks and valleys – has at least one taverna, popular with locals and visitors alike and whose offerings are grounded in the traditions of simple flavours and value for money. Some do away with traditional menus altogether and bring out to guests a seemingly never-ending series of chef's dishes of the day. This 'tasting' option is usually charged as a flat fee per head and isn't advised for calorie counters! Try Panormo, a fishing village close to Rethymno, or the small dead-end peninsula to the town's west. Elsewhere, the tavernas of villages Armeni, Episkokpi and Archontiki offer the chance to experience Cretan hospitality at its best. Or to enjoy remarkable mountain views while you eat, stop off in the village of Myrtios, where meze is accompanied by scenic heights and views of the Libyan Sea. 
And don't forget to take a look at our calendar of local festivals – from celebrations of Grecian boating life to Easter celebrations, everything is accompanied by much feasting – and everyone's invited.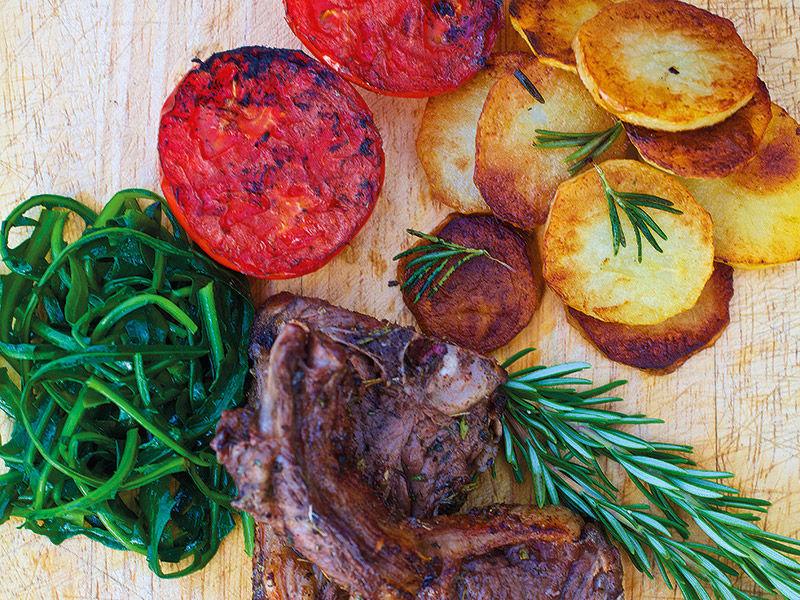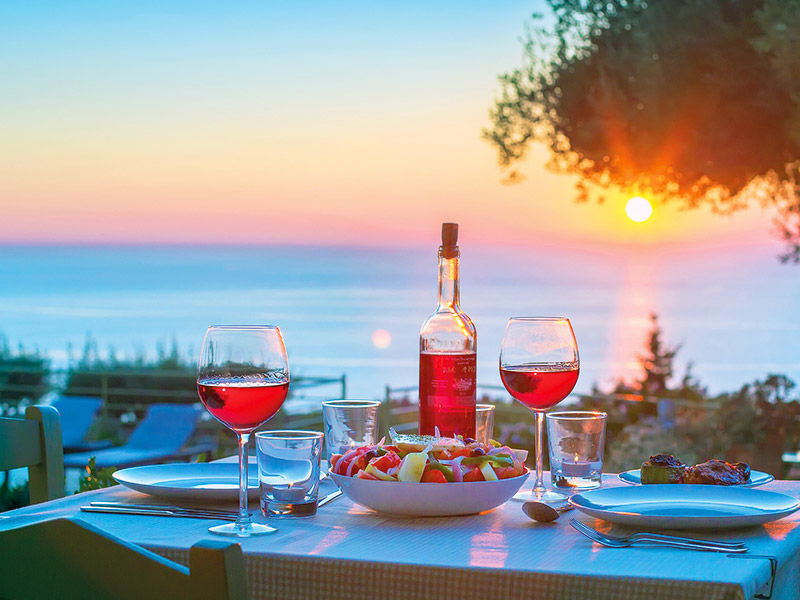 Beaches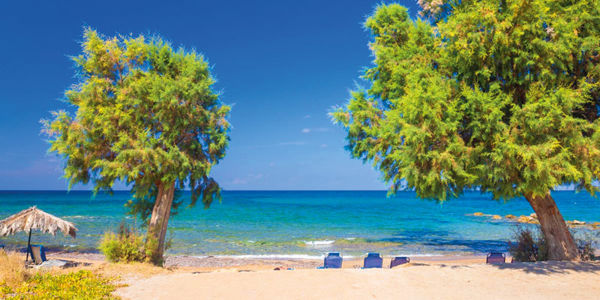 Stavromenos
A lovely sandy beach just 10km from Rethymno and generally quieter than the popular beaches around Adelianos Kampos.
Getting there...
Return to the highway and head east past Rethymno. From here, Stavromenos is well signposted.
Footnotes...
The beach tavernas offer excellent Cretan cuisine. For a little exercise, wander up the hill and enjoy the views looking back.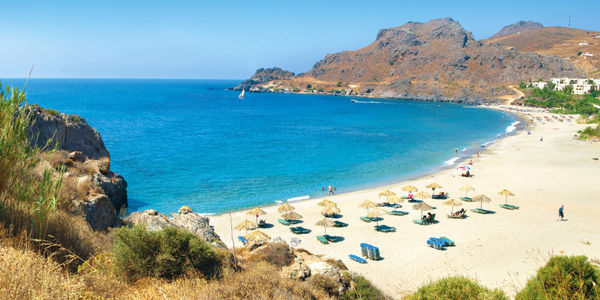 Damnoni Beach
Set in picturesque Plakias, 35km south of Rethymno, this sandy, gently shelving beach comes with sunbeds, parasols, watersports and a number of good tavernas. It's a great family option. 
Getting there...
Travel south past Armeni and through the spectacular Kourtaliotiko Gorge. Damnoni is 3km southeast of Plakias and has free parking.
Footnotes...
It can get busy in high season, but the next two coves along – Ammoudi and Ammoudaki – are equally as beautiful.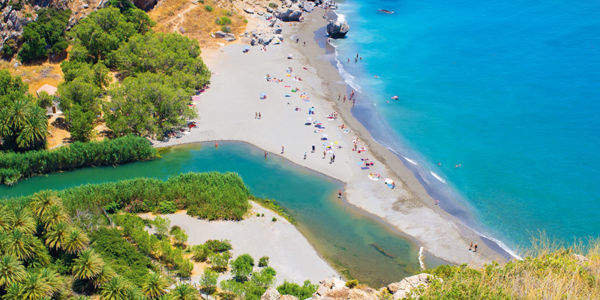 Preveli
South of Rethymno, one of the most famous beaches on Crete sits at the mouth of a river and lagoon, backed onto by a lush palm forest.
Getting there...
Travel south past Armeni and head through the spectacular Kourtaliotiko Gorge following the signs for Preveli.
Footnotes...
The Palm groves around the river have rapidly re-generated since the fire of 2010. The historic nearby monastery of Moni Preveli is well worth a visit.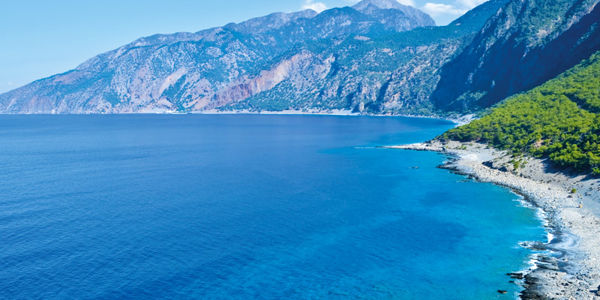 Agios Pavlos
The 'Sandhills' beach is located 18km west of Agia Galini. It's remote, but consequently not overrun by tourism so there's plenty of space to spread out.
Getting there...
Head through Spili on the Agia Galini road and look for turnings off to the right to Agios Pavlos.
Footnotes...
Swimmers can cool off in sparkling deep green water, while naturists will discover plenty of privacy among the many coves.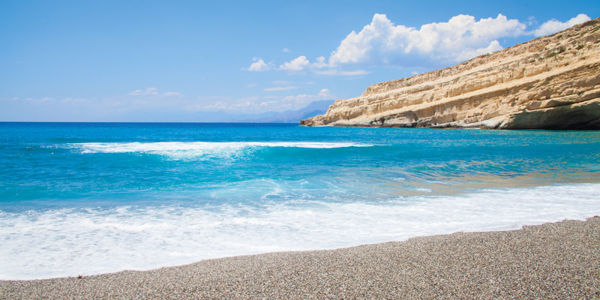 Matala
Almost as far south as you can go on Crete, 'Red Beach' – named after the colour of its sands – is the site of the famous caves, once home to singer-songwriter Joni Mitchell.
Getting there...
Head past Agia Galini and through Timpaki. Look for signs to the right for Matala. Parking is on road quite close to the beach.
Footnotes...
Combine your beach visit with a trip to the nearby archaeological sites of Phaestos and Gortys, some of Greece's most significant archaeological discoveries of all time.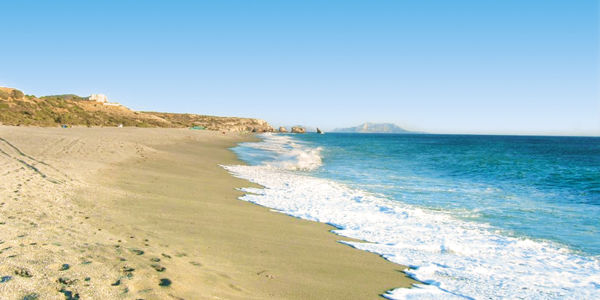 Petres Beach
The eastern end of the longest single stretch of sandy beach in Crete, just 15km from Rethymno, contains numerous cantinas with sunbeds and umbrellas.
Getting there...
Easily reached off the highway heading west from Rethymno. There's lots of parking just off the main highway.
Footnotes...
We suggest taking a beach umbrella so that you can find your own perfect piece of sandy beach.
Things to do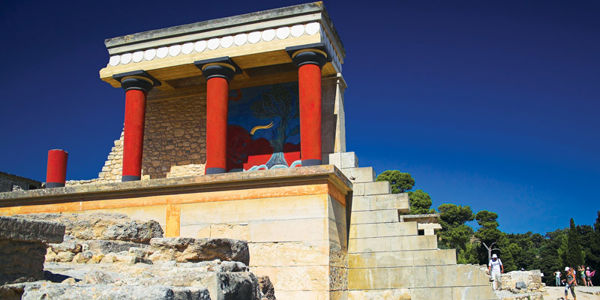 Wonder at Knossos
Follow in the footsteps of the mythical Minotaur and visit the 3,500-year-old excavated Minoan palace at Knossos. It's Crete's most important archaeological attraction and well worth the journey to the region's easterly half. It's about 90 minutes by road from Rethymno; 20 minutes from Heraklion.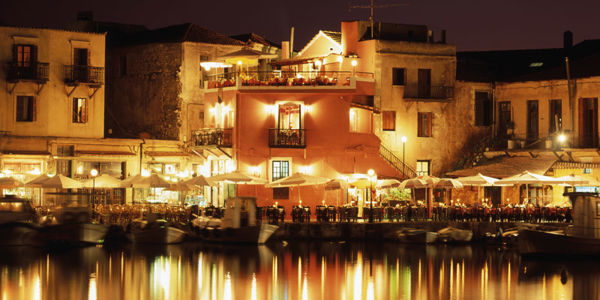 Soak up Rethymno by night
Take a walk through history in the narrow, winding streets of the charming Old Town, with plenty of restaurants along the way. Or stroll and dine harbourside, car free in the evenings and twinkling with lights. In summer plays and concerts are held in the waterfront castle nearby.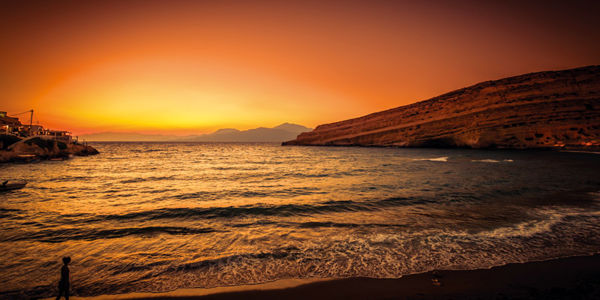 Welcome your inner hippy at Matala
Pop on Joni Mitchell's song Carey as you arrive at these Neolithic caves, next to the lovely beach of Komos. Once Roman crypts, they're now more famous as the singer's 1960s hippy hangout. The flower-power vibes live on in the peace symbols and decorated camper vans.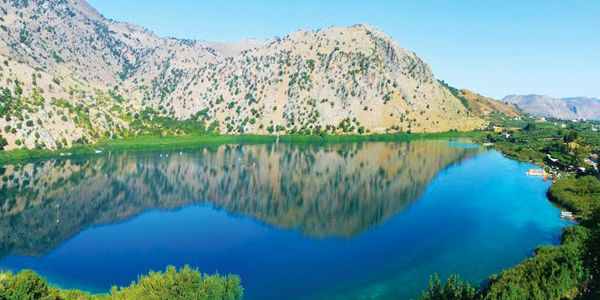 Enjoy beautiful Lake Kournas
The only freshwater lake in Crete borders the prefectures of Chania and Rethymno and, surrounded by stunning scenery, it's a peaceful off-season retreat with good tavernas. In mid-summer, it comes alive with families swimming in the clear waters and enjoying the pedalos and canoes.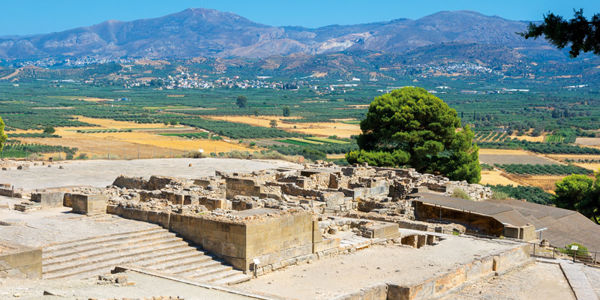 Spend time with another civilisation
Peek into Crete's complicated past at Phaestos, considered the second city of the Minoans. With less excavation than more-famous Knossos it's a much more organic experience at a site fit for a palace, with the added benefit of panoramic views.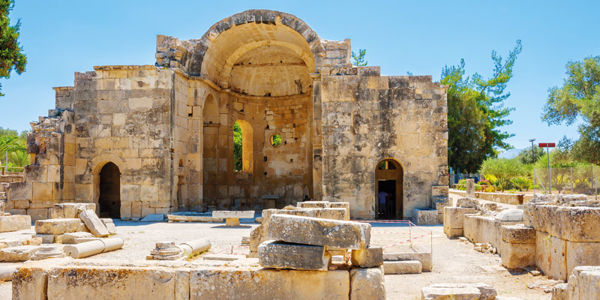 Follow in the footsteps of ancients at Gortys
Famous for its engraved wall, which is the oldest and most complete example of a code of ancient Greek law, Gortys is also the site of 6th-century ruin, St Titus Cathedral, and a tree where Zeus is supposed to have had his wicked way with Europa.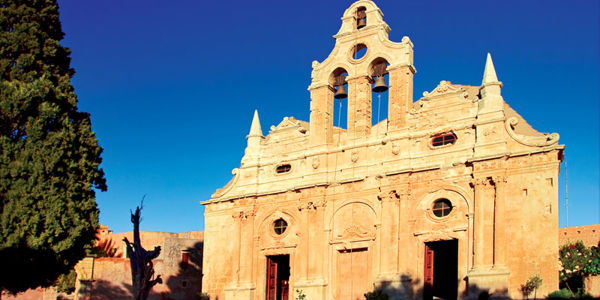 Experience the history of the Arkadi Monastery
The remnants of the powder room can be seen, where hundreds of women and children perished when the abbot blew up the room rather than surrender to the Turks. There are also various items of remembrance for the men who lost their lives during this 1866 battle.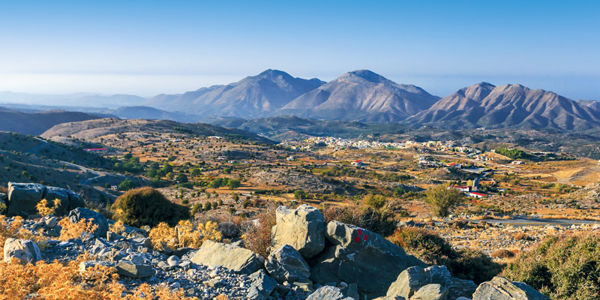 Travel to the highest village on the island
Anogia is the highest and main village of Mount Psiloritis, and one where the traditions of Cretan life are very much in evidence. Two main squares are particularly lovely at night, when chefs proudly produce meats reared in the surrounding fields, often accompanied by a rice dish called gamopilafo (or 'wedding pilaf').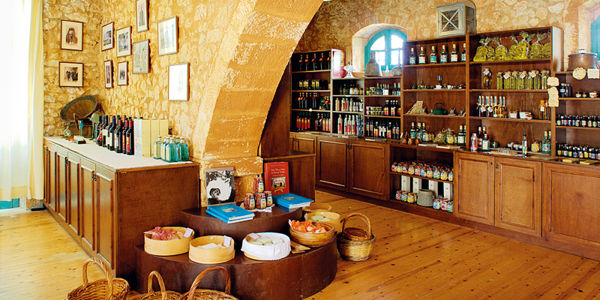 Enjoy a taste of rural life
The restored 17th-century Agreco Farm 20-minutes from Rethymno is a must for foodies and families alike. Be a farmer for the day, join the fascinating guided tour, tuck into an organic Cretan feast or stock up on wine, honey or olive oil in the farm shop.
Events
Easter is the biggest event on the Greek calendar, marked by traditional processions, masses and feasting. The date changes each year and is often later than in the UK.
What's on in April
23 Apr
Feast of St George, the patron saint of shepherds and the military, is celebrated with sheep-shearing contests and feasting.
What's on in May
1 May
Labour Day is a public holiday, celebrated with picnics and the gathering of spring flowers. Many shops close but restaurants remain open.
21 May
Anniversary of World War Two's Battle of Crete, celebrated in Rethymno with lively folk dancing and ceremonial events.
What's on in June
24 Jun
The feast of John the Baptist remembers his birth date with bonfires and widespread celebrations. It also marks the summer solstice.
Mid Jun
The busy Matala Beach Festival is a lively three-day music festival of Greek and international bands aimed at the young and the hippy at heart.
Last week in Jun (in even-numbered years)
Marine Week is a national celebration with waterfront activities across Greece, including boat races and windsurfing.
What's on in July
Early Jul
Calorie counting is off the menu at Rethymno's Cretan Diet Festival, a celebration of local food, wine and gastronomic traditions.
Mid Jul
The Dafnes Wine Festival near the capital Heraklion offers free wine tastings, live outdoor music and various local life exhibitions.
What's on in August
15 Aug
Assumption of the Virgin Mary (Apo Kimisis tis Panagia). The biggest religious holiday after Easter is celebrated with gusto in almost every town in Greece.
25 Aug
The Festival of Agios Titos in Heraklion marks the day of Crete's patron saint with huge celebrations and plenty of pomp and ceremony.
What's on in September
8 Sep
The Virgin Mary's birthday (Genisis tis Panangias) is celebrated throughout Greece with religious services and much feasting.
What's on in October
28 Oct
'Oxi' Day ('No' Day) celebrates the Greek refusal of Italian occupation during WWII with marches, parades and much flag flying. 
The Road Less Travelled
Eat, drink and dance, Cretan-style 
During the second week in July, Rethymno invites you to dive into a meze of Greek specialities. The Cretan Diet Festival takes over the city's Municipal Gardens, where enthusiastic local suppliers urge you to try the best of the region's food, wine and live music. Demonstrations often get interactive – don't be surprised to find yourself making bread, pies or herb-filled pastries. 
Combine a historic daytrip with an invigorating swim 
Destroyed during the War of Greek Independence, the rebuilt Preveli Monastery came under siege again during the rebellion against the Turks and was a place of refuge in WWII. It's a stunning drive from Rethymno and the nearby beach and estuary is a lovely way to unwind afterwards – the turquoise waters provide rather invigorating (chilly!) jets of freshwater from the river Kourtaliótiko.
Experience the villages that time forgot
The Amari Valley is a high, green oasis, offering photographers stunning mountainscapes. At its southern base, a dozen or so small villages proudly preserve their Byzantine churches and admirable frescoes and, as a dedication to a more traditional and community-driven way of life, villagers come together frequently for raki-infused festivities which go on well into the night.
Gorge on nature
By no means the most famous of Crete's 400 gorges, Agios Antonios is nonetheless magnificent. At 5km long and with an elevation from start to finish of just 200 metres, it offers walkers of all abilities a chance to appreciate spectacular views, as well as protected plant and bird life. Pick up the trail at the village of Patsos.
Lunch at Agia Fotia
Take the mountainous road past Spilia to Crete's dramatic south coast and discover the little known bay of Agia Fotia (one of a number of beaches with the same name in Crete!). It's home to a lovely secluded taverna right by the sea, which is as off the beaten track as you can get and wonderfully romantic – the food is pretty good too.