Explore holidays in Vendée
They may not have Côte d'Azur chic, but the charming towns along Vendée's Atlantic coastline have 200km of sandy beaches to make up for it. And don't miss the old fishing village of Les Sables-d'Olonne, one of France's original seaside destinations. Vendée is also home to La Roche-sur-Yon, a stately town built by Napoleon, who never envisaged the waterpark and golf courses there today. Venture inland and you'll find the Marais Poitevin (Green Venice) with its canals, forest-covered hills, picturesque villages and historic abbeys. 
And to complete the picture, choose from our handpicked collection of Vendée villas for a comfortable home from home to return to.
A selection of our holidays in Vendée
* Prices shown are for a seven-night stay at the lowest accommodation-only rate.
Our guide to Vendée
Introduction to Vendée
A different side of France
For many, the very thought of maritime France conjures images of a glamorous Mediterranean seafront, alive with tourism in every sense. But on the country's wilder Atlantic side lies a less predictable coast.
Nestled below the Loire estuary, the Vendée is a region known for its open arable land, endless swathes of pine-backed beaches and fiercely independent people. The locals famously renounced the French Revolution, but you won't see loyalist fleur-de-lis being flown on Vendéen flagpoles today; more likely banners of the solid blue variety – European accolades signalling the most pristine of beaches.
Blessed with southern sun
With 200km of celebrated sand, the additional presence of unbeatable seafood and endless seaside vistas is an additional delight – and although the area may draw much of its cultural influence from the Norman north, it looks to the south for its weather.
Basking in that welcome sunshine sits a string of charming, understated towns and whitewashed fishing villages – their narrow streets and quayside restaurants offering a coastal break arguably more charming and less packed than their Mediterranean counterparts.
The beauty of the Bocage
Inland, lies Le Bocage; a lush patchwork of rolling hills, freshwater lakes, sunflower fields and vineyards – with some 2,000 hectares of unspoilt forest at its heart.
History is never far away in this verdant countryside – the Renaissance town of Fontenay Le Comte and beautiful, fortified Vouvant among the many charming and historic sites scattered haphazardly across the landscape.
For the area's finest views, ascend to its highest point, Saint-Michel-Mont-Mercure. For rural quaintness explore the banks of the Sèvre Nantaise River, where countless watermills, weirs and merchants' houses nod dreamily to a time long passed.
La Venise Verte
South of Le Bocage, and drawing the sea deep inland, the Marais Poitevin is an intriguing, sleepy labyrinth of poplar-lined canals and ancient waterways created first by 10th-century monks and benefiting later from that unparalleled Dutch engineering.
Here, punting is the activity du jour – an hour or two of lazy exploration every bit as idyllic as the casual adventure-seeker could wish for. Float under ancient willow trees, drift past medieval stone cottages and perhaps set foot on firmer ground for a stroll through the twisting village streets of pretty Arçais or Damvix.
Whatever your 'Green Venice' adventure becomes, be sure to raise a glass to her beauty – with a nip of the local Angelica liqueur.
Gateway to the Loire
In the Vendée, you'll experience a holiday in one of France's most generous corners. From a beach upon which to truly unwind, to the towns and villages built for those with a penchant for history or romance, you've arrived in a place that will deliver in every sense.
The unexpected sights, the proudly preserved traditions, the closely guarded recipes; soak up the sheer French-ness of them all. And do so knowing that – in true Pays de la Loire style – an inimitable glass of Muscadet or Vouvray is never far from hand.
At a glance
Currency

Euro (€)

Flight Time

1h30

Time difference

+1 hour

Language

French

Visa required

Not for UK citizens
Food & drink
A taste of the Vendée
The Vendée's coastline is a bountiful one – as rich in Atlantic seafood as it is famed for the excellent poultry and game to be found in the region's hinterland.
Rich, garlicky fish soup is a common first course. As are Atlantic mussels – those from the town of L'Aiguillon-sur-Mer are considered the very best. The idea of preserving sardines in oil originated in Saint-Gilles-Croix-de-Vie and, happily, this local favourite appears as a matter of course on just about every menu in the region. But there can surely be no more Vendéen a culinary experience than to enjoy a platter of fine oysters – mood lighting provided by a vast Atlantic sunset.
The countryside of the Vendée is home to an abundance of livestock and game and it's among these rolling hills that some of France's finest beef and gammon are produced. Casseroles and rolled, roasted joints are commonplace in the colder months, while barbecues are eagerly lit in summer. Look out for Vendéen ham too – a true specialty of the region.
Following all of this, the very greatest cause for regional pride comes as a world-class sweet, light and utterly delightful bread. Brioche may have been adopted by the whole of France, but the original hails from the Vendée and, in local tradition, is always plaited before it's baked.
French tipples
Just north of the Vendée, some of the world's finest wine is produced along the banks of the River Loire. First to steal the vinicultural limelight is the sauvignon blanc grape – showing its talents through class acts like Sancerre and Pouilly-Fumé of the Centre-Loire region. From here, the river wends its way into Touraine-Vouvray country – where the versatile chenin blanc grape dominates with ease.
As the river nears Nantes and the Atlantic Ocean, it's bone-dry Muscadet that has been ruling supreme since Roman times – but it's always enjoyed healthy competition from the sparklies of Saumur.
For a more local tipple, the appellation of Fiefs Vendéens produces some stunning reds, whites and rosés – lesser known that their Loire counterparts and happily priced accordingly.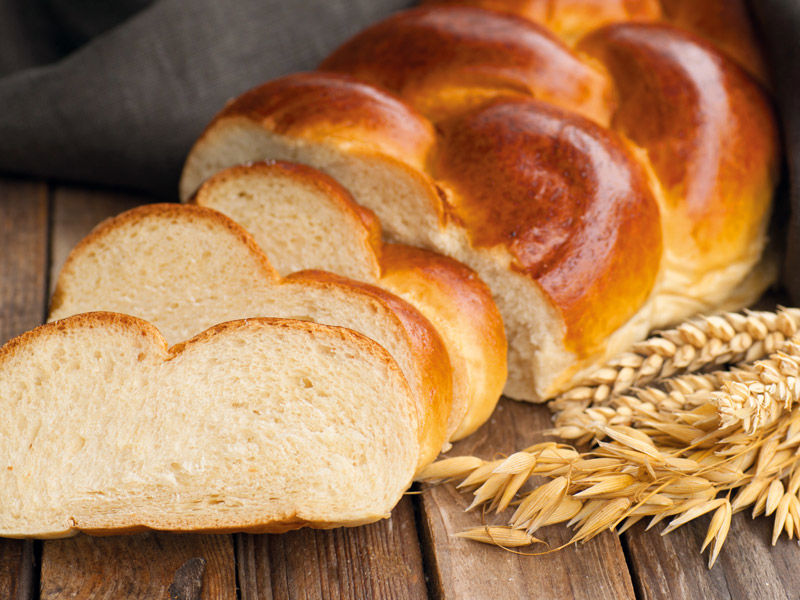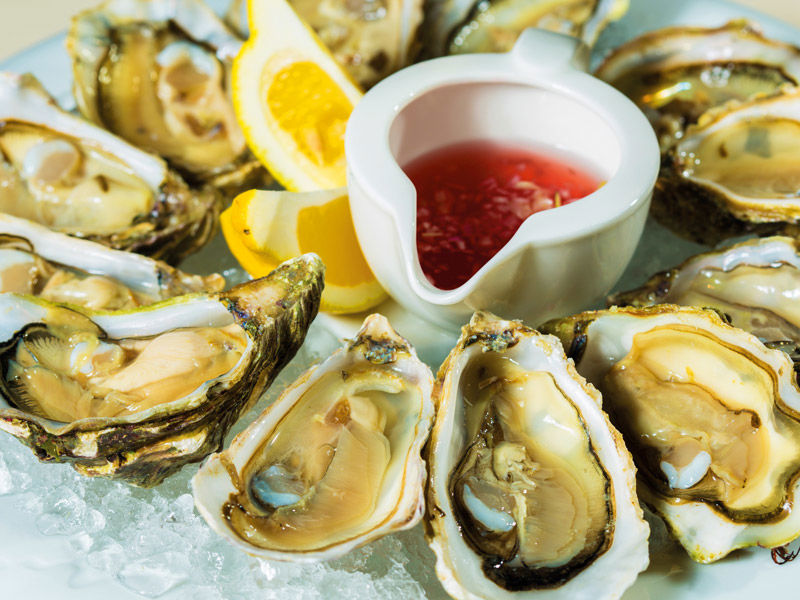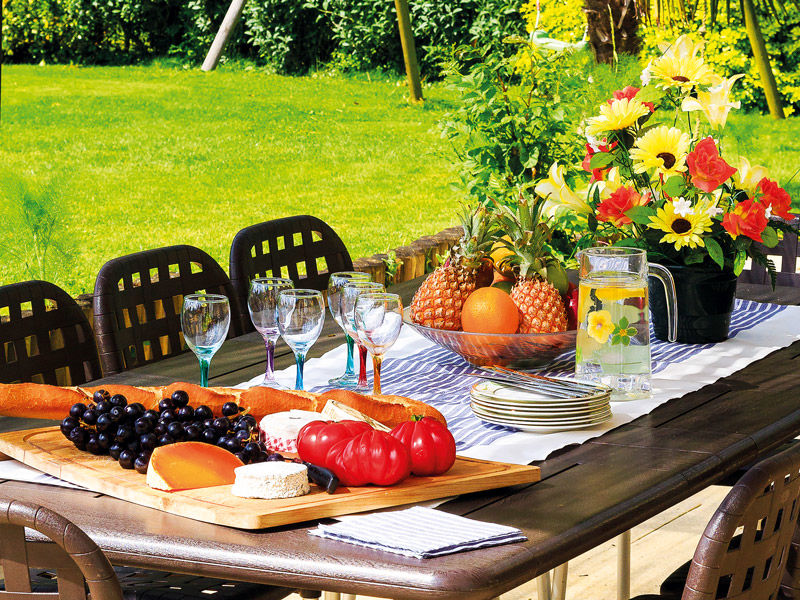 Beaches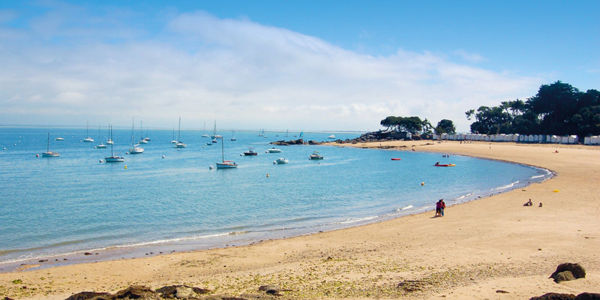 Plage des Dames, L'île de Noirmoutier
300m of soft sand edges a beautiful bay of turquoise water. Behind, a row of brilliant white 20th-century beach huts lends an air of maritime sophistication.
Getting there…
1km beyond Noirmoutier town, the beach has its own car park. When it's busy, the nearby streets offer extra parking spots.
Footnotes…
A sailing centre brings added interest, while nearby Noirmoutier town offers a vast array of restaurants and shops.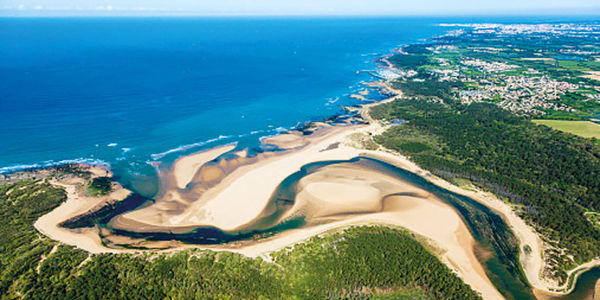 Plage du Veillon
Formed by the estuary of the River Payre, this otherworldly sand dune formation is regularly voted one of the Vendée's top attractions. One of the area's most attractive beaches, it's an unspoilt wildness with a stunning lagoon.
Getting there…
Follow the signs to Plage du Veillon from Les Sables d'Olonne, 12km to the north, or Talmont-Saint-Hilaire, 5km inland.
Footnotes…
A beach bar offers a range of snacks throughout the day.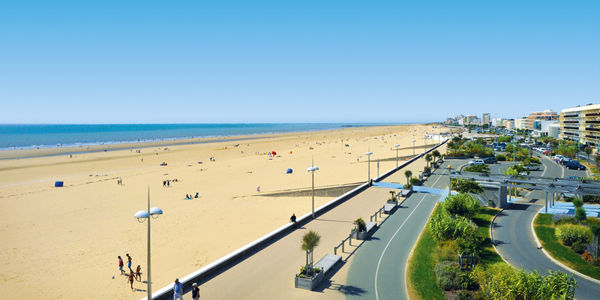 Saint-Jean-de-Monts and Notre-Dame-de-Monts
The combined coastline of the Pays de Monts offers about 30km of the Vendée's finest sand. The area was once an island, until the channel separating it from the mainland was reclaimed.
Getting there…
West of Challans and south of Noirmoutier, parking is easiest in Saint-Jean, where there are several public car parks.
Footnotes…
Beach activities abound at Saint-Jean-de-Monts, with sand-yachting a particular favourite. You can book one and two-hour trips.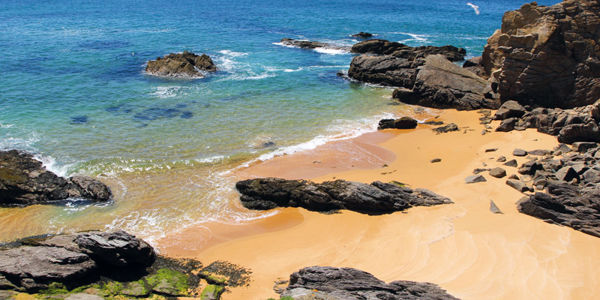 L'île d'Yeu
A tranquil island of secluded coves and clear, shallow water, as well as the lively and delightful fishing port of Port Joinville.
Getting there…
It's a 45-minute journey on the ferry, which departs from Fromentine all year round, but in the summer months they also leave from La Fosse on L'Île de Noirmoutier and Saint-Gilles-Croix-de-Vie.
Footnotes…
At just 10km long, the island is best explored by bicycle, which can be hired in Port Joinville.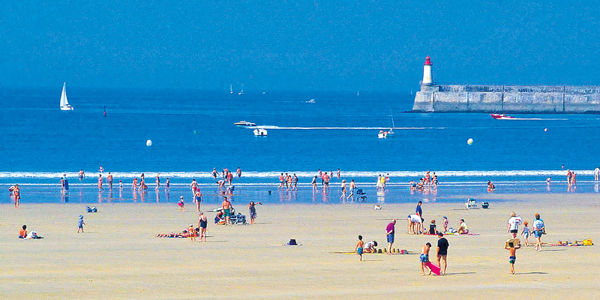 Les Sables d'Olonne
The Vendée's largest seaside resort boasts its safest beach too – an endless crescent of gently sloping sand, protected at both ends to foil dangerous undercurrents.
Getting there…
Les Sables d'Olonne is is 20km west of La Roche-sur-Yon on the D160.
Footnotes…
The town offers every imaginable amenity and the clean, wide beach comes complete with loungers and parasols for hire.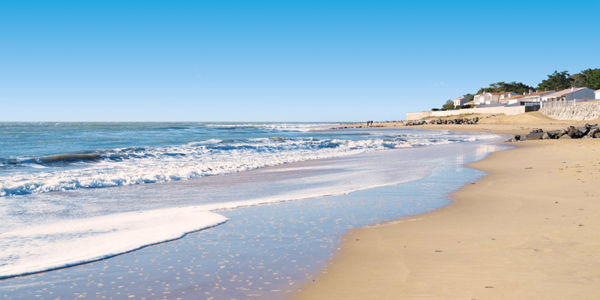 La Tranche-sur-Mer
The bustling seaside town of La Tranche-sur-Mer boasts 13km of gently shelving, award-winning beach, which makes it ideal for little ones.
Getting there…
The most southerly of the Vendée beaches, La Tranche is 25km along the coast from Les Sables d'Olonne.
Footnotes…
The sand closest to the town centre is ideal for children and slopes gently into protected water. A long and pleasant promenade follows the beach offering all the usual amenities.
Things to do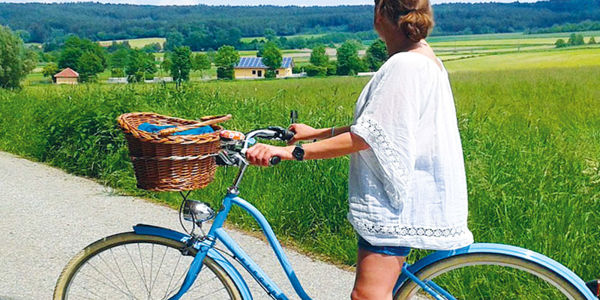 See the real Vendée on two wheels
Together, the Vendée's thousand kilometres of cycling tracks form the largest such network in France. Add to these a further thousand kilometres of recommended road routes and there really is no easier or more enjoyable way to properly discover this beautiful region.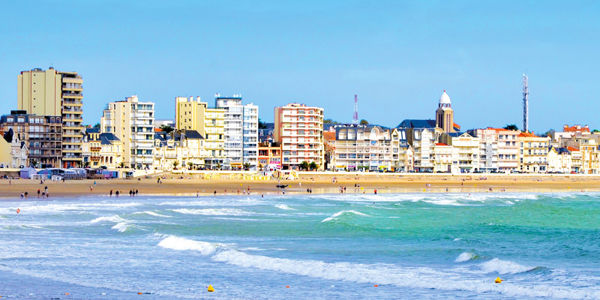 Step back in time in Les Sables d'Olonne
France's original holiday destination is dominated by a stylish promenade, which tracks the Grande Plage every inch of the way. Many classical 1800s buildings remain, lending the seafront an upmarket air that wouldn't be out of place in Cannes or Nice.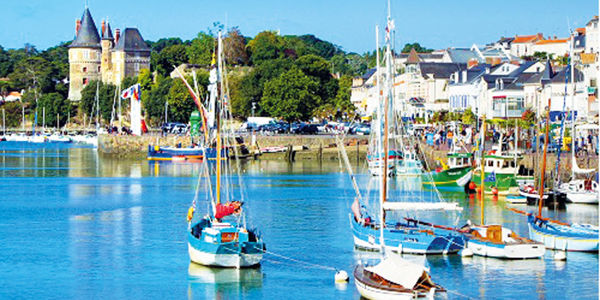 Get a taste for island life
The 49km2 of the Île de Noirmoutier are home to a handful of villages – and one pretty little town, which shares a name with the island itself. Here, whitewashed walls and terracotta roofs might even have you believe you're in the South of France.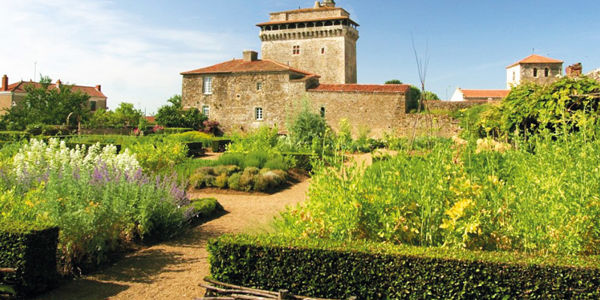 Climb a castle keep
Nestled in Le Bocage, the perfectly preserved medieval village of Bazoges-en-Pareds is unmissable for the famous Donjon – a striking castle keep. Restored to their former glory, the 30-metre ramparts come with views of the castle gardens and ramshackle rooftops of the village all around.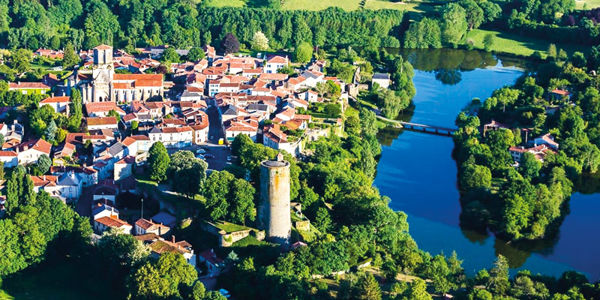 Fall in love with Vouvant
Tucked into a bend on the River Mere, Vouvant is a deserved contender for 'Most Beautiful Village in France'. The Church of Nôtre-Dames dominates the skyline while, below, a warren of narrow streets is home to the quaintest stone houses and artists' studios.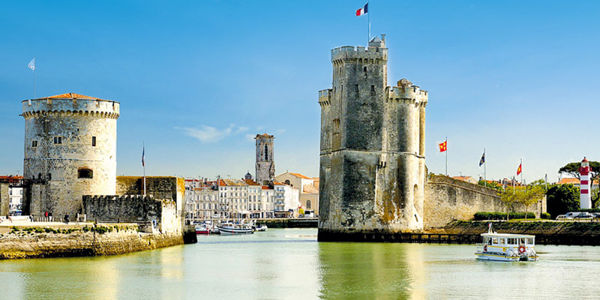 Wander the 'White City'
With arcaded walkways and half-timbered houses, classy La Rochelle is quick to remind visitors of its past as a major seaport. The earliest settlers of Canada left here aboard galleons, but today's harbour is filled with luxury yachts.
Cycle the Island of Ferns
Getaway of choice for the well-heeled of Paris, soothing Île de Ré feels a million miles from city life. Bicycle is by far the best mode of transport on the island and an invigorating way to discover quaint harbours and secret coves dotted along its shores.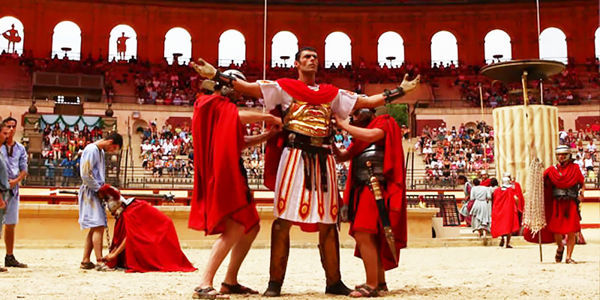 Take a child's eye view on the past
Close to La Roche-sur-Yon, the Puy du Fou is a dramatic theme park and celebration of 2,000 years of history set in 50 acres of beautiful woodland. Stay late and enjoy a spectacular sound and light show in front of the grand house itself.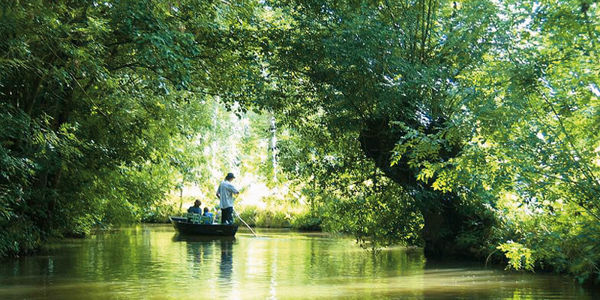 Let your cares float away
South of Fontenay lies a flatter, less undulating landscape laced with waterways. This network of canals is the Marais Poitevin – France's 'Green Venice', home to artists, craftsmen and an idyllic way of life. A meander around in a punt makes for a dreamy afternoon.
Events
What's on in May
Early May
Fête de Noirmoutier Bonnotte, held on Noirmoutier island, is a harvest-time celebration of the bonnotte potato with dinner and music.
Mid May
The Jazz Festival of Saint-Gilles-Croix-de-Vie. Held in a former canned fish factory, this annual music celebrates new talent, as well as the big names.
What's on in June
5 Jun
Whit Monday. The end of the Christian season of Lent and a public holiday throughout the country.
Mid Jun
The Patrouille de France is a display of aerial stunts, helicopter ballet and a showcase of vintage aircraft. Locations and dates vary.
21 Jun
The Music Festival lights up Île d'Yeu, an island just off the coast, with incredible costumes, mesmerising dance routines and fire shows.
25 Jun
Epine's Flower Festival returns with its colourful parade of floats and a carnival with rides.
What's on in July
Throughout the month, Saint-Malô-du-Bois welcomes the annual Festival de Poupet – attracting around 3,000 music fans, with music from all genres.
14 Jul
La Fête Nationale on Bastille Day commemorates the start of the French Revolution.
30 Jul
The Feast of Bouse is a showcase of rural life with flea markets and craft fairs, as well as a celebration of traditions such as butter making and wheat threshing.
End Jul
The Medieval Festival of Lusignan, Vouvant, is two days of fighting knights, with the chance to learn medieval crafts and enjoy an evening banquet.
What's on in August
13 Aug
The Feast of the Donkey and Horse in Triaize is a family-friendly day out with donkey and horse races, pony rides and fireworks to end the day.
13 Aug
The Feast of Port Morin, a long-standing annual event, is another day of fun for families. Get competitive at boules, let the little ones enjoy the bouncy castle and end the day with an orchestra and fireworks, whilst sampling the local seafood.
14 Aug
The Fête de la Mogette in Poiré-sur-Vie attracts thousands of people for the threshing of the mogette white beans.
15 Aug
Assumption Day. The Roman Catholic celebration of Mary, mother of Christ, being taken to Heaven sees banks and many business closed.
What's on in September
End Sep
For three days, classic British sports cars descend on Les Sables d'Olonne.
End Sep
Caval'Océane is an equestrian event that takes places on the sands of Saint-Jean-de-Monts at low tide. Expect to see show jumping, pony rides and a stunt show.
What's on in October
1 Oct
The Fête de la Citrouille is a celebration of oversized fruits and vegetables – be astounded by the entrants for the largest pumpkin competition.
8 Oct
Les Brouzil's Foire à la Mogette revives the agricultural traditions of Vendée – from a parade of floats, to singers and dancers, but the stars of the festival are the large pots of mogettes mijoteront (bean stew) consumed around the campfire.