Things to do in Meganissi
Things to do in Meganissi
It may not have the high profile of its neighbouring Greek Islands, but magical Meganissi draws visitors back year after year. Here's our guide to long lazy days on the tiny "Big Island".
In such a sleepy, timeless sort of place as Meganissi, the days take shape according to your mood and appetite. There are no resorts – just the tiny harbours of Spilia, Atherinos Bay and Vathy, with good-quality tavernas for the yachting flotilla and fishing boats that moor up daily. Many of the stunning little beaches are accessible only by boat or on foot and you can fill lazy days exploring at your own pace, welcomed with a smiling "Kalimera" here and there as you encounter the friendly locals.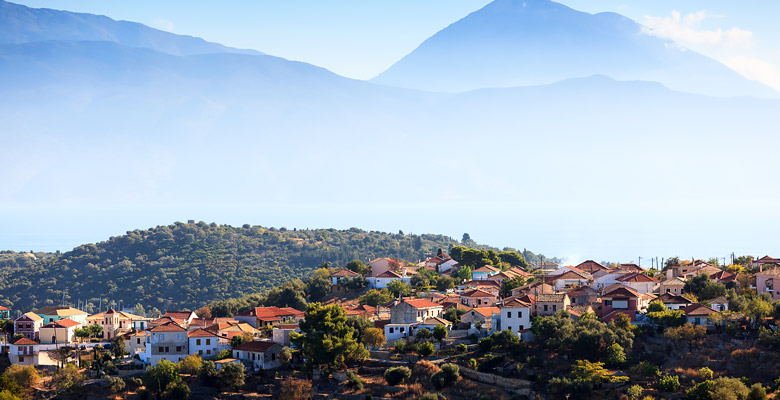 Walking and wandering
Walking here means exploring the narrow streets of the island's three traditional villages (Vathy, Katomeri and Spartochori), slipping into peaceful churches, cooling off at the beach and maybe joining in the lively celebrations of a Name Day. For a lovely morning or evening stroll through the olive groves, take the cobbled road up to Katomeri from Vathy Bay, just behind the bakery. Or, if you head around the harbour in Vathy Bay, past the patisserie, you'll spot the submerged remains of an aeroplane that crashed into the sea in 1972.
For a shortcut into Meganissi's history, join a guided island tour, which includes a visit to a winery and the olive oil press in Katomeri village. There are also weekly group trips over to Kastos and Kalamos. Customise yours to include lunch, evening dinner stops or daytime walking to discover the islands – and look out for the dolphins gathering around the fish farms off the west coast of Kalamos.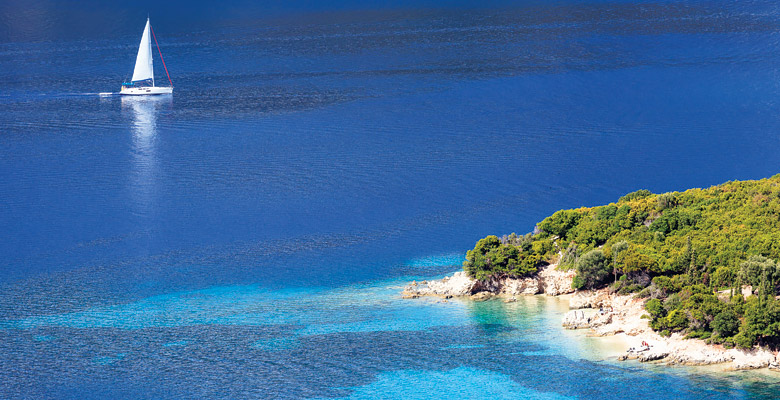 Messing about in boats
The Agios Dimitrios is a traditional Turkish gület, which seats up to 25. Many of our guests chose to book a private tour, often several times a holiday. It will take you round the island, or out to Kastos and Kalamos, with some long beach stop-offs and lunch on-board, cooked fresh by the captain's mother.
You can also hire your own boat from Vathy or Spilia Bay, with or without a skipper, to visit secluded, secret beaches and quiet bays, swimming and snorkelling along the way. Set your watch for lunch at one of the tavernas along the north or west coastline or the eastern coast of Lefkada.
Don't miss the vast chamber of Papanikolis Cave. The water inside is crystal clear and wonderfully cool and you can swim up to the small beach inside. It's believed to have hidden submarines during WWII, and provide shelter from storms for countless other craft across the centuries.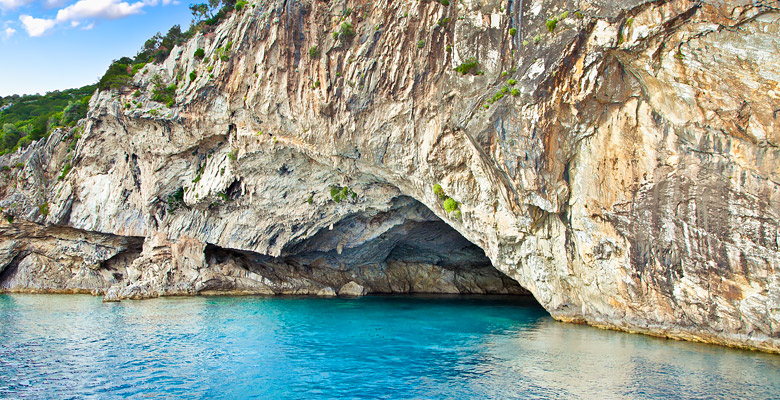 Paddleboarding and canoeing
For a more leisurely way to explore the coast, a canoeing company comes to Meganissi on demand during the summer months and, as well as coastal potterings, you can choose to do an overnight trip or longer; they're happy to create a personalised itinerary just for you.
Paddleboard cruises leave from Vathy and include a barbecue lunch on the beach. To slow the pace even more, while your nearest and dearest take to the water, you can simply relax on the boat and ignore the paddling part completely!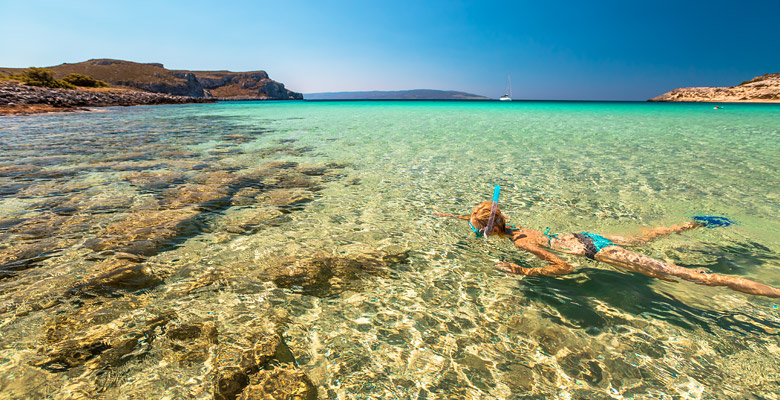 The diving experience
There are dive sites for beginners and experienced divers alike and the beautifully clear waters and intriguing underwater caves and caverns reveal a host of marine life, from octopuses to eels.
Lessons are provided by a local PADI centre from Nidri that travels to Meganissi on a weekly basis, depending on numbers (there's a minimum of three per group). The PADI Discover Scuba Diving Experience is open to almost anyone who is in good health, reasonably fit and comfortable in the water. It teaches the fundamentals of scuba diving and includes a practice dive in a swimming pool. Just make sure your holiday insurance covers you.
If you're happier without an aqualung, Zaganas Beach is a prime snorkelling spot, with a flourishing underwater ecosystem.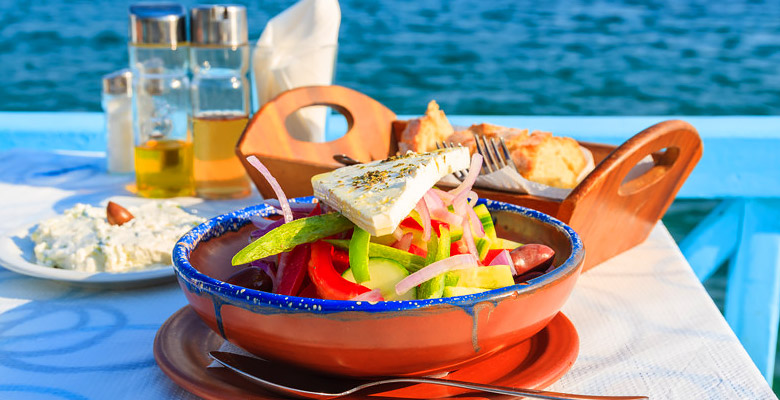 A traditional night out
Most of the restaurants and tavernas tend to be intimate affairs, ideal for a romantic dinner for two, but there are a couple of options if you feel like upping the pace a little. In Spartachori on Thursday nights, you can learn traditional Greek dance, whilst on Fridays you can hear live music in Katomeri, which normally includes a lively dance demonstration from the restaurant owners.
---
Learn to cook like a local: During quieter times of day, many of the tavernas are more than happy to share their recipes for your favourite Greek dishes. If you're staying in one of our villas, we can organise private cooking lessons in your own kitchen so you can return home with more than just a tan.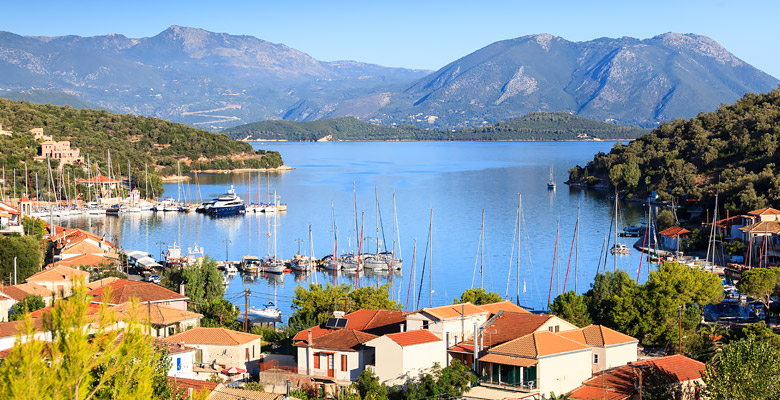 A change of scene

Nidri is the main resort on Lefkada, less than an hour's ferry ride from Meganissi. There are plenty of restaurants and water-based activities, and an easy walk to the Nidri Waterfalls near Rahi village (approximately 4km). You can also take a boat trip over to Ithaca, the romantic landscape of Homer's Odyssey.