Explore holidays in Palekastro & East Crete
If you prefer the great outdoors still largely unspoilt, Eastern Crete should be on your list. From picturesque walking trails to dramatic gorges, Blue Flag beaches to windsurfing hotspots, it offers nature both wild and peaceful – and a host of traditional villages scattered in between, including Palekastro.
Should you need to touch base with more contemporary pursuits, Crete's most easterly town, Sitia, will be happy to oblige with its shops, festival venue and restaurant-lined waterfront.
To base yourself in this ruggedly beautiful destination, visit our collection of handpicked villas in and around Palekastro and East Crete.
A selection of our holidays in Palekastro & East Crete
* Prices include seven nights' accommodation, flights and transfers/car hire, based on the lowest rate for maximum occupancy.
Our guide to Palekastro & East Crete
Introduction to Palekastro & East Crete
The warmest of the warm  
Off the beaten tourist track, there's a touch of desert landscapes about the most easterly quarters of Crete and also an accompanying warmth and openness about the people who live there – the most hospitable hosts of an extremely welcoming island. Away from the bustle of tourist centres, the cost of living is lower and there's an authenticity born of a community that has no vested interest in competing for tourist business – you'll find yourself embraced within the gentle flow of daily life that carries on whether you're there or not. But enjoys your company. 
Naturally scenic Lassithi  
Crete is divided into four prefectures and on your journey into its most easterly corners, you'll find yourself in Lassithi. Of the four, it's the least well known, yet there's much to explore here, from the relics of ancient civilisations to sandy coastlines lapped by turquoise seas. Xerokambos is often described as the most beautiful beach in Crete, but Vai comes a close second. This 1960s hippy hangout is one of the more organised beaches in the north and surrounded by the only palm forest in Europe. And then there are the mountains and numerous gorges – Ha, Richtis, Kato Zakros – beautiful scars in the landscape that invite both casual wanderers and serious scramblers to admire their wildness. 
Follow in the footsteps of ancients  
You won't find grand colonnades and soaring temples, but East Crete's Minoan ruins are awe-inspiring in their antiquity. Palekastro, Myrtos and Itanos all offer crumbling traces and lingering artefacts – pottery, coins, statuettes – testifying to the communities that once thrived here, over 3,000 years ago, and traded successfully across the Mediterranean, Egypt and southwest Asia. However, if history's not your thing, go for the views – and, in ancient Itanos, the rather magical experience of swimming over the ruins submerged off the beach nearby. 
From village to village  
East Crete isn't a place of busy towns; it runs on smaller, more intimate communities – rural life, agriculture, family-run tavernas, kafenions – although coastal villages, such as Palekastro and Makrigialos, have picked up the pace a little to accommodate their visitors. About half an hour from Palekastro lies picturesque Zakros, surrounded by olive and citrus groves, and a beautifully dramatic 15-minute drive from there, Kato Zakros. In an isolated, rugged spot on the coast, this fishing village has a beach and places to eat, as well as its own share of Minoan heritage. Meanwhile, 40 minutes inland from Palekastro, in a rugged landscape, you'll find Karydi and Sitanos surrounded by historic caves.
An epicentre of attractions  
Palekastro is used to being at the centre of things. The sprawling network of ruins at nearby Roussolakkos reflects its importance as a Minoan trading centre and, after that, the Venetians built a fortress here. Now, however, the village is resting on its laurels, and simply a starting point for many of east Crete's most memorable experiences. And that begins with the beaches, including Chiona, the Blue Flag Vai and Kouremenos, a laid-back windsurfing mecca. Hohlakies Gorge is just 5km away – a 90-minute walk that leads you to beautiful Karoumes Bay – or travel 8km inland for the imposing Toplou Monastery, now a place to pay homage to the monks' excellent raki. 
At a glance
Currency

Euros

Flight Time

4 hours

Time difference

+2 hours

Language

Greek

Visa required

Not for UK citizens
Food & drink
A taste of East Crete 
Of all the towns and villages in East Crete, it's the Venetian town of Sitia that has made a name for itself. Look out for the local omaties/omathies, pork stuffed with rice, liver, sultanas and spices and xygalo, a type of cream cheese. However it's the town's sweet tooth that wins out, specifically its unique take on sweet cakes and pastries, including a particularly light version of xerotigana, pastry spirals with honey that are also a traditional wedding dessert.
Otherwise, the menus in East Crete are typical of the island – a combination of simple flavours and quality, fresh ingredients with plenty of fragrant herbs, cheeses, wild greens (there are over 30 different varieties in the mountains) and, the most important ingredient of all, olive oil.
Cretan tipples 
Greece is synonymous with raki. This clear grape spirit, similar to Italian grappa, is potent stuff, but is usually served with savoury snacks or dessert. Alternatively, a glass of caramely, sweet Metaxa brandy rounds off a villa supper perfectly, especially when sipped under a star-filled sky.
Eating locally 
There's waterfront and harbourside dining in abundance throughout East Crete, including the excellent seafood tavernas in unspoilt Kato Zakros just metres from the pebble beach, or join the locals along Sitia's traditional seafront promenade – also home to the popular little tavernas known as rakadika – the places to try mezedes and raki.
Around Palekastro, you can breakfast on Kouremenos beach with the windsurfers or, if you're not a morning person, enjoy dinner in the village square, a buzzy local social scene. For a truly fishy treat, the Chiona Taverna near Palekastro has tables out on the rocks and the owner, also one of our villa owners, is a spear fisherman. This makes the catch of the day a truly personal affair.
Makrigialos is another foodie destination that shouldn't be ignored. There is a great selection of restaurants around the harbour and one just outside the town on the white sands of Diaskari beach.
Heading south, explore Myrtos, west of Ierapetra or the lovely taverna at the Kakkos Bay Hotel just a few minutes' walk from Ferma beach.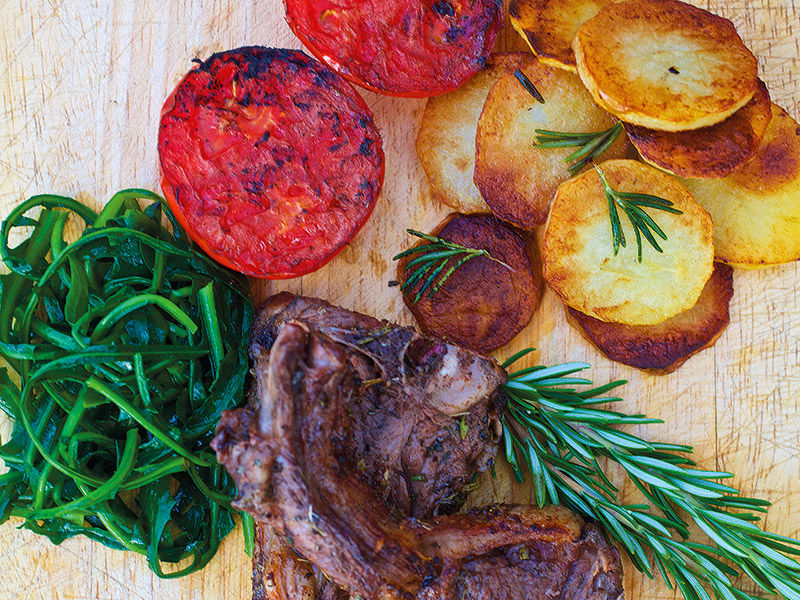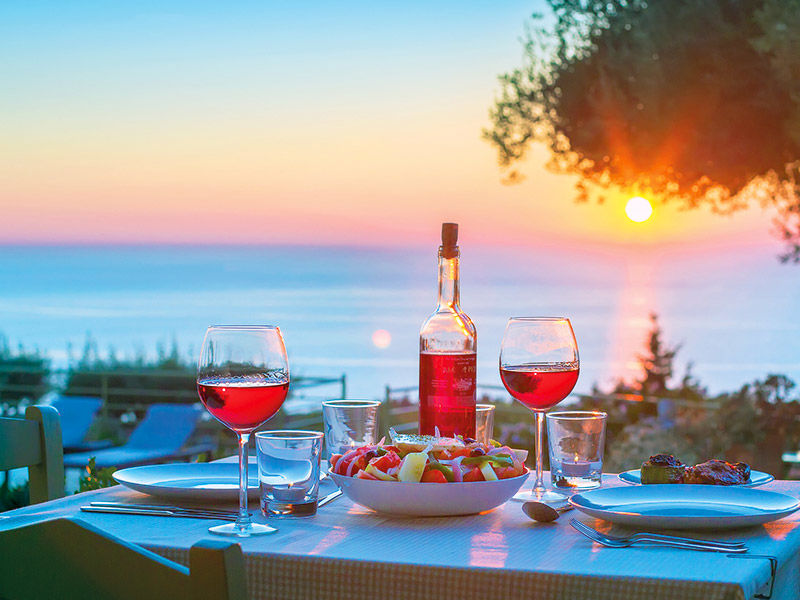 Beaches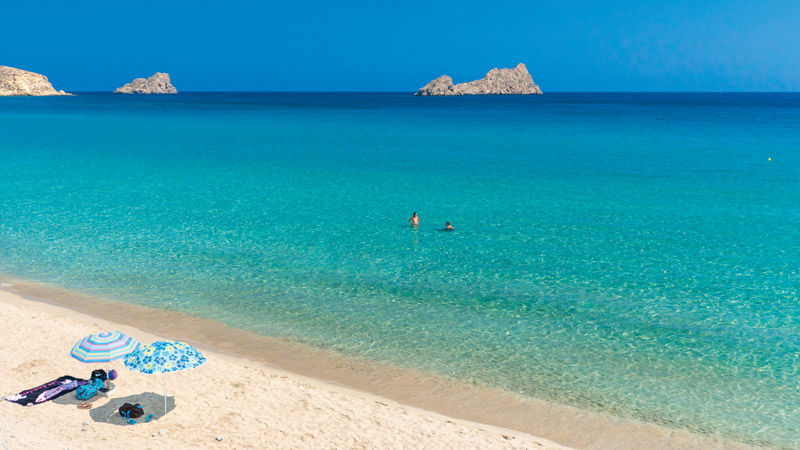 Xerokambos
There are several beaches around Xerokambos village, but this Caribbean-style stretch of coastline with its amazingly clear waters is the main one and one of the most beautiful in Crete. 
Getting there…
The beach is a 45-minute drive along a winding road from Palekastro, just over an hour from Sitia and 90 minutes from Ierapetra. 
Footnotes… 
There are parasols and sunbeds for hire and a number of bars and tavernas, but they're quite spread out along the beach, so you might prefer to take a picnic.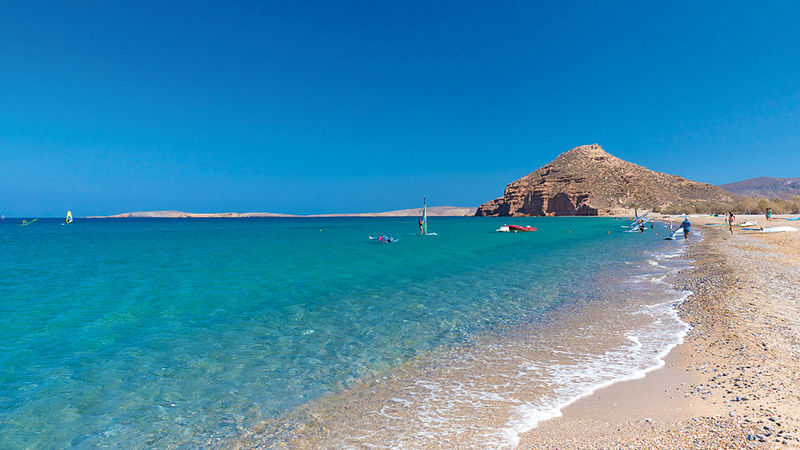 Kouremenos
This 1.5km stretch of dark sand and turquoise sea is Palekastro's 'north' beach and famous for windsurfing. There are also tavernas, a beach bar, hammocks, showers and parasols. 
Getting there… 
Turn north out of Palekastro and, after 2km there's a right turn towards the sea. The beach is 2km north-east of Palekastro.  
Footnotes… 
On Friday and Saturday nights, the laid beach bar holds a family-friendly beach party and occasionally the tavernas host wedding parties with traditional music until 1am.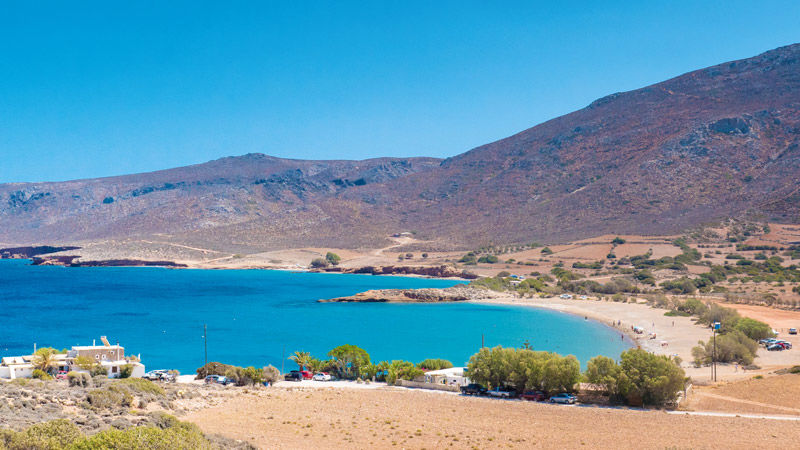 Chiona
This is Palekastro's tranquil 'south' beach – pale sand with tavernas and some sunbeds and parasols. East of the main stretch are a number of secluded coves, perfect for a quiet swim. 
Getting there… 
Chiona is 2km east of Palekastro, just south of Crete's own 'Table Mountain'. 
Footnotes… 
More sheltered from the summer north winds than nearby Kouremenos, this beach is also near the ruins of a significant Minoan settlement in Roussolakkos. 
Makrigialos (Hani or Long Beach)
Great for families, this well-organised 1km stretch of sandy coastline comes with sunbeds and parasols. Backed by hotels and apartments, there's also a harbour area bustling with cafés and fish tavernas.  
Getting there… 
The beach is about 10km from our Apothekis villas; an hour from Sitia and a 30-minute drive along the coast from Ierapetra. You'll find plenty of parking in the village centre.  
Footnotes… 
For those who like to be more active, there are watersports and volleyball matches held in the calm water.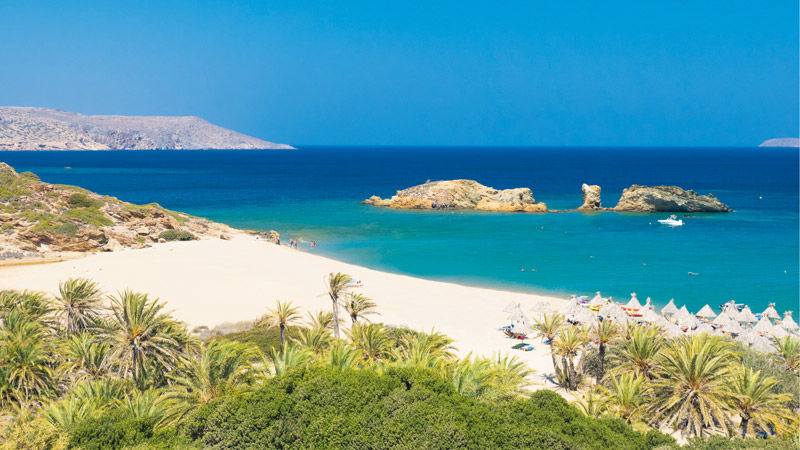 Vai
As one of Crete's most iconic beaches – and the location for the 1970s Bounty advert – Vai's white sands, flanked by protected palm trees, can get crowded. If you visit, be an early bird.  
Getting there…
The beach is a 15-minute drive north from Palekastro, with room for parking. 
Footnotes… 
You'll find all the necessary facilities, and near the junction before the beach there's also a popular kiosk selling bananas from the plantation, as well as other exotic fruits and natural sponges.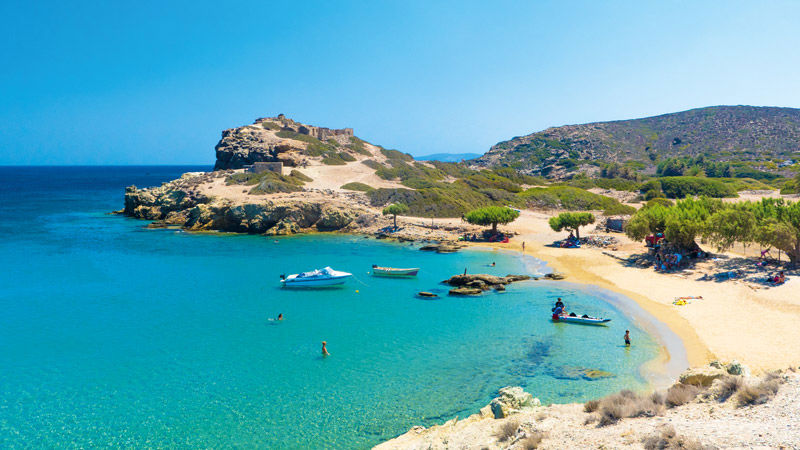 Itanos/Erimoupolis
There are three sandy beaches here, with a Minoan settlement in their midst. Stunning Erimoupolis is along the path up the hill and divided into two halves, one end popular with naturists.  
Getting there… 
Itanos is about a 20-minute drive nortth of Palekastro. Park at the archaeological site and walk down to the beaches.   
Footnotes… 
There are a number of paths leading from the parking area. Avoid the path closest to the sea as it takes you right along the cliff edge!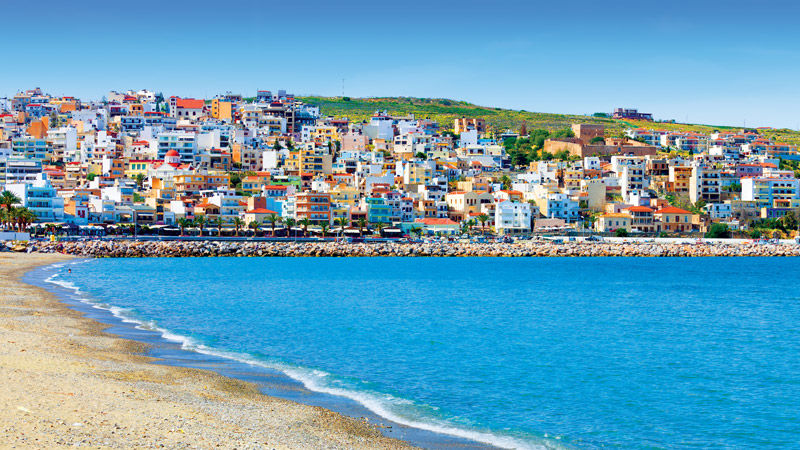 Sitia
A 2km stretch of beach, busy at the harbour end, but with plenty of space to spread out on the sand and shingle as you head away from the town. 
Getting there… 
Walk from the centre of Sitia or park up along the paved promenade. Sitia is a 20-minute drive from Palekastro 
Footnotes…
This Blue Flag beach is excellent for watersports (windsurfing in particular), and there are plenty of waterfront restaurants serving the town's famous xerotigana (crispy pastry spirals with honey).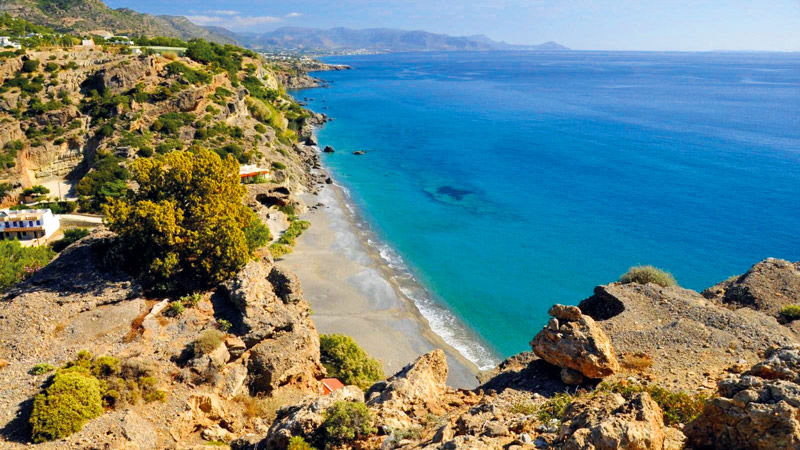 Agia Fotia
With a backdrop of mountains, this picturesque sand/pebble beach is popular with the locals and has parasols and sunbeds for hire, as well as cafés and restaurants.   
Getting there… 
Turn off the main road between Ierapetra and Makrigialos and make the steep descent. This beach is 13km east of Ierapetra. Parking is limited in high season. 
Footnotes… 
Agia Fotia means 'holy fire' and this beach, named after a nearby church, also has a cave which, centuries ago, was once a dwelling place.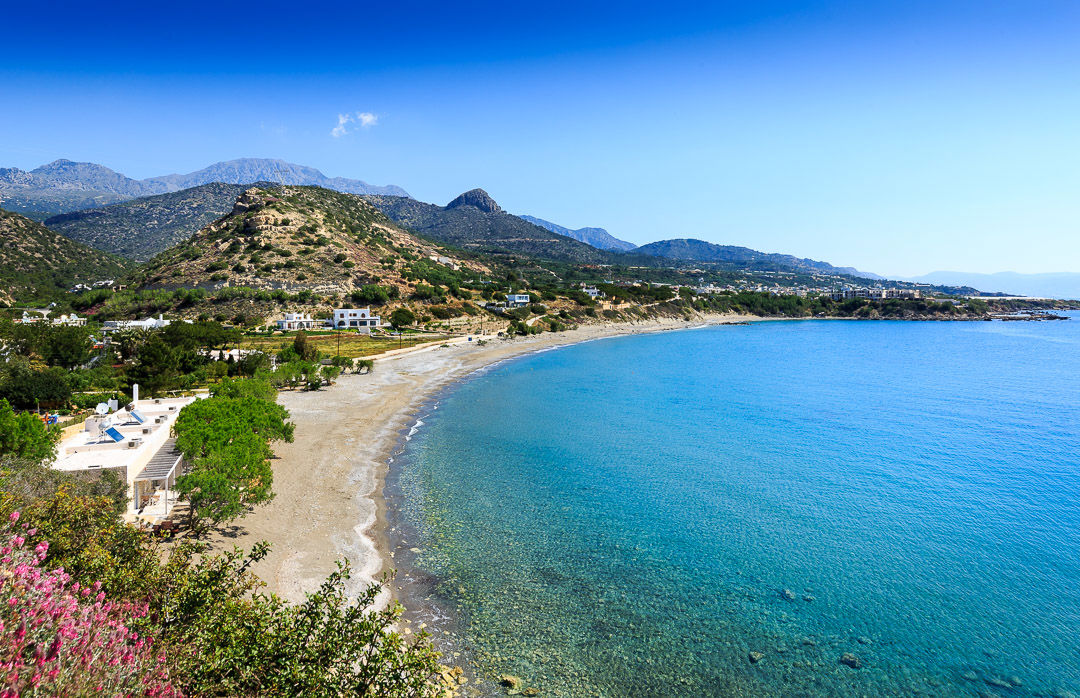 Ferma (Xerokamara)
An excellent snorkelling spot sheltered by cliffs, peaceful Ferma is the longest of several beaches in a surprisingly green area. It's made up of sand and small pebbles and slopes gently into crystal clear waters.  
Getting there…
This beach is 10km east of Ierapetra and has plenty of room for parking. 
Footnotes… 
You'll find all the essential amenities within walking distance and natural shade from the trees. Ferma is also home to our Apothikes Suites. 
Things to do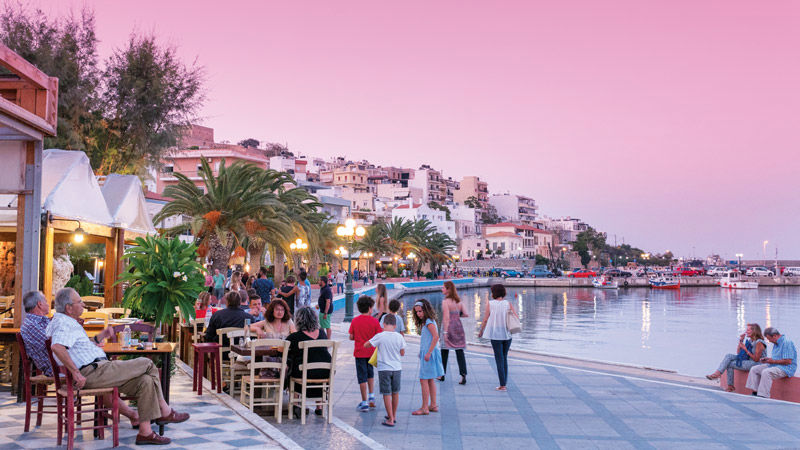 People watch in Sitia
Crete's most easterly town is authentic Greece at its most hospitable and comes alive from mid June to early September. There's a Venetian fortress turned festival venue, and the heart of town is along the restaurant-lined waterfront, where locals take their famous evening volta or stroll.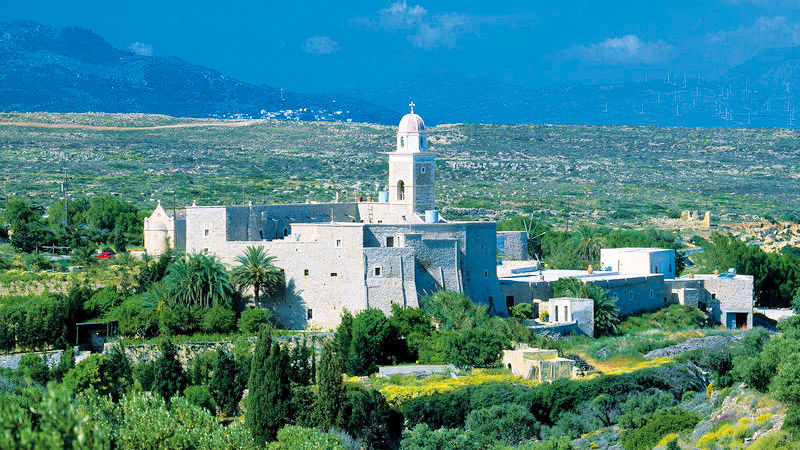 Relive the drama at Toplou Monastery
This 15th-century, fortified monastery, 20 minutes from Sitia, is one of the most significant in Crete, presiding over an estate with a very popular winery. Avoid the guided tours and enjoy the museum, church, beautiful inner courtyard – and wine tasting – at your own pace.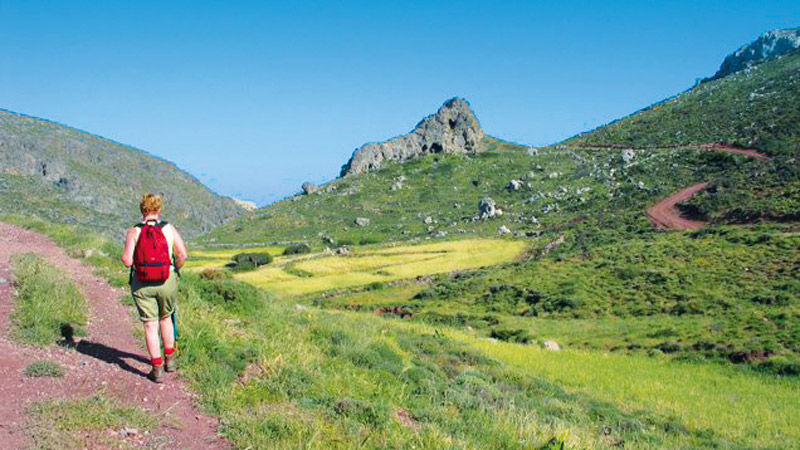 Find an unforgettable hike
Unspoilt villages, scenic coastal paths, ancient ruins and breathtaking mountain trails – exploring East Crete on foot offers plenty of rewards, not least the lovely beaches you're likely to find en route. Ask your Simpson Travel representative for some of the best walks.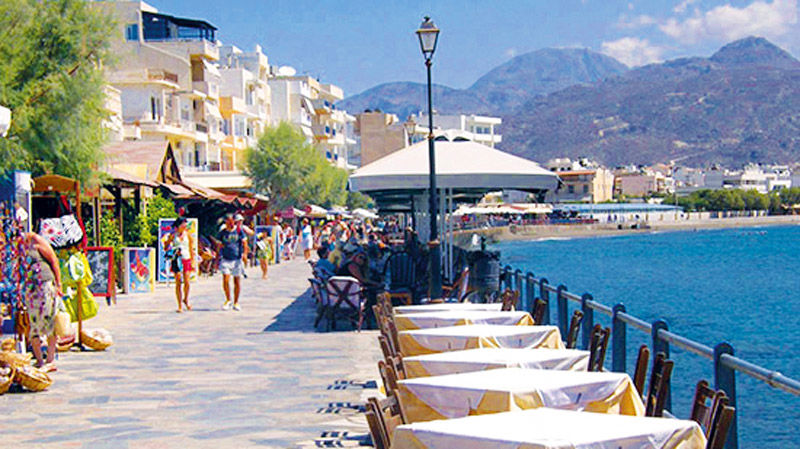 Head south for Ierapetra's sun
Claiming more sunshine than anywhere else in Crete, this working town isn't the prettiest, but it is full of life, with upmarket shops, cafés and restaurants and a Saturday market. Meanwhile, reminders of the past linger in its Venetian castle, Turkish minaret and archaeological museum.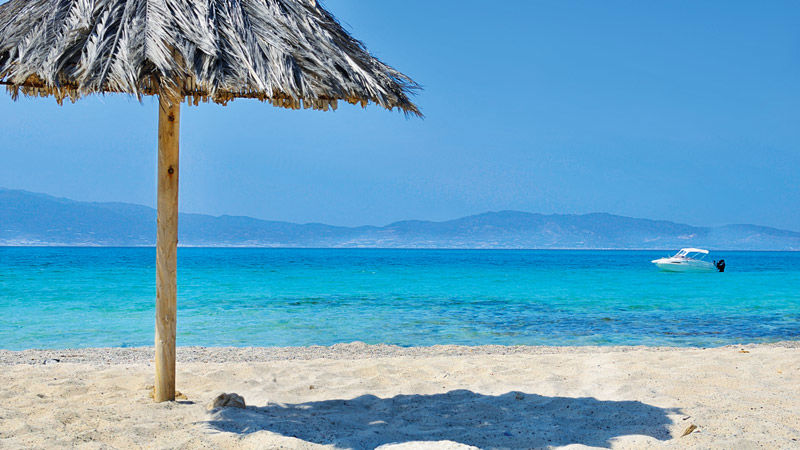 Escape to a 'tropical' island
Partially covered in cedar trees, Gaïdouronisi (Hrysi/Chrissi) Island has a taverna and beach bar overlooking turquoise waters, with sunbeds on the white sand-and-shell beach. It's just an hour by boat from Ierapetra and even when it's busy, you can find a quiet spot.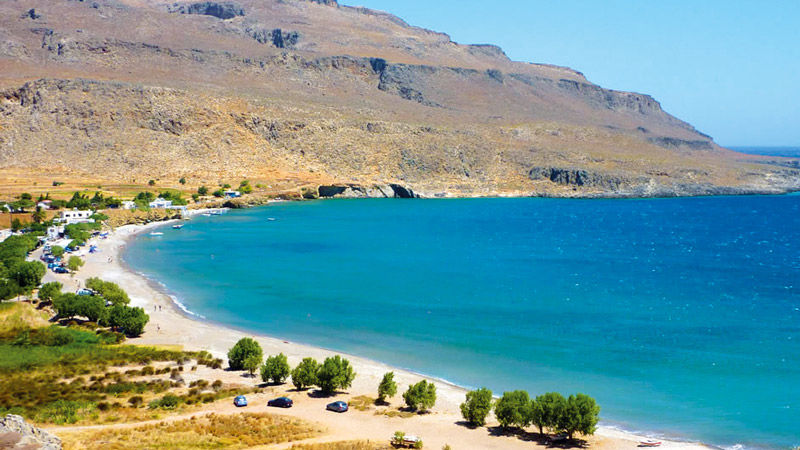 Find journey's end in Kato Zakros
A walk through the Gorge of the Dead will lead you to this little village. Follow the E4 European Walking Path across Crete; the same applies – and a welcome awaits you in the form of friendly tavernas, a pebbly beach and an ancient Minoan palace.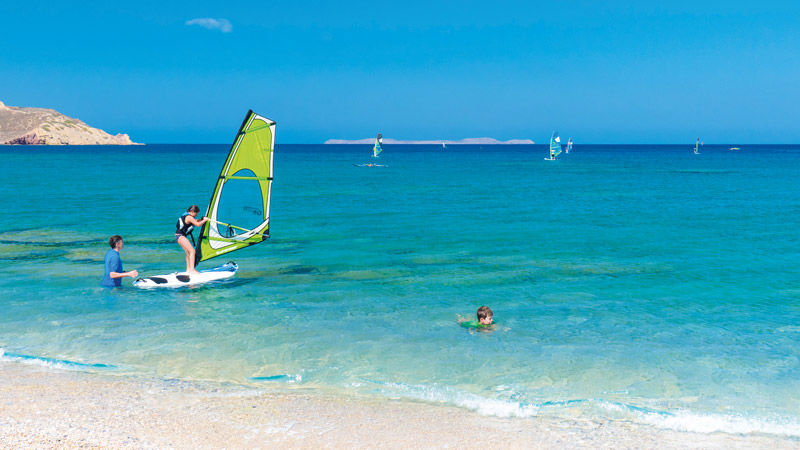 Catch the breeze near Palekastro
Beautiful Kouremenos beach is a mecca for kite and windsurfers. Lessons are available for all ages and abilities at the renowned windsurfing school – or just enjoy the laid-back vibe at the beach bar, which also holds a family-friendly party on Friday or Saturday night.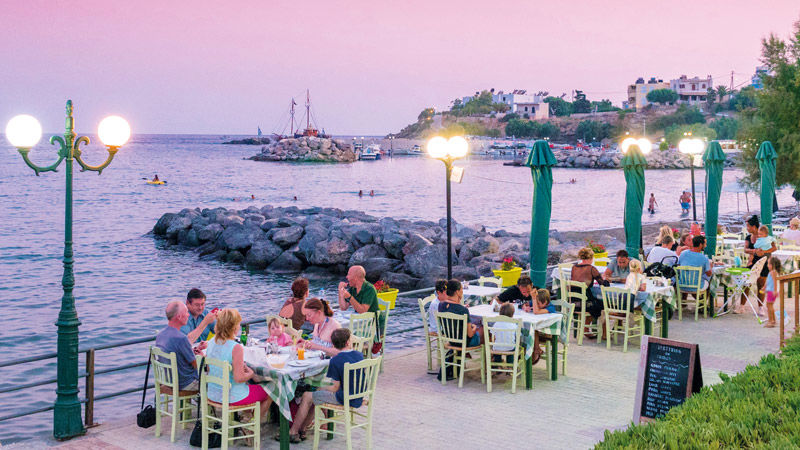 While away a day in Makrigialos
Relaxed, welcoming and with a vibrant nightlife, this village resort (also known as Makry Gialos) offers more than golden sands and crystal clear waters. The picturesque harbour is perfect for strolling and there's a peaceful fresh-fish supper awaiting you on the waterfront.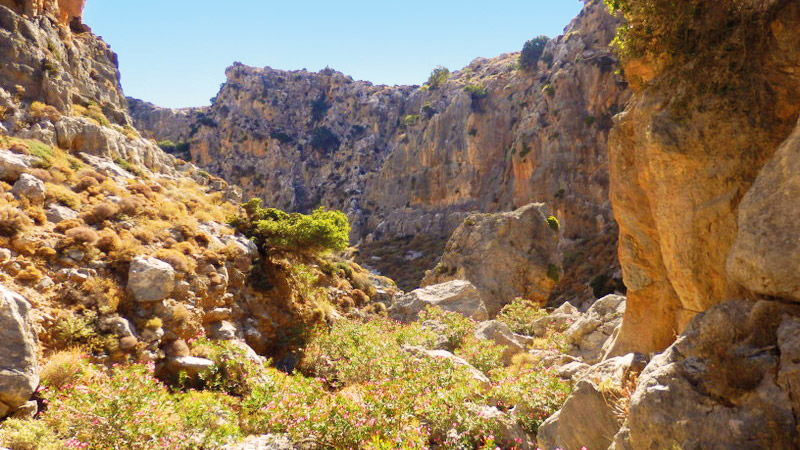 Walk the Perivolakia Gorge
About four hours there and back, Perivolakia Gorge is a lovely walk just 7km from Makrigialos. At one end, it's dominated by the working Kapsa Monastery built into the rocky hillside. Used by the Allies during WWII, it has stunning sea views and a bloody history. 
Helpful phrases
| | |
| --- | --- |
| Hello | Γεια σou (Ya soo) Informal, Χαίρετε (He-re-teh) Formal |
| Goodbye | Γεια σου (Ya soo) Informal, Γειά σας (Ya sas) Formal |
| Please | Παpακαλώ (Pa-ra-ka-lo) |
| Thank you | Eυχαpιστώ (Ef-ha-ri-sto) |
| Yes | Ναι (Neh) |
| No | Οχι (o-hee) |
| How are you? | Tι κάvεις; (Tee ka-nis?) Informal, Τι κάνετε; (Τee ka-ne-teh?) Formal |
| I'm fine, thank you | Είμαι καλά, ευχαριστώ. (Ee-meh ka-la, ef-ha-ri-sto) |
| I don't understand | Δεν καταλαβαίνω. (Then ka-ta-la-veh-no) |
| Do you speak English? | Μιλάς αγγλικά; (Mi-las an-glee-ka?) |
| My name is... | To όvoμά μoυ είναι... (To o-no-ma moo ee-neh…) |
| The bill please | Toν λογαριασμό, παρακαλώ. (Ton lo-ga-ree-as-mo, pa-ra-ka-lo) |
| How much is it? | Πόσο κάνει; (Po-so ka-ni?) |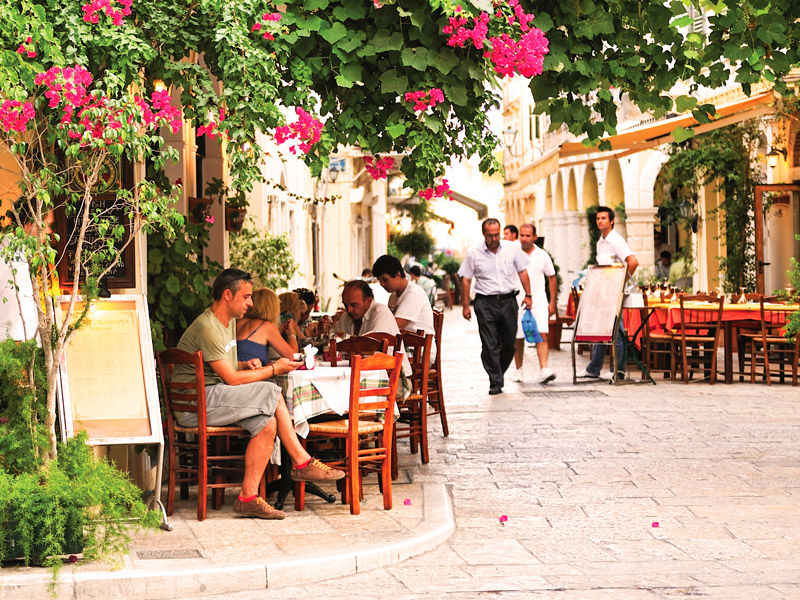 Events
Easter is the biggest event on the Greek calendar, marked by traditional processions, masses and feasting. The date changes each year and is often later than in the UK.
What's on in April
23 Apr
Feast of St George, the patron saint of shepherds and the military, is celebrated with sheep-shearing contests and feasting.
What's on in May
1 May
Labour Day is a public holiday, celebrated with picnics and the gathering of spring flowers. Many shops close but restaurants remain open.
What's on in June
Jun to Sep
Agios Nikolaos' Lato Festival peaks in July and August and offers a series of traditional and modern performances from local and international musicians.
What's on in July
Jul/Aug
The Kyrvia Festival in Ierapetra is a celebration of theatre, film and music, along with performances from local folk groups and singing and dancing in the streets of the Old Town.
Jul-Aug
Sitia's Kornaria Festival hosts a programme of folk dancing, music and theatre events, as well as art exhibits and races in honour of Sitia's great poet, Vitsentzos Kornaros.
What's on in August
Aug (dates vary)
In Kritsa village, one willing couple open their traditional marriage celebrations to the public. There's a procession and plenty of singing and dancing.
15 Aug
Assumption of the Virgin Mary (Apo Kimisis tis Panagia). The biggest religious holiday after Easter is celebrated with gusto in almost every town in Greece.
The last week in Aug
The annual Sultana Raisin Festival in Sitia, marking the start of the grape harvest, accompanied, of course, by wine, music and dancing.
Three days at the end of Aug
The Potato Festival in Tzermiado aims to promote the quality of local produce with music, dancing, food, wine and an award for the largest potato.
What's on in September
8 Sep
The Virgin Mary's birthday (Genisis tis Panangias) is celebrated throughout Greece with religious services and much feasting.
What's on in October
28 Oct
'Oxi' Day ('No' Day) celebrates the Greek refusal of Italian occupation during WWII with marches, parades and much flag flying.
The Road Less Travelled
We asked our local representatives around Palekastro and East Creteto share a few of their favourite 'off the beaten track' experiences. Here are some of their suggestions…
See the sun rise over Palekastro 
Palekastro was named after the hill that rises on its eastern side, once the site of a Venetian fortress. The fort is long gone, but an early morning walk up to the top of that hill, just 30 minutes from the beaches of Chiona and Kouremenos, offers a unique perspective on the scattering of traditional houses and glorious coastline below. 
Put on a mud pack at Argilos 
West of Xerokambos, below a church, you'll find this new-moon crescent of a bay. It's named after the clay that's found here, which is said to cleanse and soften the skin. So smooth it on and let it bake dry in the sun before you wash it off in the sea. At the very least you have a photo opportunity.  
Take the high road 
The hour-long drive between Xerokambos and Makrigialos beaches allows you to experience a version of Crete that very few people have the privilege of knowing. Hairpin bends come with stunning views across the mountains and spectacular blue sea – and with so little traffic on the road, you can enjoy the privilege of having them all to yourselves. 
Hike the Richtis Gorge 
Following breakfast in Exo Mouliana just west of Sitia, your descent into the gorge begins surrounded by the butterflies and wild flowers of protected parkland. Ultimately, after a 45-minute walk, you'll reach secluded Richtis beach, but take time to enjoy the waterfall (most impressive in spring or early summer) and the small lake for a cooling dip en route.