UNESCO sites: Liguria
Italy has more UNESCO World Heritage sites than any other country in the world, and two of them are in Liguria, one of its smallest regions. From imposing palazzi to one of the most iconic images in Italy, each provides a unique connection to the history of the region.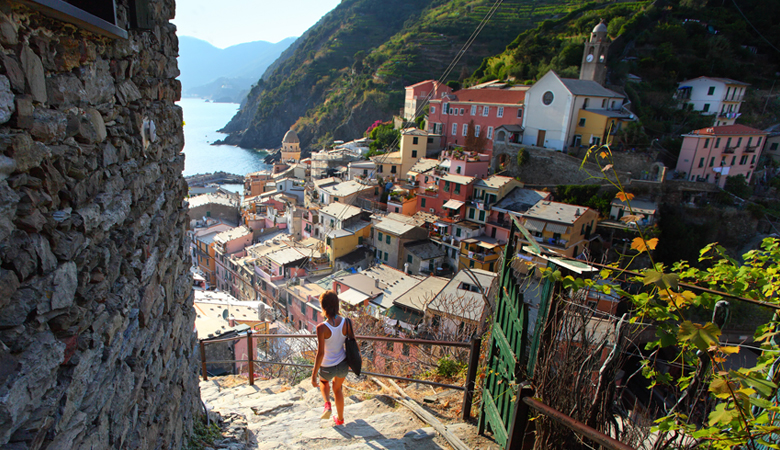 Cinque Terre
The first site is one of Italy's most distinctive and photogenic, a 15km stretch of precipitous coastline stretching between Cinque Terre and Portovenere along the so-called Italian Riviera. Tucked away into the cliffs, and almost entirely isolated from the outside world until the 1960s, are five medieval villages: Monterosso, Vernazza, Corniglia, Manarola and Riomaggiore. The UNESCO Committee granted World Heritage status to the area in 1997, recognizing it as a 'cultural site of outstanding value, representing the harmonious interaction between people and nature to produce a landscape of exceptional scenic quality that illustrates a traditional way of life that has existed for a thousand years and continues to play an important socio-economic role in the life of the community.'
Exceptionally scenic
Today's visitors are more likely to be struck by the 'exceptional scenic quality' than the 'traditional way of life' as these former fishing villages now earn their keep from the pretty cafés and artisan shops that nestle into the pastel-painted buildings. However, if anything this seems only to add to the appeal of the site, which is also an Italian national park, criss-crossed by old mule tracks which were the only land-based way to get from village to village before the railway lines connected them. The paths are now sign-posted for hikers as the Sentiero Azzuro, a route running between all five villages that can be completed in around five hours, although most people take a day more to do it to allow for village visits. Despite the terrain, these paths are pretty flat (clever creatures, those mules) yet offer glorious views and a pleasing connection to a time when the routes were walked for necessity rather than leisure.


Getting there
Even if you're not planning on hiking then you'll need to be prepared for a bit of walking round the narrow steep streets. A car is more of a hindrance than a help here as you cannot drive in any of the villages, so it's best to hop on one of the convenient services from Genoa or La Spezia and arrive relaxed and perhaps enjoy a glass of good Italian wine with lunch.
There has been much speculation about trying to limit daily visitor numbers to the Cinque Terre, such is the popularity of this unique and stunning stretch of coastline, but as yet (July 2017) no tickets or booking are required, so be careful not to fall victim to anyone trying to sell you 'entry'!
UNESCO in Genoa
If you happen to be taking the train from Genoa, you might also want to check out UNESCO site number two, the rather less well-known Strade Nuove and its grand Palazzi dei Rolli. The palaces date from a time when the Republic of Genoa was at its height as a sea-faring and trading power, and the buildings were used to accommodate important visiting aristocrats, dignitaries and wealthy traders, effectively turning private residences into public lodging by state decree. Each residence was named on an official list or 'roll' of palaces (the 'Rolli') and important visitors would be allocated accommodation in one of these residences whilst they stayed in Genoa. Some are Baroque, others Renaissance but they are almost all vast, intended to create a very public declaration of wealth and status both for the owners and the Republic of Genoa. Thanks to UNESCO protection and investment, the palaces have been beautifully restored, and it's possible to tour both the outside and the interiors of many for an interesting glimpse into the city's rich past.