Explore holidays in Sivota & Epirus
Unspoilt Sivota sits prettily in its own natural harbour just across the water from Corfu. A short walk away you'll find two pristine sand-and-pebble beaches, with more to enjoy on the uninhabited islands offshore. The whole Epirus region lies on the doorstep, ripe for exploration. Take a day to discover the bridges and slate villages of Zagoria, hike the extraordinary Vikos Gorge, taste the best local fizz produced in the Pindus mountains or find out how the people of bustling Parga lived pre-tourism with a visit to its fascinating old olive oil press.
For couples, families and groups we offer a selection of handpicked luxury villas and stylish Simpson Hotels to help you make the most of your luxury holiday in Sivota.
---

Explore our pre-bookable experiences in Sivota & Epirus
---
A selection of our holidays in Sivota & Epirus
* Prices include seven nights' accommodation, flights and transfers/car hire, based on the lowest rate for maximum occupancy.
Our guide to Sivota & Epirus
Introduction to Sivota & Epirus
Alone time with you and yours
Few places sum up peace and quiet like Epirus – a rugged, wildly beautiful corner of Greece. Tucked neatly between the Pindus Mountains to the east and the clear, turquoise of the Ionian Sea to the west, it's one of the least visited parts of Greece – and elusive tranquillity, whether you discover it on a deserted beach, in an abandoned village or across a magnificent gorge, is very much a given here.
The coastline is punctuated by picturesque harbours, hidden coves and long sandy beaches, and the handsome villages of Zagoria are nestled into one of the last true, natural wildernesses of Europe. There are many to choose from, but highlights include Monodendri, at the trailhead for Vikos Gorge, and Vitsa on the edge of the Vikos-Aoos park.
Coastal path to mountain pass
The compactness of this region means you don't have to choose between sea and alpine air – you can have both. Rugged bays play out a lulling soundtrack of gently breaking waves as little boats come and go, bobbing their way to quiet inlets and secret coves. 
The inland villages, with their hairpin bends, stone-arched bridges and blissful sense of solitude are as accessible to the leisurely rambler as they are the hardcore hiker, with breathtaking views, hearty home cooking and fine architecture all on the menu. For a more strenuous challenge, the 8-mile long trail through the mighty Vikos Gorge is considered one of the most rewarding in Greece, but if you just want to take photos, there are wonderful view points in the hills around.
A little bit of buzz
Sivota harbour by night feels just right: not too quiet and not too crowded, but with just enough little shops, good quality tavernas and music bars for all tastes. And there's the visiting flotilla craft to add some coming and going to the twinkling waterfront atmosphere.
The nightlife here revolves more around relaxing over a long, leisurely dinner with old friends and local wines, or just watching the world go by, than dancing till dawn – something which is clearly appreciated by the select gathering of loyal visitors who return year after year to soak up the easy vibe.
Myths and history
The Orcacle of Zeus at Dodoni is one of the oldest in Greece, and in its time was second only to Delphi as a place of spiritual importance. Today it's well off any beaten track, with just a handful of visitors most days.
The Acheron River was, as legend has it, the route by which the souls of the dead were transported into Hades, but today it's a heavenly spot to discover on foot or horseback. During a refreshing paddle on the waters of Lakes Drakolimni of Gamila and Smolikas, you might spot a rare alpine newt, said to be the descendants of two quarrelsome dragons who fought on their shores. And Molossoi, the verdant stomping ground of keen hikers, was the fabled birthplace of the grandson of Achilles from Troy.
A neighbourly invitation
Once you've soaked up the low-key vibes of sleepy Sivota and time-stood-still Zagoria, more adventures lie in wait on the horizon. Both Corfu, with its UNESCO listed Old Town, and the quintessentially Greek islands of Paxos and Antipaxos are easy and rewarding day trips from Epirus. Or if you haven't packed your sea legs, the miniature islets just off Sivota – some you can wade out to – offer another way to inject that island feeling into your holiday.
But if land travel is more your style, a guided tour to Albania serves up archaeological sites in a stunning natural setting.
At a glance
Currency

Euros

Flight Time

3 hours 15 minutes to Corfu

Time difference

+ 2 hours

Language

Greek

Visa required

Not for UK citizens
Food & drink
A taste of Epirus
The local cuisine offers a typically Greek combination of simple flavours, home-grown produce and fruits of the sea to create one of the world's healthiest diets – food that's easily enjoyed from the terrace of your villa with a view to die for and skin still warm from the sun. A variety of small mezedes starts the proceedings. These divine dips include soft-roasted aubergine mashed with garlic, tangy feta cheese whipped with chilli, stuffed vine leaves and courgette flowers. The freshest meat and fish follow, cooked simply on the grill or baked to perfection. It is unthinkable to eat without a bowl of fresh salad drenched in olive oil; always seasonal and with few ingredients to ensure the taste of each shines.
Epirus tipples
Although ouzo is Greece's best-known tipple, you're certain to come across Tsipouro (or raki). This clear grape spirit is potent stuff, typically served as a digestif.
A glass or two of caramely, sweet Metaxa brandy rounds off a supper perfectly, especially sipped under a star-filled sky to a soundtrack of crickets.
Eating locally
Epirus cuisine is typically Mediterranean, based around simple, traditional recipes made with local ingredients, usually sourced within a few kilometres of your plate. Sivota's coastline offers a generous choice of fish tavernas, each furnished with its own personal fisherman (often the owner) who supplies the catch of the day. Sivota's harbour is a particularly special place to eat – the daily fish served fresh from the grill, by the kilo, and accompanied with the coming and going of the yachts and sailing boats. Though wine is sold by the glass or bottle, the local way is to order by the kilo, and it's often served with soda water.
Up in the mountains, the larger villages of Zagoria are renowned for their authentic cuisine and hearty home cooking. Try Papigo or Monodendri, where many of the formerly deserted stone mansion houses have been converted into restaurants ranging from the rustic to the chic. When eating out, ordering a mix of mezedes can work out better value than a main dish, especially if there are children at the table.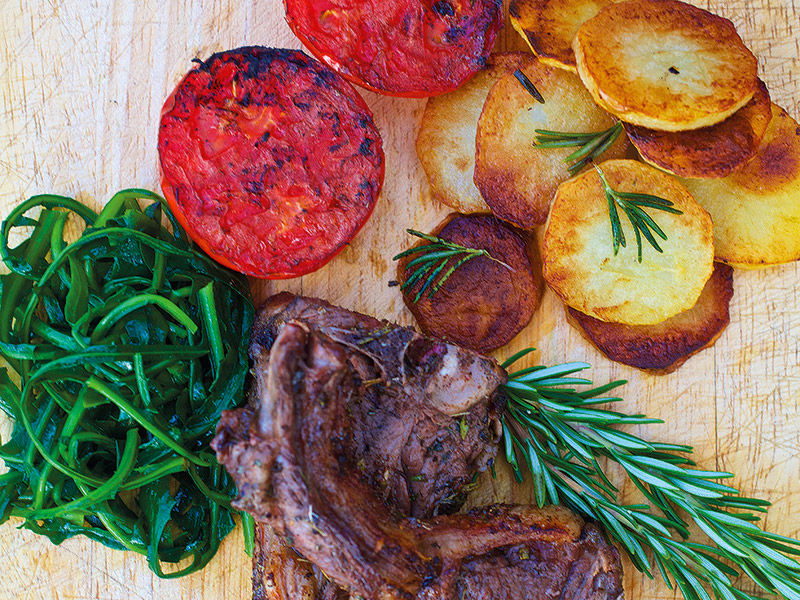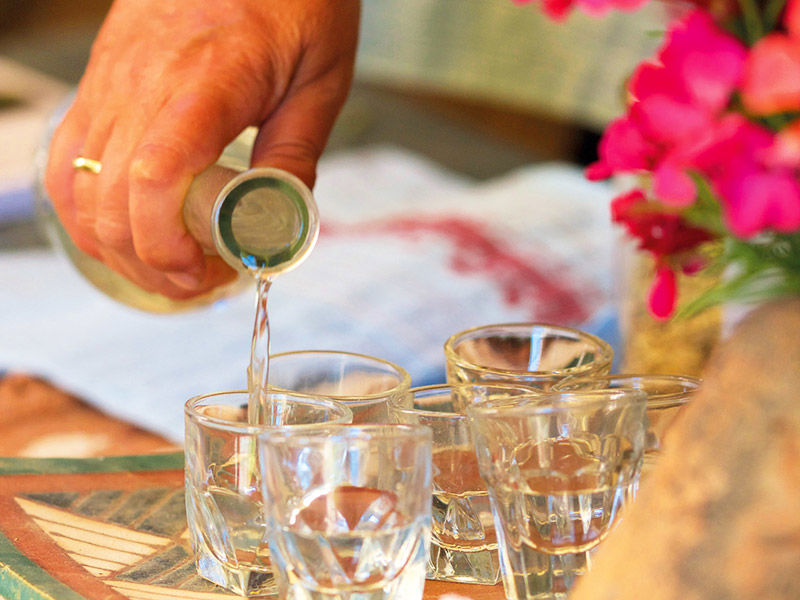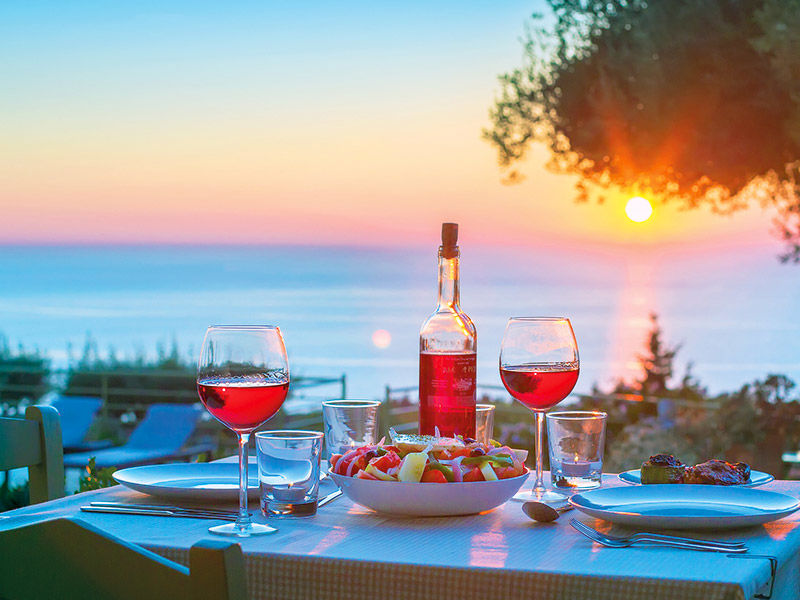 Beaches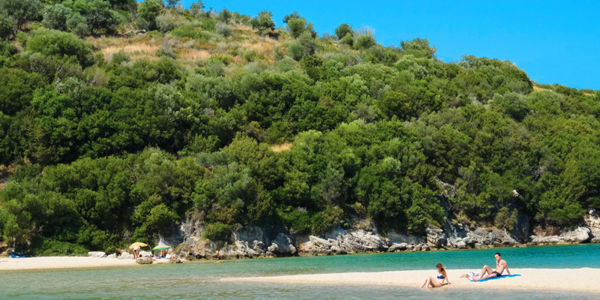 Bella Vraka
Wild and rugged – you might spot a goat or two! – this white sand-shingle beach backs onto the Mourtemeno islet's dense forest. There are no facilities but you can hire kayaks.
Getting there…
The turquoise waters are very shallow so you can wade out from the mainland – it's advisable to take sea shoes.
Footnotes…
Its exotic charms make Bella Vraka very popular indeed, though the crowds generally disperse by sunset – a lovely time to row out with a picnic and watch the magic unfold.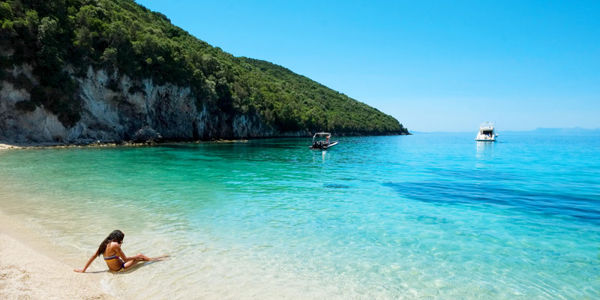 Piscina
The most famous of Sivota's islet beaches due to its intensely blue water. It's as beautifully calm as a swimming pool, from where it takes its name.
Getting there…
Take the hourly water taxi or hire a boat to claim your own patch of turquoise water. 
Footnotes…
There are no facilities so, if you plan to spend a day, take water and a picnic. If you're boating there, stop off at the caves near the Mavronomos islet.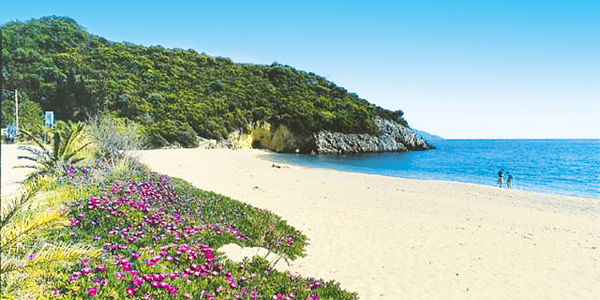 Mega Ammos
A mixture of sand, shingle and pebble, this beautiful wide beach is the most organised in the area, with cool turquoise waters, watersports and a good choice of seafood tavernas.
Getting there…
On the outskirts of Sivota village, you'll find Mega and Mikri (small neighbouring bay) Ammos on the road towards Perdika.
Footnotes…
Hire canoes, water cycles and water skis or, for a change of scene, move one bay along to Mikri Ammos ('small sands'), an organised beach within a small blue cove.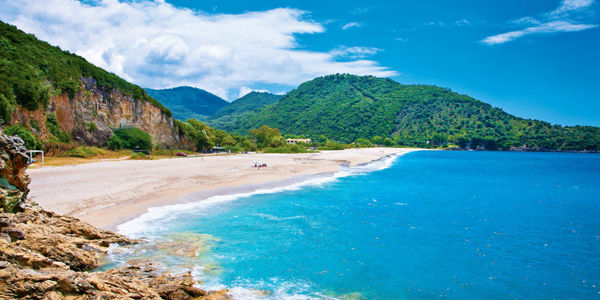 Karavostasi
Described by The Telegraph as "one of the best unsung beaches in Europe", these soft tawny sands stretch for 500m along a cliff face of steep rock and verdant verges.
Getting there…
Tucked away several kilometres off the coastal highway between Sivota and Parga, directly ahead from the southern tip of Corfu.
Footnotes…
A steep shelf in the water means care should be taken when swimming with young children. Hike up the southerly stair-path to roam around the excavated 4th-century town of Dymókastro.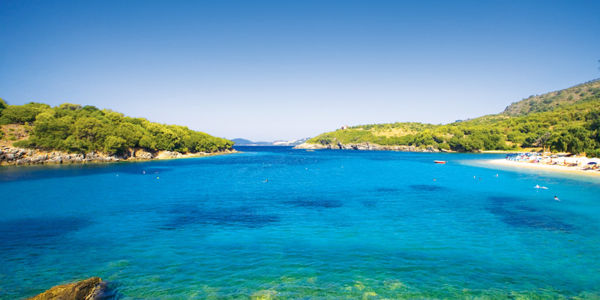 Agia Paraskevi
A lovely pebbly beach with comfy sunloungers and a small island you can swim out to. The waves are great for children, though the beach shelves about 20m out.
Getting there…
A little further on from Mega Ammos, continue onwards to Perdika and find the beach outside the Skiathos Princess Hotel.
Footnotes…
There are cool currents here where the water rises, and plenty of little rocky inlets, making it a good place for snorkelling. The hotel taverna provides snacks and drinks.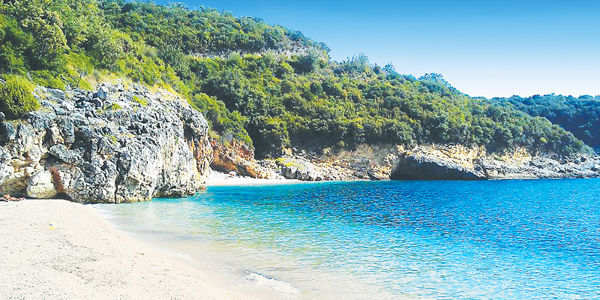 Mega Drafi
A firm favourite with the locals, this part sandy, part pebbly beach has crystalline waters, a small, stylish café bar for lunch and a deep shoreline perfect for experienced swimmers.
Getting there…
Close to Sivota village and 10km from Perdika, Mega Drafi lies midway between beaches Mikri Ammos and Agia Paraskevi.
Footnotes…
Surrounded by grottos and small caves, this is a lovely little bay to explore with a snorkel and a serene place to just relax. Sunbeds and parasols are available in summer.
Things to do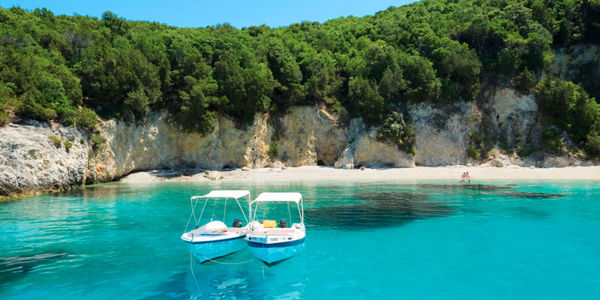 Captain your own sea adventure
All sorts of boating excursions and island hop charters leave from Sivota's harbour. If you're confident handling your own motorboat, you can hire one here and potter around the coastline and Sivota's islets at your own leisurely pace.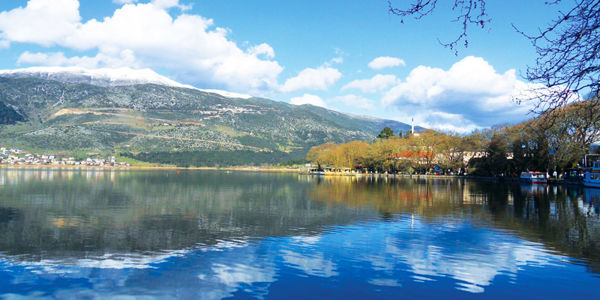 A day trip to the capital
Ioannina, the capital of Epirus on the shores of the beautiful Lake Pamvotida, is a 90-minute drive from Sivota. There's plenty of fascinating history to explore, including the Cathedral of St Athanasius and an impressive 6th-century castle.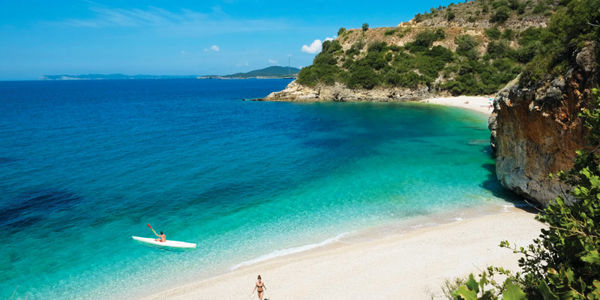 Take a beach safari
Many of our recommended beaches lie snugly side-by-side along the unspoilt Epirus coast. Jump in the car and stop at pretty harbours, hidden coves and sandy beaches – some wild, others beautifully organised – to find your favourite.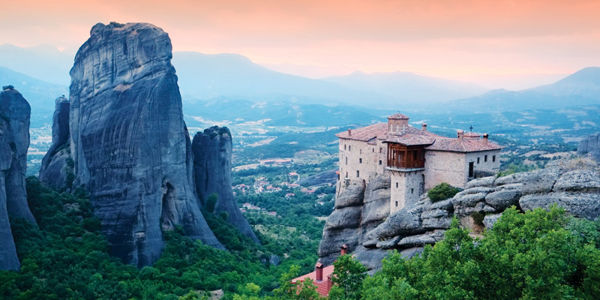 The hanging monasteries of Meteora
Perched rather than hanging, this unique collection of UNESCO-classified monasteries was built on rock towers high up on the cliffs. An architectural feat, they also contain impressive 16th-century frescoes and are a three-hour drive from Sivota.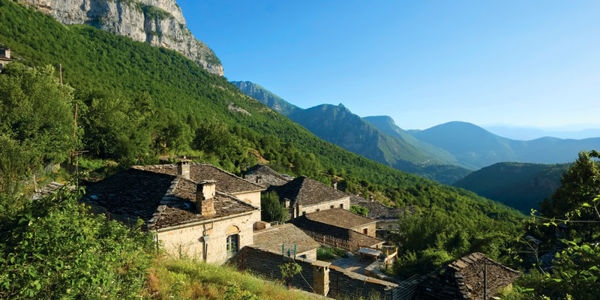 A sensory Metsovo experience
One of the most picturesque villages in Greece, this mountain settlement, 40 minutes from Ioannina, offers a dose of nature with its scenic Aoos Springs Lake and cultural injections from the Averoff Museum of Greek art and Katogi Averoff Winery.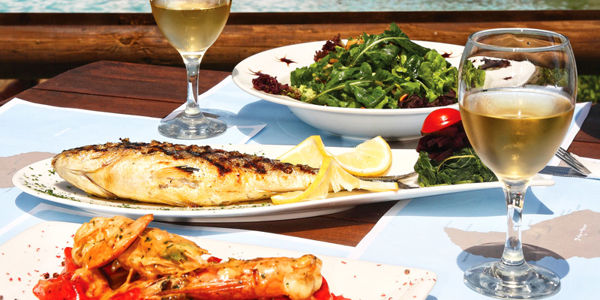 Chill with a glass of wine
The continental climate and high altitude of Zitsa in the Pindus Mountains, 50km inland from Sivota, produce the wonderful sparkling white wines for which the Epirus region is famed. Seek it out on the menus of your local tavernas.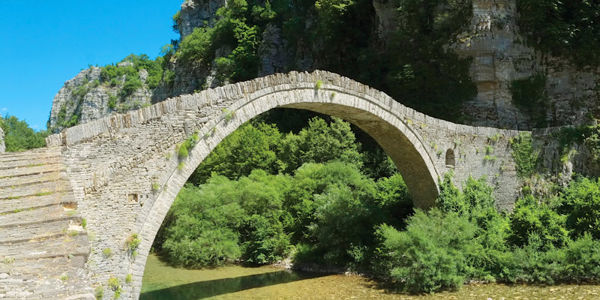 Breathe in crisp Alpine air
Immerse yourself in rural life through Zagoria's timeless villages, famous for their unique stone-and-slate 'mansions'. Escape the coastal heat, wander ancient mule tracks connected by stone bridges and enjoy breathtaking mountain views.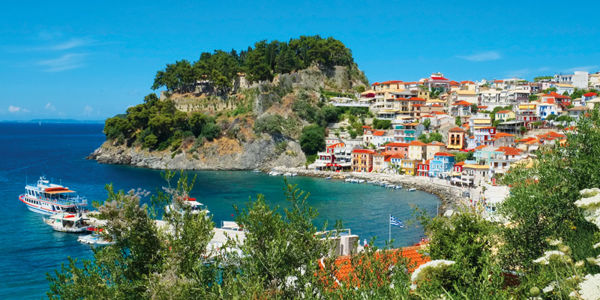 Shop, eat, bathe
Tucked between mountains and a curving bay, Parga Town is a delightful day out. Shop the narrow boutique-filled lanes, lunch at a fish taverna and cool off in the crystalline waters of Valtos beach. For a dose of culture, visit the Venetian castle.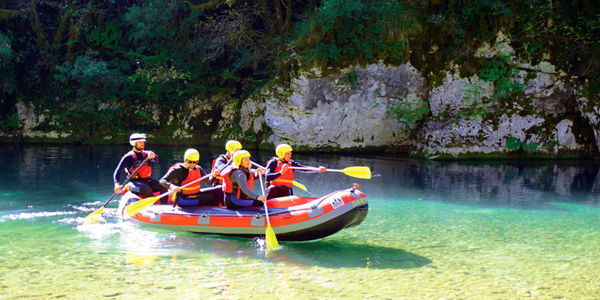 Take a legendary day trip
Drive to Glyki village for the Acherontas Gorge and the legendary 'Gates of Hades'. Ancients believed that caves and deep gorges were entrances to the Underworld and the views are incredible. You can also go rafting on the River Styx.
Events
Easter is the biggest event on the Greek calendar, marked by traditional processions, masses and feasting. The date changes each year and is often later than in the UK.
What's on in May
1 May
Labour Day is a public holiday, celebrated with picnics and the gathering of spring flowers. Many shops close but restaurants remain open.
21 May
The Ionian Islands commemorate their official unification with Greece which took place in 1864.
What's on in June
Early Jun
Going strong since 2003, the Preveza Jazz Festival brings together the biggest names in jazz from Europe and beyond.
23 Jun
The Festival of Klidonas, before the St John's name day, is celebrated with dancing, singing and jumping over bonfires.
What's on in July
Early Jul
The International Choral Festival of Preveza. Numerous concerts take place in settings that include the seaside fortress and ancient auditorium.
Second week of Jul
Preveza Folk Dance Festival. Performances bring together dancing talent from Greece and elsewhere in Europe.
26 Jul
A religious celebration held at the monastery of Agia Paraskevi in Monodendri village.
What's on in August
First weekend in Aug
The Sardine Festival in Preveza. A celebration of the local catch of the day, with wine and two tonnes of grilled sardines!
14 Aug
Parga's Kanaria Festival commemorates the return of the residents from Corfu. The port is filled with boats, traditional food and music.
15 Aug
Assumption of the Virgin Mary (Apo Kimisis tis Panagia). The biggest religious holiday after Easter is celebrated with gusto in almost every town in Greece.
What's on in September
8 Sep
The Virgin Mary's birthday (Genisis tis Panangias) is celebrated throughout Greece with religious services and much feasting.
What's on in October
28 Oct
'Oxi' Day ('No' Day) celebrates the Greek refusal of Italian occupation during WWII with marches, parades and much flag flying.
The Road Less Travelled
We asked our local representatives in Sivota and Zagoria to share a few of their favourite 'off the beaten track' experiences. Here are some of their suggestions…
Picnic at sunset among ancient ruins
At the southern end of beautiful Karavostasi beach, you'll find a limestone path climbing 226m to the ancient hilltop settlement of a Thesprotian tribe, whose population reached 6,000 in its day. The excavated ruins of the 4th-century town lie abandoned, but with your imagination and a bottle of chilled Greek wine, this is a magical space for watching the horizon glow vivid orange.
Explore with wild abandon
Most visitors to Zagoria – a mountainous patchwork of traditional stone villages – head to romantic favourites where old mansions now house smart boutique hotels. We suggest stopping off in rugged Dilofo, whose crisp alpine air and deserted buildings are infused with a just-abandoned feel – as if civilisations of old have only recently left. It makes for a unique experience, particularly for budding photographers and artists.
Unlock a world of calm
A short hike through the village of Kokkino Lithari delivers extraordinary mountain views – you might even spot snow-capped peaks in the distance. Below the red rock, there's a small bar where you can collect the key to the church of Agios Minos, high up above. The silence of its interiors and the sleepy atmosphere of the little hamlet below are like entering another world.
Dip into a culinary past
In 1929, merchant brothers Grigorios and Ilias opened an olive oil factory in the Parga region, which continued to supply this Grecian staple until 1974. The present owners have another mission: to preserve and showcase the factory's traditional methods. A tour around the cavernous workshop rounds off with a tasting session including some of the best olive oil and fresh dipping bread you can imagine.
Pop a cork in a boat
As the day crowds disperse from Sivota's beaches and its trio of islets, deserted sands bathe in the pinks and oranges of the setting sun – a glorious sight against the turquoise waters. It's a perfect time to hop into a private boat and set sail with a bottle of cold bubbles. Moor up alongside your private bay or just bob along the deep blue sea.