Roger McGough at Arosmari
Performances on 13 and 20 October 2022
"Yes, you can feel very alone as a poet and you sometimes think, is it worth it? Is it worth carrying on? But because there were other poets, you became part of a scene. Even though they were very different writers, it made it easier because you were together."
~ Roger McGough.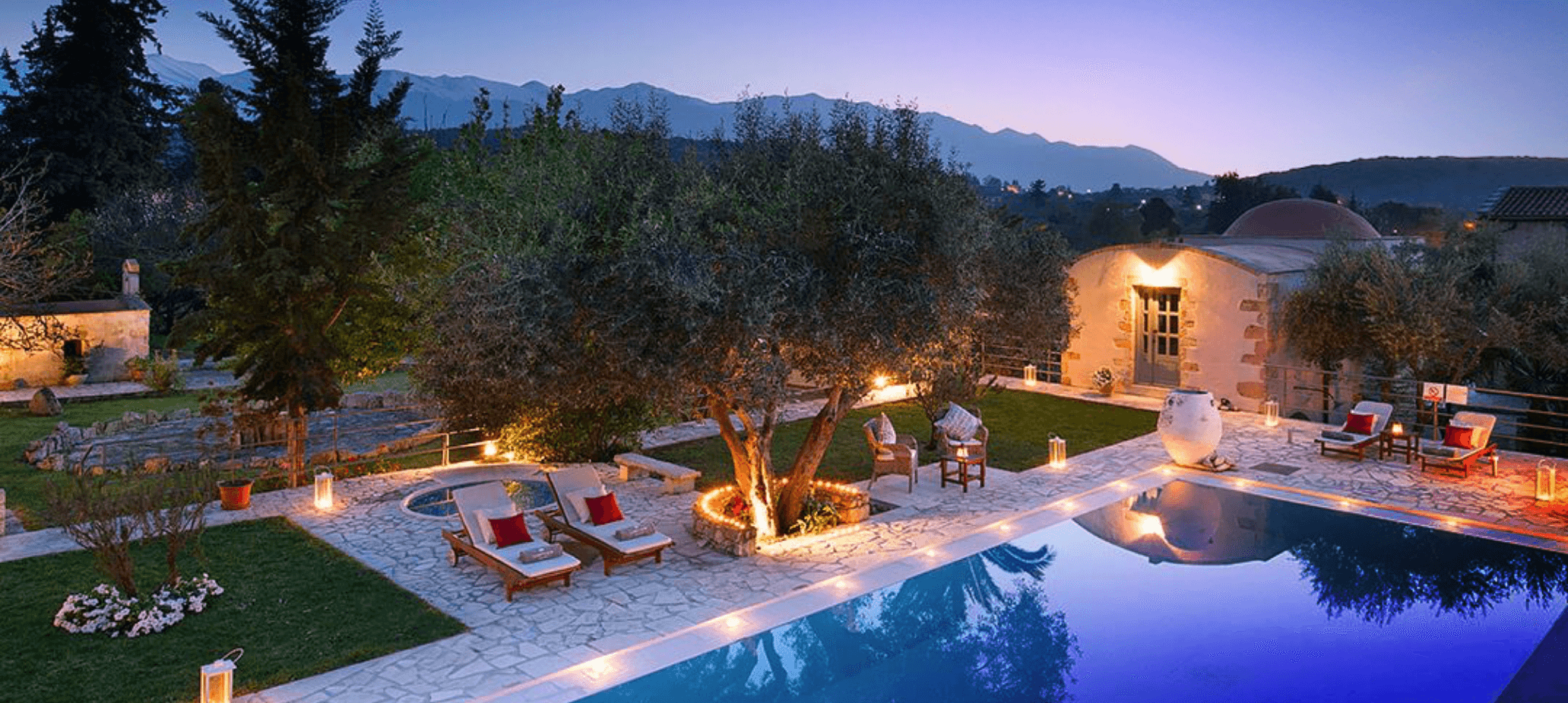 We are delighted that Roger McGough will be joining us at Arosmari in October 2022 for two very special poetry evenings. Guests are invited to combine a week of blissful relaxation with a little lyrical entertainment, in the company of one the UK's best-loved performance poets.


---
The setting


In the foothills of the White Mountains, Arosmari is a peaceful oasis with a profoundly creative heart in the traditional village of Vamos. Ten beautifully refurbished 1 and 2-bedroom cottages make up the hotel; all ideal for couples, some suitable for those looking to travel with a friend or companion. Complimentary poetry evenings will take place at the hotel on 13 and 20 October giving Roger McGough fans a chance to enjoy his unique wit and celebrated poetry in a truly inspiring setting.


---

Poetry Workshop in Vamos


For those with poetic aspirations of their own, Roger McGough will be running one of his highly acclaimed poetry workshops in Vamos, available for guests staying between 11 and 18 October 2022. Organised by the Kalamitsi Arts Group, the course is suitable for beginners as well as those who have been writing for longer. As the class size is small (maximum 12 people) it can be tailored to suit all levels. You are guaranteed to learn and enjoy yourself and at the same time, Roger will teach you how to draw on your own experience and originality to write the poetry of your life. The cost of the workshop is £200 per person.
To reserve your place, call 020 8392 5858.

Course schedule


| | |
| --- | --- |
| Weds 12 October - 7:30pm | Introductory dinner in Vamos with Roger McGough |
| Fri 14 October - 10:00am to 12:30pm | Morning workshop |
| Sat 15 October - 10:00am to 12:30pm | Morning workshop |
| Sat 15 October - 7:30pm | Poetry readings from Roger McGough and course participants |
Participation in the poetry workshop is subject to availability and must be booked as an extra.
Roger McGough will be performing at Arosmari Village Hotel at 7.30pm on 13 and 20 October. These performances are complimentary for all guests of Arosmari Village Hotel.
---

About Roger


Roger McGough is an English poet, performance poet, children's author and playwright. He presents the BBC Radio 4 programme Poetry Please, as well as performing his own poetry. McGough became famous in the 1960s as one of the 'Liverpool Poets', whose Mersey Sound volume changed the way poetry was regarded. He also enjoyed sucess in pop music with 'The Scaffold', and helped write the movie Yellow Submarine for The Beatles. Poetry has always been his first love, and he was awarded an OBE for services to poetry in 1997 and a CBE in 2004.
Over the years, he has published more than 100 books of poetry for both adults and children, and continues to do so, with new volumes appearing every year. He has recently been given the 'Oldie of the Year' award, presented by the Duchess of Cornwall, and his celebrated poem 'The Vow' is often read at weddings, including that of the Duke and Duchess of Sussex.
We are delighted that he will be joining us this autumn to host a weekly poetry evening, complimentary for all guests staying at Arosmari Village Hotel between 11 and 25 October 2022.

Book online or call our Destination Specialists on 020 8392 5858 to secure your place.