Stylish Simpson Hotel
Adult Only on selected weeks
12 air-conditioned suites
Seafront position
Large shared swimming pool
Poolside snack bar
Walking distance to tavernas
Beach 10-minute walk
Sitting prettily on a peaceful promontory, the Blue Jasmine Hotel offers guests mesmerising sea views of Southern Kefalonia from virtually every angle, barely a five-minute drive from the wide, sandy beaches of Skala and the buzzy little resort of the same name. Intimate and relaxed, Blue Jasmine is very much a family concern, run with heartfelt hospitality and a professionalism that comes from years of experience.
This experience also shows in the hotel's design; with just 12 guest suites in expansive landscaped gardens and a larger-than-average pool, there is room for all to find their own favourite place to unwind in peace. The elevated position and seemingly endless sea views add to the sense of space and seclusion, yet all the facilities you could want are close at hand, with a small sandy cove and a couple of tavernas within walking distance. In fact, you could choose not to get into the car at all, but if you feel like getting to know Kefalonia better, the entire island is accessible from here, including the picture-perfect harbour at Fiskardo, enchanting Assos village and numerous remains from pre-historic, Roman and Venetian times.
We know that our regular guests value the personal attention and tranquil atmosphere offered at Blue Jasmine, so it will continue to be offered as an adult only hotel, with the exception of the peak school holiday period. During this time, families with children of any age are warmly welcome; the pool and lawn areas are a big hit with our younger guests and nearby Skala is very family-friendly in the main summer season. And whether you're too young to know your age or old enough that you prefer not to say, our ever-helpful Simpson Concierge service will be on hand throughout to ensure you get exactly the sort of holiday you wish to have.
Children are welcome from 13 July – 31 August. All other departure dates are Adult Only (18 years or older).

---

Explore our pre-bookable experiences in Kefalonia
---
Children welcome 13 July – 31 August (full details here)
Layout
For details and images of individual properties please open Suites tab:
2 bedroom suite (1) – Myrtos (sleeps 2-5)
1 bedroom suites (6) – Aenos Forest (sleeps 2-4), Atros Mist (sleeps 2-4), Melissani Lake (sleeps 2-4), Mounda Blue (sleeps 2-4), Skala's Dawn (sleeps 2-3), St George Bay (sleeps 2-3)
Junior suites (4) – Antisamos (sleeps 2), Assos Cliffs (sleeps 2), Avithos Water Cliffs (sleeps 2-3), Ionian Sun (sleeps 2-3)
Small Junior suite (1) – Apollo's Temple (sleeps 2)
General
Adult Only (18 years or older) on selected weeks
Breakfast included and served on the main terrace
Snack bar (open for food until 8pm and drinks until 11pm)
Complimentary WiFi in rooms and snack bar
Safe, hairdryer, iron and ironing board in each suite
Laundry service (payable locally)
Simpson Travel beach towels
Swimming pool 17m x 7m (depth 1.6m throughout)
Children's pool 5.5m x 3m (depth 0.7m throughout)
Sunbeds available on Skala Beach (payable locally)
In Greece, a nominal visitor tax applies, known as the Overnight Stay Tax, which varies depending on the accommodation. During your stay at the Blue Jasmine Hotel, €0.50 per night per suite must be paid locally in cash and will be collected either by the property owner or our local representative on their behalf.
Activities available for children
Table tennis
Donkey trekking in Sami 1hr drive
WiFi
All properties with WiFi are able to support basic functionality such as web browsing and checking emails*
* We aim to offer an uninterrupted service but sometimes due to factors beyond our control reliability can be affected.
National tourist licence (EOT): 0458K132K0313701
Tavernas 7min walk
Local cove 10min walk
Skala beach 3min drive
Supermarket 3min drive
Argostoli 1hr drive
Kefalonia airport 1hr drive
Car options
Based on the number of people travelling, the following hire car(s) are included in the package price of your holiday:
2-3 guests – 1 Group B, Hyundai i10 or similar*
4-5 guests – Group D, Hyundai i30 or similar*
* All our cars include comprehensive insurance with no excess charge. For this particular destination, the undercarriage, tyres, wing mirrors and windscreen are not included in the cover.
Car specification
Group B – 1.2 litre engine, 2 medium suitcases*
Group D – Hyundai i30 or similar, 1.4 litre engine, 2 large suitcases*
The following cars are available as alternatives on request (supplements apply). Please call our travel specialists for details.
Group C – Fiat Grande Punto or similar, 1.3 litre engine, 1 large suitcase*
Group E1 – Daihatsu Terios Hard Top or similar, 1.3 litre engine, 2 large and 1 medium suitcase*
Group J – Automatic Hyundai Accent or similar, 1.4 litre engine, 1 large suitcase*
Group P – Fiat Tipo or similar, 1.6 litre engine, 2 large suitcases & 1 small
* Suitcase sizes are based on a large suitcase being approximately 75cm x 41cm x 31cm, a medium suitcase of approximately 65cm x 46cm x 29cm and a small suitcase of 55cm x 40cm x 20cm.
Customer feedback
The service from Simpson was excellent from start to finish and Blue Jasmine was amazing. The attention to detail was evident throughout; from bottled water on arrival at the airport, detailed driver directions to the hotel, cool bags and umbrellas to borrow to recommendations of where to eat locally. The concierge, Marion, and local manager, Graham, were on hand to answer any questions or offer support at the airport. Nothing was too much trouble. The mattress must get a mention – the only hotel mattress which hasn't caused an issue for a bad back! Thank you for a wonderful holiday.
Mr & Mrs Collins – August 2019
We have never booked a holiday with Simpson before, now I'm not sure we would holiday without using them. They took care of everything, we didn't have to think about anything at all. The hotel was amazing, quiet, in a perfect location, with some local tavernas. Marion, the concierge, was fantastic, booking evening meals and sorting anything we needed.
Mr K Marsh – August 2019
This holiday exceeded our expectations. The quality and efficiency of your sales, pre-flight, concierge and hotel staff was really fabulous. Our hotel was spotlessly clean and very smart. The pool was immaculate. We made friends with all the staff; they were charming and helpful. Marion, the concierge, both friendly and efficient.
Simon – July 2019
This was our second consecutive holiday at Blue Jasmine. Having discovered it we couldn't wait to return. It is an incredibly beautiful location with wonderful views and excellent facilities. It is an oasis of calm and by Day 2 we were feeling totally relaxed. The staff are lovely and nothing is too much trouble. We will be back! The process for booking the holiday through Simpson Travel was error-free and stress-free. This is a really important part of our choice of holiday provider.
Mr & Mrs S – July 2019
Our second year at the Blue Jasmine and the level of service from all parties was excellent. Our third time with Simpson, helpful and courteous in all aspects. They went out their way to ensure we had an enjoyable holiday.
Ken & Sue Salter – June 2019
Lives up to all the glowing reviews. The people of the island are so friendly and make you feel so welcome.
Mr G – June 2019
First time we have used Simpson and it won't be the last. From booking to leaving everyone was very friendly and knowledgeable. We liked the personal touches such as a carton of juice at airport, accompanied to the car hire, detailed driving instructions, pre-departure e-mail from the hotel representative, local knowledge, bottle of wine in the fridge and use of the Simpson bar at the airport taverna. All of these small attentions to detail made our holiday at Blue Jasmine a memorable experience. Thanks to everyone.
Graham & Lynn Longstaff – June 2019
Lana is an excellent manager and leads a friendly and effective team. Lana's great sense of humour meant the good food at breakfast was accompanied by hoots of laughter from the guests as Lana told us one of her stories.
Paddy Bradley – June 2019
Blue Jasmine is a fantastic hotel; a great base for exploring the island should you wish to do so. With the car I also think it's good value. All the representatives are charming, professional and informed. We have enjoyed it here for the last two years.
S Hawkins – June 2019
Marion was very attentive and available and made all aspects of our stay very enjoyable. Lana was very efficient, very pleasant with a wicked sense of humour. Very enjoyable holiday, not having to fight for sunbeds was a big plus.
Mrs Harber – June 2019
Marion was very attentive and available and made all aspects of our stay very enjoyable. Lana was very efficient, very pleasant with a wicked sense of humour. Very enjoyable holiday, not having to fight for sunbeds was a big plus.
Barlow – June 2019
We enjoyed a wonderful week at Blue Jasmine, from the moment we arrived we felt totally relaxed. Whenever we travel with Simpson we know we will not be disappointed. Thank you!
Pip Robbins – May 2019
Blue Jasmine has steadily improved over the last three years. This year there were new sunbeds, the frequency of linen and towel changes has increased, and the cleaner, who is excellent, attends to the rooms every day. Lana, the hotel manager, provided continuity from previous visits and still has an amazing sense of humour. The hotel staff and the Simpson Travel representative were very friendly and helpful. Kefalonia is a beautiful island with a wide choice of beaches and restaurants. We found that the food quality in Skala has improved since last season although we avoided eating in the high street as it is very busy.
Jenny & Peter Munro – Myrtos Suite – September 2018
Blue Jasmine is a beautiful, small boutique hotel with excellent facilities. The hotel staff are friendly and efficient and only too willing to help where they can. The pool area is relaxing and the breakfast and snack facilities are very good and the food is served and cooked with care. A lovely location for a very chilled stay whether you spend all your time at the hotel or further afield in Scala and the surrounding areas.
Rick & Teresa – Apollos Temple – September 2018
Blue Jasmine has captured our hearts for the third time and we enjoyed another excellent holiday at this hotel. Lana and her team looked after us so well and made everyone feel as though all we were part of a very happy family. The gardens are beautiful and immaculately maintained by Christos and the pool is attractive and inviting. Marion, the concierge, has a great deal of local knowledge and provided a very friendly and helpful service to the guests. We are not in the habit of returning to the same place for our holidays but I think there is a strong possibility that we will be returning to Blue Jasmine next year.
Eleanor & Mike – St George Bay – September 2018
Blue Jasmine exceeded our expectations and we would have no hesitation in recommending this hotel. You have to try Lana's mother-in-law's moussaka; the best we have ever had.
Mrs Roberts – Assos Cliffs – September 2018
Blue Jasmine is an elegant small hotel in beautiful surroundings. A wonderful place to unwind and relax. Marion, Lana and the excellent staff team are so kind, friendly and attentive. They all care very deeply about Blue Jasmine and work incredibly hard to ensure guests have an enjoyable stay. We could not have wished for anything more – simply perfection! As always, the whole Simpson Travel experience was smooth and faultless. Exceptional standards and quality. We would recommend Simpson Travel every time – and frequently do! We are already browsing the portfolio and looking forward to our next holiday!
Mrs Field - Ionian Sun – September 2018
The whole holiday (a very late booking) was excellent. Blue Jasmine is a lovely hotel and all the Simpson Travel staff did a really excellent job. We would have no hesitation in recommending Simpson Travel to friends. We look forward to travelling with you again.
Gary Woodward – Ionian Sun – August 2018
We made a last minute booking to the Blue Jasmine Hotel just six days before our holiday. We wanted a stress-free relaxing holiday, which is what we got in spades! The holiday and experience from the first enquiry to the end exceeded our expectations.
Mrs Jeffreys – Avithos Water Cliffs – August 2018
Our stay at the Blue Jasmine Hotel was fantastic. The staff are incredibly helpful and friendly – nothing is too much effort. The pool area is large with very comfortable sunbeds and amazing sea views; and with only 12 rooms it never felt busy, even with the children in August. The location for exploring the beautiful beaches and villages on the island is excellent, we would happily return!
Mrs Evans – Melissani Lake – August 2018
Arriving in Kefalonia, one member of our party suffered a serious medical emergency resulting in a stay in the hospital. Lana and Graham could not have offered more support, assistance or flexibility, this was in addition to a fabulous stay at the Blue Jasmine Hotel. Notably, all of the other guests were really supportive too and our family truly appreciated this, leaving us with a sense of community from such a short stay. Breakfast at the Blue Jasmine terrace followed by pool sessions and table tennis were lovely. Our second week at Villa Ino in the mountains of Ithaca provided much needed R&R. Unparalleled snorkelling, a tranquil olive grove background to a stunning view and the well-appointed villa did not disappoint. Judith's directions ensured we soaked up many local experiences and the privacy was enjoyed. Thank you Simpson Travel staff for all your support and accommodation. Truly first class.
The Kitts Family – Aenos Forest – August 2018
Blue Jasmine is an excellent hotel in a good location just outside Skala. The staff are friendly, helpful and knowledgeable. The swimming pool is clean and well maintained. We went with our two children (7 and 12) and the hotel was safe and secure. There are two good restaurants within easy walking distance. I would highly recommend this hotel, and the level of service Simpson Travel provides.
Mrs Underwood – Mounda Blue – August 2018
Our first holiday with Simpson Travel was greatly enhanced by the ease of transfer, a friendly face on arrival, easy instructions and great local knowledge. The hotel was small enough be friendly and welcoming. I was daunted by the thought of going away as a single parent with a teenager, but all of these touches made for an amazingly relaxing holiday.
L Wild – St George Bay – July 2018
This was our first time using Simpson Travel and I can honestly not recommend them enough! Blue Jasmine Hotel is like a home from home with all the small touches, and how helpful the staff are! We were blown away!
Kaely – Apollo's Temple – July 2018
We had a wonderful week at Blue Jasmine Hotel, the second time we have holidayed with Simpson Travel – a special brand. From the time of booking all the way through to the end of your stay you are kept well informed and the administration makes everything easy and seamless. The attention to detail by staff at your hotel is also something that adds value to their brand and you are made to feel special and valued. Simpson Travel obviously choose their staff carefully and you feel confident at all levels of your stay. My husband and I are very well travelled and would now choose Simpson Travel every time.
Mrs Elizabeth Howe – July 2018
Often, the quote 'it ticks all the boxes' is over used...however at Blue Jasmine this quote rings very true. The location is fantastic, the staff are very helpful and friendly, and nothing is too much trouble. The accommodation is very well appointed and laid out with plenty of space. The view from our veranda was exceptional and you also have a high degree of privacy. At night you could hear a pin drop! Yes, Blue Jasmine definitely ticks all the boxes.
Alan & Rachel Jackson – Melissani Lake – June 2018
We returned to Blue Jasmine this year after a lovely stay last July. Once again we had a wonderful time. Lana and her staff are excellent. The accommodation is really nice with private balconies overlooking the pool/sea. The location is very beautiful. Breakfast on the terrace by the pool with the sea in the background is superb, and the choice is extremely good, even for guests who have allergy problems and special dietary needs – nothing is too much trouble. There are lots of really good tavernas close by serving delicious food. If you like history or visiting places of interest there is a wealth of exploring to do, and Marion or Graham, are very knowledgeable about the island and always happy to chat about what might suit you best. If you like small select hotels, this ticks all the boxes.
M Chevreau – Melissani Lake – June 2018
If you are in need of an oasis of tranquillity and peace, then there is nowhere better than Blue Jasmine Hotel to unwind and relax – a beautiful setting on a headland overlooking the sea. It's the perfect place to watch the yacht flotillas go by and thoroughly indulge in doing absolutely nothing at all but relax and enjoy the sun, cool down in the pool, and be indulged by the attentive staff – just perfect!
Garrie & Beverley – Mounda Blue – June 2018
Blue Jasmine. Just perfect. Our second stay here and it won't be our last.
Andrew & Sally Packer – Antisamos – May 2018
Blue Jasmine is a delightful small hotel in a stunning location. With only 12 rooms, it provides complete rest and the chance to recharge. The rooms were spotlessly clean and simply, but appropriately furnished. The standard of bed linen and towels was superb, alongside many small additions which were both thoughtful and delightful. All the staff were wonderful and nothing was too much trouble for them. The Simpson Travel experience was everything our friends had said it would be, and we will definitely return.
Mrs J Sewell – Mounda Blue – May 2018
A beautiful, simply elegant hotel in a stunning location. The sunrise each morning was wonderful.
Mr Burt – October 2017
Fantastic hotel. Staff led by the fantastic Lana – first class. Graham, the Simpson Travel rep is outstanding, in many years of travelling he is by far the best. Breakfast first class. This hotel will take some beating.
Bob and Pauline – October 2017
Blue Jasmine is a beautiful addition to the Simpson Travel portfolio. We thoroughly enjoyed our stay and would not hesitate in recommending it to anyone who wanted to just chill out for a week or two. The service from ALL staff was outstanding and so friendly. The room was of a high standard with regular sheet/towel changes during our week's stay.
Mr Freeman – October 2017
We had another very enjoyable holiday at Blue Jasmine, this year at the beginning of August when the weather was very hot which made the pool especially welcoming. Graham, Lana and the excellent staff at the hotel were very welcoming and friendly and it was almost as if guests and staff were all one very happy family. On the last night they arranged a wine tasting and meal to follow which was both informative and very tasty. All the guests attended and it was a great success. We hope to come back again next September. Many thanks Simpson Travel.
Mrs Whiting – October 2017
What a beautiful place, our third holiday with Simpson – excellent service as ever! The staff have gone the extra mile – Prosecco on arrival – lots of extra touches. Lana's warmth and humour are such an asset to the company, and her surprise anniversary card and gift were so very thoughtful. Graham's knowledge and advice about the island have been most helpful and his low key approach extremely refreshing. Thank you Blue Jasmine for a wonderful holiday – and we hope to come back!
Angie & Richard – September 2017
Thank you all so much; we've had a super time at Blue Jasmine – superb setting and lovely, lovely people – we will return.
The Harte Family – August 2017
A very nice boutique hotel in a lovely location. The staff and rep were extremely friendly and helpful. We will certainly use Simpson Travel again in the future.
Mr Adams – September 2017

We were looking for somewhere that had the flexibility of an apartment/villa but with the added luxury associated with a fine hotel. Not an easy task but Blue Jasmine fitted this bill perfectly, in fact it's like having your own private villa with a few like-minded people and staff to cater for all your needs. There were 21 people staying over our week there but you never really had more than 10 around the pool during the day. It really is a place to relax where interaction with other quests is at your discretion. Caroline from Simpson Travel was always on hand to help whether it be booking restaurants, suggesting best beaches or helping you find a lost mobile that actually wasn't lost! Breakfast was always enjoyable when Lana would oversee that you had all you needed. Rooms were comfortable and well-equipped although a comfortable sofa on the balcony wouldn't go amiss. The week was made even more enjoyable as Simpson Travel did all the organisational thinking for you, so all you needed to do was enjoy the stay and what a cracking place to do just that.
Mr Williams – August 2016
Blue Jasmine Hotel is a perfect place for total relaxation in beautiful surroundings. The hotel staff are fabulous and Caroline, the Simpson Travel rep, is absolutely lovely. Thank you for a wonderful holiday!
Mrs Stevens – August 2016
Easy going, a quietly luxurious hideaway.
Mr Gibson – August 2016
Blue Jasmine Hotel is a delightful – quiet and a refined place to stay. The tranquil setting overlooking the Ionian Sea, the good-sized pool, and the caring, attentive and friendly staff all combined to make a fabulous holiday. Many thanks to all who made it possible.
Mr Filby – August 2016
Had a fabulous two weeks here at Blue Jasmine! Graham has been brilliant in suggesting some day trips. Huge thanks to Graham, Lana, Nesa, Angela and Natasha for wonderful food, service and just taking great care of us.
Andrew & Sophie – August 2017
We had a wonderful time recharging our batteries here at Blue Jasmine. Graham was top drawer from the start to the finish – Lana and the team were fabulous and fun whilst not being intrusive. Thanks so much – we shall return!
Jason & Claire – August 2017
Another excellent experience with Simpson Travel. We felt that the balance between attention to detail and being attentive whilst not being intrusive was spot on. We also thought that the staff at Blue Jasmine were excellent.
Mr Dicks – August 2017

Blue Jasmine was a tranquil haven and a perfect base for exploring Kefalonia. Happy and friendly staff in perfect surroundings.
Mrs Hawker – August 2017

We had a fabulous holiday. This was due to the fact that everything worked out more smoothly than we could ever had hoped. From the booking agent who was friendly, helpful and very efficient to the goodbyes at the airport from the Simpson Travel staff (Graham Bennett and Marian) who were without doubt the best turned out and the most helpful and attentive. The holiday itself was more than we hoped for. Graham contacted us in advance to allow us early arrival, and was a credit to the company throughout the holiday. Our host at Blue Jasmine (Lana) was exemplary. Very welcoming, entertaining, and knowledgeable. She really made us feel at ease – as if we were special guests. Even the bar staff at Blue Jasmine (Natasha and Angela) were delightful and very polite and interested in us. Our room was spotless and more than we could have hoped for. The pool was simply fabulous and extremely inviting. The grounds were also beautifully maintained and the view from the hotel was quite stunning. We have already recommended Simpson Travel to our friends and family and hope that we will be able to return with them again next year. Thank you for a very special and memorable week.
Jim and Ruth – August 2017
We had a wonderful holiday with Simpson Travel. The staff were friendly, helpful and went the extra mile to help. Great location, lovely people and wonderful food. Thanks to all.
Ms Gorman – August 2017

Attention to detail, excellent helpful staff and location is always a high priority. Our fifth time with Simpson Travel.
Mr Bettison – August 2017


Fabulous hotel – nothing was too much trouble for anyone of the hotel team from Lana, Nessa and Angela. The Simpson Travel representative Graham was equally brilliant, he even got bookings for restaurants and the best tables, nothing was too much trouble...you have a great team promoting Simpson Travel. ..thank you.
Mrs France – July 2017
We have had a wonderful week in the beautiful surroundings and gardens. Blue Jasmine, Graham, Lana and all the staff have been really welcoming and helpful. We would particularly like to thank Graham for all the birthday treats, including the sumptuous cake that kept us going for most of the week. We also enjoyed the poolside meals and drinks. All in all, this has been yet another excellent holiday with Simpson Travel. We look forward to many more holidays exploring the Greek islands and other locations with Simpson Travel.


The Jordans – July 2017



We have just spent an amazing week at Blue Jasmine Hotel, the location of the property is superb, we stayed in room 15 which was well presented and had beautiful views over the sea. It was located in a quiet and private spot, having said that the whole of the hotel had a calm, peaceful and adult feel. The staff at the hotel were excellent. Lana, the manageress, was welcoming, funny and very hard working, as were Natasha and Angela who ran the bar and snack area throughout the day. Nothing was too much trouble and they went out of their way to deliver exceptional service. The Simpson Travel representative Graham was lovely – so helpful and full of information. He gave advice on areas to visit and helped with advanced bookings, securing the best tables at the restaurant. It is one of the best week's holiday I've experienced in quite some time and would highly recommend this hotel if you are looking for a place to recharge the batteries.


Mr Baker – July 2017



We stayed for two weeks at Blue Jasmine in Kefalonia. When we arrived at the airport we were greeted by Simpson Travel staff and given bottled water. We were given the information we needed regarding our car hire and directions to the hotel. On arriving at Blue Jasmine we were greeted by Lana who was very welcoming and explained everything we needed to know for our stay. Lana was a wonderful hostess, along with her staff throughout our entire holiday, we can't praise them highly enough. Graham, our Simpson Travel rep was also excellent, he is extremely knowledgeable, very helpful, he will happily book restaurants, trips, etc. There are no organised trips but he is always happy to give information and advise about the island and inspiration about places to visit. We loved the set-up of the suites which are nicely furnished and air-conditioned. Our balcony overlooked the beautiful pool and the turquoise sea. Overall, we had a wonderful holiday, in a lovely place and visited lots of interesting places. There are tavernas within walking distance and others a short drive away, all of which are excellent value and offer good traditional Greek food. We are looking forward to returning.


Mrs Chevreau – July 2017
Simpson Travel seem unique in the service they provide. They think of everything to provide a stress-free holiday. Blue Jasmine is an amazing place to stay. Perfect location, very comfortable. Graham, Lana and team do everything to ensure you have a restful and carefree holiday. They are not intrusive but always there to assist when needed. They show total commitment and dedication to their job.
Mrs Rew – July 2017
The standard of the Blue Jasmine Hotel in Skala is superb. The staff are both efficient and friendly. We only stayed for a week but it felt like two as it was so relaxed. Thank you Simpson Travel – yet another excellent holiday.
Ms Salisbury – July 2017

Simpson Travel provides the benchmark for customer service.
Mrs Cotran – July 2017
Blissful, relaxing and beautiful! Such a wonderful setting for a perfect holiday; we had a lovely time, relaxing by the pool, swimming every morning in such a good-sized pool, looking over the bay whilst soaking up the sun, a thunderstorm did nothing to detract from the surroundings or the holiday.
Mrs Kilduff – October 2016
Lovely peace, pretty gardens, attentive and welcoming staff. Caroline – very lovely and very helpful.
Mrs Chapman – October 2016
We came to Blue Jasmine hoping to celebrate our ruby wedding in style. We have not been disappointed, in fact, it has exceeded all our expectations. The staff have been amazing, even having to feed almost all of us on two consecutive nights. Caroline has been a friendly and conscientious rep. We managed to see most of the island right up to Fiskardo. Hopefully we will make a return visit. Many thanks to all at Blue Jasmine!
Dr Ashley – October 2016
This has been the holiday which will never be replicated. The group of guests gelled as if they had known each other for years. The staff have been wonderful but special mention has to be made of Angela, who prepared and served a birthday dinner on Thursday for 20 of us and another impromptu dinner on Friday for 15 when a ferocious storm prevented us all from going out. We have to mention Caroline who is a true gem which has to be treasured. Thank you one and all! P.S. A huge thank you to people who might never see this: our fellow guests!
Mr Hartles – October 2016
What a wonderful suite this has been. Glorious to have such a spacious, comfortable terrace with, of course, a magnificent view. We have had an excellent week, despite not having a car. Many thanks to Lana for organising our taxi trip to Sami. Dennis was a first class guide. A huge thank you to all the staff here for making our stay so lovely. Particular thanks to Angela for coping so well with catering for our last minute party! Last, but certainly not least, a tribute to Caroline for whom nothing has been too much trouble. Exemplary!
Ms Young – October 2016
A most enjoyable and relaxing week in this most friendly hotel. The setting is delightful with sea views from the poolside and the swimming area. The food served by such friendly and helpful staff has been equally delightful. On arrival we received a personal and friendly greeting from Caroline. She was very approachable throughout the week with regard to any information or guidance requested. Indeed the entire staff made a memorable experience. The gathering on the Thursday night for a friend's birthday was a great success thanks to the input from Caroline and the entire staff on duty. A special evening which was enjoyed by all. The birthday cake provided by the company was enjoyed too. Kefalonia itself has been a lovely experience. When that is coupled with such caring, helpful, happy and friendly staff, it is even more unforgettable.
Mr Clowes – October 2016
What a wonderful place! Blue Jasmine is calm and relaxing. The team is enormously friendly and helpful, and has made our stay here very special. We had trips to lots of places and beaches. Our favourite beach is Antisamos and we were very lucky to go there when it was very quiet. Lovely local restaurants such as Nautilus, Socrates, Sunrise and Apostolis.
Miss Hopley – September 2016
We do not normally have holidays through a travel company but Simpson Travel was excellent and we will definitely travel with them again.
Mrs Steveni – September 2016
This hotel is exactly as it appears on the website. But it cannot show you the welcome you receive from the wonderful staff!
Mr Lipscombe – September 2016
Our choice of Greek properties is as diverse as the islands themselves, ranging from simple seaside charm to genuine luxury and style. Much of our portfolio is privately owned, and price alone is therefore not a universal guide. We contract all our accommodation in person, and each property has its individual appeal. To help you make the right choice based on your own priorities, we have devised a simple grading guide to be considered in conjunction with each individual property description, awarding up to a maximum of five stars for the below categories.
* For further clarification on Facilities and Amenities, please view the 'Details' tab for each property or speak to one of our experienced sales consultants.
Densely forested hills dotted with traditional hamlets and a coastline of small, quiet coves combine to make Kefalonia an unspoilt Greek holiday delight. Its northeastern tip shelters an easily overlooked gem in Fiskardo, whose 18th-century houses stand proud with their flower-festooned balconies and carved doors. South Kefalonia tells a different story, quieter and more traditional, with tranquil villages and beautiful beaches, as well as Skala and Argostoli with its harbour bars and restaurants.
To complete the picture of your luxury holiday in Kefalonia, explore our handpicked villas, boutique Simpson Hotels and apartments to help you make the most of this magical island.
---

Explore our pre-bookable experiences in Kefalonia
---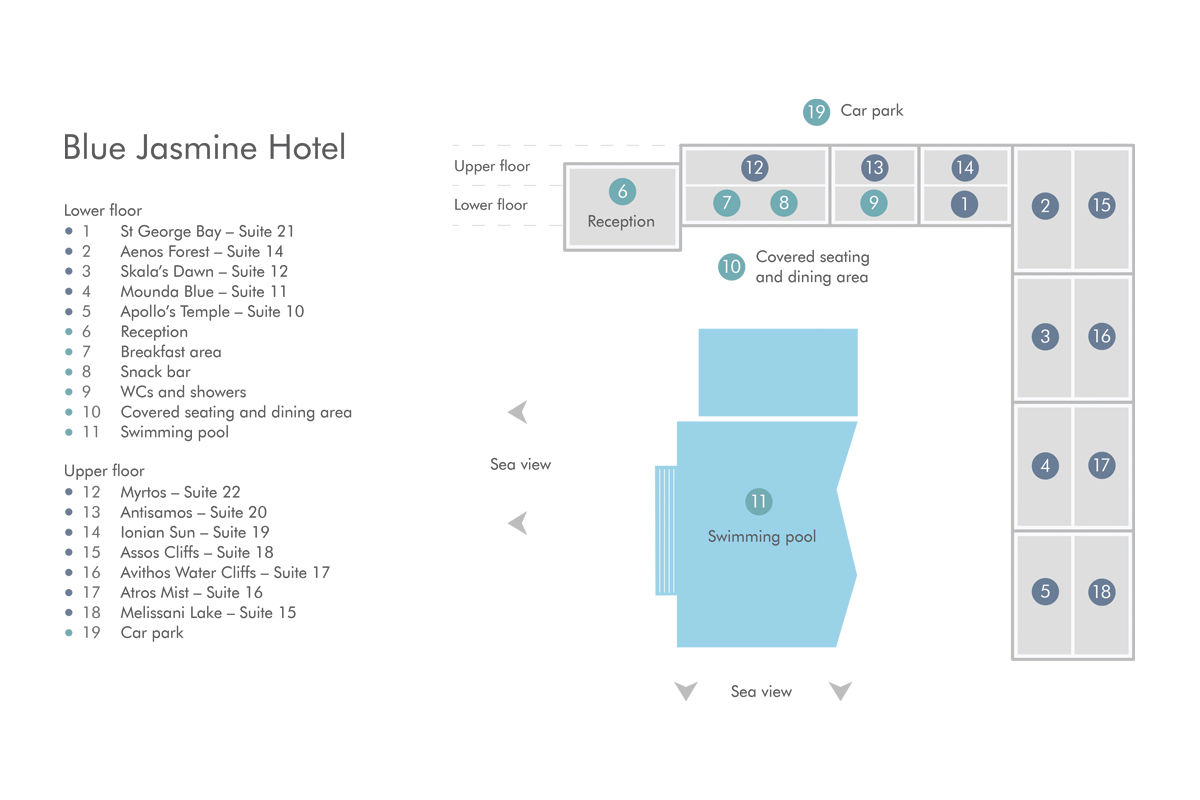 Enlarge Map
Antisamos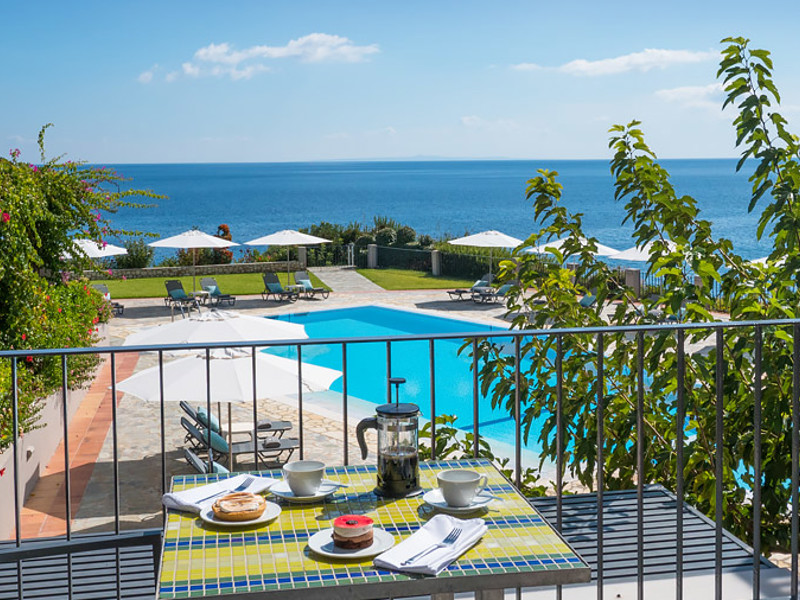 Full details
Layout
Antisamos (sleeps 2), 1st floor
24m² Junior suite with 10m² balcony with sea view
Open-plan kitchenette with 2-ring hob and fridge (suitable for light snacks and salads), TV (English speaking news channels)
Double bed (180cm)
Shower room
Air-conditioned throughout

Balcony can interconnect with Ionian Sun's balcony if required
---
Apollo's Temple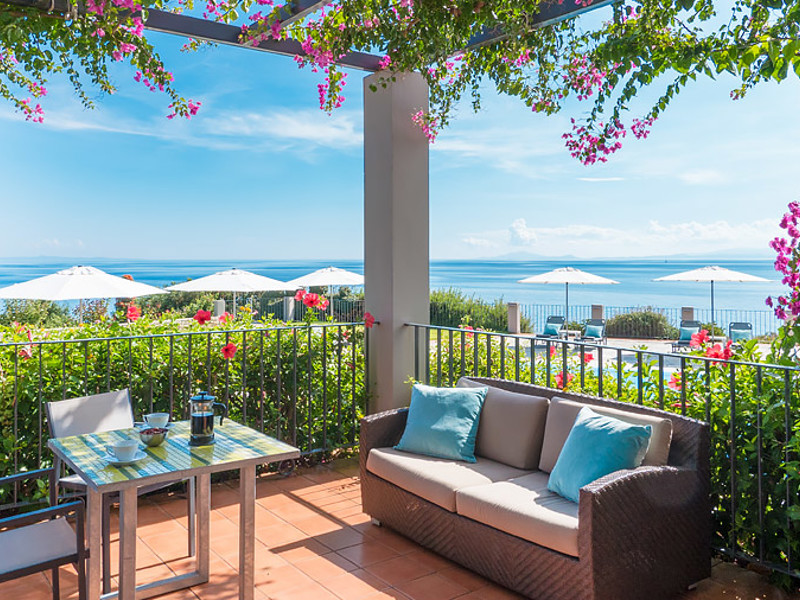 Full details
Layout
Apollo's Temple (sleeps 2), ground floor
16m² Junior suite with 44m² balcony with sea view
Small suite without a sofa but benefits from a large balcony with comfortable outdoor furniture
Open-plan sleeping area (160cm double bed)
Kitchenette with 2-ring hob and fridge (suitable for light snacks and salads)
TV (English speaking news channels)
Shower room
Air-conditioned throughout

Terrace can interconnect with Mounda Blue's terrace if required
---
Assos Cliffs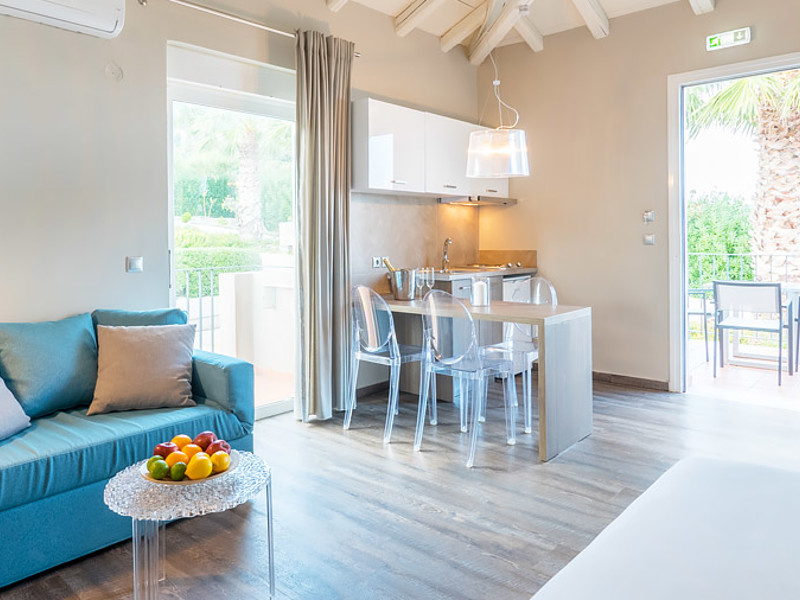 Full details
Layout
Assos Cliffs (sleeps 2), 1st floor
25m² Junior suite with 4m² rear balcony with side sea view and mountain view
Open-plan kitchenette with 2-ring hob and fridge (suitable for light snacks and salads)
Sofa area with TV (English speaking news channels)
Double bed (170cm)
Shower room
Air-conditioned throughout
---
Ionian Sun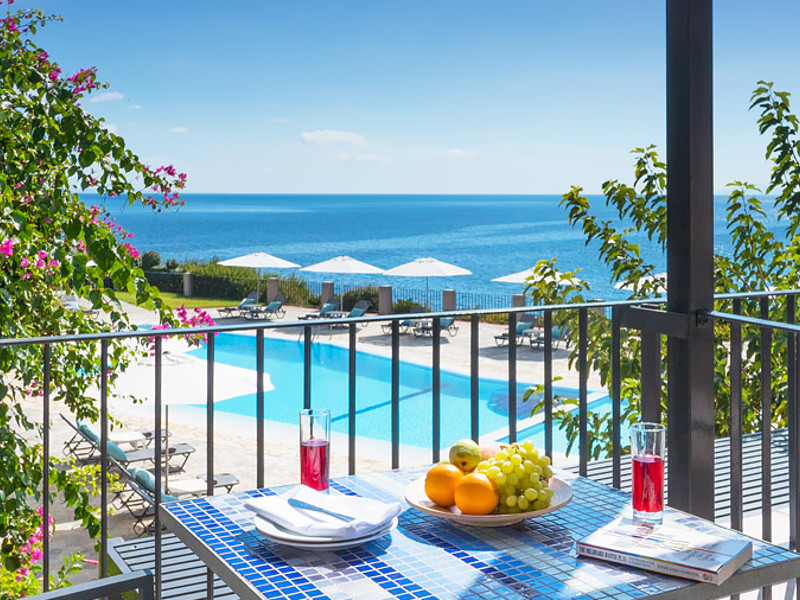 Full details
Layout
Ionian Sun (sleeps 2), 1st floor
26m² Junior suite with 20m² balcony with sea view
Open-plan kitchenette with 2-ring hob and fridge (suitable for light snacks and salads)
Sofa area with TV (English speaking news channels)
Twin beds (90cm)
Shower room
Air-conditioned throughout
Children
13 July – 31 August
Sleeps 2-3
Sofabed for one child (17 years or under)
Balcony can interconnect with Antisamos' balcony if required
---
Avithos Water Cliffs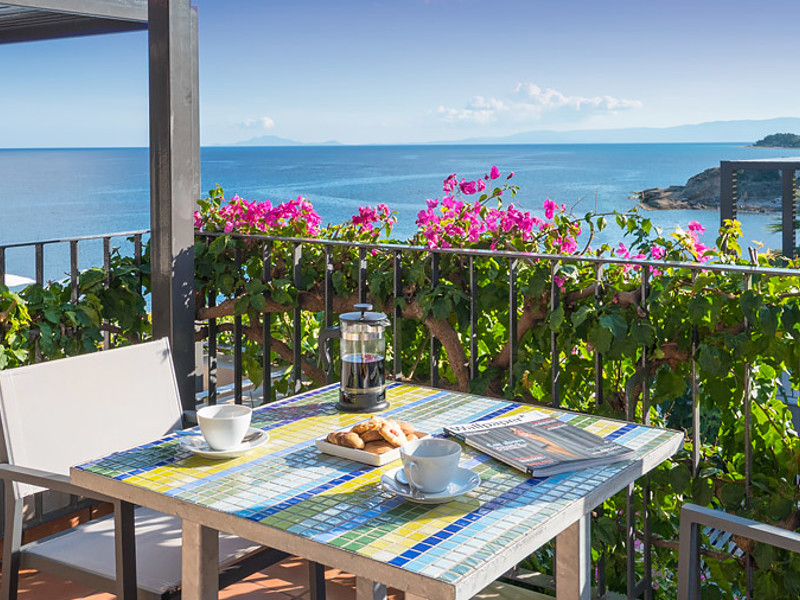 Full details
Layout
Avithos Water Cliffs (sleeps 2), 1st floor
26m² Junior suite with 14m² balcony with sea view
Open-plan kitchenette with 2-ring hob and fridge (suitable for light snacks and salads)
Sofa area with TV (English speaking news channels)
Double bed (180cm)
Shower room
Air-conditioned throughout
Children
13 July – 31 August
Sleeps 2-3

Sofabed in living area for one child (11 years or under)
---
Skala's Dawn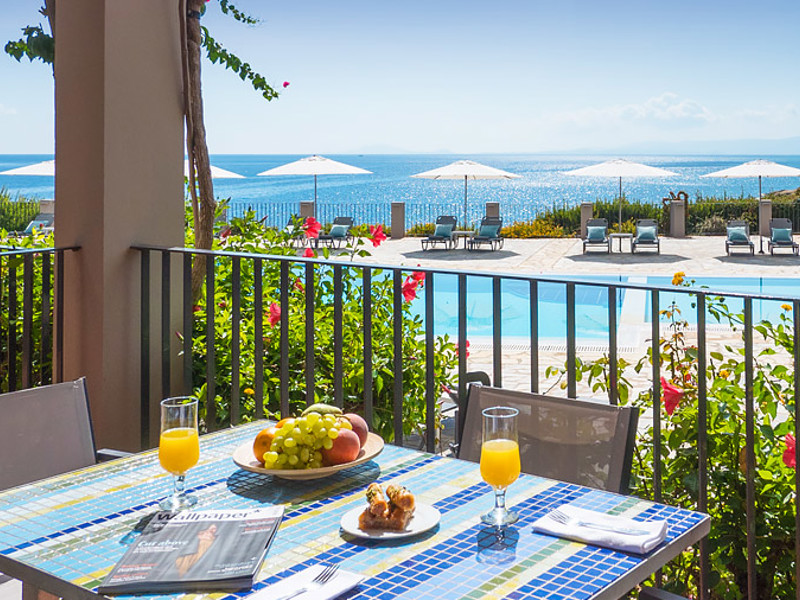 Full details
Layout
Skala's Dawn (sleeps 2), ground floor
34m² suite with 19m² balcony with sea view
Open-plan kitchenette with mini-2 ring hob and fridge (suitable for light snacks and salads)
Living area with TV (English speaking news channels)
Double bedroom (170cm bed)
Shower room

Air-conditioned throughout
Children
13 July – 31 August
Sleeps 2-3
Sofabed in living area for one child (17 years of age and under)
---
St George Bay
Full details
Layout
St George Bay (sleeps 2), ground floor
41m² suite with 21m² terrace with pool and sea view
Open-plan kitchenette with mini-2 ring hob and fridge (suitable for light snacks and salads)
Living area with TV (English speaking news channels)
Double bedroom (160cm bed)
Shower room
Air-conditioned throughout
This suite is adjacent to the snack bar
Shower room has been adapted for disabled use
Children
13 July – 31 August
Sleeps 2-3
Double sofabed in living area for one child (17 years of age and under)
---
Aenos Forest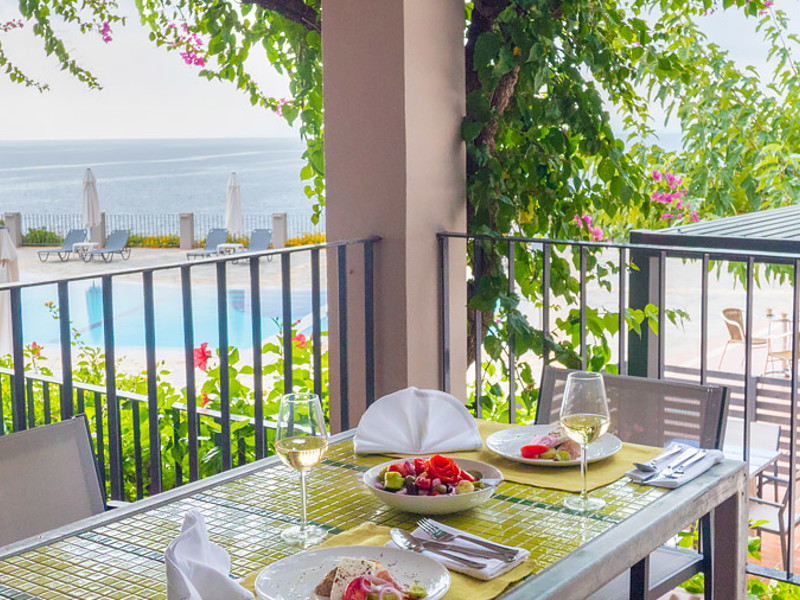 Full details
Layout
Aenos Forest (sleeps 2), ground floor
48m² suite with 17m² balcony with restricted sea view
Open-plan kitchenette with 2-ring hob and fridge (suitable for light snacks and salads)
Living area with TV (English speaking news channels)
Double bedroom (180cm bed)
Shower room
Air-conditioned throughout
Children
13 July – 31 August
Sleeps 2-4

Double sofabed in living area for two children (17 years or under)
---
Atros Mist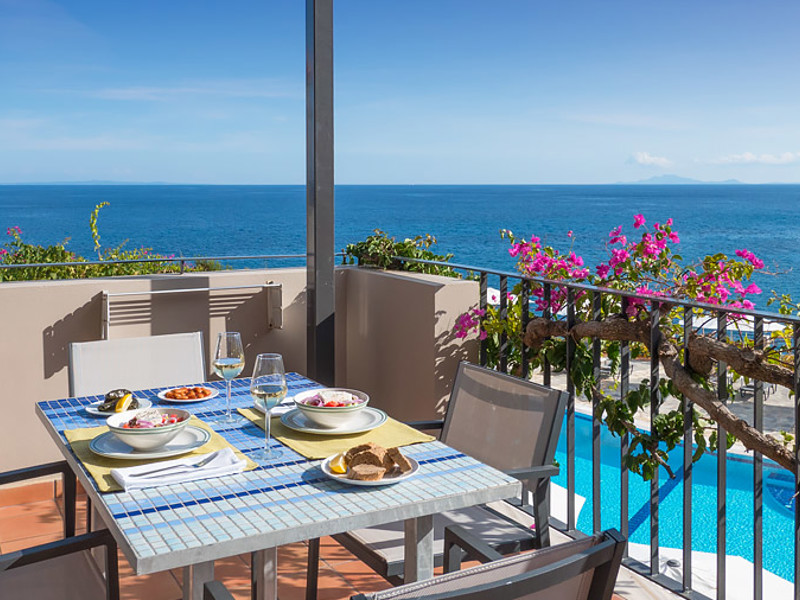 Full details
Layout
Atros Mist (sleeps 2), 1st floor
32m² suite and 20m² balcony with sea view
Open-plan kitchenette with 2-ring hob and fridge (suitable for light snacks and salads)
Living area with TV (English speaking news channels)
Twin bedroom (90cm beds)
Shower room
Air-conditioned throughout
Children
13 July – 31 August
Sleeps 2-4
Double sofabed in living area for two children (17 years or under)
---
Melissani Lake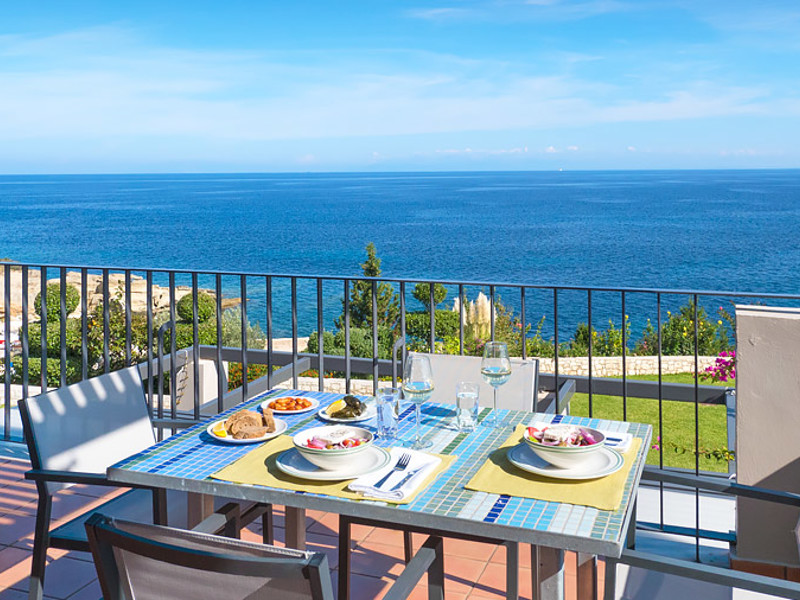 Full details
Layout
Melissani Lake (sleeps 2), 1st floor
33m² suite and 20m² balcony with sea view
Open-plan kitchenette with 2-ring hob and fridge (suitable for light snacks and salads)
Living area with TV (English speaking news channels)
Double bedroom (170cm bed)
Shower room
Air-conditioned throughout
Children
13 July – 31 August
Sleeps 2-4
Double sofabed in living area for two children (17 years or under)
---
Mounda Blue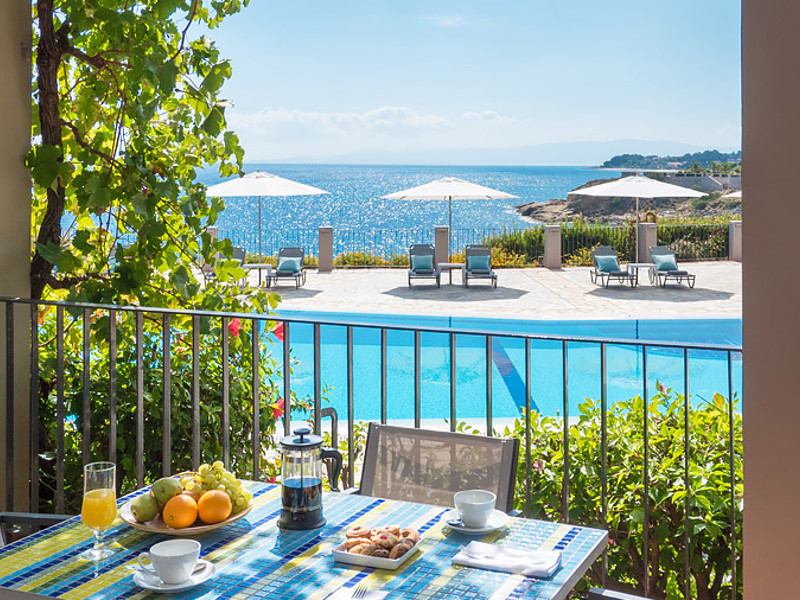 Full details
Layout
Mounda Blue (sleeps 2), ground floor
36m² suite with 25m² balcony with sea view
Open-plan kitchenette with 2-ring hob and fridge (suitable for light snacks and salads)
Living area with TV (English speaking news channels)
Double bedroom (170cm bed)
Shower room
Air-conditioned throughout
Children
13 July – 31 August
Sleeps 2-4
Double sofabed in living area for two children (17 years or under)
Terrace can interconnect with Apollo's Temple's terrace if required
---
Myrtos
Full details
Layout
Myrtos (sleeps 2-4), 1st floor above hotel bar
60m² suite and 57m² balcony with a sea view
Open-plan living/dining/kitchenette (suitable for light snacks and salads) with 2-ring hob, fridge, TV (English speaking news channels)
Double bedroom with en-suite shower room (frosted glass doors/wall)
Double bedroom (180cm bed, can be converted into twin beds on request) with en-suite shower room 
Large outdoor terrace
Air-conditioned throughout
Children
13 July – 31 August
Sleeps 2-5
Camp bed provided for one child in living area (17 years or under)
---
View holiday Booking Conditions
Simpson Travel in the press