Delightful Simpson Hotel
Close to one of Kefalonia's finest beaches
Six 2-bedroom and two 4-bedroom suites
Comfortable and spacious
Beach and tavernas 2-minute walk
Hidden from view, just a couple of minutes' walk from one of the best beaches on Kefalonia, lies the beautiful Avithos Beach Estate. Exclusive to guests of Simpson Travel, the estate is run as a Simpson Travel Hotel, combining the space and flexibility of its suites with a delicious daily breakfast service, featuring fresh local produce served on a splendid sea view terrace.
The hotel is set in its own lush and very secluded gardens above a no-through road which leads to the beach. This long stretch of gently shelving fine golden sand is ideal for families, although for those travelling without children who prefer a little more space, there is always a quieter spot to be found away from the sunbeds, and a second smaller beach suitable for naturist bathing. The hotel's own private pool is another lovely spot to relax and enjoy the sea view with a drink from the Simpson Travel honesty bar.
There are plenty of options for dinner within a short walk or drive, with a couple of sea food tavernas right on the doorstep on the beach so there's no need to take the car. Nearby Lassi or Argostoli, with its waterfront restaurants, vibrant town square and lively shopping streets are perfect for a day or an evening out. Whilst Melissani Cave, Karavmylos Lake and Watermill and the Drogarati Caves are all easily reached in a day, as are famous beaches of Myrtos and Assos.
Layout
Six 2-bedroom split-level suites in main building
Two 4-bedroom suites in annex
Split level suites
2 bedroom suites (sleeps 2-4)
Levantes – side sea view
Maistros – side sea view
Graigos – countryside view
Pounentes – countryside view
Lower floor: open-plan living/kitchenette (suitable for light snacks and salads) with mini-oven/hob, fridge, TV (English speaking news channels), DVD player; leads to private terrace
Ground floor (entrance level): small twin bedroom (suitable for under 16s only), shower room
First floor: double bedroom leading to private balcony
Air-conditioned throughout
Private terrace
Split level suites
2 bedroom suites (sleeps 2-4)
Sirokos – side sea view
Garbis – countryside view
Lower floor: double bedroom leading to private terrace, shower room
Ground floor (entrance level): small twin bedroom (suitable for under 16s only)
First floor: open-plan living/kitchenette (suitable for light snacks and salads) with mini-oven/hob, fridge, TV (English speaking news channels), DVD player; leads to private balcony
Air-conditioned throughout
Private terrace
Apartments
4 bedroom apartments (sleeps 2-7)
Apartments accessed by several sets of steps
Ostria – countryside view (upper ground floor)
Tramoundana – countryside view (first floor)
Open-plan living/kitchen/dining area with full oven, hob, fridge-freezer, microwave, TV (English speaking news channels), DVD player
Double bedroom with walk-in wardrobe/dressing room, en-suite shower room
Double bedroom
Twin bedroom
Single bedroom
Shower room
Air-conditioned bedrooms
Large private terrace to the front and large private balcony to the rear balcony
General
Continental self-service buffet breakfast included
Poolside honesty bar
Wifi in communal areas and reception
Safe and hairdryer in each suite
Laundry service (payable locally)
Iron and ironing board in each suite
Simpson Travel beach towels provided
Swimming pool 15m x 6m (depth approx. 1.2m – 2.1m)
All areas of the hotel and access to the beach road are accessed by steps
Some exposed drops in the hotel grounds
Sunbeds available on Avithos Beach (payable locally)
In Greece, a nominal visitor tax applies, known as the Overnight Stay Tax, which varies depending on the accommodation. During your stay at Avithos Beach Estate, €0.50 per night per suite must be paid locally in cash and will be collected either by the property owner or our local representative on their behalf.
Wifi
All properties with wifi are able to support basic functionality such as web browsing and checking emails*
* We aim to offer an uninterrupted service but sometimes due to factors beyond our control reliability can be affected.
National tourist licence (EOT): 0458Κ124Κ0470201
Avithos Beach 2min walk
Beach tavernas 2min walk
Mini-market 5min drive
Argostoli 25min drive
Kefalonia airport 15min drive
Car options
Based on the number of people travelling, the following hire car(s) are included in the package price of your holiday:
2-3 guests – 1 Group B, Hyundai I10 or similar*
4-5 guests – 1 Group D, Hyundai I30 or similar*
6 guests – 2 Group B, Hyundai I10 or similar*
* All our cars include comprehensive insurance with no excess charge. For this particular destination, the undercarriage, tyres, wing mirrors and windscreen are not included in the cover.
Car specification
Group B – 1.2 litre engine, 2 medium suitcases*
Group D – 1.4 litre engine, 2 large suitcases*
The following cars are available as alternatives on request (supplements apply). Please call our travel specialists for details.
Group C – Fiat Grande Punto or similar, 1.3 litre engine, 1 large suitcase*
Group E1 – Daihatsu Terios Hard Top or similar, 1.3 litre engine, 2 large and 1 medium suitcase*
Group F – Minibus Fiat Doblo 7 seater, 1.4 litre engine, no suitcases with full occupancy*
Group J – Automatic Hyundai Accent or similar, 1.4 litre engine, 1 large suitcase*
* Suitcase sizes are based on a large suitcase being approximately 75cm x 41cm x 31cm, a medium suitcase of approximately 65cm x 46cm x 29cm and a small suitcase of 55cm x 40cm x 20cm.
Customer feedback
We had a fantastic week at Avithos Beach Estate. We spent a lot of time on the beach – swimming, playing and relaxing. All in all, this place has been an amazing area to stay and we were sad to leave. Karen and the rest of the team have been amazing, brilliant and fantastic hosts. Nothing was too much trouble for them.
Tim, Tina & Emily Bilham – June 2018
Avithos Beach Estate is a fabulous place for a relaxing holiday on what must be one of the most beautiful Greek islands. It is within two minutes' walk of the beach and two great tavernas. You don't need a car, but if you don't mind driving, the views throughout the island are breathtaking.
Chris Davis – Sirokos – June 2018
This was our third time at Avithos Beach Estate – we travel all over the world, but from our first visit three years ago this place is perfect for a relaxing week away. The facilities and location are perfect, but what makes the place is the people who run it. We live such busy lives and the thought of arriving somewhere where everything is so straightforward and drama-free is very appealing. John and Karen are wonderful people, and conduct themselves in such a way that they are there if you need them, but equally leave us to please ourselves. All of the staff are equally as pleasant and helpful; they all give a professional, personal service. I have recommended Avithos Beach Estate to my friends and clients, and will continue to do so. The overall location is fantastic and I feel you have everything within easy reach, but it is the people that run it that make it so special. We will return, and the thought of a drama free holiday is just a breath of fresh air. Thank you to everyone there.
Ms T Everett – Tramoundana – May 2018
Karen and John and their team were really excellent and looked after us so well. The location was brilliant either the beach and two good restaurants just metres away. We saw a lot of the island which is beautiful. The restaurants and tavernas were all really good. The weather was fantastic, 21-25C so perfect for travelling around.
Mrs Gilbert – October 2017
We had a wonderful stay at Avithos Beach Estate. Karen and John were very welcoming and helpful hosts. The accommodation was lovely and in a perfect location – only a couple of minutes' walk from an amazing sandy beach. Beautiful island – perfect for a week of exploring and relaxing.
Mrs Musgrave – October 2017
Avithos Beach Estate is a lovely presented resort. Our apartment was nicely furnished, clean and comfortable. Our hosts Karen and John were very welcoming and helpful. We had access to guidebooks and local information and handmade maps to help us negotiate the roads in Kefalonia. Our breakfasts were varied and filling and we also had cakes on some evenings to enjoy. We had a super quiet stay, good weather, no crowds. The local tavernas were located only five minutes away so we never ate anywhere else as all we wanted was on the doorstep. Well done Simpson Travel.
Mr Allen – October 2017
This was our first trip with Simpson Travel and I think Avithos Beach Estate has set the bar extremely high! Karen and John and all the staff have been so helpful from the very moment was landed on Kefalonia. Great information about where to go, the best places to see, the best routes to get there (well done with the lovely maps Karen!). We were extremely fortunate with a great week weather wise, 25 degrees, warm and sunny which added to the overall enjoyment of our stay. The tavernas down the road served great food and were friendly and welcoming. This was an added bonus since there was no need to drive to find somewhere to eat in the evening. Thank you Karen and John for looking after us so well.
The Allens – October 2017
We have had a wonderful 10-day holiday at Avithos Beach Estate. It is a wonderful hotel in a fabulous location. The villa is lovely, has everything you need and more. We would like to thank Debbie and Eve for making our beds every day, beautiful clean sheets and lovely cushions displayed every time, the lovely towels on arrival and the olive branches – so very beautiful. Thank you to Richard for serving us breakfast every day with a smile. Thank you to Joe for keeping the grounds so beautiful and well kept. Always with a smile and a chat. Karen and John, last but not least – John for the fantastic breakfasts, beautiful food on food nights and Karen for your enthusiasm, knowledge of the island, entertaining us with your 'unique' style on quiz nights. You both definitely go the extra mile for your guests.
The Smiths – September 2017 
A lovely week's holiday after a hectic summer, lovely and relaxing. A special thanks to Karen, John, Richard and the team. Karen worked hard to ensure everything was perfect and we wish them well for the future.
Hilary & Trevor – September 2017
Another wonderful week here being looked after by Karen, John, Debs, Eva, Joe and Richard. Together they made the friendliest, most helpful, most positive group of people you could wish to meet – nothing was too much trouble and now they feel like friends. We planned to explore more on this visit but once again ended up on the beach here, unable to tear ourselves away so we will have to just come back again!
The Tibbs & Williams Families – September 2017
We had a wonderful week at Avithos Beach Estate. The suite was lovely and the breakfasts great! Location was superb with a beautiful beach and a couple of tavernas right on the doorstep. We had such a relaxing week and enjoyed our trips to Assos and St Thomas beach. Lily particularly enjoyed seeing the turtles in Argostoli! Our hosts, Karen, John and the team, made our stay very easy and relaxing. The little touches like Prosecco and Karen's cakes were wonderful and the pencils/stickers and use of beach toys for Lily was very much appreciated. Karen's map and recommendations were great and Richard's tips for Assos. Brilliant hosts! 
Andrew, Jill & Lily – September 2017
We have had a fabulous week staying here. The weather hasn't been great but it gave us an opportunity to explore this beautiful island. Our hosts Karen and John have been amazing! This is our second time staying here and we will certainly be back! Thank you Karen and John for a lovely holiday!
Tracey & Danny – September 2017
A special corner of Kefalonia to holiday. Excellent two weeks – well looked after by John, Karen and their friendly, knowledgeable staff. There is something for everyone, lovely local beaches, tavernas withing walking distance, churches, monasteries, castles, mountains, ferry trips to Lixouri – we have done it all. The quiz night was good fun too. The Simpson Travel team here made everything easy and we really learned a whole lot more about Kefalonia than we would have done without them.
Baba & Nicke – September 2017
Everything about Avithos Beach Estate has Karen and John's personal touches, which makes it a special place, the location is wonderful, with a superb beach and the choice of the two fab tavernas on the waterfront. We enjoyed spectacular sunsets at the beach bar. We managed three days exploring the island in the car and found some amazing places. The enthusiasm of Karen and John is second to none and their plans for Avithos Beach Estate in the future sound fantastic we wish them and their staff (who were also so friendly and helpful) every luck and happiness and we know many lucky people will enjoy their fruits.
Billy & Hydra – September 2017
One of the best holidays we have had...EVER! Karen, John and the whole team were superb – they all went the extra mile for us and all of their guests. John's special breakfasts were a joy and a treat we looked forward to every day. We particularly enjoyed the peace and tranquillity of the beach estate. The quiz night was a great event – fabulous food and a great way of bringing all the guests together. Thank you for creating lovely memories – we will be back!
The Birchams – September 2017
We have visited the island many times but this is the best so far. Karen and John, plus all other staff, have made us feel so welcome. Simon's birthday was marked with a special table for breakfast with John's mushroom omelette, a cake and a card. The resort is lovely, the beach, beach bar and two tavernas are all good, no need to travel unless you really want to. Thank you for a truly memorable stay. 
Carde & Simon – September 2017
The quality of a Simpson Travel holiday is of the very best. The accommodation is always beautiful and so are the people that manage and run them. We would 100% recommend a Simpson Travel holiday to all our friends.
Mrs Annan – September 2017
If you are wanting a relaxing and very comfortable holiday then Avithos Beach Estate is the perfect destination. You can do as much or as little as you wish and the wonderful staff will help you achieve this. We had great advice about local tavernas and some interesting history lessons too. Can hardly wait for a return visit. Many thanks to all the staff.
Mrs Gingell – September 2017
Well, the two weeks are up and a great two weeks they were too. Karen, John and the team made our stay both relaxing and highly enjoyable. They went to no ends to provide information and local knowledge and Karen's handmade road maps got us everywhere we wanted to go. Our boat trip was probably the highlight of our holiday and the two lads who steered the vessel were entertaining and amusing Would I come back...? Most definitely. Tavernas great, cafés wonderful. The team – I say a big big thank you to John for his humour, cooking and singing; Panos for his little insight into the working of Kefalonia; Richard for his historical knowledge and the wonderfully brewed mountain tea and Karen for all the little extras she thinks of which makes a holiday perfect or as Karen says in Greek "Telias".
Carol & Mick – September 2017
A return trip! Thank you very much John, Karen and Richard for all your hospitality. Nothing was too much trouble and we so appreciated all your help. Lovely hotel, beautiful secluded location and fabulous weather. We are very sad to be leaving.
Hugh, Masion & Harriet – September 2017
We had a fantastic holiday, we have been going to Mousses in Lefkada for years so this was a new adventure for us. Very happy to say it did not disappoint. The staff and accommodation were both excellent and we look forward to coming back again next year.
Mrs Devonald – September 2017
Avithos Beach Estate is a beautiful location and the managers, Karen and John, with their team go the extra mile to ensure you have a wonderful holiday.
Mrs Greenland – September 2017
Great location with a beautiful beach nearby and the good-sized pool was never too crowded. The rooms were very clean and well equipped. There is lots to explore on this beautiful island! The staff were all extremely helpful and made our holiday special.
Mrs Webster – September 2017
Lovely relaxing fortnight on a beautiful island. We were not sure what to expect and were pleasantly surprised by the beauty of the scenery – truly magnificent. 
Mane, Alison, Thea & Anna – September 2017
A brilliant week in a lovely hotel. We move on to the Blue Jasmine today but don't want to leave here! Amazing team of staff who can't do enough for you. Quiz night/barbecue was great – especially being on the winning team! No need to go far for meals at night and a beautiful beach. Many thanks to all at Avithos Beach Estate for making the holiday special.
Pat & Keiran – September 2017
We had a wonderful stay at Avithos. Karen, John and the team were all helpful beyond measure and very friendly. Karen provided toys and equipment for Emily (aged 2) and Eren brought her kittens for Emily to enjoy. Our thanks to Karen and the team for a really enjoyable holiday.
Lauren, Chris, Emily & Elaine – September 2017
Karen, John and all the great team make you feel like house guests rather than paying guests. Their enthusiasm and hospitality skills are exceptional. We were 'wowed' by the power and colour of Myrtos beach, a real highlight for us. Thank you all!
Claire & Clive – September 2017
Wonderful week in a lovely apartment. Thank you to everyone at Avithos for making our stay so special. We enjoyed the barbecue and quiz night, wonderful food prepared by John. Turtle watch in Argostoli was an absolute delight. John and Karen are wonderful hosts – thank you again for everything.
David, Carolyne & Sophie – September 2017
Just one week in this beautiful place, but we have loved the location, the beach and local tavernas, but most of all the we have been looked after by Karen, John and all their team. Nothing has been too much trouble for them. We hope that all your plans can be achieved.
John & Dennis – September 2017
We've had a fantastic stay and my only regret is that we weren't here for longer! The accommodation was perfect for me and the kids and the fact that everything we needed was within walking distance. John, Karen, Joe, Debs and all the rest of the staff are super lovely, super friendly and super helpful! Will definitely come back and travel with Simpson Travel again. Thank you so much for everything!
Steph, Emilio & Xavier – September 2017
A fabulous holiday. Relaxed and easy going, thank you to Karen and John for their wonderful hospitality, you have an amazing team. There is a lot to explore yet equally you can stay local and get everything you need. For us the real highlight is that Karen, John and the team have made us feel truly at home. Their kindness and patience knows no bounds. The children have made some wonderful friends. See you again soon!
The M'Loughlia Family – September 2017
Last day of a lovely week at Avithos. Thank you to all the team who have made it a very relaxing holiday, especially Karen and John, who have been great – very welcoming and helpful throughout. Enjoyed a trip to Argostoli to see the turtles in the lagoon and Assos was a lovely day out too. Myrtos beach looked spectacular. Thanks Karen for bringing Hector and the kittens in, the kids loved seeing them. Thanks John for some wonderful food, sorry if our kids eyes were often bigger then their bellies! Hope to see you again soon!
Rob, Katy, Henry & Mia – September 2017
Thanks to Karen, John and all at Avithos Beach Estate. Great couple of weeks, lovely settings and atmosphere. Special thanks to Karen for keeping all the children entertained, they loved the kittens, Hector and the cake sale. We hope to be back for another stay!
Lindsay, Tom, Stanley & Louis – September 2017
We have had a fabulous fortnight at Avithos! Huge thanks to Karen, John and all the team for their great hospitality – nothing is ever too much trouble and all the extra little touches have been much appreciated. Having seen a few of the beaches along the coast, our favourite was Avithos beach, handily within walking distance! We really don't want to go home but very much hope to see everyone again next year.
The Reed Family – September 2017
Karen and John at Avithos Beach Estate were very hospitable hosts. We wouldn't hesitate recommending to stay here.
Mrs Bertam – August 2017
Karen and John went the extra mile to make our holiday special. All the staff were very kind and cheerful and came across as genuinely enjoying their jobs. Our daughter was very fond of Karen who brought her dog and some lovely kittens in to show the children and was happy to let all the children invade her office and talk her ear off! The pool was lovely with amazing views. Having a hire car was a real plus too as there were so many beautiful places to explore which we wouldn't have been able to access without it. We felt very spoiled and hope to return.
Katie, Andy and Ellen – August 2017
Our third visit to Avithos and John and Karen have helped make it perfect, with their welcoming charm, superb hospitality and breakfasts – we couldn't tear ourselves away! Lingering over our morning coffee gazing at that view has, as previously, set up each day for relaxing and exploring this beautiful island. So many happy memories – have fun making yours, and be sure to ask Karen and John for their terrific recommendations. With enormous thanks to everyone for the best holiday!
Paul, Sam, Hani & Rafi – August 2017
Great holiday in a great place, the service and help made the holiday even better. Thanks to all the team for a great week!
Alan, Melanie & Ellie – August 2017
Another fantastic holiday at Avithos Beach Estate, our third visit in just over a year, which tells you everything you need to know. The weather was not typical for June, but we still fitted in a few visits to the beach (and beach bar) and pool and it encouraged us to finally explore more of the island which is beautiful – a day out to Assos was particularly memorable, as were the water sports at Antisamos beach. Once again we found the people of Kefalonia incredibly welcoming and helpful, and of course the staff at Avithos Beach Estate are exceptional.
Wendy Hibbs – Tramoundana Suite – June 2018
Our stay at Avithos Beach Estate was fabulous, the location was idyllic and the hosts were totally committed to making our holiday memorable. Breakfasts were varied and most enjoyable, a variety of both hot and cold delights. A day trip on 'The Queen Bee' viewing dolphins and turtles is a must.
John – Ostria – June 2018
We would thoroughly recommend Avithos Beach Estate to families and couples. The pool and proximity to a fantastic beach and lovely tavernas is ideal. The hosts, Karen and John, are extremely welcoming and go the extra mile to make sure your stay is perfect.
Helen and family – Tramoundana – May 2018
Avithos Beach Estate is a great location – a beautiful place to stay. It's very near a sandy beach and has excellent accommodation and gardens full of flowers. Karen and John, who run the resort, are exceptional hosts. They are always happy to help and are full of local knowledge. We particularly enjoyed visiting out-of-the-way beaches, meeting local people and exploring the island. Kefalonia is a lovely place to visit, and Avithos an ideal place to stay.
Jen Hallett – Levantes – May 2018
We had a great time in a beautiful location with a great team looking after us. Karen is a wealth of information and was ever so helpful. Thank you all so much!
Malcolm, Sarah, Eleanor & Samuel – August 2017
A truly relaxing holiday made even more superb by Karen & John and their wonderful team. Thank you! See you soon, we hope!
Solomon Family – August 2017
We've had a lovely relaxing holiday - plenty of Sunshine and lazy days by the pool and on the beautiful Avithos Beacj. The sea is perfectly clear + beautifully warm! A very happy holiday!
Ruston Family – August 2017
We have enjoyed ourseleves enormously here at the Avithos Beach Estate and having both the pool and the beach in such a small walking distance has been great. All the staff here have been nothing but friendly and accomodating and breakfast every morning was wonderful! Overall we have had a fantastic 2 weeks and loved exploring Kefalonia. Can't wait to come back!
Susan, Tim, Kitty , Quinn, Margot and Natty – August 2017
Karen, John & their wonderful team made our holiday! Nothing is too much trouble. The service and hospitality was great, the rooms were clean and tidy. I really enjoyed the restaurants nearby. The air conditioned rooms provided sanctuary when the weather was too overwhelming! This island is magical! We have had two weeks of total relaxation. The team here have worked so hard and made this holiday a total success. 
Libby, Evie, Katya & Tom – August 2017
We had a brilliant holiday here. Karen and John were amazing hosts. The breakfast were so good, and the range of food was huge, everything you could wish for. Karen, and all the staff as a matter of fact were so helpful recommending tavernas and beaches or activities. Our highlight was the BBQ as the food as the food was great and the kids made friends, which meant they just wanted to stay local so they could meet up.
Sam, Catherine, Hermoine and Imogen – August 2017
Our third visit to the gorgeous Avithos Beach Estate, and a third fantastic holiday.  John & Karen and all their staff are absolutely fabulous and cannot do enough to ensure that every part of the stay is nothing short of perfect.  Incredibly well kept accommodation, always clean and very well presented throughout the Beach Estate.  The breakfast on the terrace is a daily highlight, if not the amazing selection of fresh food (all prepared by John every morning) but the views and the peace alone are divine.  Incredibly convenient for the best beach in Kefalonia is less than 5 minutes on foot, and is sandy, beautifully clean and warm seas, and not very busy at all.  On the same route are two excellent tavernas - and if that short trip is too much for you in the heat, then the pool at the accommodation is the perfect spot to cool off and enjoy a swim.  Absolutely perfect for families (our kids loved it aged 8 and 11), and events like the weekly BBQ, stone painting and the table tennis  help to bring guests together.  A first class experience again with Simpson, hard to beat, and Kefalonia is just breathtaking.
Bulos Family – August 2017
Our holiday at Avithos Beach Estate was faultless. The location and accommodation were perfect for our family, but what really made it extra special were the staff. Karen has excellent knowledge of the whole island and was really helpful on many many occasions. John is an amazing chef and ensured that we were treated to extra special and varying breakfasts each morning. They were both incredibly kind and friendly and it was like going to stay with favourite family members. All the staff were kind and helpful and I will never forget Joe giving me a daily weather forecast whilst he went about his work around the grounds. My son George said he felt like he was part of the hotel family, especially when he helped with the quiz and went out collecting figs. It was a perfect holiday and we wish we were still there now. Please continue to source family friendly hotels with a similar set up. We've stayed at a few, but would always be happy to explore new destinations.
Mrs Kirton – August 2017
Fabulous week! Gorgeous weather despite thunder storm. Amazing accommodation and hosts! couldn't ask for much more : beautiful place, so friendly and best breakfasts. The turtles in Argostoli were so amazing we are off to see them again now! The local beach in the best and the cave with the lake in is well worth the drive. Thank you for a lovely week!
The Woodwins – July 2017
From the moment we arrived the Avithos Beach Estate exceeded our expectations. Karen and John and their team do an amazing job and we did not want for anything during our stay. Their attention to detail and sense of caring is quite remarkable. The estate itself is lovely, and breakfasts on the terrace are superb, with a welcome variety of options through the week. We went in search of relaxation, and we most definitely found it and we would not hesitate to return to this amazing hideaway.
Mrs Haines – July 2017
Avithos Beach Estate. At times with the breeze through the palms, it felt like a tropical paradise. Avithos Beach Estate was impeccable for cleanliness, beauty and peace. This was all made possible by the excellent management by Karen and John who gave numerous tips and advise. The friendly 'family' like atmosphere meant a relaxed and thoroughly enjoyable time was had on such a beautiful island. Thank You both.
Mr Wakeham – July 2017
Thank you so much Karen, John and team. We have had such a lovely holiday here. You couldn't have been more welcoming and helpful - and it's a beautiful place to stay. 
Mark, Aileen & Isla – July 2017
John and Karen absolutely could not be more attentive and caring. Rooms are comfy, setting is fantastic. Great stuff, lovely island, which I now wish I had visited years ago.
Pew, Lynne & Theo – July 2017
A big thank you to John and Karen for their amazing hospitality and making our stay so relaxing. We've had two fabulous weeks post GCSE's!
Michael, Michelle & Emily – July 2017
We have had a wonderful 2 weeks - Kefalonia is a beautiful island, as well as that we have had fantastic support and insight from Karen + John... A big thank you to them. A nice crowd of people staying here made it friendly and welcoming. Definitely be back for more! A big thank you again! 
Lynne, Margaret, Imogen & Theo – July 2017
Thank you so much for all the wonderful help with the girls. They loved it here. special thanks to Karen - The pebble painting is such a wonderful idea. We'll be back and next time will venture further afield.
Hamilton Family – July 2017 
An amazing holiday in a special location. Special thanks to Karen for all her information and recommendations. Anti Samos beach was our favorite and enjoyed the drive as the scenery is amazing. We would love to come back one day. Also, visit to Assos is worth it - a beautiful unspoiled village - we sat enjoying a drink taking in the surroundings. Thanks for everything!
Claire & Woody – July 2017
We've had a relaxing week in the most beautiful part of the world. Great weather, comfortable accommodation with such friendly hosts. Karen and John just can't do enough, and any problem is solved immediately! Lots of amazing places to go and see, but what is on the doorstep is hard to beat. Will definitely return.
Mark & Jane Dyer – July 2017
It is hard to find words to describe how lovely this place and the team that have looked after us have been. Karen, John, Thanos, Panos, Eva, Debbie and Joe are all such kind and caring people, they have played a large part in making this holiday the stress buster we needed after a busy few months.The accommodation and gardens exceed our expectations and everything we needed has been provided. We have enjoyed the luxuries of a large hotel without the disadvantages such as noise, crowds of people and dress codes etc. Kefalonia is a beautiful island and we hope to come back to see a little more of it. We did manage a few trips out, although staying at the beach was a great way to relax. As others have said, a visit to Argolol around 11am and seeing the turtles swimming near the boats is amazing. We have thoroughly enjoyed our time here, and hope that you do too.
Catherine, John & Maddie – July 2017
We have had a fantastic 2 weeks and are very sad we have to leave! Highlights include eating a fabulous breakfast looking over the sea view. Karen & John and the team - we have truly been spoilt!! Spatia was a fantastic beach for us with 2 little children - very calm water with a lovely cove beach. We visited lots of lovely beaches but we spent most of our time at the pool! 
Kathe, Chris, Lualle & Noah – July 2017
We've had such a lovely happy holiday! Thank you very much to the team for being so helpful, friendly, informative and so accommodating - You are superstars!
Claire, Charlie, James & Anna – July 2017
Thank you for a lovely time in Avithos. We had a great time relaxing and chilling on all the lovely beaches, Anti Saxos, Al Itelis, Skala. We went to Fiskaelo, Assos is beautiful! Boat trip enjoyable. Isabel had a lovely 12th birthday made extra special by Karen & John with a tasty cake! Thanks for everything!
Linda, Paul & Isabel – July 2017
"...another day in paradise" Thank you for making my birthday so special. Interesting to see what John creates every breakfast! BBQ lovely food and a great way to meet others. Karen the "fairy Godmother" of Avithos Beach Estate! Thank you both so much , your daily suggestions to make our week perfect. Simpson are lucky to have such caring and efficient hosts! New road to Asos is well worth a visit and a beautiful drive. What more can I say. Lovely home, Special place.
Michael, Susan, Matt & Lizzie – June 2017
A fabulous fortnight in lovely Kefalonia - thank you. Our young family ( 4 + 2) enjoyed the sandy beaches + wonderful pool. Karen + John were lovely hosts and so thoughtful, thank you Simpson Travel.
Grace, Nick, Harriet & Lucy – June 2017

Graham Simpson has a way of finding such excellent places to stay on the Greek islands and Avithos Beach Estate is no exception. You can either relax round the pool or take the short walk down the hill to the beaches. Safe paddling for children. Having just returned the beaches were not over busy but might change as the season moves on. There are two tavernas which you pass on your way to the beach. Can recommend the fish platter for two. You are well looked after by John, Karen and all the staff.. Certainly recommend Karen's rock or fruit cake. Very relaxing and enjoyable holiday
Mr Winslett – June 2017
Great place everyone is so friendly and helpful. Karen and John made us feel so welcome, the weather was superb all very relaxing. Our trip to Mount Aenos was a real adventure with fantastic views of the Islands and we look forward to a return visit.
Ann & David – June 2017
We have just returned from an unforgettable week at the Avithos Beach Estate. John and Karen are the most perfect hosts - warm, friendly and genuinely hospitable. It is obvious that they care deeply about their guests, and we love the creative touches they are bringing to the hotel and its grounds. Debbie is a wonderful addition to the team, as are Panos and Thanos - all of them were keen to share their love of Kefalonia, and we very much enjoyed the day trips they suggested. Joe deserves a special mention - thanks to him the hotel's gardens are really lovely, a lush, green oasis. This was our first Simpson hotel experience and it set the bar very high indeed! We hope to return very soon and look forward to seeing everyone again.
Mr Atkin – June 2017
Fantastic pool, amazing beach! I loved the stone painting with Karen and really fun barbeque - the quiz was fun! I spent hours playing with the kittens, they were adorable! I also met lots of nice children and can't wait to come back! 
Lydia(Age 8) ,Jules & Vayden - February 2017 
Simpson Travel are excellent. From their choice of locations, their website, sales and support team to the holiday experience itself. I would highly recommend them and our family will use them again and again. A holiday experience designed entirely around the customer! Perfect.
Mrs Ella Tracey – June 2017
Well, Simpson Travel have cracked it yet again ! A lovely, relaxing, stress free week. Very comfortable accommodation and beautiful surroundings.
Mr Wellington – July 2016
A wonderful, relaxing 2 weeks at Avithos Beach Estate with our 2 children. This island is so beautiful.
Mr Vernor-Miles – July 2016
Avithos Beach had everything required for a relaxed holiday. The accommodation felt like an individual villa. The daily breakfast, taken on a covered terrace with other guests was a civilised way of starting the day and, in our case, meant we didn't seek out separate lunch venues. Having the beach and choice of tavernas within a couple of minutes' walk reduced our dependency on a car while the overall location gave easy access to lots of the island's attractions including the bustle of Argostoli. A villa holiday can sometimes leave you feeling a little isolated. This was our first experience of a Simpson Travel 'hotel' and we found the presence of other guests and on-site staff to be agreeable and comforting.
Mr Gibbs – June 2016
Our choice of location was superb, quiet, friendly and relaxing. Easy to get around in our little car. We would certainly recommend the area for a family holiday as well, safe swimming and perfect beaches. Plenty of good restaurants. Will be back.
Mrs Doman – June 2016
Lovely apartments and perfect for children - lots to explore on the Island - recommended.
Mr Lake – May 2016
We have been on several Simpson Travel holidays and they can be relied on to find the perfect hotels in lovely locations. So far ten out of ten with a few gold stars!
Mrs Stevenson – May 2016
Fantastic location, accommodation and service. A perfect base from which to explore a beautiful island or just relax by the pool. Our 8-yr-old son is desperate to return!
Mr Beaugeard – August 2015
Avithos is the perfect place to relax with family - fabulous pool, stunning beach and super cool beach bar. We loved the restaurant next door too. No need to venture out to other resorts as we had everything we needed there.
Mrs Wells – August 2015
Our choice of Greek properties is as diverse as the islands themselves, ranging from simple seaside charm to genuine luxury and style. Much of our portfolio is privately owned, and price alone is therefore not a universal guide. We contract all our accommodation in person, and each property has its individual appeal. To help you make the right choice based on your own priorities, we have devised a simple grading guide to be considered in conjunction with each individual property description, awarding up to a maximum of five stars for the below categories.
* For further clarification on Facilities and Amenities, please view the 'Details' tab for each property or speak to one of our experienced sales consultants.
Densely forested hills dotted with traditional hamlets and a coastline of small, quiet coves combine to make Kefalonia an unspoilt Greek holiday delight. Its northeastern tip shelters an easily overlooked gem in Fiskardo, whose 18th-century houses stand proud with their flower-festooned balconies and carved doors. South Kefalonia tells a different story, quieter and more traditional, with tranquil villages and beautiful beaches, as well as Skala and Argostoli with its harbour bars and restaurants.
To complete the picture of your luxury holiday in Kefalonia, explore our handpicked villas, boutique Simpson Hotels and apartments to help you make the most of this magical island.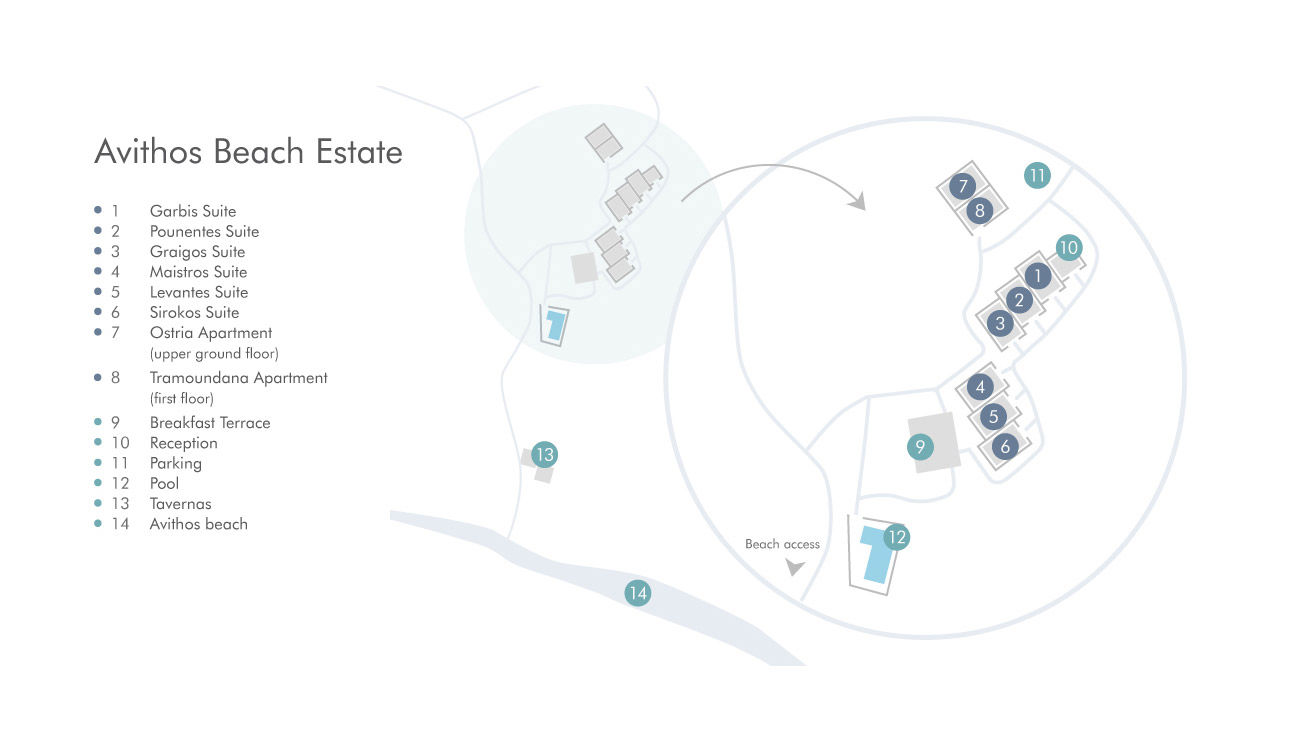 Enlarge Map
Garbis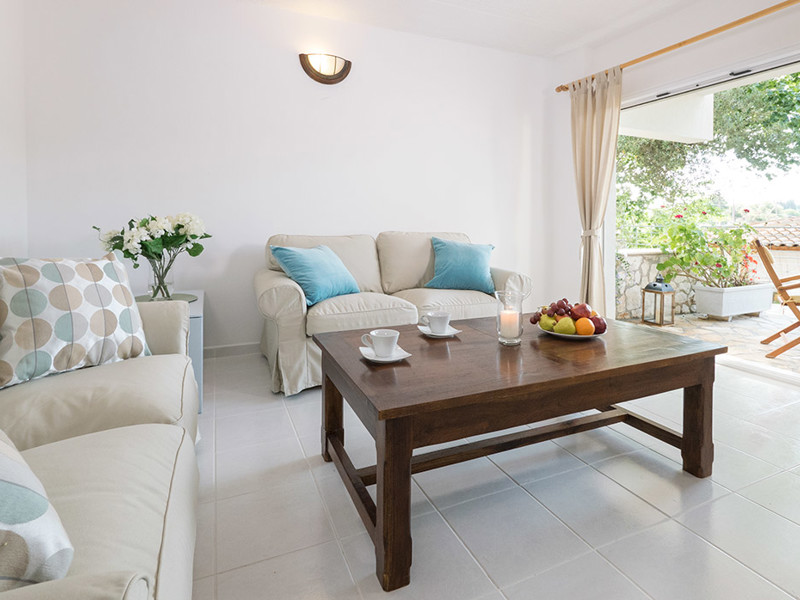 Full details
Layout
Split level suite in main building with countryside view
2 bedroom suites (sleeps 2-4)
Lower floor: double bedroom leading to private terrace, shower room
Ground floor (entrance level): small twin bedroom (suitable for under 16s only)
First floor: open-plan living/kitchenette (suitable for light snacks and salads) with mini-oven/hob, fridge, TV (English speaking news channels), DVD player; leads to private balcony
Air-conditioned throughout
Private terrace
---
Graigos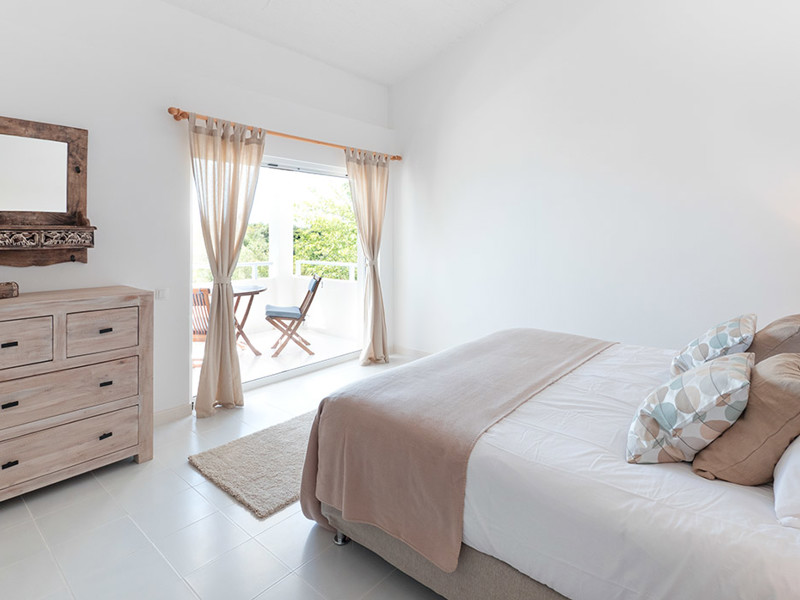 Full details
Layout
Split level suite in main building with countryside view
2 bedroom suites (sleeps 2-4)
Lower floor: open-plan living/kitchenette (suitable for light snacks and salads) with mini-oven/hob, fridge, TV (English speaking news channels), DVD player; leads to private terrace
Ground floor (entrance level): small twin bedroom (suitable for under 16s only), shower room
First floor: double bedroom leading to private balcony
Air-conditioned throughout
Private terrace
---
Levantes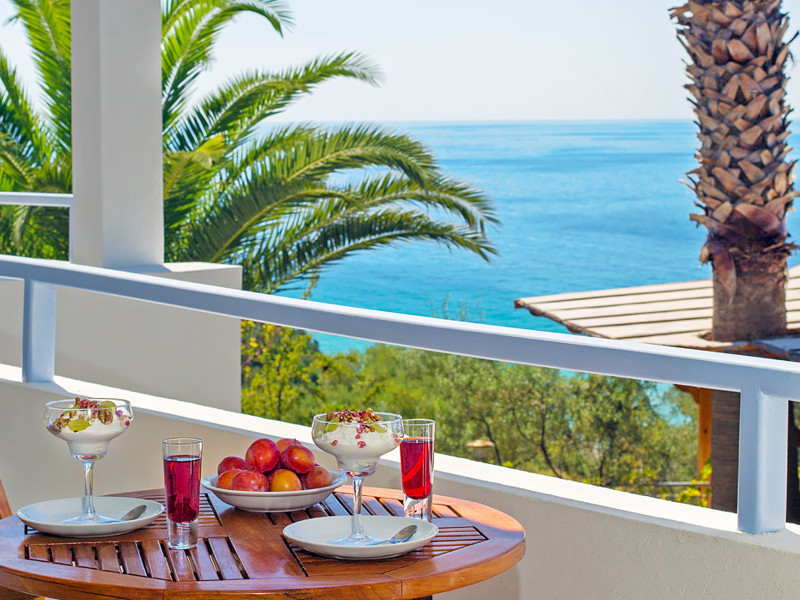 Full details
Layout
Split level suite in main building with side sea view
2 bedroom suites (sleeps 2-4)
Lower floor: open-plan living/kitchenette (suitable for light snacks and salads) with mini-oven/hob, fridge, TV (English speaking news channels), DVD player; leads to private terrace
Ground floor (entrance level): small twin bedroom (suitable for under 16s only), shower room
First floor: double bedroom leading to private balcony
Air-conditioned throughout
Private terrace
---
Maistros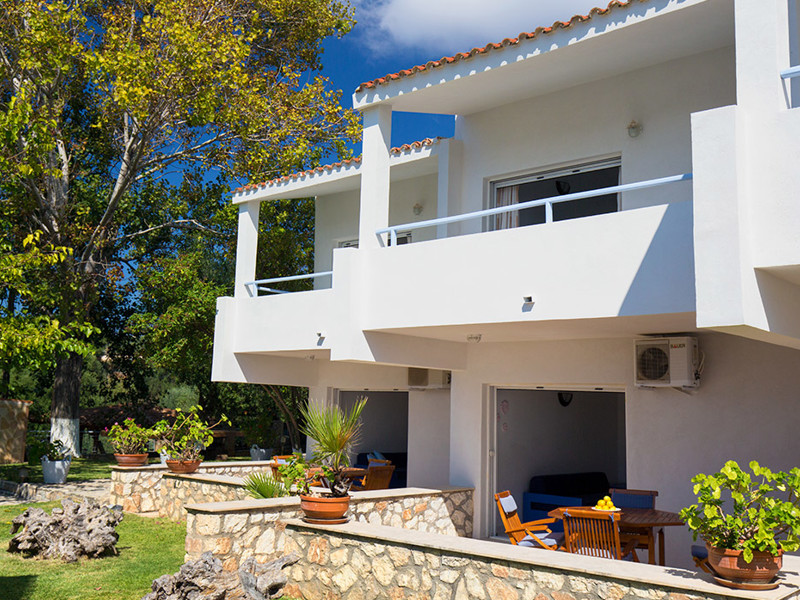 Full details
Layout
Split level suite in main building with side sea view
2 bedroom suites (sleeps 2-4)
Lower floor: open-plan living/kitchenette (suitable for light snacks and salads) with mini-oven/hob, fridge, TV (English speaking news channels), DVD player; leads to private terrace
Ground floor (entrance level): small twin bedroom (suitable for under 16s only), shower room
First floor: double bedroom leading to private balcony
Air-conditioned throughout
Private terrace
---
Pounentes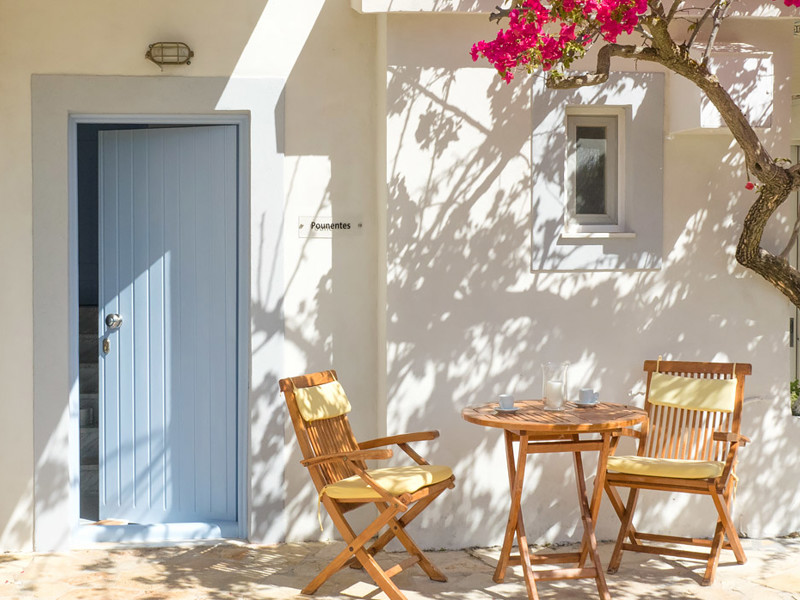 Full details
Layout
Split level suite in main building with countryside view
2 bedroom suites (sleeps 2-4)
Lower floor: open-plan living/kitchenette (suitable for light snacks and salads) with mini-oven/hob, fridge, TV (English speaking news channels), DVD player; leads to private terrace
Ground floor (entrance level): small twin bedroom (suitable for under 16s only), shower room
First floor: double bedroom leading to private balcony
Air-conditioned throughout
Private terrace
---
Sirokos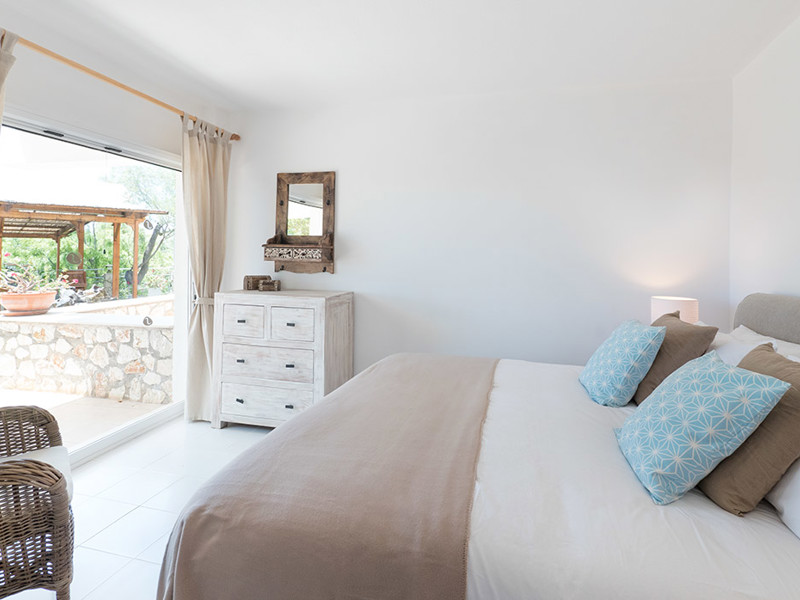 Full details
Layout
Split level suite in main building with side sea view
2 bedroom suites (sleeps 2-4)
Lower floor: double bedroom leading to private terrace, shower room
Ground floor (entrance level): small twin bedroom (suitable for under 16s only)
First floor: open-plan living/kitchenette (suitable for light snacks and salads) with mini-oven/hob, fridge, TV (English speaking news channels), DVD player; leads to private balcony
Air-conditioned throughout
Private terrace
---
Ostria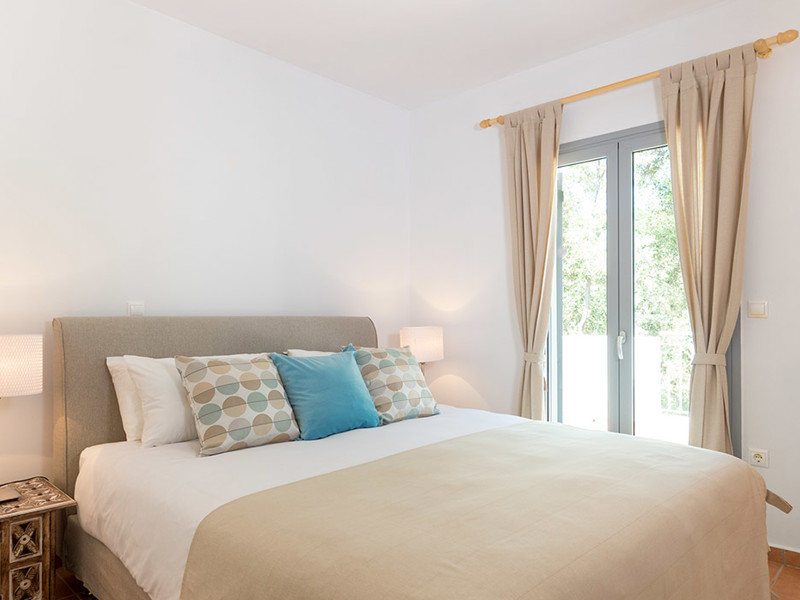 Full details
Layout
Apartment in annex with countryside view (upper ground floor)
4 bedroom apartments (sleeps 2-7)
Open-plan living/kitchen/dining area with full oven, hob, fridge-freezer, microwave, TV (English speaking news channels), DVD player
Double bedroom with walk-in wardrobe/dressing room, en-suite shower room
Double bedroom
Twin bedroom
Single bedroom
Shower room
Air-conditioned bedrooms
Large private terrace to the front and large private balcony to the rear balcony
---
Tramoundana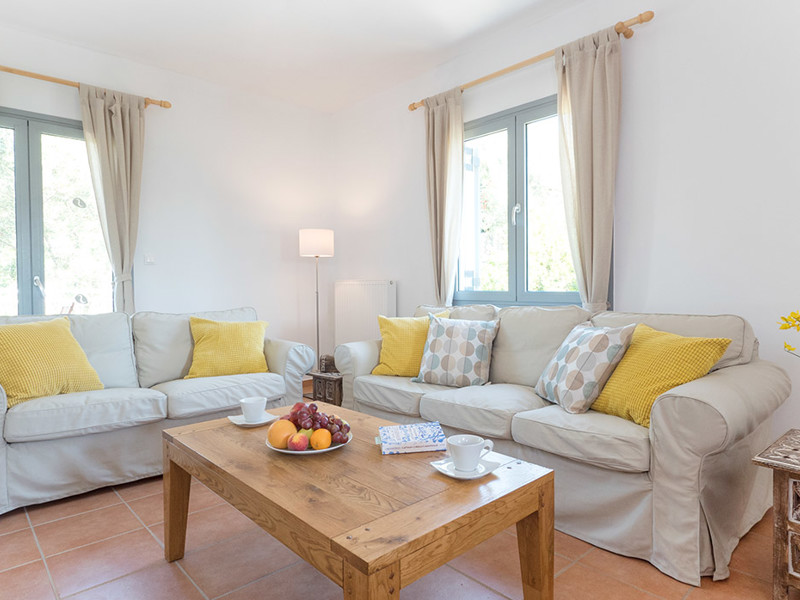 Full details
Layout
Apartment in annex with countryside view (first floor)
4 bedroom apartments (sleeps 2-7)
Open-plan living/kitchen/dining area with full oven, hob, fridge-freezer, microwave, TV (English speaking news channels), DVD player
Double bedroom with walk-in wardrobe/dressing room, en-suite shower room
Double bedroom
Twin bedroom
Single bedroom
Shower room
Air-conditioned bedrooms
Large private terrace to the front and large private balcony to the rear balcony
---
View holiday Booking Conditions