Culinary week at Arosmari
With 2019 MasterChef Champion Irini Tzortzoglou
26 July to 2 August 2022
"You can learn cooking technique. What you cannot put into somebody is absolute love and passion. And Irini is just bursting with it! It's from the heart, every time she cooks!"
~ Greg Wallace, MasterChef Judge.




THE WEEK IN BRIEF
• 
Flights and car hire or transfers
• 
Accommodation and daily breakfast at
Arosmari Village Hotel
• Welcome drinks with Irini
• All demonstrations, workshops, tastings and local excursions (with transfers)
• Visit to Amari Dairy and lunch at Avli in Rethymno
• Wine tasting, tour and lunch at Manousakis winery

• Farewell dinner with wine
• 
Price from £1,604pp, based on two sharing
•
Please call for single occupancy prices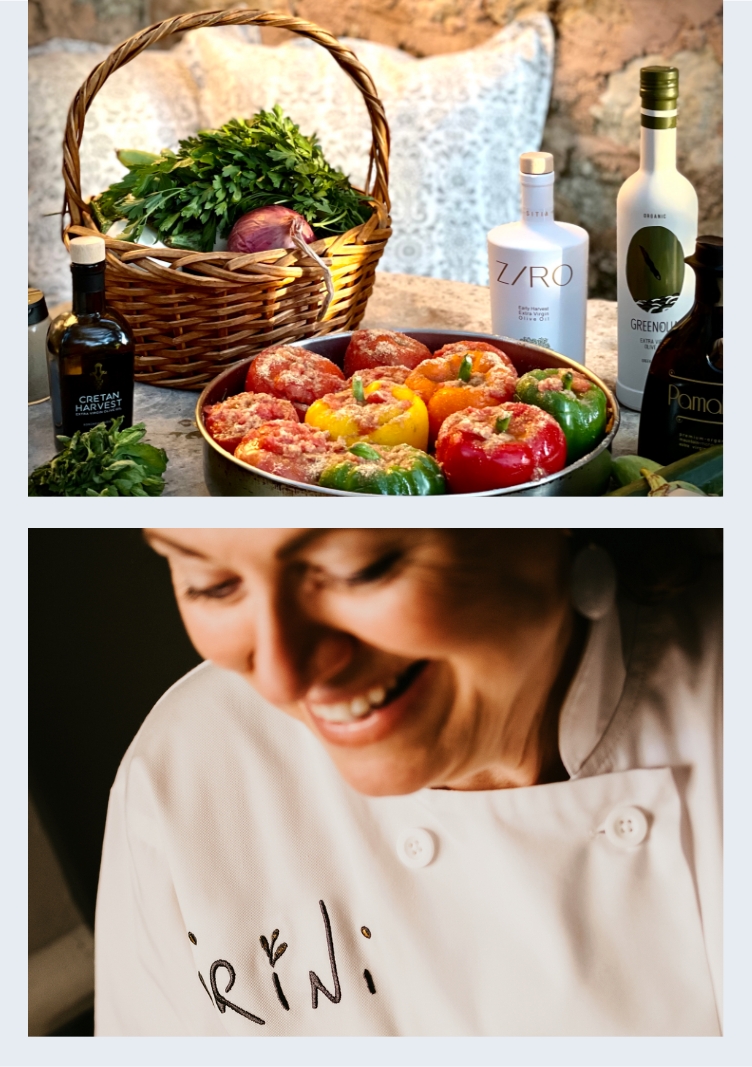 THE SETTING
Arosmari is a peaceful and beautiful oasis with a profoundly creative heart, set in the traditional village of Vamos in the foothills of the White Mountains. Ten charming 1 and 2-bedroom cottages make up the hotel; all ideal for couples, some suitable for those looking to travel with a friend. Culinary demonstrations will take place in the gardens, with baking in the ancient bread oven and plenty of treats to taste along the way. Local trips follow the gastronomic theme and are designed to enhance your experience, but there's also plenty of time to enjoy the idyllic location, perfect for exploring the charming villages and golden beaches of western Crete and the cosmopolitan city of Chania, with its superb restaurants, traditional market and spectacular Venetian harbour. For a little night-time entertainment during your stay, there will be a music concert in the hotel's diminutive amphitheatre and the week will culminate with the preparation and enjoyment of a farewell dinner with Irini Tzortzoglou in the gardens. Philoxenia is a Greek word which encompasses many things, not least an eagerness to extend a warm welcome and the greatest hospitality to all. And since food is very much at the heart of Cretan hospitality, where better than Arosmari to come and understand its proud tradition?

ABOUT IRINI

Irini Tzortzoglou was born and raised in the Monofatsi area of Crete, not far from the island capital Heraklion. Though luxuries were scarce, an abundance of fresh, home-cooked food was at the heart of family life and treats were lovingly created using local produce that had been grown or gifted. She moved to the UK in 1980 and pursued a successful career in banking that lasted more than 30 years but it was her lifelong passion for cooking centred around quality fresh ingredients that inspired her entry into MasterChef. The rest is history. The ever-popular champion of the 2019 series, Irini brought Greek food into people's homes and hearts with its appealing strong flavours, vibrant colours and simplicity of preparation. Beautiful presentation is another trademark of her dishes, a charming way to honour the recipient, and we are delighted she will be sharing some of her secrets with us. A qualified Olive Oil Sommelier, author of Under The Olive Tree (recipes from my Greek kitchen) and regular guest on TV cookery shows, she joins us at Arosmari in 2022 to bring the joy of Cretan cuisine to Simpson clients.


THE ITINERARY
Culinary week 2022
26 July to 2 August 

26 JULY
Fly to Chania and transfer to Arosmari Village Hotel. Join Irini in the early evening for welcome drinks and canapés.

27 JULY
AM: Join Irini and Arosmari owner Nicos for a morning cookery demonstration to prepare Cretan sourdough with classic dips and spreads. (1 hr)
PM: Early evening olive oil tasting with Irini. (1 hr)
28 JULY
AM: Travel with Irini to Amari Dairy and learn about traditional cheese making in Crete followed by lunch at Avli in the heart of Rethymno's atmospheric Old Town. Return to Arosmari mid-afternoon.
PM: Join Irini for an early evening demonstration, inspired by the cheeses of Amari Dairy. Enjoy a drink as she prepares spiced tomato jam, grape molasses dressing and an assortment of Saganaki dishes. (1 hr)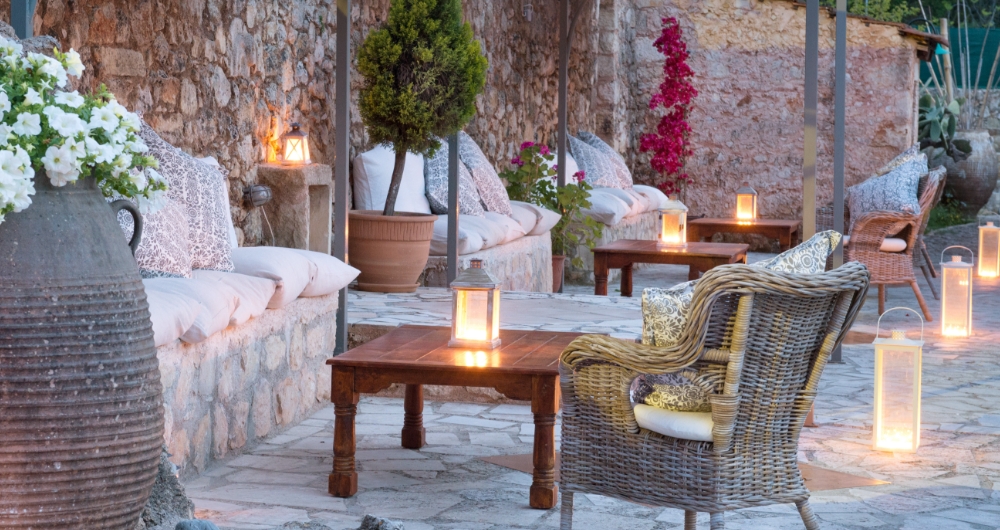 29 JULY
Day at leisure.
PM: Evening music concert at Arosmari hosted by the hotel owner, followed by buffet dinner with local specialities prepared in the village.

30 JULY
Cretan wineries are rapidly making a name for themselves on the International stage and Manousakis is one of the best on the island. Enjoy a tour and tasting with Irini followed by lunch at the vineyard. Return to Arosmari mid-afternoon.

31 JULY
AM: Watch Irini prepare traditional Sfakia pies, served drizzled with honey, and enjoy the mouthwatering results with a mid-morning cup of coffee. (1 hr)
PM: Join Irini for an early evening cookery demonstration and discover the secret to making the perfect prawn saganaki and kalamari kritharoto. (1 hr)

1 AUGUST
AM: Cook with Irini and develop your culinary skills in this morning workshop where you will help prepare Cretan dishes for the evening's farewell dinner. (2 hrs)
PM: Enjoy a farewell dinner hosted by Irini. Menu to include; vegetable fritters, fava, gemista (meat and vegetarian), barbecued chicken and lamb in marinade, an assortment of salads, citrus syrup cake, kaimaki ice cream and local wine.

2 AUGUST
Bid a fond farewell to Arosmari and transfer to Chania for your return flights to the UK.

To reserve your place, please call our Destination Specialists on 020 8392 5858 or book online by selecting your preferred dates on our Arosmari accommodation page.