Alto di Pinarello
7 stylish apartments
Contemporary and spacious
Beach and restaurants 10-minute walk
Shops 5-minute drive
New comfortable shaded seating area and picnic area
For a 2019 holiday, please contact us for availability.

This small group of seven stylish apartments is well located, set back from the road that winds down to Pinarello and only ten minutes' walk from its three lovely sandy bays. The accommodation is delightfully contemporary and well thought out, with the option of one, two or three bedrooms and a private terrace for each apartment. Pinarello Beach is a joy for families, with its gently shelving white sand, selection of restaurants, nearby tennis courts and a range of watersports. Alternatively, if you are more of a pool person, there is a large shared swimming pool so you won't even have to leave the grounds to cool off.
The immediate proximity of Pinarello Beach is a huge plus in the high summer, but these apartments also make a good base for exploring in spring and autumn. Take a leisurely stroll through ten hectares of shady pine forest directly behind the beach, or tackle one of the many marked mountain pathways that lead from the village of Zonza or around the magnificent Col de Bavella. There are many other spectacular beaches within a 15-minute drive of the apartments, and sophisticated Porto Vecchio is around 30 minutes away by car.
For information and pictures for each individual house, please click on the Houses tab. - See more at: http://www.simpsontravel.com/greece-holidays/corfu/villas/the-rou-estate#sthash.8KgVaEqP.dpuf
Alto di Pinarello apartments
Lavezzi, Palombaggia, Ballistra and Benedettu – 2-bedroom apartments (sleeps 2-4)
Rondinara and Piantarella – 1-bedroom apartment (sleeps 2-4)
Roccapina – 3-bedroom apartment (sleeps 2-6)
Cleaning/linen
1 week holidays – does not include a mid-stay clean or bed linen/towel change
2 week holidays – includes a light mid-stay clean and bed linen/towel change
Additional cleaning can be arranged if required for €25/hour (2 hour minimum and subject to availability)
WiFi
All properties with WiFi are able to support basic functionality such as web browsing and checking emails*
* We aim to offer an uninterrupted service but sometimes due to factors beyond our control reliability can be affected.
Villa access times
Check-in time – 4.00pm
Check-out time – 9.00am
Beach and restaurants 10min walk
Shops (St Lucie de Porto Vecchio) 5min drive
Porto Vecchio 30min drive
Figari airport 1hr drive
Car options
Based on the number of people travelling, the following hire car(s) are included in the package price of your holiday:
2-3 guests – 1 Group C, Peugeot 2008 or similar*
4 guests – 1 Group H, Citroen C4 Picasso or similar*
5 guests – 1 Group K, Renault Grand Scenic or similar*
6 guests – 2 Group C, Peugeot 2008 or similar*
* All our cars include comprehensive insurance with zero excess. For this particular destination, the undercarriage is not included in the cover.
Car specifications
Group C – 1-1.6 litre engine, 2 large and 1 small suitcase
Group H – 1.1-1.6 litre engine, 2 large and 2 small suitcases
Group K – 1.2-1.6 litre engine, 2 large suitcases
The following cars are available as alternatives on request (supplements apply). Please call our travel specialists for details.
Group E – SUV Automatic VW Tiguan or similar, 1.1-1.6 litre engine, 1 large and 2 small suitcases
Group F – Peugeot 508 or similar, 1.4-2 litre engine, 2 large and 2 small suitcases
Group G – VW Coccinelle CC Cabriolet or similar, 1.2-1.6 litre engine, 1 large suitcase
Group J – Peugeot 2008 GPS or similar, 1-1.6 litre engine, 2 large and 1 small suitcase
Group L – Renault Captur Automatic or similar, 1.1-1.6 litre engine, 1 large and 1 small suitcase
Group N – 9-seater Ford Transit or similar, 1.2-1.6 litre engine, 1 large and 1 small suitcase
Group O – 7-seater Ford Tourneo or similar, 1.2-1.6 litre engine, 1 large and 1 small suitcase
Customer feedback
Fred, our Simpson Travel representative, was excellent and went out of his way to make our stay comfortable and enjoyable. The apartment at Alto di Pinarello was spacious and the pool immaculate. Thank you for a great week.
Mrs Everitt – Lavezzi – August 2018
From start to finish Simpson Travel was the perfect travel company to book our family holiday through. From the moment you land to the moment you leave they cannot help enough. Our apartment at Alto di Pinarello was absolutely perfect. We will definitely be using Simpson Travel again.
Iain Jamie – Benedettu – July 2018
This was out first time with Simpson Travel and to Corsica – both were superb and we will use them again and return to Corsica. Simpson Travel made the whole experience stress free, with great organisation. The people on the ground are lovely and they even made the car hire process a delight.
John and Angie – June 2018
Our first visit to Corsica and we could not have been more delighted with the location of Alto di Pinarello with wonderful beaches and a selection of quality restaurants nearby. The service given by Simpson Travel was excellent, as we have come to expect.
Mr Saunders – October 2017
We had a wonderful sixth holiday in Corsica. As always the holiday flowed seamlessly. The apartment was excellent with a beautiful, heated swimming pool. Corsica is a beautiful island with so much to explore – the beaches, old towns, the rivers and the mountains. Walking down to the beach and restaurants was so easy and so pleasant and the Corsicans, as always were so friendly. Thank you once again for a great holiday and where to next year?
Mrs Robinson – September 2017
Another fantastic Simpson Travel holiday. Our rep, Fred, was a wonderful host (he felt more like a host than a rep). Kind, helpful, gracious, knowledgeable – a credit to the organisation. We love Simpson Travel and really don't understand why anyone would travel with any other tour operator if we're honest!!
Miss Gold-Wahlhaus – August 2017
A fantastic location, the beach was a short 5-minute walk away even with two toddlers. The apartment was immaculate on our arrival and help was always on hand from Fred.


Mr Lighten – July 2017
Thank you Simpson Travel for a wonderful holiday in Corsica. Beautiful apartment and extremely helpful holiday representatives. The whole experience from the beginning to the end was very positive and we have no hesitation in recommending Simpson Travel to friends and family.
Mrs Galloway – July 2017

Our experience with Simpson Travel exceeded our expectations. The villa was stunning, the location ideal and our representative informative, kind and helpful. It was our first holiday with our 2-year-old and Simpson took of the stress out of it so we could relax and have fun. We would 100% use them again. Perfection.
Mrs Miller – July 2017
Our Simpson Travel holiday to Pinarello in Corsica was excellent. Well organised. Friendly and helpful staff. Great location. Lovely property. Hard to see how it could have been better.
Mr Broadway – August 2016
We had not travelled with Simpson Travel for some years and from the moment we made the booking on the phone, we remembered why we always thought so highly of you. The whole process was efficiently carried out and the holiday – from arrival to departure – was excellent. The quality of Alto di Pinarello – from its décor, furnishings, kitchen equipment and welcome pack to the local representative support illustrate why, to my mind, Simpson Travel stands above the rest.
Michael Godwin – Piantarella – June 2018
Great company great reps – we will book again with Simpson Travel.
Mr Roughton – June 2016
Excellent choice of resort and accommodation offered by very professional, efficient and friendly company.
Mrs Mizen – May 2016

A brilliant experience from start to finish. The accommodation was excellent, with everything you could possibly need. We didn't really need the local rep, but she was extremely friendly and very keen and willing to help had we had any need to use her. Thank you.
Mrs Baggott – May 2016
The apartment is very well situated for the beach and restaurants and there was a lovely view from the balcony. Pinarello beach is beautiful, we had a wonderful holiday and would love to return.
Miss Webster – May 2015
Another successful Simpson Travel holiday.
Mrs Owen – May 2015
Corsica is a very special place, with its wild, unspoiled beauty, relaxed Mediterranean pace of life, gently shelving white sand beaches, fringed with pine trees and shimmering clear waters. Perhaps the ultimate chill out location for a summer beach holiday, in fact Corsica has much of what you'd expect from the Caribbean but is so much more accessible, as it's only a short flight away from Gatwick (1 hour 45 mins). If you like beautiful beaches and fabulous French food, this is somewhere you just must go!!
Mrs Tucker – September 2015
A wonderful holiday in a delightful, well equipped and large apartment with a stunning view from the large balcony. Small complex in beautiful surroundings with a lovely pool area and only a 10-minute stroll to the local sandy beaches and good selection of restaurants. Inclusion of a car allowed exploration of this southern coast of Corsica which is just lovely. Very much recommended.
Mrs Hick – September 2015
Excellent holiday. Booked at short notice. Just what we wanted.
Mr Jones – August 2015
Ideal for being close to the beach and for families. Lovely area.
Mrs Murdoch – July 2015
Our choice of Corsican properties is as diverse as the island itself, ranging from simple seaside charm to genuine luxury and style. Much of our portfolio is privately owned, and price alone is therefore not a universal guide. We contract all our accommodation in person, and each property has its individual appeal. To help you make the right choice based on your own priorities, we have devised a simple grading guide to be considered in conjunction with each individual property description, awarding up to a maximum of five stars for the below categories.
* For further clarification on Facilities and Amenities, please view the 'Details' tab for each property or speak to one of our experienced sales consultants.
Just across the water from Sardinia, history takes a cosmopolitan turn in the winding streets, imposing citadels and elegant marinas of Bonifacio and Porto Vecchio. A luxury holiday here comes with no shortage of style, and plenty of restaurants, cafés, boutiques and museums. Not far away, you'll also find the family-friendly beaches of Pinarello and pine-shaded Palombaggia, as well as the white sands of Santa Giulia and chic St Cyprien.
To complement this elegant destination, we offer a selection of handpicked luxury villas, boutique hotels and apartments in Porto Vecchio and Bonifacio, near the beautiful south's best attractions.
Ballistra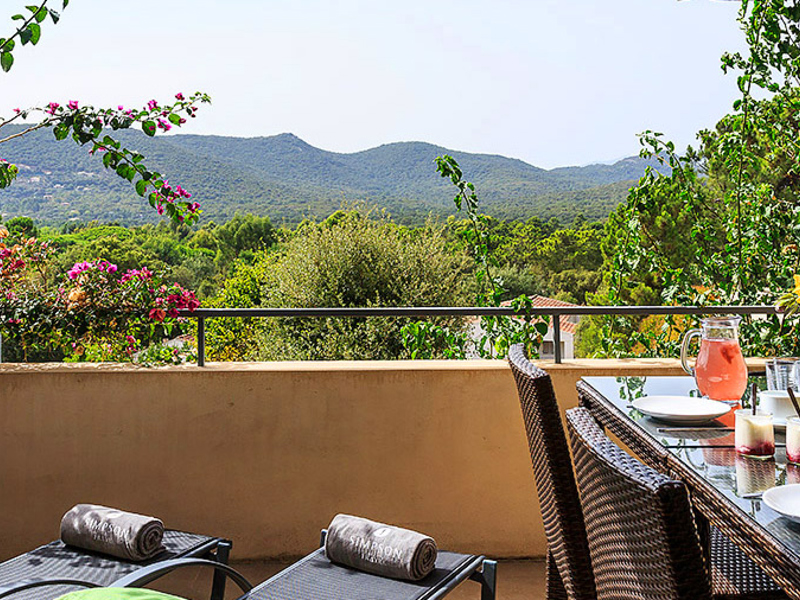 Full details
Layout
2 bedroom apartment (sleeps 2-4)
69m² with 15m² terrace
Open-plan living/dining/kitchen area (kitchen table at bar height with bar stools)
Kitchen includes oven, hob, fridge-freezer, Malongo coffee machine, microwave, dishwasher, washing machine
1 double bedroom (1.60m bed)
1 twin bedroom with no windows (2 x 80cm beds)
Shower room with WC
Separate WC
TV and air-conditioned throughout
Terrace with sun loungers
Dining table at bar height with bar stools
C

harcoal barbecue (charcoal not supplied)

Shared swimming pool 12.5m x 4m (depth 1.4m throughout), heated in May, June and September
---
Benedettu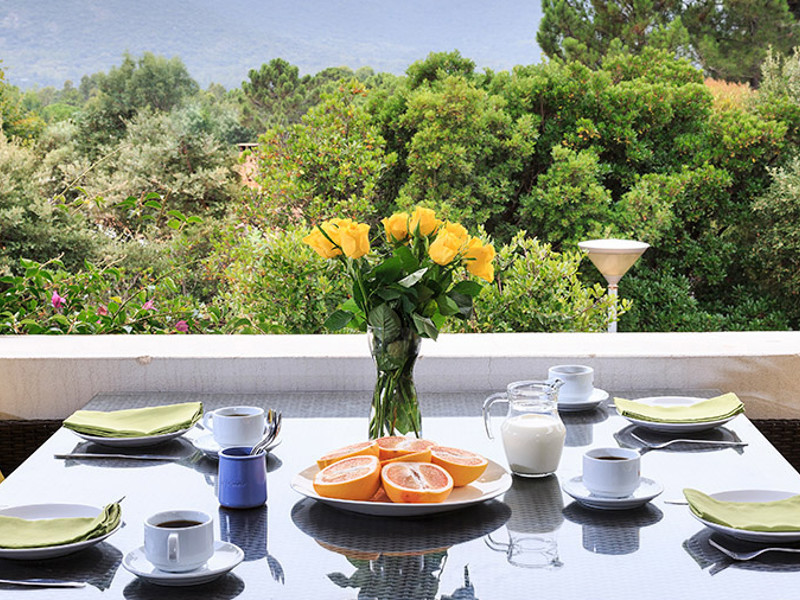 Full details
Layout
2 bedroom apartment (sleeps 2-4)
69m² with 15m² terrace
Open-plan living/dining/kitchen area
Kitchen includes oven, hob, fridge-freezer, Malongo coffee machine, microwave, dishwasher, washing machine
1 double bedroom (1.60m bed)
1 twin bedroom (2 x 80cm beds)
Shower room
Separate WC
TV and air-conditioned throughout
Covered terrace with sun loungers
C

harcoal barbecue (charcoal not supplied)

Shared swimming pool 12.5m x 4m (depth 1.4m throughout), heated in May, June and September
---
Lavezzi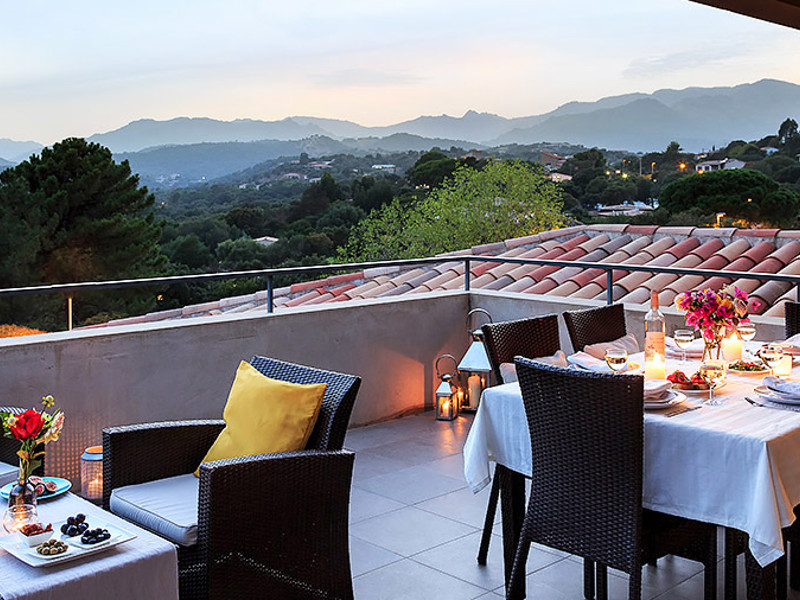 Full details
Layout
2 bedroom apartment (sleeps 2-4)
93m² with 40m² terrace
Open-plan living/dining/kitchen area
Kitchen includes oven, hob, fridge-freezer, Malongo coffee machine, microwave, dishwasher, washing machine
1 double bedroom (1.60m bed) with en-suite shower room with WC
1 twin bedroom (2 x 80cm beds) with en-suite shower room with WC
Separate WC
TV and air-conditioned throughout
Large furnished terrace with covered dining area, exposed lounge area and sun loungers
C

harcoal barbecue (charcoal not supplied)

Shared swimming pool 12.5m x 4m (depth 1.4m throughout), heated in May, June and September
Apartment is accessed by 17 ascending steps
---
Palombaggia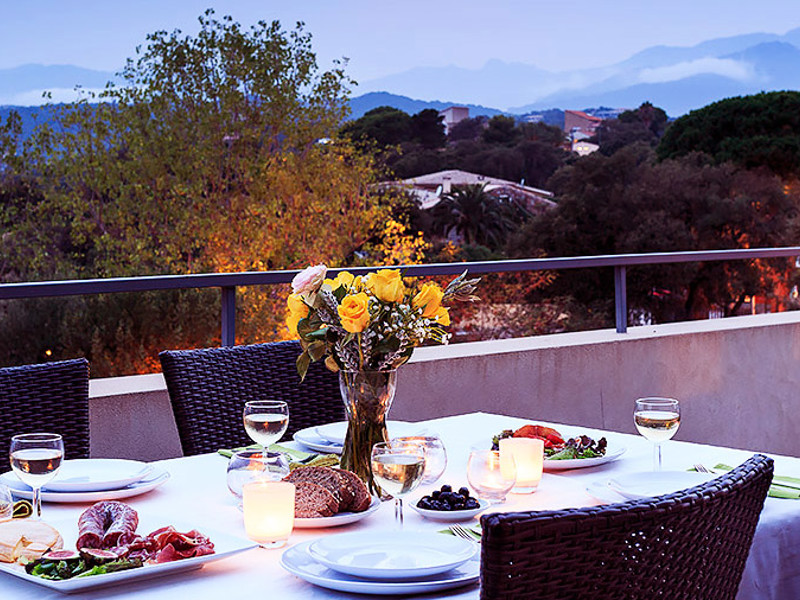 Full details
Layout
2 bedroom apartment (sleeps 2-4)
84m² with 28m² terrace
Open-plan living/dining/kitchen area
Kitchen includes oven, hob, fridge-freezer, Malongo coffee machine, microwave, dishwasher, washing machine
1 double bedroom (1.60m bed)
1 twin bedroom (2 x 80cm beds)
Shower room with WC
Separate WC
TV and air-conditioned throughout
Terrace with sun loungers
C

harcoal barbecue (charcoal not supplied)

Shared swimming pool 12.5m x 4m (depth 1.4m throughout), heated in May, June and September
---
Piantarella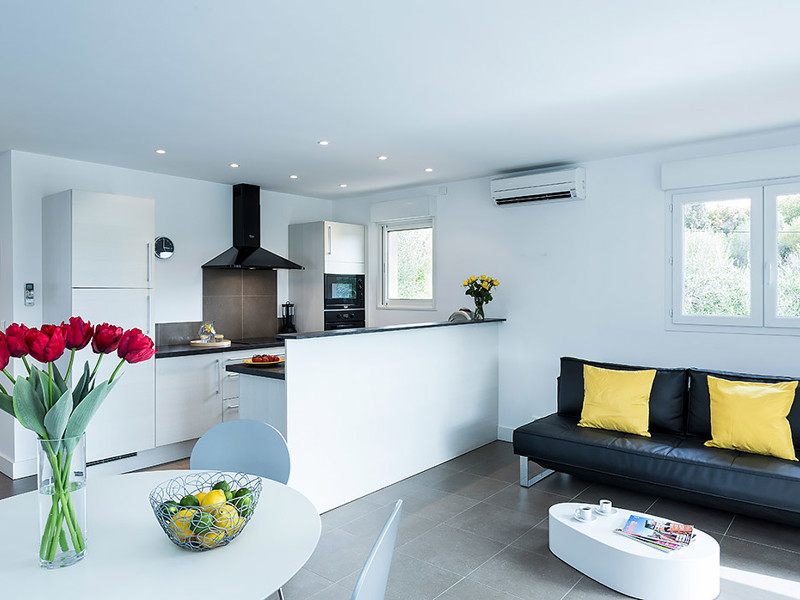 Full details
Layout
1-bedroom apartment (sleeps 2 adults and 1-2 children sharing a sofabed)
63m² with 14m² terrace
Open-plan living/dining/kitchen area with sofabed
Kitchen includes oven, hob, fridge-freezer, Malongo coffee machine, microwave, dishwasher, washing machine
1 double bedroom (1.60m bed)
Shower room with WC
Separate WC
TV and air-conditioned throughout
Terrace with sun loungers
C

harcoal barbecue (charcoal not supplied)

Shared swimming pool 12.5m x 4m (depth 1.4m throughout), heated in May, June and September
Apartment is accessed by 7 descending steps
---
Rondinara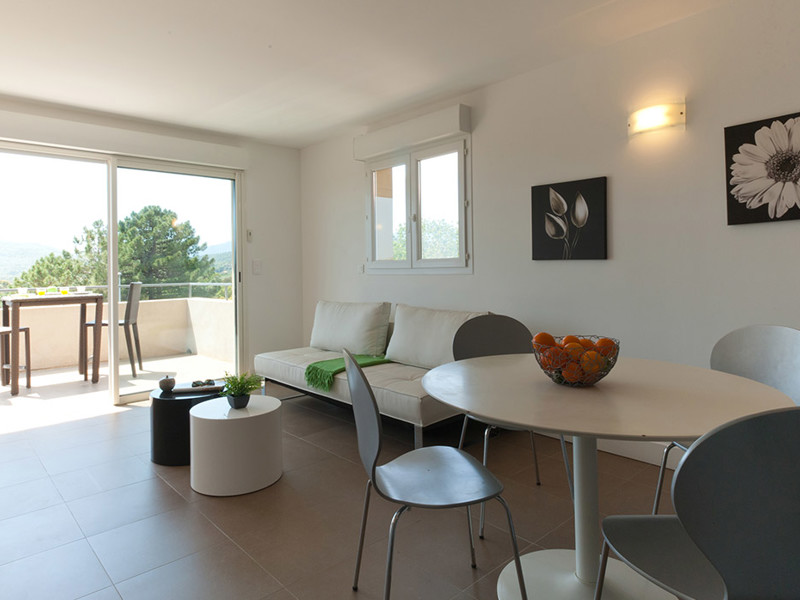 Full details
Layout
1-bedroom apartment (sleeps 2 adults and 1-2 children sharing a sofabed)
53m² with 13m² terrace
Open-plan living/dining/kitchen area with sofabed
Kitchen includes oven, hob, fridge-freezer, Malongo coffee machine, microwave, dishwasher, washing machine
1 double bedroom (1.60m bed)
Shower room (no WC)
Separate WC
TV
Air-conditioned throughout
Terrace with sun loungers
C

harcoal barbecue (charcoal not supplied)

Shared swimming pool 12.5m x 4m (depth 1.4m throughout), heated in May, June and September
---
Roccapina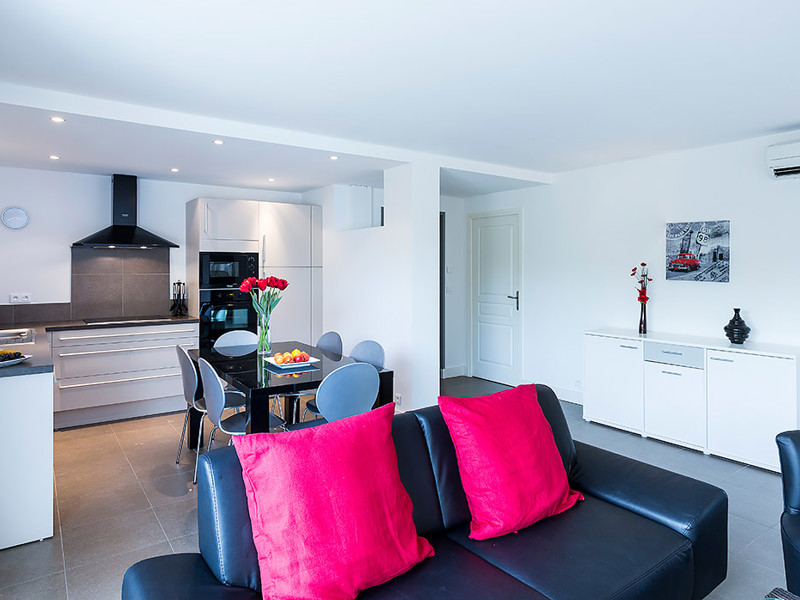 Full details
Layout
3 bedroom apartment (sleeps 2-6)
89m² with 20m² terrace
Open-plan living/dining/kitchen area
Kitchen includes oven, hob, fridge-freezer, Malongo coffee machine, microwave, dishwasher, washing machine
1 double bedroom (1.60m bed) with en-suite shower room and WC
1 double bedroom (1.60m bed)
1 twin bedroom (2 x 80cm beds)
Shower room with WC
TV and air-conditioned throughout
Furnished terrace with sun loungers
C

harcoal barbecue (charcoal not supplied)

Shared swimming pool 12.5m x 4m (depth 1.4m throughout), heated in May, June and September
---
View holiday Booking Conditions