Simpson Safe
Last updated 7 May 2021.
What to expect and how we will be keeping you safe in 2021…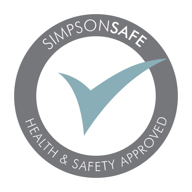 As we look forward to travelling in 2021, our attention is firmly focussed on ensuring we have done everything possible to make your experience as safe and enjoyable as possible in the light of the Coronavirus pandemic. To help inform and reassure you about what to expect from your Simpson holiday, we've answered a few of your questions below:
Will I be required to quarantine on my return to the UK?
Will I require a Covid test to travel?
What will the travel experience be like?
What will you do to ensure my accommodation is clean?
Are there any other changes I should know about?
Are you still offering childcare?
What happens if there is an outbreak of COVID-19 whilst I am on holiday?
Am I insured against COVID-19?
---
Will I be required to quarantine on my return to the UK?
Currently anyone returning to the UK from Greece, Italy, Mallorca, Corsica or France is required to quarantine at home for 10 days (or 5 days under Test to Release). Passengers returning from Turkey must quarantine in an approved hotel. We will contact clients with holidays affected by a quarantine requirement in departure date order to discuss the options. The UK government will review the traffic light system for travel every three weeks and we will keep this page regularly updated with the latest quarantine status of all our destinations. The next review is due on 28 May 2021.
Will I require a Covid test to travel?
To find the latest testing requirements for entry to your destination please visit www.gov.uk/entryrequirements.

Children under 11 do not require a Covid test to return to the UK, or following arrival.

All passengers aged 11 and over returning to the UK must show proof of a negative Covid-test taken within 72 hours of their arrival. 

Passengers aged 11 and over returning from countries on the Green List must take a further test on day 2 after arriving in the UK.

Passengers aged 11 and over returning from countries on the Amber List must take tests on day 2 and day 8 after arriving in the UK. Under the government's 'Test to Release' scheme, proof of a negative test taken on day 5 after returning to the UK  shortens the requirement to quarantine from 10 days to 5 days. 

We will be offering favourable rates for testing with three of the government's approved suppliers. Qured offer Covid-19 antigen and PCR tests designed specifically for international travel and provide kits which remove the need to source a testing facility overseas before your return to the UK. We are also able to provide Simpson clients with a discounted rate for Chronomics tests and Randox tests. 

For information on approved Covid-testing please visit www.gov.uk/testing. Simpson Travel are not liable for any testing costs associated with travel to or from your chosen destination.
What will the travel experience be like?
Without doubt, the airport and flying experience will be different. The UK government requires passengers on all public transport, including flights, to wear face masks. You can also expect to be required to wear a face mask in airport terminal buildings and at the boarding gate. In summary, you should be prepared to wear a mask or face covering at all points of your journey.
The UK government is also advising minimising luggage and checking baggage into the hold wherever possible. All flights bought as part of a Simpson package include hold baggage.
Many airlines are changing their on-board service, in particular offering limited catering; therefore, we recommend you stock up with any drinks and snacks you require after you go through security and before you board.
For specific information about how the airlines we use are adapting flying in the 'new normal', including how they are cleaning aircraft, please refer to their dedicated webpages: Easyjet, British Airways and Jet2.
There may be different procedures on arrival at your destination airport and accommodation, where required by local governments. We will advise you of particular procedures at your chosen destination as and when they are communicated to us.

Currently, all flights from Gatwick are departing from the North Terminal. Passengers arriving by train can take the free shuttle to the North Terminal and those arriving by car will find the multi-storey car parks open at both terminals. The North Terminal long-stay car park is also open. Although the South Terminal is not in use for passengers, the Boots pharmacy in the Arrivals Hall is open and accessible. (Please note, Boots in the North Terminal does not have a pharmacy.)

British Airways are offering an Overnight Bag Drop service, available from 16:00-22:00, for flights departing the next day before 13:00 from London Heathrow Terminal 5.
What will you do to ensure my accommodation is clean?
Simpson Travel has always demanded the highest standard of cleaning from our partners and owners – in 2019 customer surveys, 96% of guests rated our cleanliness excellent or good. In line with recommendations from the World Health Organisation, together with the UK and local governments, we have developed an enhanced cleaning plan specifically to combat the transmission of viruses. All our partners and owners are briefed on this plan, agree to it and regular auditing is undertaken by our overseas teams. Specifically:
Cleaners will be paying extra attention to cleaning 'high touch' areas in the accommodation. These include light switches, remote controls, hairdryers, safes, bathroom and kitchen surfaces, kitchen utensils, keys and handrails.
Cleaners will be asked to use hypochlorite solution to thoroughly disinfect the accommodation before occupation by each party.
All bedding will be laundered in cycles where temperatures are maintained at 65° for not less than ten minutes, or 71° for not less than three minutes.
All villa Welcome Packs will include hand sanitiser, alongside a selection of complimentary cleaning supplies.
Any unnecessary paper e.g. leaflets and guides will be removed from the accommodation. Unfortunately, regular clients will notice there will be no brochures or copies of 'On Travel' magazine in their rooms or villas this year. We will still have villa books in place, which will be thoroughly cleaned before each new arrival (in some properties this may be replaced with a digital version that will be sent to you before you arrive).
Cleaners themselves will follow strict protocols, including wearing disposable gloves, removing shoes/wearing disposable shoe protectors and following social distancing rules when working in teams.
We ask our hotel and villa owners to test the chlorine and pH levels of their pools regularly to ensure they offer a safe environment for our guests.
Are there any other changes I should know about?
To minimise any risks, your Local Concierge will be taking a 'socially distanced' approach to your care and will typically be conducting welcome meetings by video or voice call. They will, as ever, be available by WhatsApp, email, text or phone to assist you throughout your holiday and are very much looking forward to seeing you - virtually, if not in person. In addition:
Check-in and check-out times for all accommodation will be strictly observed to allow adequate time for cleaning and preparation.
For villas that include mid-week cleaning, guests must vacate the property while the clean takes place to comply with social distancing guidelines.
Hotel breakfasts will be offered on a table-service basis rather than as a self-service buffet.
In hotels, daily servicing of rooms will not take place and will be switched to an optional mid-week clean to minimise contact with housekeeping staff.
Sun loungers in hotels, villa complexes and on beaches will be spaced a safe distance apart.
Certain local services and facilities may be subject to change or closure; please read the overview and details pages of your chosen accommodation carefully for details of specific changes.
Car hire and transport providers are briefed and audited on enhanced cleaning requirements.
Are you still offering childcare?
In 2021 we hope to offer our normal crèche and kids' clubs at Mousses in Lefkada and our complimentary children's activity programme 'Beach Life' at Bella Mare Hotel and GK Beach Hotel. Social distancing measures will be applied as necessary.
What happens if there is an outbreak of COVID-19 whilst I am on holiday?
Our local teams and partners are fully briefed on the processes and procedures necessary should there be an outbreak, or suspected outbreak, of COVID-19 whilst you are on holiday. The response will vary depending on whether you are staying in a villa, with just your own party, or in a hotel or complex with other guests. Should you, or anyone in your party come down with any symptoms of COVID-19, please inform your local Simpson Concierge immediately and they will advise you of the next steps. As always, our dedicated teams are there to ensure your welfare and are ready and happy to communicate on your behalf with local health professionals and authorities.
Am I insured against COVID-19?
It is essential you have the correct travel insurance. For your travel insurance to be valid, the FCO must have removed their advice against 'all but essential travel'. You should check that your policy covers you for medical expenses, subsistence and repatriation in the event that you or a member of your party contract COVID-19 during your holiday. If you took out a single trip policy or renewed an annual policy after the outbreak began in February 2020, you may not be covered. Whilst we do not sell or recommend specific travel insurance policies ourselves, several insurers, including Cover for You, AXA, Trailfinders and Cedar Tree Insurance are now offering policies that specifically cover COVID-19. Please note, from 1 January 2021 EHIC cards will continue to be valid until their expiry date when they will be replaced by a new UK Global Health Insurance Card.
---